Elevate your fall table decor with these fall tiered tray decor ideas. Explore creative displays with pumpkins, leaves, and rustic accents. Perfect for autumn-inspired decorations!Perfect for showcasing your creativity and adding a touch of autumn charm to any space.
Tiered trays have become a popular and versatile decor piece, and fall is the perfect time to showcase their charm.
In this blog, we'll explore a variety of well-researched and easy-to-create ideas for fall tiered tray decor.
From miniature pumpkins and seasonal foliage to cozy candles and whimsical figurines, I've gathered a collection of inspiring ways to style your tiered tray for the autumn season.
Get ready to elevate your fall decor with these delightful and compact displays that will add a touch of charm and elegance to any space in your home.
11 Tips For Stylish & Themed Fall Tiered Tray Decor
Tiered trays are a versatile and visually appealing home decor item.
They provide an excellent platform to display small items in an organized and visually pleasing manner.
When it comes to fall tiered tray decor, you have the opportunity to infuse the season's spirit into your living space.
Whether you prefer a rustic farmhouse look or a more modern and chic aesthetic, these tips will help you create a stunning fall-themed tiered tray display.
1. Choosing the Right Tiered Tray
When selecting a tiered tray for your fall decor, it's important to consider factors like style, size, shape, and color.
The tray should complement your overall aesthetic and fit well in the desired space.
Whether you prefer a rustic wooden tray or an elegant metal design, make sure it aligns with your vision for the fall decor.
2. Embrace the Fall Color Palette
Fall is known for its warm and earthy color palette, including shades like burnt orange, golden yellow, deep red, and various browns.
To incorporate these colors into your tiered tray decor, choose decorative items such as pumpkins, leaves, berries, and flowers that feature these hues.
A cohesive color scheme will tie the whole display together and enhance the autumn atmosphere.
3. Incorporate Natural Elements
Bringing nature indoors is a great way to infuse authenticity and rustic charm into your fall tiered tray decor.
Consider using pinecones, acorns, twigs, or small branches as natural elements.
These additions not only enhance the visual appeal of your display but also create a connection with the season's beauty.
4. Mix and Match Textures
To create an interesting and visually appealing arrangement, experiment with mixing and matching textures.
Combine smooth surfaces with rough ones, such as pairing a ceramic pumpkin with a burlap-wrapped candle.
This contrast adds depth and tactile experience to the display, making it more visually engaging.
5. Utilize Seasonal Miniatures
Incorporating small figurines or miniatures related to fall themes can add whimsy and personality to your tiered tray decor.
Consider using miniature scarecrows, owls, or cute woodland creatures to capture attention and infuse delightful details into the display.
These tiny elements contribute to the overall charm of the arrangement.
6. Add a Festive Touch with Fall-themed Signs
Integrating fall-themed signs or plaques featuring phrases or quotes related to the season is a great way to add a touch of whimsy to your tiered tray decor.
Whether it's a sign that says "Hello, Fall" or a playful quote about pumpkin spice, these signs reinforce the fall theme and contribute to the overall aesthetic.
7. Play with Different Heights and Sizes
To create visual interest and dimension in your tiered tray decor, vary the heights and sizes of the items you arrange.
Place taller objects at the back and smaller ones at the front, using a layering technique.
This variation adds depth to the display and makes it visually appealing from different angles.
8. Enhance with Candles and Lighting
Candles are perfect for creating a warm and cozy ambiance associated with fall decor.
Incorporate scented candles in seasonal fragrances like cinnamon, apple, or pumpkin spice to further enhance the atmosphere.
Additionally, consider adding string lights or fairy lights to the tiered tray for a magical touch and increased visual appeal.
9. Personalize with Monograms and Initials
Adding monograms or initials to your fall tiered tray decor brings a personalized touch.
You can use wooden or metal letters that represent your family name or initials.
These personalized elements make the display feel unique and special to you and your loved ones.
10. Don't Forget the Seasonal Scents
Incorporating distinct fall scents into your tiered tray decor enhances the overall experience.
Consider using potpourri, dried herbs, or essential oils with fragrances like cedarwood, nutmeg, or vanilla.
These scents immerse you in the autumn atmosphere and contribute to a multisensory experience.
11. Add a Focal Point with a Seasonal Centerpiece
To create a captivating element in your fall tiered tray decor, incorporate a seasonal centerpiece.
This could be a larger decorative item such as a ceramic pumpkin, a harvest-themed figurine, or a beautifully arranged bouquet of fall flowers.
Placing it in the center or at the back of the tray draws attention and anchors the overall design, providing a focal point for the display.
Stunning Fall Tiered Tray Decor
" Affiliate links are provided for your convenience, please read my disclosure for more information."
15. Pumpkin Spice Tiered Tray – Making Memoried With Minis
14. Galvanized Fall Tiered Tray – Priscillas
13. Fall Gnome Tiered Tray – Stamped Sentiments
12. Sunflower Fall Tiered Tray – Bidi Bidi Dunn Dunn
11. Natural Fall Tiered Tray – Sweet Pem Broke Home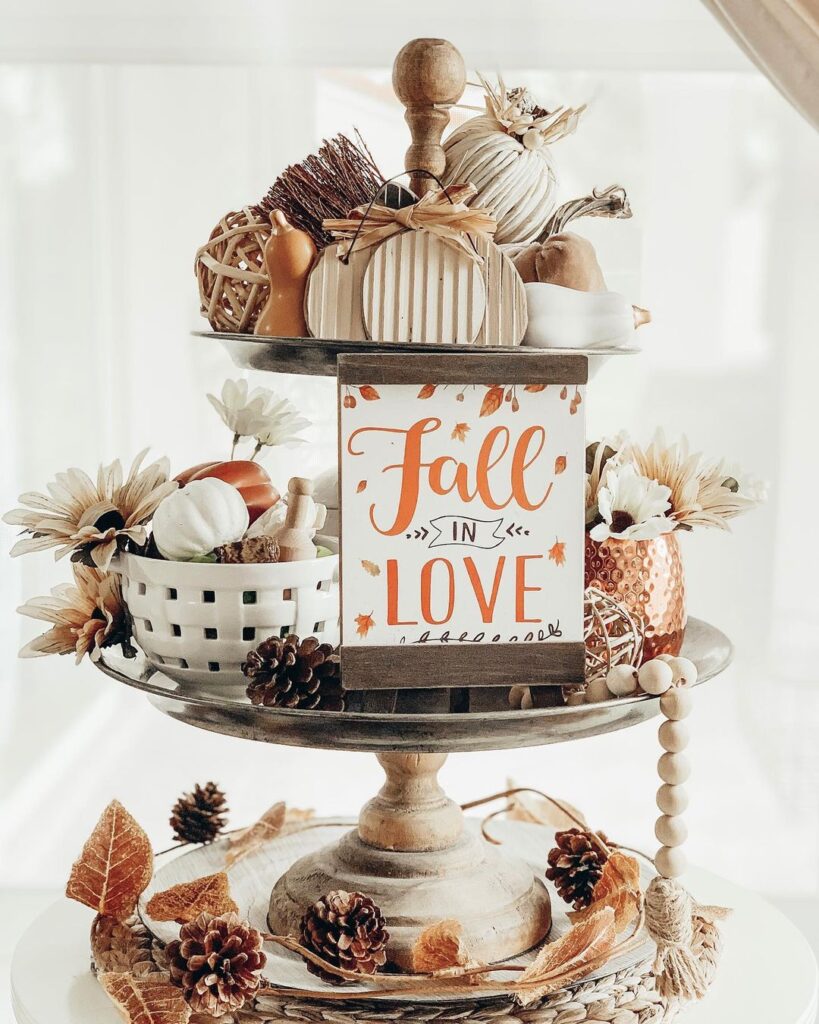 10. White Fall Tiered Tray – Stone Gable
9. Farmhouse Fall Tiered Tray – My Farmhouse Heritage
8. Harvest Tiered Tray – Ten Trails Living
7. Rustic Farmhouse Tiered Tray – Amazon
6. Pumpkin Tiered Tray Decor – Amazon
5. Fall Harvest Tiered Tray – Amazon
4. Colorful Fall Tiered Tray – Glitters And Grain Designs
3. Hello Fall Tiered Tray – Mama Loves Sales
2. Thankful Tiered Tray – Fairy 07
1. Fall Three Tiered Tray – Blogs By Aria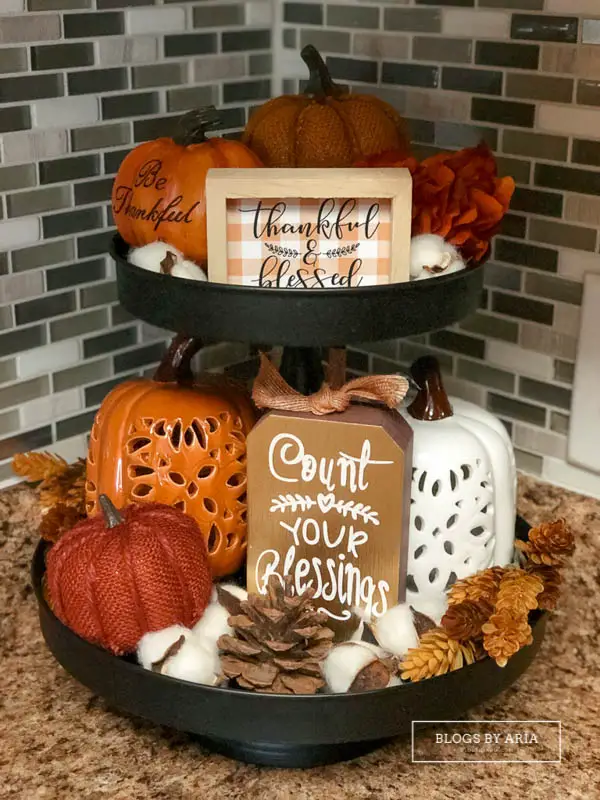 FAQs
Q. How do I choose the right tiered tray for fall decor?
When selecting a tiered tray for fall decor, consider factors such as size, shape, and material. Choose a tray that fits well in your desired space and aligns with your personal style. Wooden trays with rustic finishes or metal trays with autumn-inspired details are popular choices.
Q. Can I use artificial items for my fall tiered tray decor?
Absolutely! Artificial items such as pumpkins, leaves, and flowers can be excellent options for fall tiered tray decor. They provide longevity and allow you to enjoy the beauty of the season without worrying about freshness or wilting.
Q. How can I make my tiered tray decor more rustic?
To achieve a rustic look with your tiered tray decor, incorporate natural elements like wooden accents, burlap, and twine. Adding miniature farmhouse-inspired items, such as tiny barns or vintage farm tools, can also enhance the rustic aesthetic.
Q. Can I reuse my tiered tray for other seasons?
Yes, tiered trays are versatile and can be easily repurposed for different seasons. By changing the decorations and adjusting the color scheme, you can create beautiful displays for other holidays and themes throughout the year.
Q. Where can I find unique and themed miniatures for my tiered tray decor?
You can find a variety of unique and themed miniatures for your tiered tray decor at local craft stores, specialty home decor shops, and online marketplaces. Explore options such as fall-themed figurines, tiny pumpkins, or miniature scarecrows to add charm and character to your display.
Q. How do I maintain and clean my fall tiered tray decor?
To maintain and clean your fall tiered tray decor, gently dust the items with a soft cloth or use a small brush to remove any debris. Avoid using harsh chemicals or abrasive materials that may damage the surfaces. If necessary, spot clean specific items with mild soap and water, ensuring they are thoroughly dried afterward.
Q. Can I incorporate fresh elements into my fall tiered tray decor?
Yes, fresh elements can add a lovely touch to your fall tiered tray decor. Consider incorporating seasonal fruits like apples or pears, small bouquets of freshly cut flowers, or sprigs of eucalyptus for a natural and fragrant addition. Keep in mind that fresh elements will require regular maintenance and may have a shorter lifespan compared to artificial alternatives.
Now comes the important question… Which fall tiered tray decor do you like the most? Please let me know in the comments.
Few more fall ideas!!!
Want to save this for later? Post these Fall Tiered Tray Decor to the "DIY Fall Decor" OR "Tiered Tray Decor" Board!