Discover stunning DIY fall table decorations to elevate your fall tablescapes. From fall centerpieces to autumn place settings, create a warm and inviting ambiance for your guests. Get inspired and make your table a reflection of the beautiful colors and textures of the season.
As the autumn season sets in, it's time to gather around a beautifully adorned table that reflects the warmth and richness of fall.
In this blog, we'll explore a variety of well-researched and creatively curated ideas for fall table decor that will leave a lasting impression on your guests.
From nature-inspired centerpieces and rustic place settings to elegant candle arrangements and personalized touches, I've gathered a collection of inspiring ways to transform your dining space into a feast for the senses.
Get ready to unleash your creativity and create a captivating ambiance that complements the flavors of the season with these delightful and innovative fall table decor ideas.
11 Thrifty Tips To Create a Stunning Fall Table On A Budget
Creating a beautiful fall table doesn't have to break the bank.
With a little creativity and resourcefulness, you can achieve a captivating table setting on a budget.
In this article, we will explore 11 thrifty tips to help you create a stunning fall table that will impress your guests without straining your wallet.
1. Selecting a Theme for Your Fall Table
Before diving into the details, it's essential to decide on a theme for your fall table.
Whether you prefer a rustic farmhouse look, a modern and minimalistic style, or a traditional harvest theme, selecting a theme will provide a cohesive direction for your table decor.
2. Incorporating Natural Elements
One of the most cost-effective ways to create a stunning fall table is by incorporating natural elements.
Collect fallen leaves, pinecones, acorns, and branches from your backyard or local park to add a touch of nature to your table.
Arrange them in a rustic basket or scatter them along the center of the table for an effortless yet charming look.
3. DIY Centerpieces: Affordable and Personalized
Crafting your own centerpieces is a fantastic way to save money while adding a personal touch to your fall table.
Get creative with affordable materials such as mason jars, wine bottles, or repurposed containers.
Fill them with seasonal flowers, dried wheat, or even cinnamon sticks for a delightful autumn aroma.
4. Utilizing Seasonal Fruits and Vegetables
Take advantage of the abundance of seasonal fruits and vegetables during the fall months.
Arrange a vibrant display of apples, pumpkins, gourds, or pomegranates as a centerpiece or scattered accents on your table.
Not only will they add color and texture, but they can also be enjoyed as healthy snacks after the meal.
5. Enhancing the Ambiance with Candles and Lighting
Candles and lighting play a crucial role in setting the mood for your fall table.
Opt for unscented pillar candles or tea lights in warm, autumn-inspired colors such as deep reds, oranges, and golds.
Place them in candle holders or lanterns and position them strategically around the table to create an enchanting ambiance.
6. Adding Texture with Linens and Fabrics
Bring texture and warmth to your fall table with the right choice of linens and fabrics.
Consider using burlap or linen table runners, cozy flannel or plaid tablecloths, or even knitted or crocheted placemats.
These simple additions will add depth and visual interest to your table setting.
7. Mixing and Matching Dinnerware and Glassware
You don't need a complete matching set of dinnerware and glassware to create an impressive fall table.
Mix and match different pieces you already have or explore thrift stores and flea markets for unique, budget-friendly finds.
The eclectic look will add charm and personality to your table.
8. Repurposing Items from Your Home
Take a creative approach by repurposing items you already have at home.
Mason jars can be transformed into candle holders or vases, old books can serve as risers for your centerpiece, and vintage picture frames can be used as decorative elements.
Repurposing items not only saves money but also adds a touch of uniqueness to your fall table.
9. Incorporating DIY Crafts and Artwork
Engage your artistic side and create DIY crafts and artwork to adorn your fall table.
Make your own leaf-shaped place cards, paint pumpkins with metallic colors, or create a garland using dried leaves and twine.
These personalized touches will impress your guests and make your fall table truly one-of-a-kind.
10. Making Memories with Personalized Place Settings
Create memorable moments for your guests with personalized place settings.
Write their names on small tags or leaf-shaped cutouts and attach them to napkins or place them on their plates.
It's a thoughtful gesture that adds a personal touch and makes everyone feel special.
11. Adding a Rustic Touch with Twine and Ribbons
Incorporate a rustic touch to your fall table by using twine and ribbons.
Wrap twine around napkins, vases, or utensils to add a charming and natural element.
Tie ribbons around chair backs or create bows to adorn the centerpiece. These simple additions will enhance the overall rustic aesthetic of your table.
Stunning Fall Table Decorations
" Affiliate links are provided for your convenience, please read my disclosure for more information."
15. Fall Apple Centerpieces – Julie Blanner
14. 5-Minute Autumn Centerpiece – Jenna Burger
13. DIY Fall Dough Bowl Arrangement – Stone Gable Blog
12. Pumpkin Succulent Harvest Decor – Simply Happenstance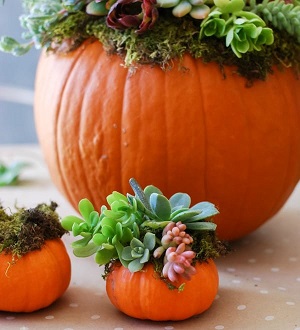 11. DIY Pumpkin Flower Arrangements – Garden Therapy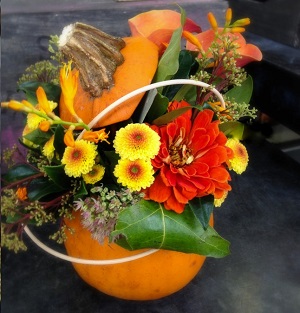 10. Mercury Glass Thanksgiving Tablescape – Rooms For Rent Blog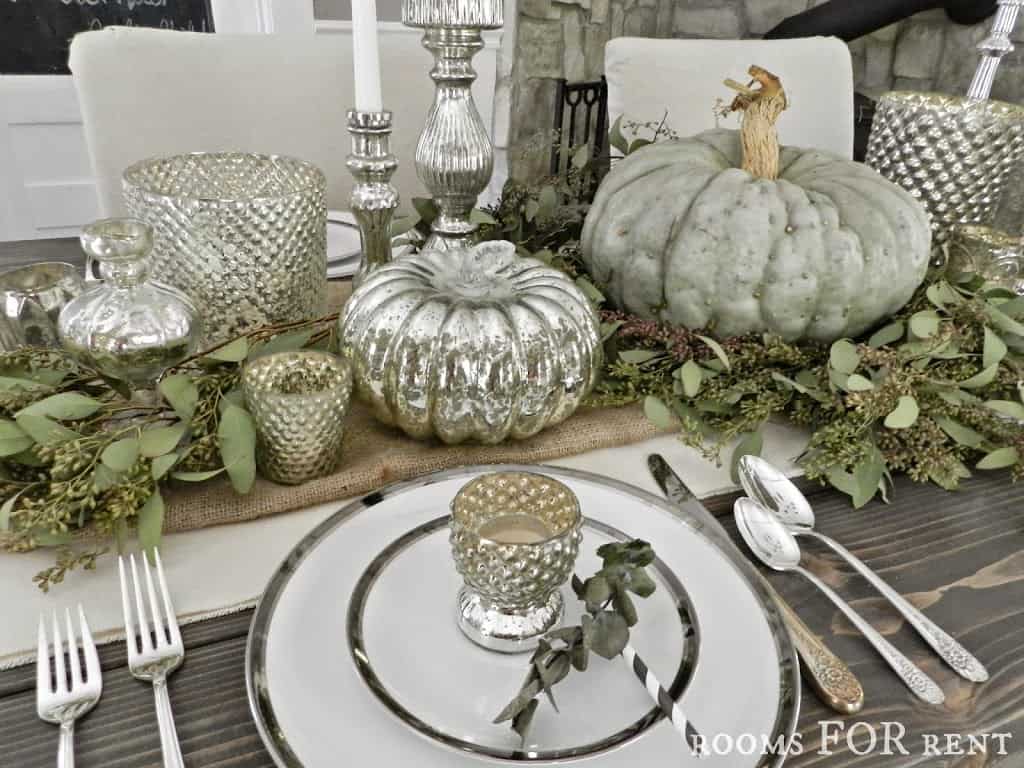 9. Green & White Table Setting – Craft Berry Bush
8. Coastal Casual Fall Tablescape – Artsy Chicks Rule
7. Farmhouse Fall Table – Anderson And Grant
6. DIY Pumpkin Vase – A Pumpkin And A Princess
5. White Pumpkin Centerpiece – Sand And Sisal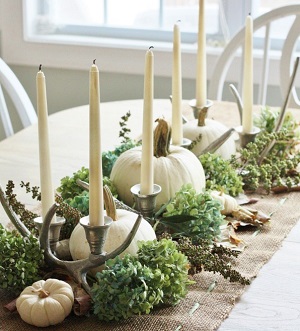 4. Soft & Natural Thanksgiving Table Setting – Stone Gable Blog
3. DIY Fall Centerpiece – Sanctuary Home Decor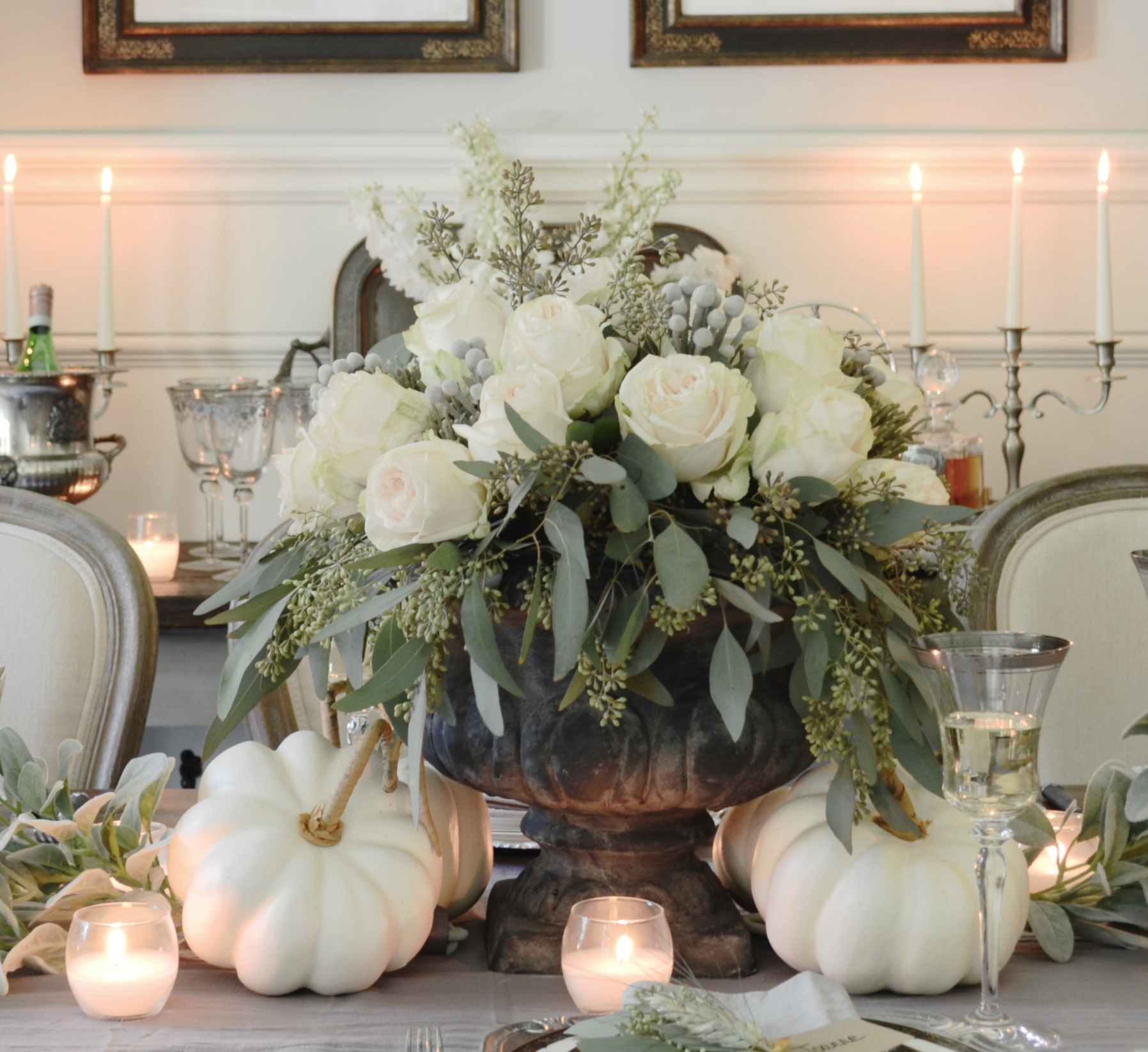 2. DIY Fall Tablescape – Boots And Hooves Homestead
1. Paper Doily Table Runner – Her Happy Home
FAQs
Q. Can I use artificial leaves and flowers for my fall table?
Yes, artificial leaves and flowers can be a budget-friendly option, especially if you want a long-lasting centerpiece. Look for high-quality faux foliage that mimics the colors and textures of real autumnal elements.
Q. How can I create a fall table centerpiece without spending much money?
You can create a budget-friendly fall centerpiece by using items from nature, such as branches, pinecones, and seasonal fruits. Combine them with candles or repurpose household items to add a touch of elegance.
Q. What are some affordable alternatives to traditional tablecloths?
Instead of purchasing an expensive tablecloth, consider using burlap fabric, a plaid blanket, or even a length of patterned wrapping paper. These options are cost-effective and add a rustic charm to your fall table.
Q. Can I incorporate metallic accents into my fall table decor?
Absolutely! Metallic accents can add a touch of sophistication to your fall table. Consider using gold or copper candle holders, charger plates, or utensils to elevate the overall look.
Q. How can I make my fall table kid-friendly?
To make your fall table kid-friendly, involve your children in the decorating process. Let them create DIY crafts, place settings, or even a small pumpkin centerpiece. This way, they can contribute to the festivities and feel proud of their creations.
Q. Can I incorporate seasonal scents into my fall table decor?
Yes, you can enhance the ambiance of your fall table by incorporating seasonal scents. Consider using scented candles with fragrances like cinnamon, apple spice, or pumpkin. You can also place potpourri or simmer a pot of autumn-inspired spices on the stove to create a warm and inviting atmosphere.
Q. How can I create a cozy and intimate atmosphere for my fall table setting?
To create a cozy and intimate atmosphere, dim the lights or use soft, warm lighting options such as string lights or candlelight. Play soft instrumental music in the background to set a relaxed and inviting mood. Use plush cushions or throws on chairs to add comfort and warmth.
Now comes the important question… Which fall table decor do you like the most? Please let me know in the comments.
Few more fall ideas!!!
Want to save this for later? Post these Fall Table Decors to the "Fall Table Decorations" OR "Autumn Table Decor" Board!