Discover stunning fall table centerpieces that will elevate your fall decor. From rustic centerpieces to elegant and modern ones, find fall centerpieces for your seasonal gatherings. Explore creative autumn centerpiece ideas and tips to create a captivating centerpiece for your fall table.
As nature paints a breathtaking canvas of warm hues outside, it's time to bring the beauty of fall to your dining table with creative and simple centerpieces.
In this blog, we'll explore a collection of creatively inspired ideas for fall table centerpieces that effortlessly capture the essence of the season.
From rustic arrangements of seasonal blooms and foliage to elegant displays of candles and natural elements, I've gathered a range of inspiring ways to create a captivating focal point that enhances your fall decor.
Get ready to infuse your dining experience with the enchantment of autumn as we delve into the world of fall table centerpieces and unlock the secret to effortless elegance.
Let's celebrate the harvest and elevate your table decor to new heights of creativity and simplicity.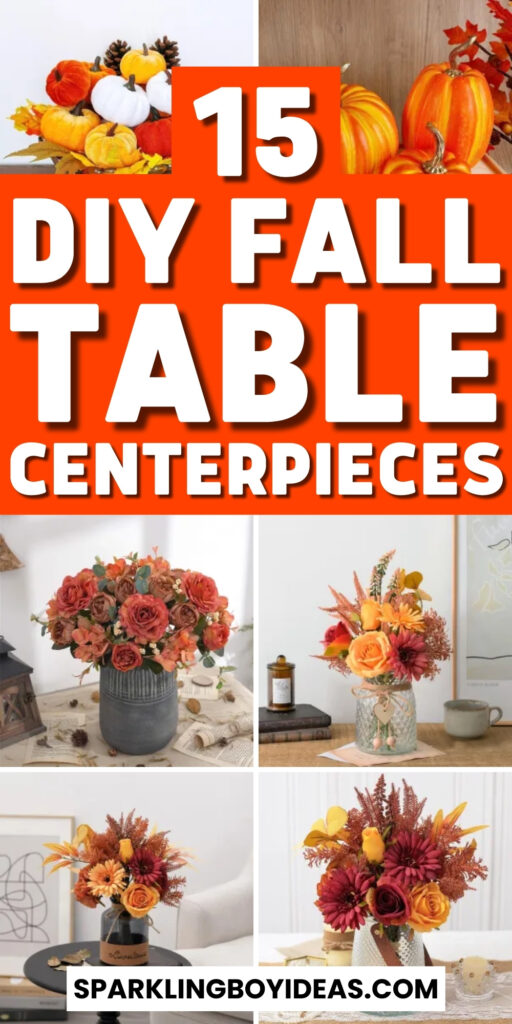 13 Tips To Style Fall Table Centerpieces
Fall table centerpieces provide a fantastic opportunity to showcase your creativity and express the spirit of the season.
By following some simple tips, you can design captivating centerpieces that become the focal point of your autumn gatherings.
1. Choosing the Perfect Color Palette
When it comes to fall table centerpieces, selecting the right color palette is crucial.
Opt for warm and earthy tones such as deep oranges, rich browns, vibrant reds, and golden yellows.
These colors mimic the hues found in nature during the fall season and evoke a cozy and welcoming atmosphere.
2. Incorporating Natural Elements
Bringing nature indoors is a key element in styling fall table centerpieces.
Incorporate natural elements like branches, twigs, pinecones, and acorns into your centerpiece design.
These elements add texture, depth, and a rustic charm to your table setting.
3. Utilizing Seasonal Fruits and Vegetables
Fall is synonymous with bountiful harvests, and incorporating seasonal fruits and vegetables into your table centerpiece is a delightful way to celebrate the abundance of the season.
Consider using pumpkins, gourds, apples, pears, or cranberries as decorative accents or as the main focal point of your centerpiece.
4. Adding Texture with Fabrics and Linens
To create visual interest and warmth, layer your fall table centerpieces with different textures of fabrics and linens.
Use table runners, placemats, or napkins in cozy materials like burlap, tweed, or velvet.
These textiles will enhance the overall aesthetic and provide a tactile experience for your guests.
5. Enhancing with Candlelight
Candlelight adds a magical and intimate ambiance to any table setting.
Incorporate candles of varying heights, sizes, and colors into your fall centerpiece.
Consider using candle holders made of metallic or rustic materials to complement the autumnal theme.
6. Incorporating Seasonal Flowers and Foliage
Flowers and foliage are essential elements in creating a visually stunning fall table centerpiece.
Opt for blooms like sunflowers, dahlias, chrysanthemums, or roses in warm colors.
Intertwine them with seasonal foliage, such as maple leaves, oak leaves, or eucalyptus branches, to add depth and texture to your arrangement.
7. Creating a Rustic Charm with Wood Accents
Wood accents bring a rustic charm to fall table centerpieces.
Incorporate wooden elements like log slices, tree bark, or driftwood into your design.
These natural elements provide a grounding effect and enhance the overall organic aesthetic.
8. Showcasing Fall-Inspired Artwork
Consider incorporating fall-inspired artwork into your table centerpiece.
This can be achieved by placing framed prints, paintings, or photographs with autumnal themes as a backdrop for your centerpiece.
Artwork adds a personal touch and creates a conversation starter for your guests.
9. Personalizing with DIY Elements
Infuse your fall table centerpieces with your personal style by adding DIY elements.
Create handmade crafts like painted pumpkins, leaf garlands, or customized place cards.
These personal touches will make your table centerpiece unique and reflective of your creativity.
10. Selecting the Right Tableware
Choosing the appropriate tableware is essential to complement your fall table centerpieces.
Opt for dinnerware, glassware, and cutlery in coordinating colors or with rustic patterns.
These elements will tie the entire table setting together and complete the overall look and feel.
11. Balancing Symmetry and Asymmetry
Achieving a visually appealing centerpiece involves finding the right balance between symmetry and asymmetry.
Play with different heights, shapes, and sizes of decorative items.
Create a focal point with a symmetrical arrangement and add asymmetrical elements around it to create visual interest.
12. Styling Tips for Different Table Shapes
Different table shapes require different styling techniques.
For rectangular tables, create a linear centerpiece that runs down the length of the table.
For round tables, consider a circular or triangular arrangement in the center.
Square tables can be styled with a symmetrical or asymmetrical centerpiece, depending on your preference.
13. Mixing and Matching Decorative Items
Don't be afraid to mix and match different decorative items to create a visually captivating fall centerpiece.
Combine elements like pumpkins, flowers, candles, foliage, and decorative vases or bowls.
Experiment with different combinations until you achieve a harmonious and eye-catching result.
Stunning Fall Table Centerpieces
" Affiliate links are provided for your convenience, please read my disclosure for more information."
15. Metallic Bronze Rustic Foam Pumpkins – Amazon
14. Pumpkin Glass Votive Candle Holders – Amazon
13. Fake Peony Silk Flowers Bouquet – Amazon
12. Farmhouse Mason Jar Centerpieces – Amazon
11. Faux Small Rustic Pumpkins – Amazon
10. Large Artificial Pumpkins – Amazon
9. Farmhouse Fake Roses Arrangement – Amazon
8. Faux Silk Flowers Arrangement – Amazon
7. Farmhouse Artificial Flower Centerpiece – Amazon
6. Pumpkin Succulent Arrangement – Amazon
5. Rustic Galvanized Metal Pitcher – Amazon
4. White Farm Truck – Amazon
3. Fall Pumpkin Centerpiece -Amazon
2. Metal Maple Leaf Candleholder – Amazon
1. Silk Flower Arrangements – Amazon
FAQs
Q. Can I use artificial flowers and foliage in my fall table centerpieces?
Yes, artificial flowers and foliage can be used in fall table centerpieces. They offer the advantage of lasting longer and require less maintenance compared to fresh flowers. Look for high-quality artificial options that closely resemble the real thing.
Q. How can I incorporate a modern touch into my fall table centerpieces?
To add a modern touch, consider using minimalist designs, sleek metallic accents, and unconventional color palettes. Experiment with geometric shapes and clean lines in your centerpiece arrangements.
Q. Are there any safety precautions I should consider when using candles in my fall table centerpieces?
When using candles, ensure they are placed securely in appropriate candle holders to prevent accidents. Keep them away from flammable materials and never leave them unattended. Consider using flameless LED candles as a safer alternative.
Q. Can

I mix different fall themes in my table centerpieces?

Yes, you can mix different fall themes in your table centerpieces to create a unique and eclectic look. For example, you can combine rustic elements with a touch of elegance or blend traditional autumn colors with a modern twist.
Q. How can I make my fall table centerpieces more eco-friendly?
To make your fall table centerpieces more eco-friendly, consider using sustainable materials like recycled glass vases, organic cotton linens, and natural beeswax candles. Avoid using single-use or disposable items and opt for reusable decor whenever possible.
Q. Can I use fresh flowers in my fall table centerpieces?
Yes, you can definitely use fresh flowers in your fall table centerpieces. They add a vibrant and natural touch to the arrangement. Opt for flowers that are in season during the fall, such as sunflowers, mums, or dahlias, to maintain the autumnal theme.
Q. How can I make my fall table centerpieces last longer?
To make your fall table centerpieces last longer, trim the stems of fresh flowers at an angle before placing them in water. Change the water regularly and remove any wilted flowers or foliage. Keep the centerpiece away from direct sunlight and drafts, as these can accelerate the wilting process.
Now comes the important question… Which fall table centerpieces do you like the most? Please let me know in the comments.
Few more fall ideas!!!
Want to save this for later? Post these Fall Table Centerpieces to the "Fall Decor" OR "Autumn Decor" Board!