Discover elegant fall tablescapes to elevate your autumn parties. Get inspired by fall table decor ideas, cozy fall centerpieces, and seasonal color schemes. Perfect for Thanksgiving, Halloween, or any festive occasion.
As the air turns crisp and the leaves adorn the ground with vibrant hues, it's time to set a captivating stage for your fall gatherings with creative and simple tablescapes.
In this blog, we'll explore a collection of fall tablescapes that effortlessly evoke the spirit of the season.
From natural elements and rich textures to seasonal accents and warm color palettes, I've gathered a range of inspiring ways to transform your dining table into a visual feast.
Get ready to create an enchanting ambiance that celebrates the beauty of autumn as we delve into the world of fall tablescapes and unlock the secrets to elevating your dining experience with creativity and simplicity.
Let's gather around a table that tells a story of warmth, comfort, and delightful moments shared with loved ones.
Tips To Create A Cohesive & Themed Fall Tablescape
A well-designed tablescape can transform any dining experience into a memorable event.
In this article, we will provide you with valuable tips and ideas to help you create a cohesive and themed fall tablescape that will impress your guests.
From choosing the right colors and textures to incorporating seasonal elements, I've got you covered.
1. Choosing a Theme for Your Fall Tablescape
Selecting a theme sets the tone for your tablescape and ensures a cohesive look.
For a rustic theme, incorporate natural elements like wood and burlap.
A harvest theme can feature an abundance of pumpkins, gourds, and wheat.
A woodland theme may include elements like moss, twigs, and forest-inspired decor.
Farmhouse themes often embrace simplicity and utilize neutral colors with vintage accents.
Choosing a theme helps guide your selection of colors, textures, and decorative elements.
2. Selecting the Right Color Palette
Fall is known for its warm and earthy colors.
Opt for rich hues like deep reds, burnt oranges, golden yellows, and warm browns.
These colors evoke a sense of coziness and are reminiscent of the changing leaves.
Consider incorporating metallic accents like gold or copper, which add a touch of elegance and sophistication to your tablescape.
3. Incorporating Natural Elements
Bring the beauty of nature to your fall tablescape by incorporating natural elements.
Collect pinecones, acorns, and dried leaves to use as decorative accents.
Arrange them in rustic containers or scatter them along the table.
You can also include small pumpkins, gourds, or even seasonal fruits and vegetables as focal points.
These natural elements add texture, visual interest, and a touch of authenticity to your tablescape.
4. Adding Textures and Layers
To create visual interest and depth, incorporate different textures and layers into your fall tablescape.
Start with a textured tablecloth or runner, such as burlap or linen, to set the foundation.
Layer on textured placemats and use patterned or textured napkins.
Mixing and matching different materials, like woven or velvet fabrics, adds dimension to your table.
Consider incorporating elements like ribbons, twine, or lace to further enhance the texture and create a visually appealing tablescape.
5. Choosing the Perfect Tableware
Select tableware that complements your chosen theme and color palette.
For a rustic look, opt for ceramic plates with a distressed finish or wooden chargers.
Vintage-inspired glassware, with its unique shapes and designs, can add charm to a farmhouse or harvest theme.
Pay attention to the details, such as the style of the flatware and the design of the dinnerware, to ensure they align with the overall aesthetic you want to achieve.
6. Decorating with Seasonal Centerpieces
The centerpiece is the focal point of your tablescape and ties the entire look together.
Create a stunning centerpiece using fall-inspired elements.
Arrange a bouquet of flowers in warm tones like deep reds, oranges, and yellows.
Incorporate pumpkins, gourds, or even fall foliage to add a seasonal touch.
Candles in various sizes and heights can also make a beautiful centerpiece.
Consider using a combination of these elements to create a visually captivating focal point that captures the essence of fall.
7. Enhancing the Ambiance with Lighting
Lighting sets the mood and adds a warm and inviting ambiance to your fall tablescape.
Use candles or string lights to create a soft and cozy glow.
Place them strategically throughout the tablescape, incorporating different candle holders of varying heights and sizes.
Consider scented candles with fall-inspired fragrances like cinnamon or pumpkin spice to further enhance the sensory experience.
The gentle flickering of candlelight and the soft glow of string lights create an intimate and inviting atmosphere for your guests.
8. Incorporating Personal Touches
Infuse your fall tablescape with personal touches to make it truly unique and reflective of your style.
Consider using family heirlooms as decorative pieces, such as vintage silverware or special serving dishes.
Personalize each place setting with custom place cards that have your guests' names handwritten or printed on them.
You can also include small handwritten notes expressing gratitude or well wishes for your loved ones.
These personal touches add an extra layer of meaning and create a warm and inviting atmosphere for your guests.
9. Creating a Balanced and Symmetrical Layout
To achieve a cohesive look, create a balanced and symmetrical layout on your fall tablescape.
Arrange your tableware, centerpieces, and decorative elements in a way that is visually pleasing and harmonious.
Place items equidistant from the center of the table or create a symmetrical arrangement with matching elements on both sides.
This creates a sense of order and balance, enhancing the overall aesthetic of your tablescape.
10. Paying Attention to Table Linens
Table linens play a crucial role in the overall aesthetic of your fall tablescape.
Choose linens that complement your chosen color palette and theme.
Consider using table runners, tablecloths, and napkins with patterns or textures that add interest to the table.
For example, a plaid or herringbone pattern can bring a cozy and inviting feel to the tablescape.
Make sure the linens are clean, well-pressed, and properly sized to fit the table, as this adds a touch of elegance and refinement to the overall look.
11. Using Table Runners and Placemats
Table runners and placemats serve both functional and decorative purposes in a fall tablescape.
They can act as stylish accents while also protecting your table from spills and scratches.
Choose table runners and placemats that align with your chosen theme and color palette.
Experiment with different placements and layering techniques to create a visually appealing and dynamic look.
For instance, you can place a table runner across the length of the table and layer placemats on top of it for added texture and visual interest.
12. Setting the Mood with Candles
Candles are an excellent way to create a cozy and intimate atmosphere on your fall tablescape.
Choose candles in warm hues, such as deep reds, oranges, or creamy whites, that complement your color palette.
Place them strategically throughout the tablescape, either in candle holders or nestled among other decorative elements.
The soft and flickering candlelight adds warmth and a sense of romance to the table, making it a perfect setting for a fall gathering.
13. Using Fall-inspired Tableware Accessories
Consider incorporating fall-inspired accessories into your tablescape to enhance the seasonal theme.
This can include leaf-shaped coasters, decorative napkin rings with autumn motifs like pumpkins or leaves, or even seasonal salt and pepper shakers.
These small details add charm and whimsy to the table, making it more visually appealing and unique.
Look for accessories that align with your chosen theme and complement the overall aesthetic of your fall tablescape.
14. Displaying Seasonal Fruits and Vegetables
Fall is a season abundant with delicious produce, and incorporating seasonal fruits and vegetables into your tablescape adds a natural and fresh element.
Display them in rustic baskets, wooden bowls, or arrange them on a beautiful serving tray as a centerpiece.
Consider using fruits like apples, pears, or cranberries, as well as vegetables like pumpkins, squashes, or colorful gourds.
Not only do they add visual interest and texture to the tablescape, but they can also be enjoyed as snacks or incorporated into the meal during the gathering.
15. Keeping It Simple and Elegant
While it's tempting to go all out with decorations, it's essential to maintain simplicity and elegance in your fall tablescape.
Avoid overcrowding the table with too many elements, as it can appear cluttered and overwhelming.
Instead, focus on a few key focal points, such as the centerpiece and the tableware.
Embrace minimalism and let the natural beauty of the fall season shine through.
This creates a refined and sophisticated look that allows your guests to appreciate the overall ambiance and enjoy their dining experience.
Elegant Fall Tablescapes
" Affiliate links are provided for your convenience, please read my disclosure for more information."
19. Fall Harvest Table Setting – Repurpose And Upcycle
18. Rustic Thanksgiving Table – Joyfully Growing Blog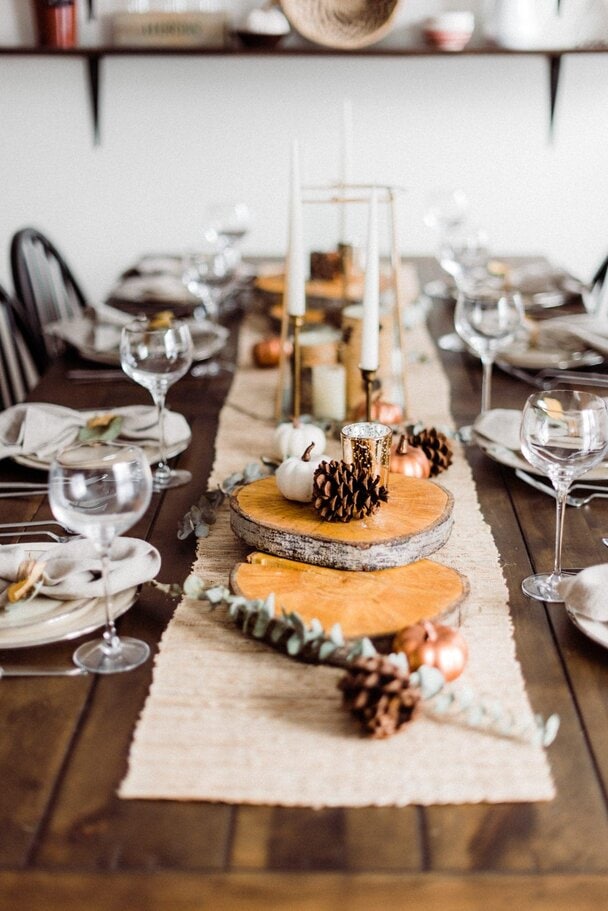 17. Pumpkin & Eucalyptus Centerpiece – Blesser House
16. Farmhouse Fall Tablescape – Boots And Hooves Homestead
15. Traditional Fall Tablescape – Nick And Alicia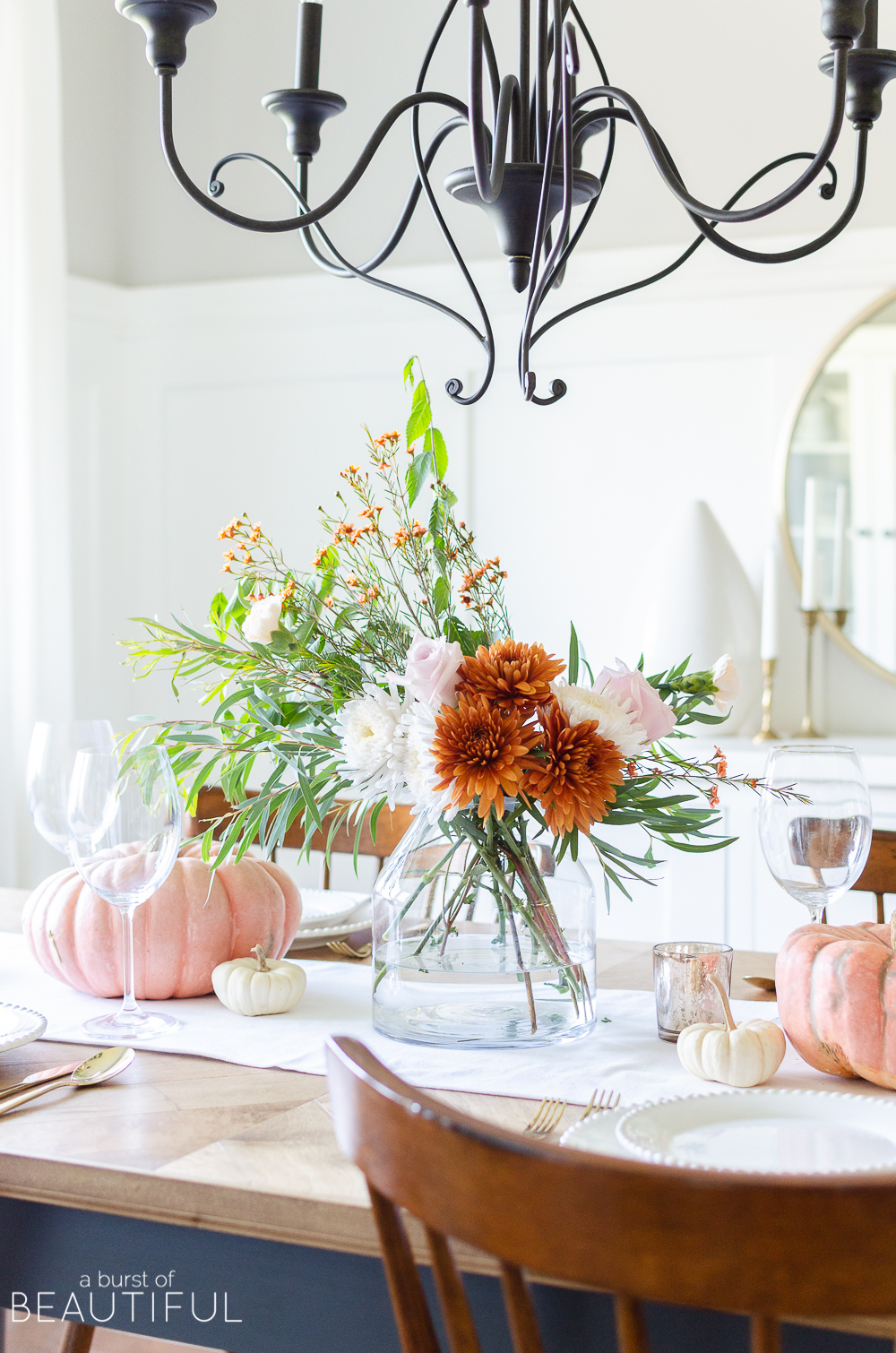 14. Berry Themed Thanksgiving Table – Zoe With Love
13. Mercury Glass Thanksgiving Tablescape – Rooms For Rent Blog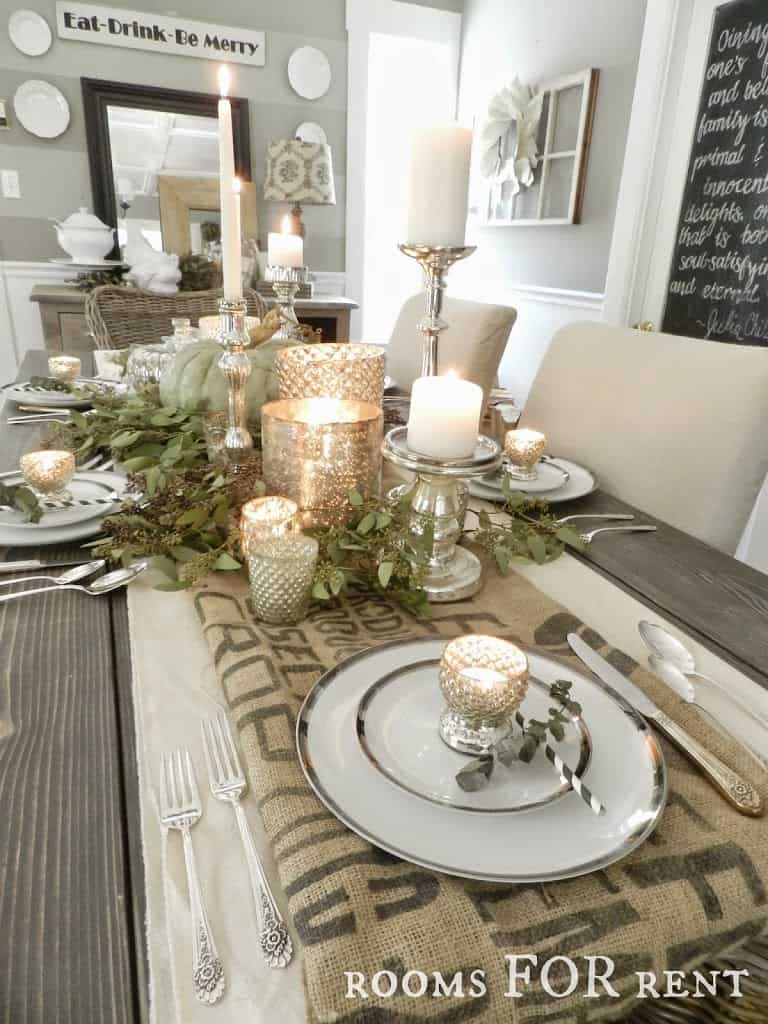 12. Pastel Thanksgiving Tablescape – Inspired By This
11. Mini Pumpkin Table Runner – Julie Blanner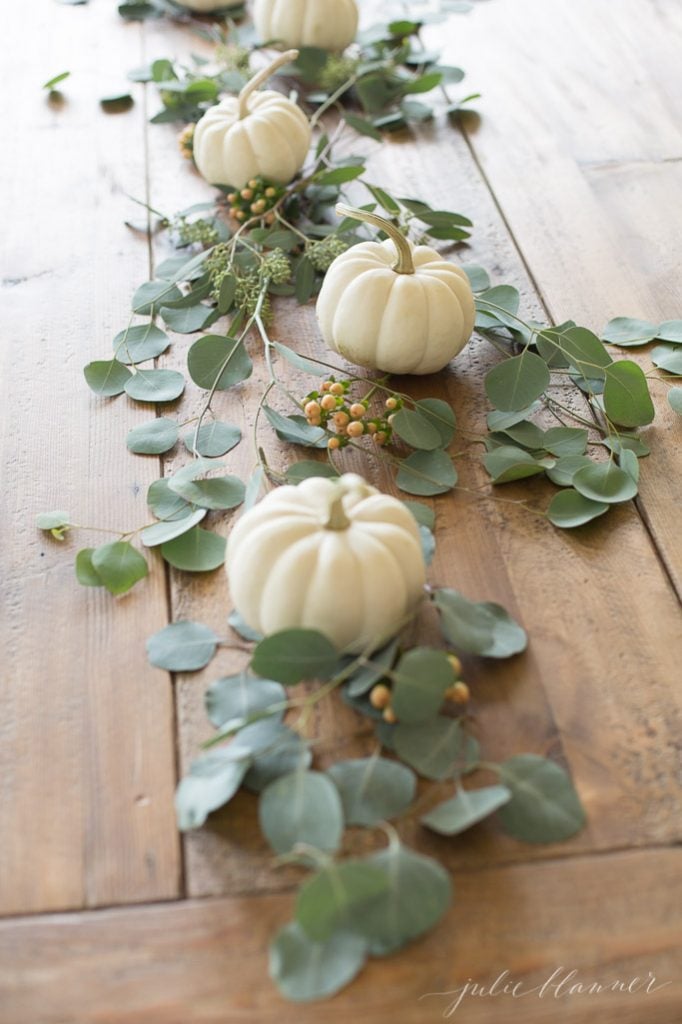 10. Pink Pumpkin Table – To Have To Host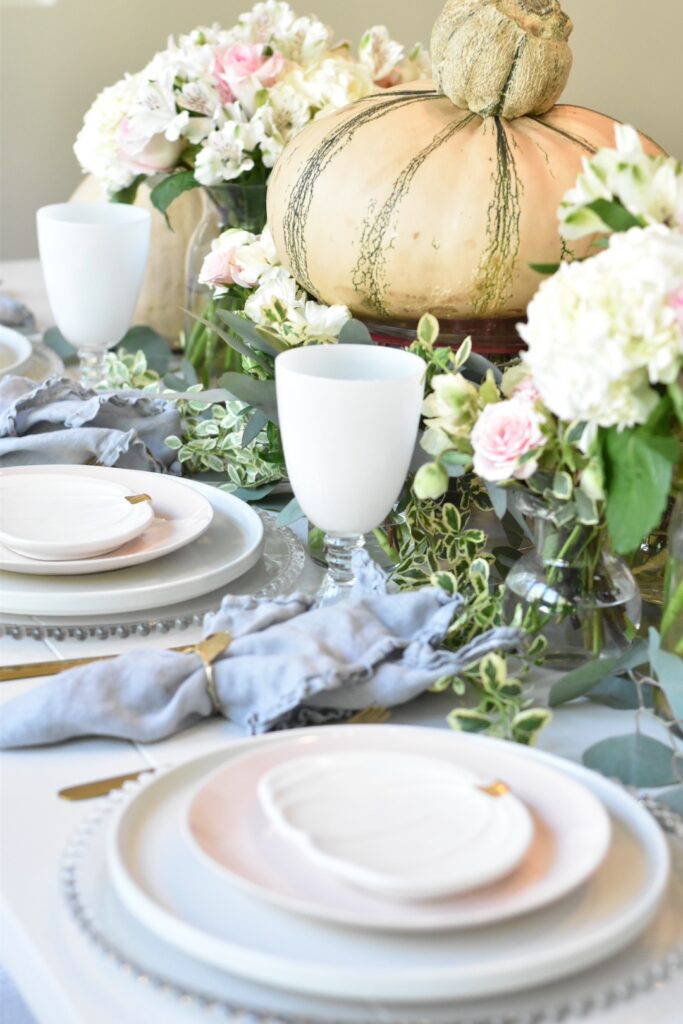 9. Pumpkin Themed Fall Tablescape – Home With Holly J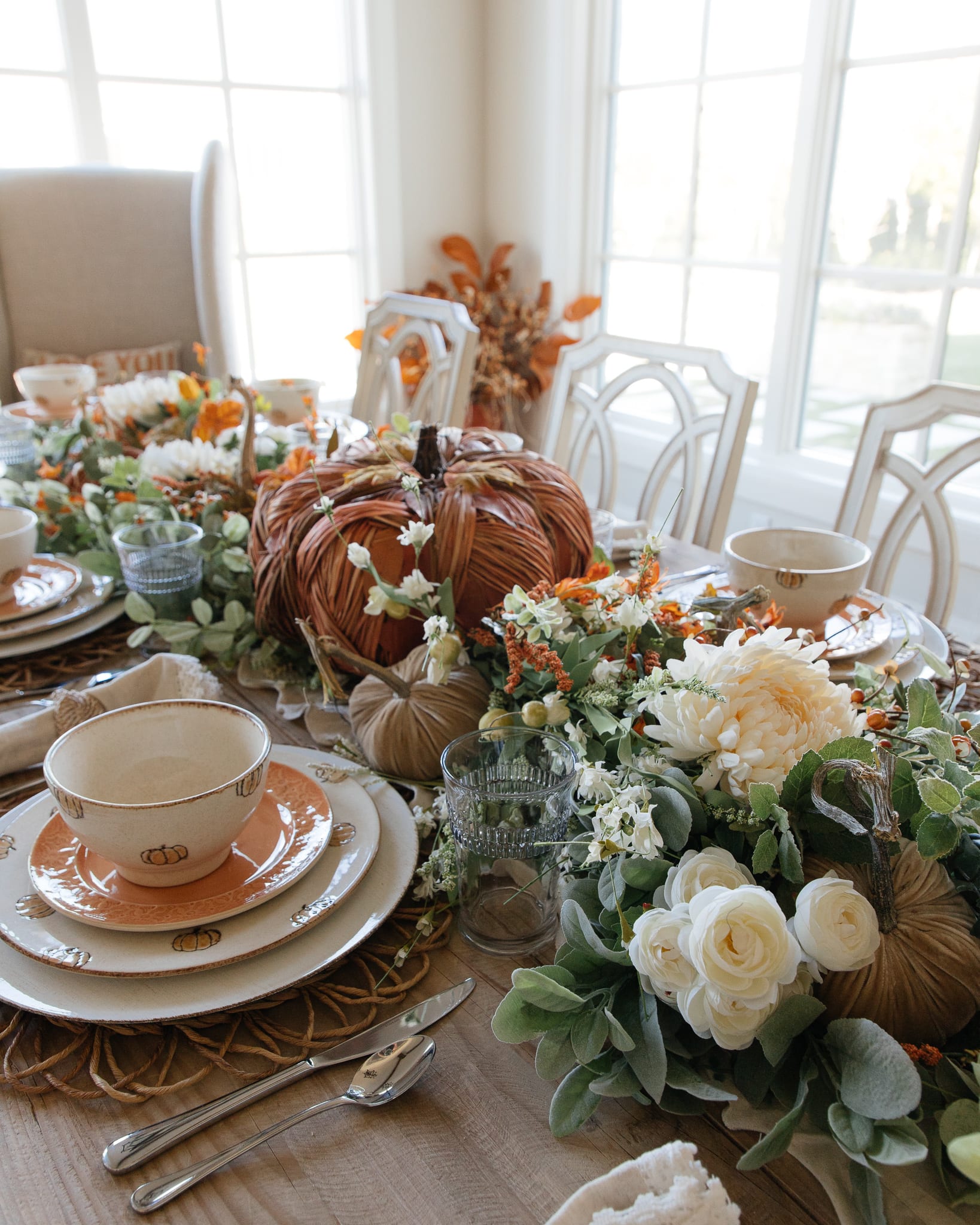 8. Natural Thanksgiving Tablescape – Stone Gable Blog
7. White Pumpkin Centerpiece – Sand And Sisal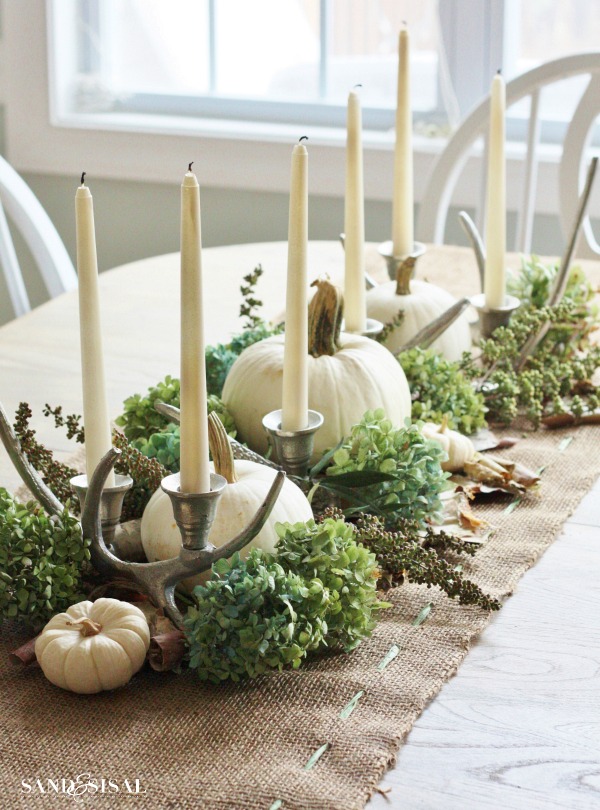 6. Colorful Fall Tablescape – Pretty Handy Girl
5. Bright Thanksgiving Tablescape – Blue I Style Blog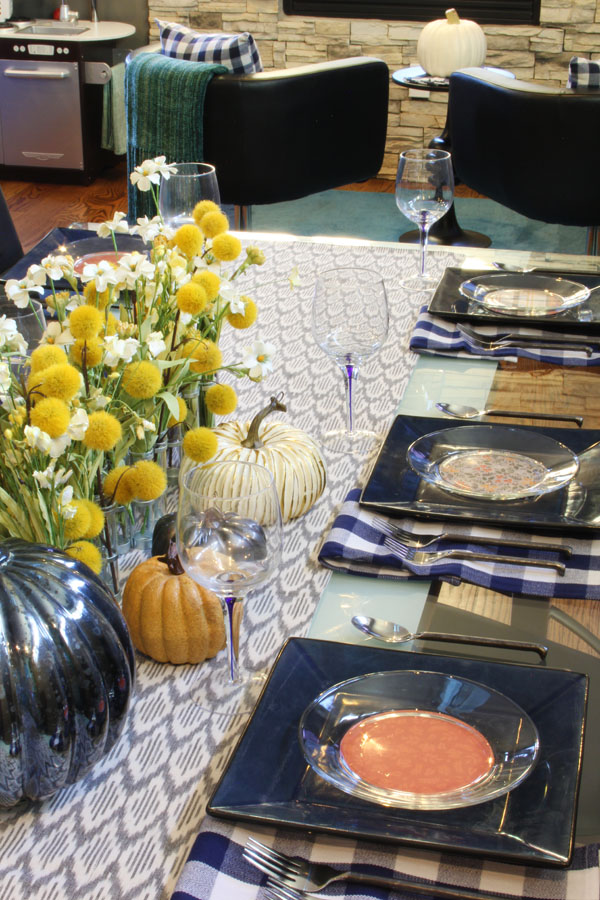 4. Neutral Fall Tablescape – Design Dazzle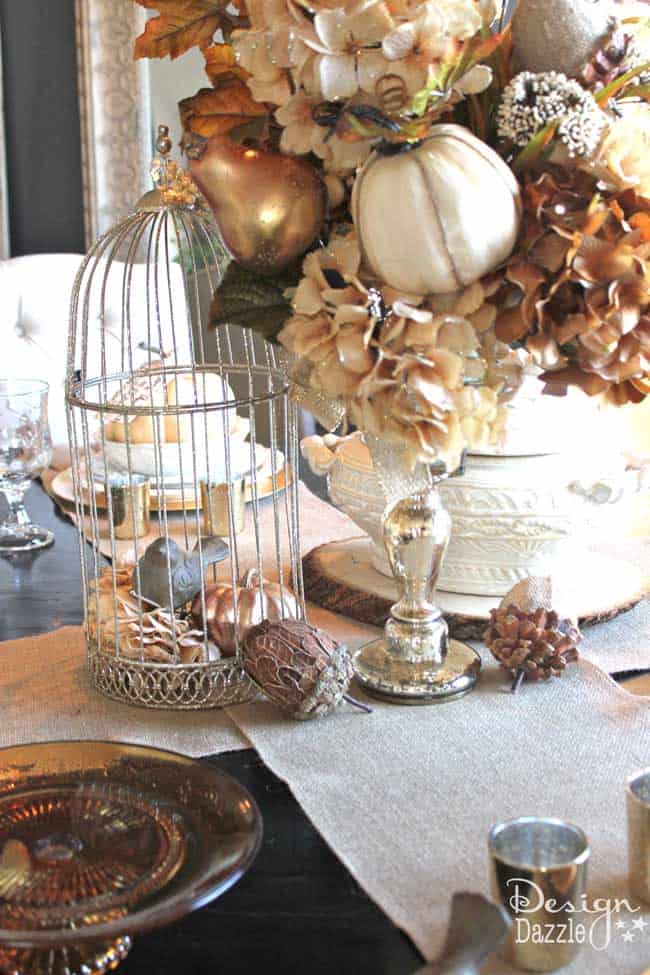 3. Chalk Painted Pumpkins Fall Centerpiece – Unoriginal Mom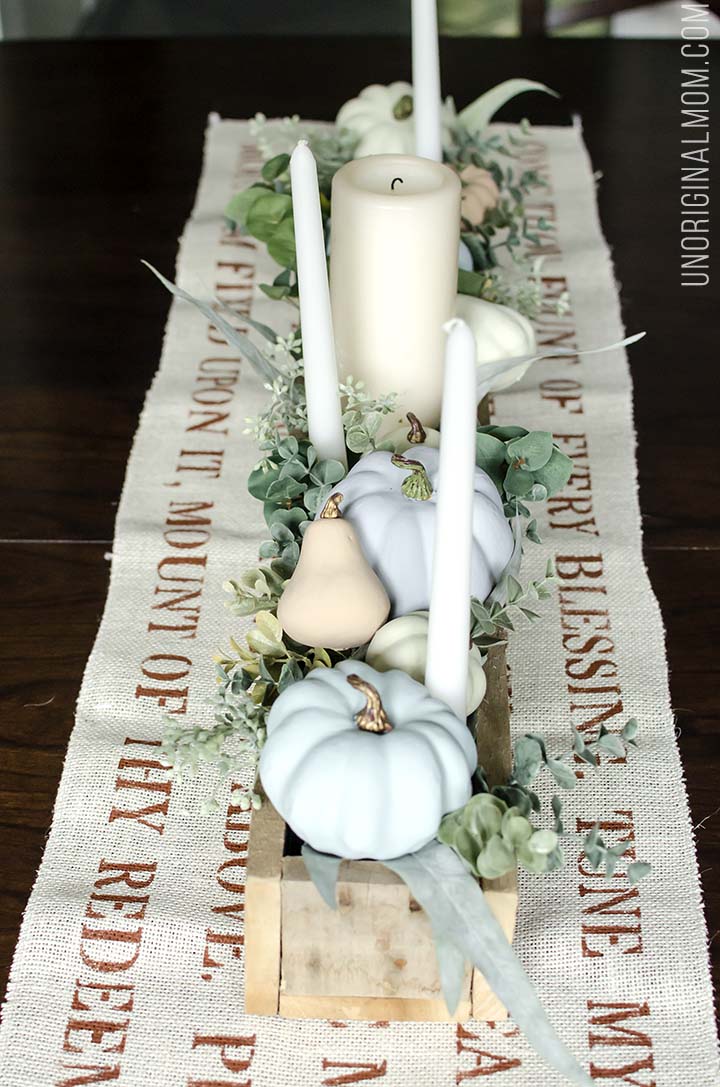 2. Floral Fall Tablescape – House By Hoff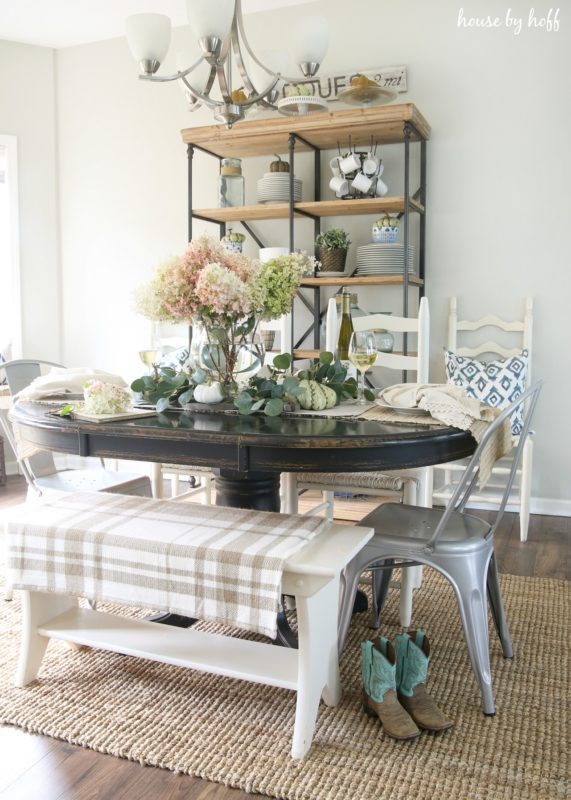 1. Green & White Fall Table – Craft Berry Bush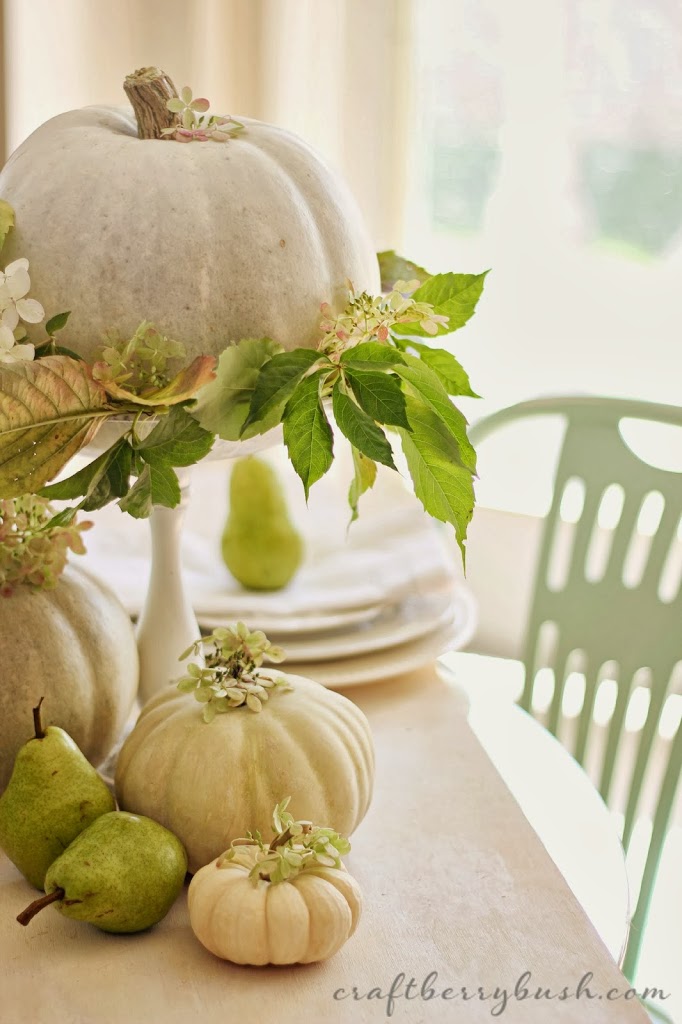 FAQs
Q. How can I incorporate a rustic theme into my fall tablescape?
To achieve a rustic look, consider using natural elements like burlap, wooden chargers, and mason jars as candle holders. Opt for earthy colors and simple, homemade decorations.
Q. Can I mix different patterns and colors in my fall tablescape?
Yes, mixing patterns and colors can add visual interest and depth to your tablescape. Just ensure that the overall combination remains harmonious and complements the fall theme.
Q. What are some alternative centerpieces for a fall tablescape?
In addition to flowers and pumpkins, you can use autumn fruits like apples and pears, dried wheat or cornstalks, or even a collection of colorful fall leaves as centerpieces.
Q. How can I create a budget-friendly fall tablescape?
Look for affordable seasonal decorations at local thrift stores or craft supply shops. You can also repurpose items you already own or consider DIY projects for a personalized touch.
Q. Are there any safety considerations when using candles in a fall tablescape?
Always exercise caution when using open flames. Keep candles away from flammable materials, and never leave them unattended. Consider using flameless LED candles for a safer alternative.
Q. How can I incorporate seasonal fruits and vegetables into my fall tablescape?
Seasonal fruits and vegetables can be used as both decorative elements and delicious additions to your fall tablescape. Consider placing a bowl of apples, pears, or small pumpkins as a centerpiece. You can also incorporate them into your table settings by using them as place card holders or napkin weights.
Q. What are some alternative ideas for fall-themed table settings?
If you want to explore alternative ideas for fall-themed table settings, consider using elements like dried leaves, mini hay bales, or seasonal spices as part of your decor. You can also incorporate rustic elements such as plaid napkins, wooden utensils, or twine-wrapped cutlery to add a charming touch to your tablescape.
Now comes the important question… Which fall tablescapes do you like the most? Please let me know in the comments.
Few more fall ideas!!!
Want to save this for later? Post these Fall Tablescapes to the "Fall Decor" OR "Autumn Decor" Board!