Get inspired with DIY fall yard decor ideas. Transform your outdoor space into a cozy autumn retreat with these charming and creative DIY fall decorations.
As autumn graces us with its enchanting presence, it's time to unleash the beauty of fall in your yard with creative and simple decor ideas.
In this blog, we'll explore a curated collection of fall yard decor that effortlessly captures the essence of the season.
From charming pumpkin displays and cozy seating areas to whimsical scarecrows and colorful foliage, I've gathered a range of inspiring ways to infuse your outdoor space with the warmth and magic of autumn.
Get ready to create an inviting and picturesque yard that celebrates the season's splendor as we embark on a journey of creativity and simplicity.
Let's transform your yard into a captivating oasis that reflects the beauty of fall in every corner.
13 Tips To Create Inviting & Picturesque Fall Yard Decorations
Fall is the perfect time to enhance the aesthetic appeal of your yard and create an inviting atmosphere for family and friends.
By incorporating creative fall yard decorations, you can embrace the spirit of the season and make your outdoor space truly remarkable.
In this article, we will explore some valuable tips to help you create an inviting and picturesque fall yard that will leave a lasting impression on everyone who visits.
1. Selecting a Theme
Selecting a theme is the first step in creating an attractive and cohesive fall outdoor decor.
Choosing a theme can help guide your design choices and create a harmonious look throughout your space.
Some popular fall themes include rustic farmhouses, harvest festivals, autumnal colors, or even Halloween-inspired themes.
Consider your personal preferences and the overall style of your home when selecting a theme.
2. Welcoming Entryway
The entryway of your home sets the tone for the entire outdoor decor.
Creating a welcoming entryway is essential to make guests feel invited and excited about the fall season.
You can achieve this by placing seasonal decorations such as pumpkins, wreaths, or fall-themed doormats.
Incorporating warm colors and natural elements like hay bales or cornstalks can also enhance the welcoming feel of the entryway.
3. Vibrant Planters & Flower Beds
Fall is a great time to showcase vibrant planters and flower beds.
While many flowers fade during this season, there are still plenty of options that thrive in cooler temperatures.
Consider using plants like mums, asters, pansies, or ornamental kale to add pops of color to your outdoor space.
Incorporate these vibrant planters and flower beds strategically around your patio, porch, or walkways to create visual interest.
4. Charming Scarecrows
Scarecrows are a classic symbol of fall and can add a touch of charm to your outdoor decor.
These whimsical characters can be placed in your garden, near flower beds, or even on your porch.
You can either purchase ready-made scarecrows or create your own using old clothes and straws.
Scarecrows not only add a festive touch but also help to protect your plants from unwanted birds or animals.
5. Festive Wreaths & Garlands
Wreaths and garlands are versatile decorative elements that can be used both indoors and outdoors.
During the fall season, opt for wreaths and garlands made from autumnal foliage, berries, pinecones, or even small pumpkins.
Hang a wreath on your front door or place garlands along fences, railings, or windows to bring a festive atmosphere to your outdoor space.
6. Captivating Lighting
Lighting plays a crucial role in creating a captivating and cozy ambiance during the fall season.
Incorporate various types of lighting, such as string lights, lanterns, or even candle arrangements, to add warmth and depth to your outdoor decor.
Consider using warm white or amber-colored bulbs to create a soft, inviting glow.
Place the lights strategically around seating areas, pathways, or trees to highlight key features of your outdoor space.
7. Cozy Seating Areas
As the weather gets cooler, it's important to create cozy seating areas where you and your guests can comfortably enjoy the outdoors.
Arrange outdoor furniture with plush cushions and blankets to provide warmth and comfort.
Consider adding a fire pit or outdoor heater to extend the usability of your seating area into the evening.
Cozy seating areas can be placed on a patio, deck, or even in a corner of your garden.
8. Rustic Signage & Chalkboards
Incorporating rustic signage and chalkboards adds a personalized and charming touch to your fall outdoor decor.
Use wooden signs or chalkboards to display welcoming messages, quotes, or even directions to various areas of your outdoor space.
These rustic elements can be hung on fences, placed near seating areas, or even propped up against trees or planters.
9. Harvest-Inspired Displays
Celebrate the bounty of the fall harvest by creating displays with seasonal fruits, vegetables, and other natural elements.
Arrange pumpkins, gourds, cornstalks, and hay bales in an aesthetically pleasing manner.
You can also add apples, pears, or dried corn cobs to further enhance the harvest theme.
These displays can be placed on your porch, near your entryway, or even as a centerpiece on outdoor tables.
10. Cascading Water Features
The soothing sound of water can create a serene and tranquil atmosphere in your outdoor space.
Consider incorporating cascading water features such as fountains or small waterfalls.
These features not only add visual interest but also provide a relaxing ambiance.
Choose designs that complement your overall outdoor decor and place them strategically to create a focal point in your garden or patio.
11. Nature-inspired Art Installations
Art installations inspired by nature can be a unique and eye-catching addition to your fall outdoor decor.
Consider incorporating sculptures, mobiles, or even wind chimes that feature natural elements like leaves, branches, or animals.
These installations can be placed in gardens, hung from trees, or even positioned on walls or fences to add an artistic touch to your outdoor space.
12. Fall-friendly Lawn Maintenance
Maintaining a well-groomed lawn is crucial for a polished and inviting outdoor space.
During the fall season, focus on tasks like raking leaves, mowing the grass, and trimming any overgrown plants or shrubs.
Clearing pathways and removing any debris or fallen branches also helps to maintain a tidy appearance.
Regular lawn maintenance ensures that your outdoor decor remains the center of attention.
13. Sustainable Decor Options
Choosing sustainable decor options not only helps the environment but also adds a unique touch to your fall outdoor decor.
Instead of purchasing new decorations every year, consider upcycling items you already have or using natural materials found in your surroundings.
For example, you can create DIY decorations using recycled materials, fallen branches, or dried leaves.
Embracing sustainability in your outdoor decor promotes eco-consciousness and creativity.
Stunning Fall Yard Decorations
" Affiliate links are provided for your convenience, please read my disclosure for more information."
19. Scarecrow Welcome Sign – Time F Filled Moments
18. Pottery Barn Knockoff Metal Pumpkins – The Navage Patch
17. House Number Pumpkins – A Diamond In The Stuff
16. Barnwood Harvest Sign – Jennifer Allwood Home
15. Harvest Pumpkin Display – Three Pixie Lane
14. DIY Scarecrow – 2 Little Hooligans
13. DIY Marquee Light Letter Pumpkins – Kara's Party Ideas
12. Distressed Pumpkin Crates – Anderson And Grant
11. Bushel Basket Tier – My Creative Days
10. DIY Pumpkin Topiary – Style Your Senses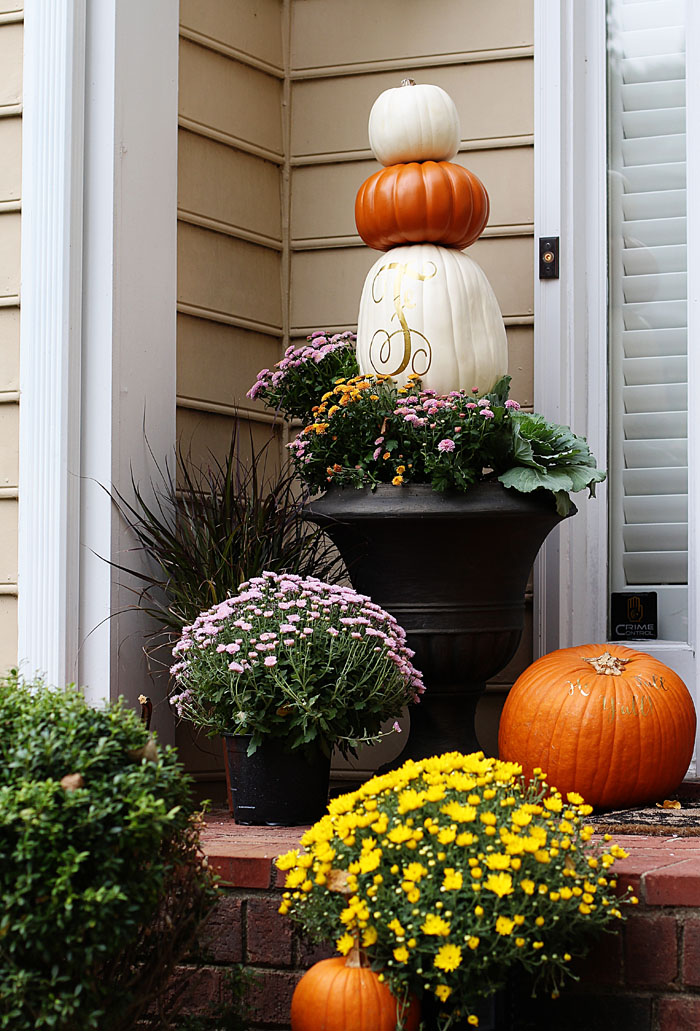 9. Fall Yard Display – Virginia Sweet Pea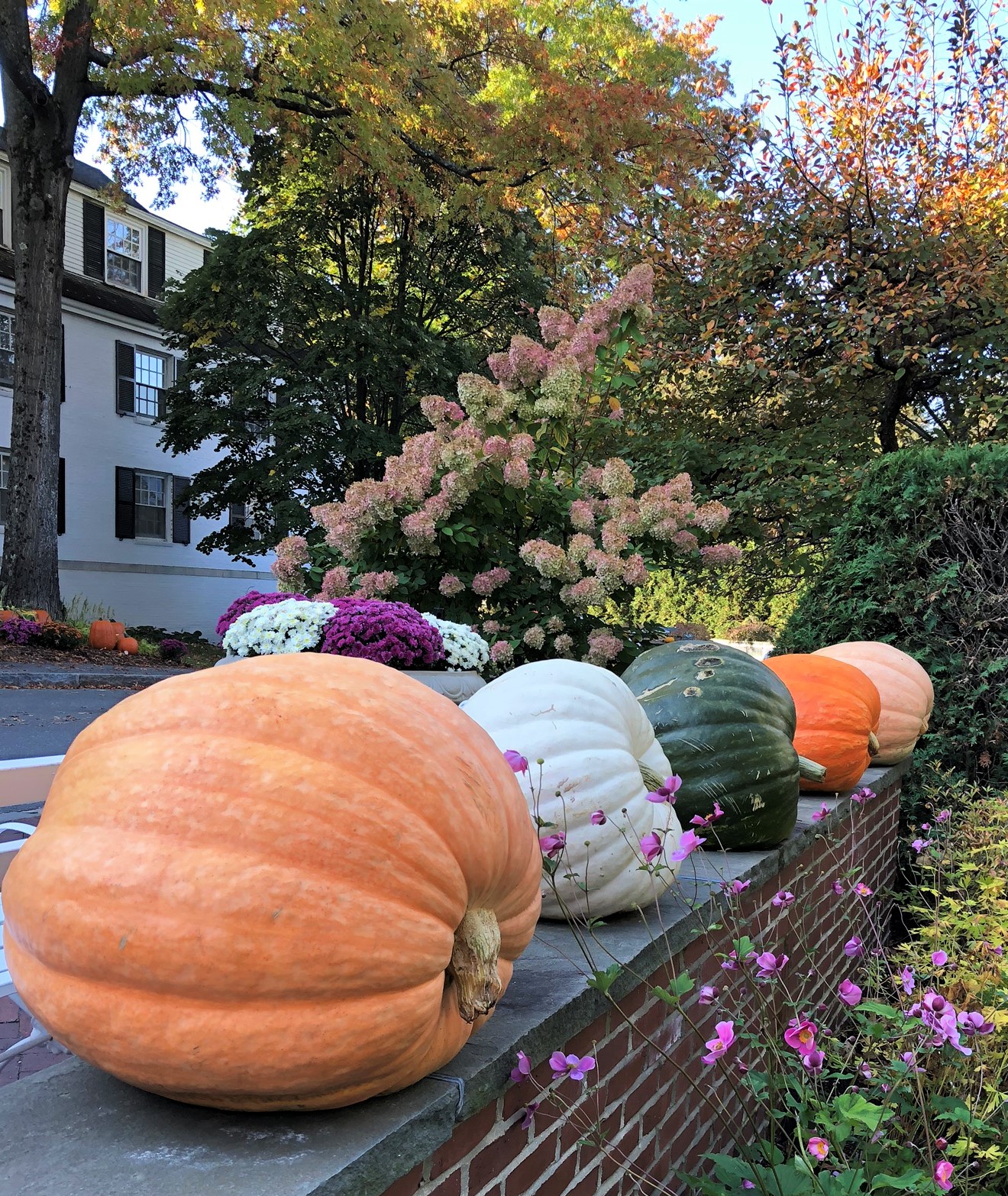 8. Outdoor Fall Decor – Hometalk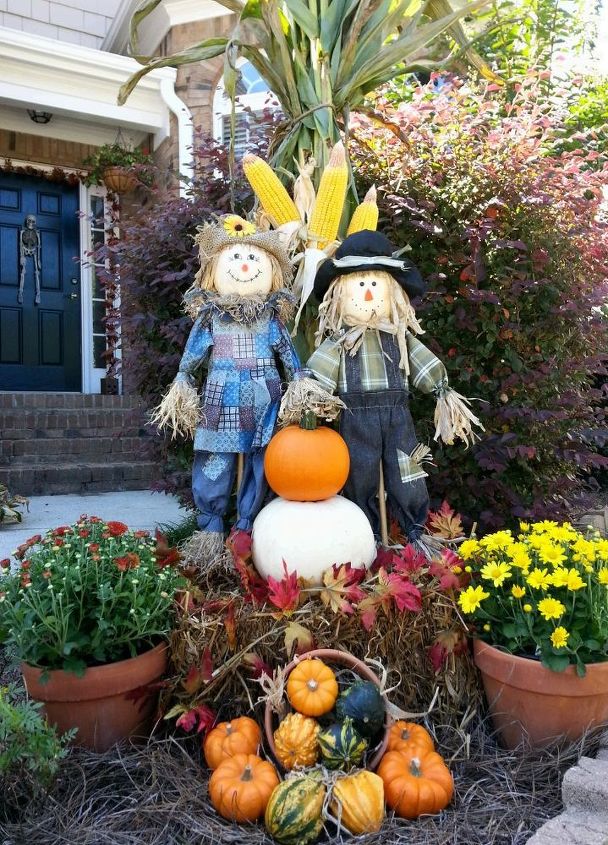 7. Wheel Barrow Display – Instructables
6. Scrap Wood Fall Yard Sign – Simply Country Sign
5. DIY Scarecrow – The Budget Decorator
4. Fall Fence Decor – Creative Cain Cabin
3. Fall Festival Sign – Lydi Out Loud
2. Tipsy Pumpkin Planter – Birds And Blooms
1. Wooden Pumpkins – First Day Of Home
FAQs
Q. How can I protect my fall yard decorations from the weather?
To protect your fall yard decorations from inclement weather, consider using weather-resistant materials and securing lightweight items. Store fragile decor indoors during severe weather conditions.
Q. Can I reuse fall yard decorations in subsequent years?
Yes, many fall yards decorations, such as wreaths, garlands, and durable figurines, can be reused in subsequent years. Properly store them in a cool and dry place during the off-season.
Q. How can I incorporate fall scents into my yard decorations?
You can incorporate fall scents into your yard decorations by using scented candles, essential oil diffusers, or potpourri. Choose fragrances like cinnamon, apple, or pumpkin spice to evoke the essence of fall.
Q. What should I do with my fall yard decorations after the season ends?
After the fall season ends, you can repurpose certain decorations for other occasions or store them carefully for future use. Dispose of perishable items like pumpkins and gourds in an eco-friendly manner.
Q. How can I incorporate Halloween-themed decorations into my fall yard?
To incorporate Halloween-themed decorations into your fall yard, consider adding spooky elements such as fake cobwebs, skeleton props, and carved pumpkins with eerie faces. Combine these decorations with traditional fall elements to create a festive and playful atmosphere.
Q. Are there any safety precautions I should take when decorating my fall yard?
Yes, safety should always be a priority when decorating your fall yard. Ensure that pathways and walkways are well-lit and clear of obstacles to prevent trips and fall. Use outdoor-rated extension cords for any lighting displays and avoid overloading electrical outlets. Additionally, keep open flames, such as candles, away from flammable materials and always supervise them.
Now comes the important question… Which fall yard decor do you like the most? Please let me know in the comments.
Few more fall ideas!!!
Want to save this for later? Post these Fall Yard decors to the "Fall Decorations" OR "Autumn Decor" Board!