Discover DIY fall pumpkin decorating ideas to add a cozy touch to your home. From rustic displays to elegant fall centerpieces, explore DIY fall decor ideas to embrace the beauty of autumn with pumpkins. Get inspired and create a warm and inviting atmosphere for fall.
As the leaves turn golden and the air fills with a familiar crispness, it's time to indulge in the season's favorite symbol: pumpkins!
In this blog, we'll explore a collection of fall pumpkin decor that effortlessly infuses your home with warmth and charm.
From whimsical pumpkin arrangements and elegant pumpkin centerpieces to playful pumpkin displays and unique pumpkin crafts, I've gathered a range of inspiring ways to transform these iconic gourds into eye-catching decor pieces.
Get ready to embrace the pumpkin spice vibes and spice up your home with creative and straightforward pumpkin decor ideas that capture the essence of autumn.
Let's celebrate the season's favorite fruit and explore the endless possibilities of pumpkin-inspired decor!
13 Tips To Use Pumpkins For Fall Decorations
Fall is a magical season filled with natural beauty, and pumpkins are a quintessential part of it.
From traditional orange pumpkins to unique heirloom varieties, there is a pumpkin for every style and taste.
Whether you prefer classic decor or want to experiment with innovative ideas, pumpkins can be transformed into stunning pieces that reflect the spirit of autumn.
1. Choosing the Perfect Pumpkins
When selecting pumpkins for fall decorations, it's important to consider their size, shape, and color.
Look for pumpkins with smooth surfaces and sturdy stems.
Experiment with different types of pumpkins, such as Cinderella pumpkins, white pumpkins, or even miniature pumpkins.
Mixing and matching different varieties can create a visually appealing display.
2. Carving Pumpkins for Jack-o'-Lanterns
Carving pumpkins is a beloved tradition during the fall season.
To create a Jack-o'-Lantern, start by scooping out the pumpkin's insides and sketching a design.
Using a sharp knife, carefully carve out the design, making sure to remove the cut-out sections.
Place a candle or LED light inside the carved pumpkin to bring it to life during the evenings.
3. Painting Pumpkins
For those who prefer a mess-free alternative to carving, painting pumpkins is a fantastic option.
Choose acrylic or spray paint in various colors and let your creativity shine.
You can create intricate patterns, and polka dots, or even paint them to resemble your favorite characters.
Painting pumpkins allows for more detailed designs and offers a longer-lasting decoration.
4. Decorating with Miniature Pumpkins
Miniature pumpkins are adorable and versatile for fall decor.
These small pumpkins can be used in various ways, such as table centerpieces, place card holders, or even as part of a seasonal wreath.
They can be painted, adorned with ribbons, or simply displayed as they are.
5. Creating Pumpkin Centerpieces
Pumpkin centerpieces are an excellent way to add a touch of autumn to your dining table or mantel.
Hollow out a medium-sized pumpkin and place a floral arrangement or a cluster of candles inside.
You can also combine pumpkins with other seasonal elements like pinecones, dried leaves, or acorns to create a captivating centerpiece.
6. Crafting Pumpkin Wreaths
Wreaths are a classic choice for fall decorations, and incorporating pumpkins into them adds an extra layer of charm.
Start by attaching a grapevine or wire wreath frame.
Then, attach miniature pumpkins, faux foliage, and other fall-themed embellishments using hot glue or floral wire.
Hang your pumpkin wreath on the front door or display it indoors for a welcoming touch.
7. Using Pumpkins as Candle Holders
Transform pumpkins into unique candle holders for a cozy ambiance.
Cut off the top of a large pumpkin and hollow it out, leaving enough space to insert a pillar candle.
You can carve patterns or designs into the pumpkin to allow the candlelight to cast beautiful shadows.
Place the pumpkin candle holders on your porch, patio, or any area where you want to create a warm and inviting glow.
8. Pumpkin-themed Table Settings
Elevate your fall dining experience with pumpkin-themed table settings.
Use small pumpkins as individual place card holders by attaching name tags or tying ribbons around their stems.
Scatter mini pumpkins, gourds, and autumn leaves along the center of the table as a rustic centerpiece.
Incorporate natural elements like burlap table runners and linen napkins to complete the look.
9. Making Pumpkin Planters
Give your indoor plants a seasonal makeover by repurposing pumpkins as planters.
Select small or medium-sized pumpkins, cut off the tops, and remove the seeds and pulp.
Fill the hollowed-out pumpkins with potting soil and plant your favorite houseplants or fall flowers inside.
These pumpkin planters make charming additions to windowsills, shelves, or as a centerpiece for your coffee table.
10. Creating Pumpkin Displays for Outdoor Spaces
Use pumpkins to enhance your outdoor spaces with festive displays.
Arrange pumpkins of various sizes on your front porch, staircase, or garden.
Combine them with hay bales, cornstalks, or mums to create a picturesque fall scene.
Adding string lights or lanterns can make the display even more enchanting during the evening hours.
11. Preserving Pumpkins for Longevity
Extend the lifespan of your pumpkins by taking proper care of them.
Keep them in a cool, dry place to prevent rotting.
Applying a thin layer of petroleum jelly or vegetable oil can help retain moisture and maintain their appearance.
Alternatively, you can opt for artificial pumpkins made of foam or other materials for long-lasting decorations.
12. Pumpkin-inspired Front Porch Decor
Decorating your front porch with pumpkin-inspired decor sets a welcoming tone for the season.
Place a collection of pumpkins in different sizes and colors on your porch steps or arrange them in decorative baskets.
Add cornstalks, hay bales, and autumn wreaths to create an inviting entrance that captures the essence of fall.
13. DIY Pumpkin Crafts for Kids
Involving children in fall decorating activities can be a delightful experience.
Engage their creativity by organizing DIY pumpkin crafts.
Provide them with paints, stickers, glitter, and other craft supplies to decorate their own pumpkins.
Encourage them to create unique designs and let their imagination run wild.
These personalized pumpkins can be displayed in their rooms or showcased on a designated craft table.
Stunning Fall Pumpkin Decorations
" Affiliate links are provided for your convenience, please read my disclosure for more information."
25. DIY Mini Pumpkin Topiary – Giggle Living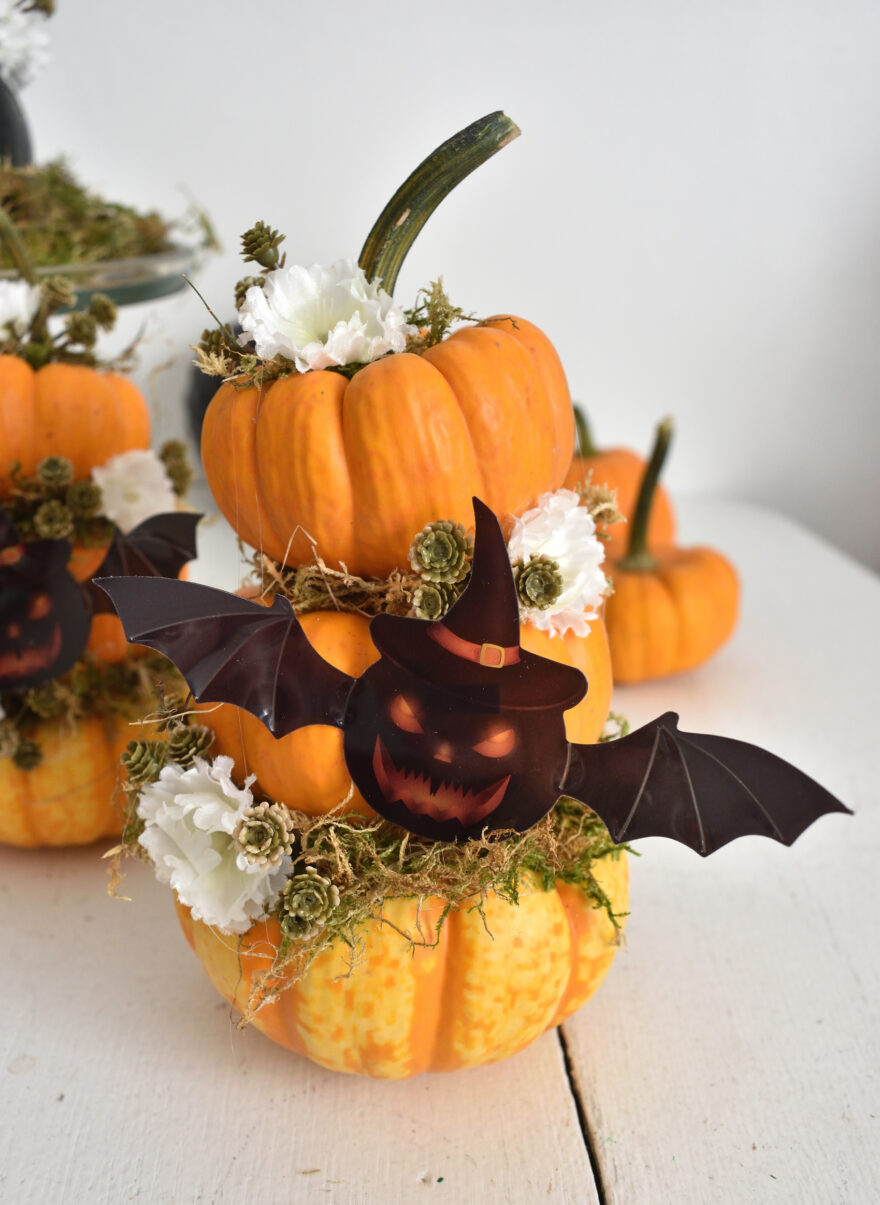 24. Painting Dollar Tree Pumpkins – Crafty Life Mom
23. Pottery Barn Terra Cotta Pumpkin Dupe – Hamilton Park Home
22. Toilet Paper Pumpkins – Instrupix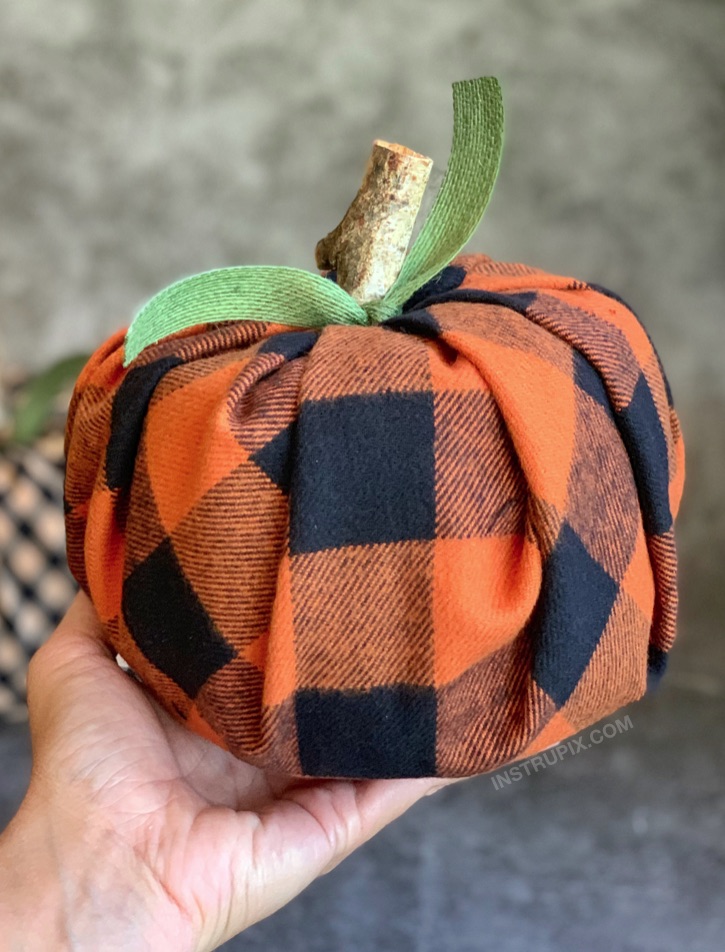 21. DIY Fabric Pumpkin – Fabricart DIY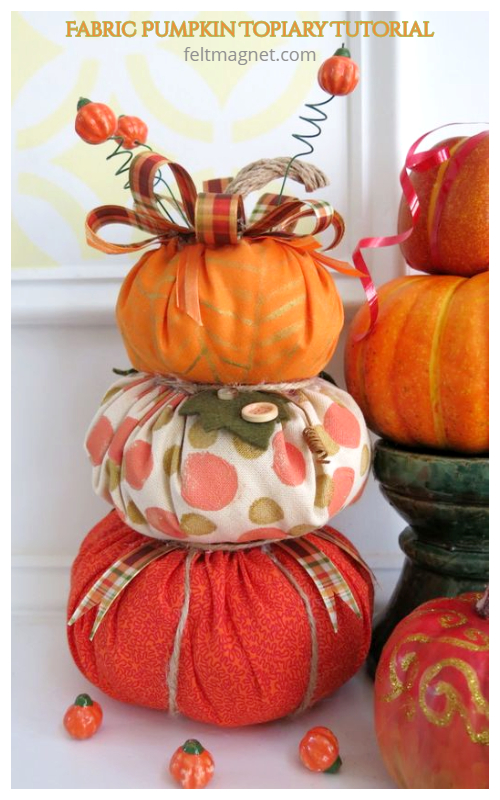 20. DIY Yarn Pumpkins – Celebrate And Decorate
19. Chunky Knit Yarn Covered Pumpkins – Noting Grace
18. Pumpkin Topiary – An Organized Season
17. Vintage Inspired Dollar Store Pumpkin – Jenna Kate At Home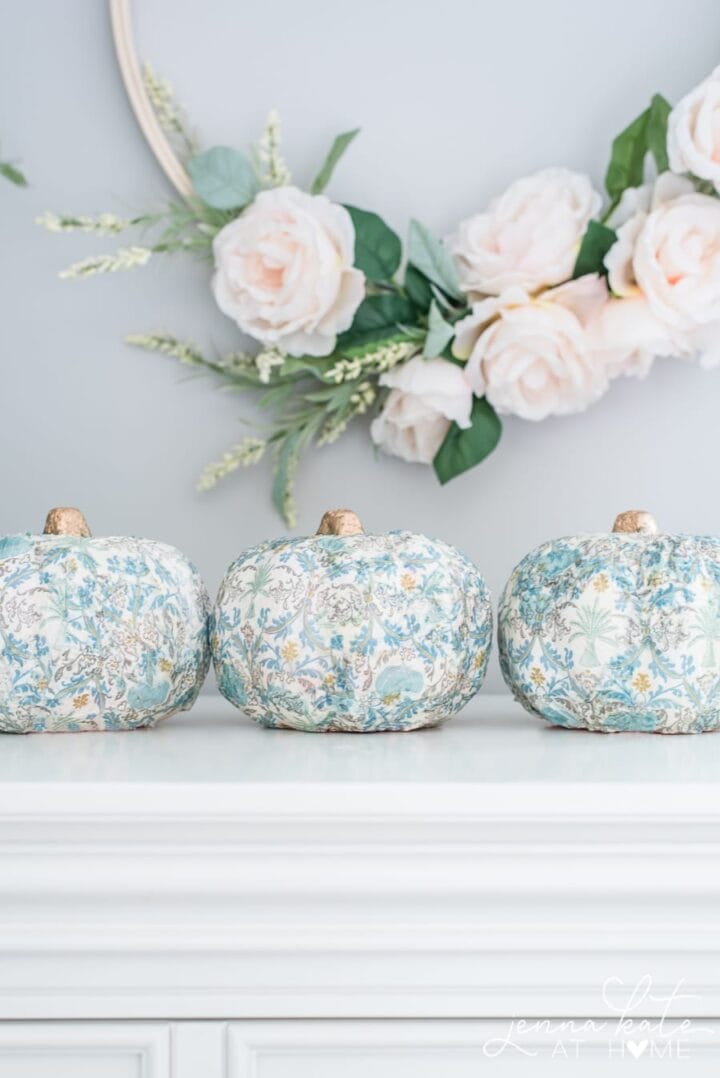 16. Fabric Covered Pumpkin – Manda Panda Projects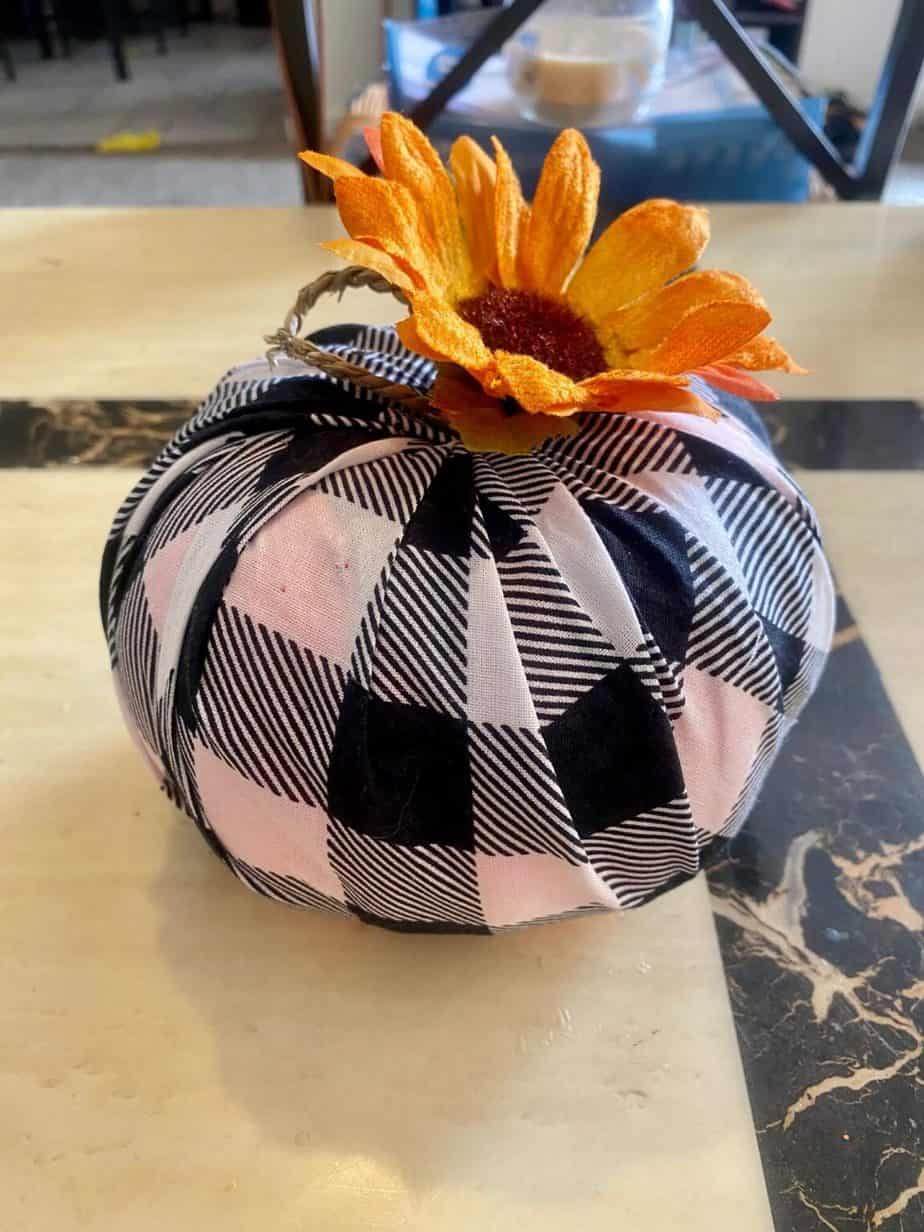 15. Dollar Store Pumpkin Topiary – Hometalk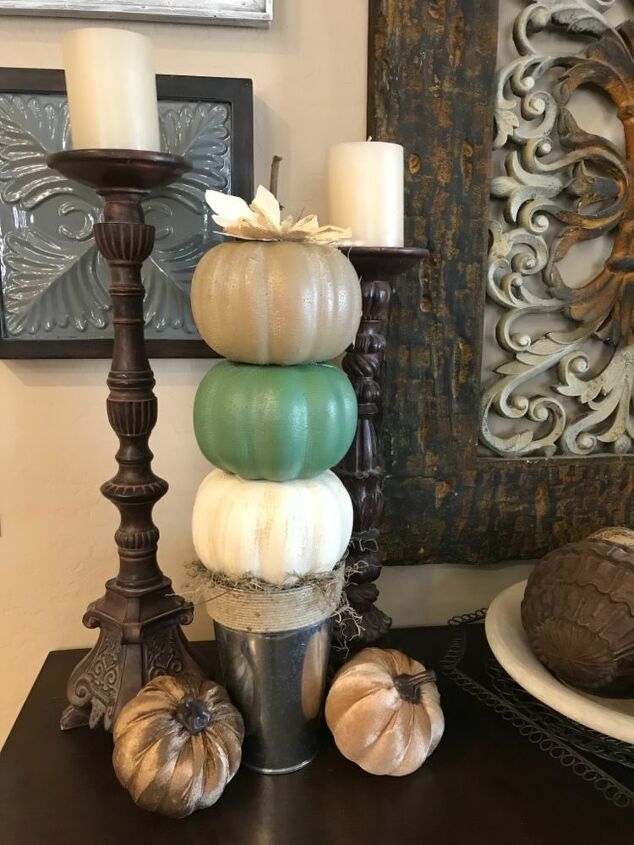 14. Large Yarn Pumpkins – The Crazy Craft Lady
13. Dollar Tree Pumpkin Makeover – Hometalk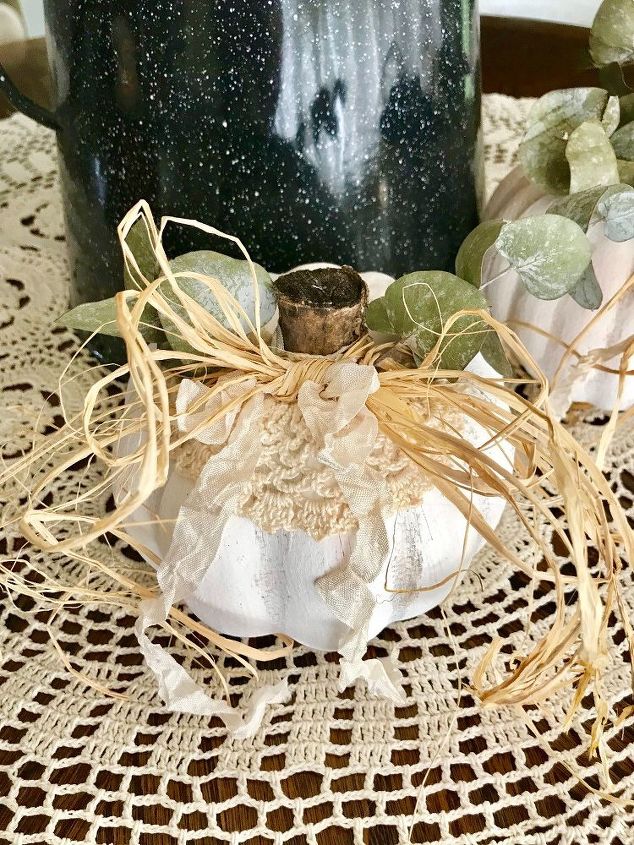 12. Fabric Pumpkins – Crafty Morning
11. DIY Loop Yarn Pumpkins – DIY Beautify
10. Dollar Tree Fall Reverse Canvas – The Crazy Craft Lady
9. DIY Pumpkin Vase – Made To Be A Momma
8. DIY Pumpkin Topiary – A Pumpkin And A Princess
7. Pumpkin Centerpiece – Hip And Humble Style
6. DIY Yarn Pumpkins – An Organized Season
5. DIY Baker's Twine Pumpkins – The Country Chic Cottage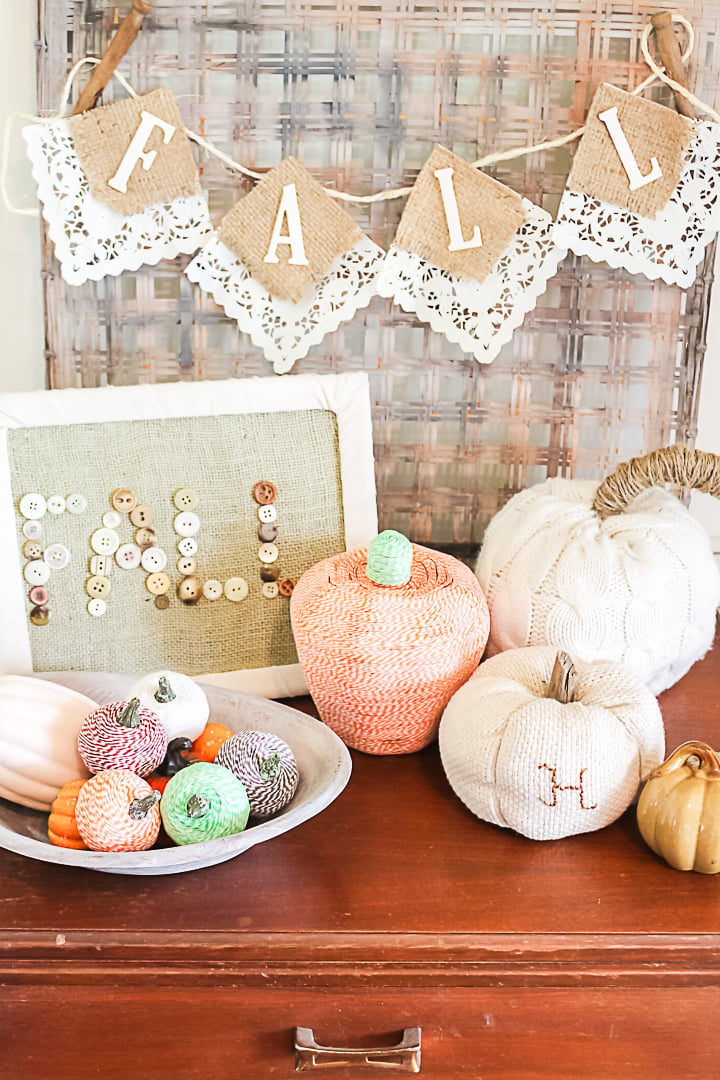 4. Copper Pumpkins – Sanctuary Home Decor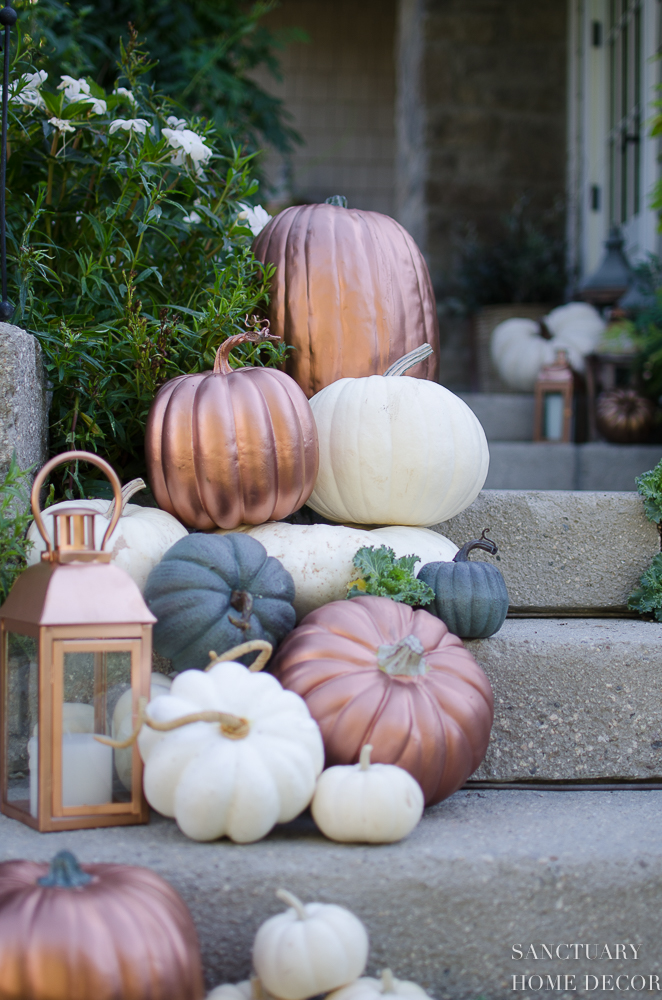 3. Stacked Pumpkins Small Fall Sign – The Makers Map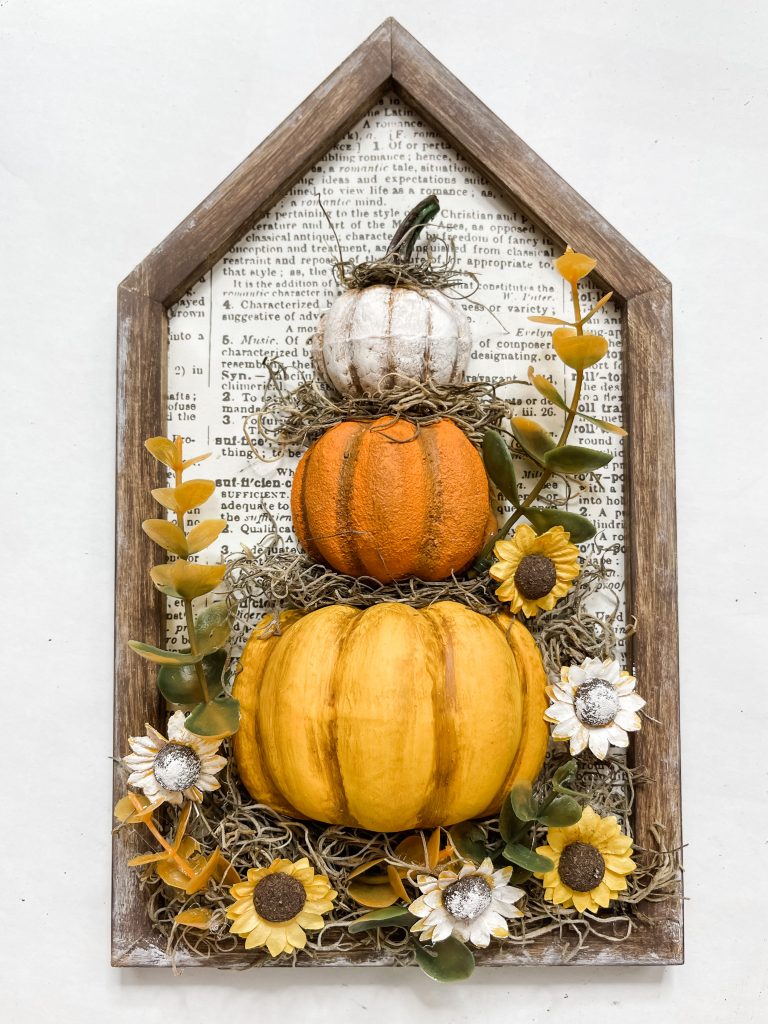 2. DIY Yarn Pumpkins – The Navage Patch
1. Lighted Fall Pumpkin Basket – Clear And Scentsible
FAQs
Q. Can I use artificial pumpkins instead of real ones for fall decorations?
Absolutely! Artificial pumpkins are a great alternative if you want long-lasting decorations or prefer not to use real pumpkins. They come in various sizes, colors, and materials, allowing for a wide range of creative possibilities.
Q. How long do carved pumpkins last?
Carved pumpkins typically last around 5 to 10 days, depending on various factors such as temperature and exposure to sunlight. To extend their lifespan, consider using LED lights instead of candles, as the heat from candles can speed up the decaying process.
Q. Can I eat the pumpkins used for fall decorations?
While some pumpkins are edible, those used for fall decorations are often not the best for consumption. They are typically grown for their decorative qualities rather than their taste. It's advisable to use specific pumpkin varieties, such as sugar pumpkins, for cooking and baking purposes.
Q. How can I preserve a carved pumpkin for a longer duration?
To extend the life of a carved pumpkin, you can apply a mixture of bleach and water or a commercial pumpkin preservative to the cut surfaces. Additionally, keeping the pumpkin in a cool environment and avoiding direct sunlight can help slow down the decaying process.
Q. Can I recycle pumpkins after the fall season?
Yes, pumpkins can be recycled after the fall season. They can be added to compost piles or used as organic material for gardens. Check with your local recycling or composting facilities for specific guidelines on pumpkin disposal in your area.
Now comes the important question… Which fall pumpkin decor do you like the most? Please let me know in the comments.
Few more fall ideas!!!
Want to save this for later? Post these Fall Pumpkin Decor to the "Fall Decor" OR "Autumn Decor" Board!