Welcome autumn with DIY fall front door decor ideas. Transform your entryway into a cozy and inviting space with fall wreaths, pumpkin decors, and warm hues. Embrace the season's beauty and create a captivating first impression for your home.
As the vibrant colors of autumn paint the world, it's time to extend the warm welcome of fall to your front door with creative and simple decor ideas.
In this blog, we'll explore a curated collection of ideas for fall front door decor that effortlessly sets the stage for the season.
From charming wreaths and festive signage to seasonal accents and natural elements, I've gathered a range of inspiring ways to transform your front door into a captivating gateway.
Get ready to embrace the beauty of fall and invite its enchanting spirit into your home with creative and simple front door decor ideas.
Let's celebrate the season's arrival and greet your guests with a warm and inviting ambiance that captures the essence of autumn.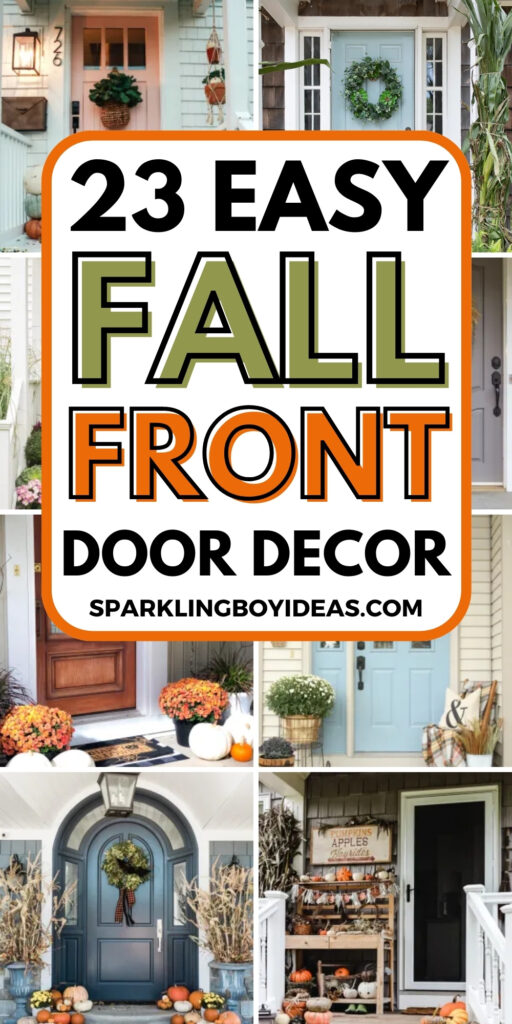 13 Tips To Create A Welcoming & Inviting Fall Front Door
Your front door is the perfect canvas to showcase your creativity and set the tone for the rest of your home.
With a few simple tips and tricks, you can transform your front door into a welcoming and inviting space that captures the essence of fall.
In this article, we will explore various ideas and inspirations to help you create a stunning fall front door that will impress your guests and make your home feel cozy.
1. Choose Warm and Rich Colors
When it comes to creating an inviting fall entrance, color plays a vital role. Opt for warm and rich hues that evoke the feeling of autumn.
Shades of red, orange, yellow, and brown are perfect choices for this season.
Consider painting your front door in a deep burgundy or a warm pumpkin shade to make a bold statement.
Complement the door color with a neutral backdrop, such as a beige or tan, to allow the vibrant fall colors to shine.
2. Embrace Nature-Inspired Decorations
Bringing the beauty of nature into your entrance is a wonderful way to celebrate the fall season.
Consider incorporating natural elements like branches, pinecones, acorns, and dried leaves into your decor.
Arrange a rustic basket filled with these elements and place it near the door for a charming touch.
You can also display a seasonal wreath made of dried flowers, foliage, or twigs to add a touch of rustic elegance.
3. Incorporate Seasonal Wreaths
A fall-themed wreath is a classic and timeless way to enhance your entrance.
Look for wreaths made of autumnal foliage, such as dried leaves, wheat, or eucalyptus.
Consider adding accents like berries, pinecones, or mini pumpkins to create a visual interest.
Hang the wreath on your front door or place it on a prominent wall for a warm and inviting focal point.
4. Layer Textures and Materials
To add depth and coziness to your entrance, layer different textures and materials.
Start with a doormat made of natural fibers like jute or coir.
Layer it with a patterned rug in fall colors to create an inviting look.
Incorporate throw pillows and blankets made of soft fabrics like fleece or knitted wool to provide comfort and warmth.
The combination of different textures will make your entrance feel welcoming and visually appealing.
5. Add Cozy Lighting
Proper lighting sets the mood and creates a cozy ambiance in any space.
For your fall entrance, consider incorporating warm and soft lighting.
Hang string lights or lanterns along your porch or patio to create a warm glow.
Place candles or lanterns with autumn scents like cinnamon or pumpkin spice near the entrance to add a touch of enchantment.
The gentle flickering of candlelight will make your entrance feel inviting and magical.
6. Personalize with Monograms or Initials
Adding personal touches to your fall entrance adds a warm and welcoming vibe.
Consider incorporating monograms or initials into your decor.
Hang a customized wooden monogram or paint your initials on a wooden sign.
You can also use a personalized doormat or a seasonal banner with your family name to make your entrance feel more personalized and special.
7. Create a Charming Pumpkin Display
No fall entrance is complete without pumpkins!
Create a charming pumpkin display by arranging different sizes and varieties of pumpkins on your porch or steps.
Consider painting them in fall colors or carving unique designs to showcase your creativity.
You can also pair them with seasonal elements like cornstalks or hay bales to create an eye-catching arrangement.
A well-curated pumpkin display adds instant charm and whimsy to your fall entrance.
8. Enhance with Seasonal Flowers and Plants
Incorporating seasonal flowers and plants adds a burst of color and life to your fall entrance.
Consider planting mums, marigolds, or pansies in decorative pots and placing them near your doorway.
You can also hang baskets filled with trailing ivy or vibrant autumn flowers.
These natural accents will infuse your entrance with a fresh and inviting feel.
9. Consider Seasonal Doormats
A seasonal doormat is not only functional but also adds a delightful touch to your entrance.
Look for doormats with fall-inspired designs like leaves, pumpkins, or harvest motifs.
Consider opting for a doormat with a warm greeting or a playful autumn-themed message.
A well-chosen doormat sets the tone for your entrance and gives visitors a warm welcome.
10. Emphasize Symmetry and Balance
Creating a visually pleasing entrance involves paying attention to symmetry and balance.
Position your decor elements in a way that feels harmonious and balanced.
Place potted plants or lanterns on either side of your door, or flank your entrance with matching topiaries or decorative urns.
Symmetry in design creates a sense of order and elegance, making your fall entrance even more inviting.
11. Don't Forget About Scents
Scent has a powerful impact on our perception and memory.
Enhance your fall entrance with delightful scents that evoke the essence of autumn.
Place a scented candle, oil diffuser, or potpourri with fragrances like apple cider, pumpkin spice, or cinnamon near your entrance.
The inviting aroma will envelop visitors as they enter your home, creating a warm and cozy atmosphere.
12. Maintain a Clean and Tidy Entrance
No matter how well you decorate, a cluttered or unkempt entrance can dampen the overall effect.
Keep your fall entrance clean and tidy by regularly sweeping away fallen leaves, removing cobwebs, and organizing any shoes or outdoor gear.
By maintaining a neat and welcoming space, you ensure that your fall decor shines and leaves a lasting impression.
13. Use Fall-Themed Signage
Add a touch of charm and whimsy to your fall entrance with fall-themed signage.
Look for wooden or metal signs with sayings like "Welcome Fall" or "Harvest Blessings" to hang near your entrance.
You can also get creative and make your own sign with a festive quote or phrase that embodies the spirit of autumn.
Fall-themed signage adds a personal and playful touch to your entrance decor.
Stunning Fall Front Door Decor Ideas
" Affiliate links are provided for your convenience, please read my disclosure for more information."
23. Fall Front Porch With Fairytale Pumpkins – Cottage On Bunker Hill
22. Fall Front Porch Scape – Rachel Parcell
21. Muted Fall Front Door – Finding Silver Pennies
20. Cozy Fall Front Door Decor – Shades Of Blue Interiors
19. Fairy Tale Front Door – Willow Street Interiors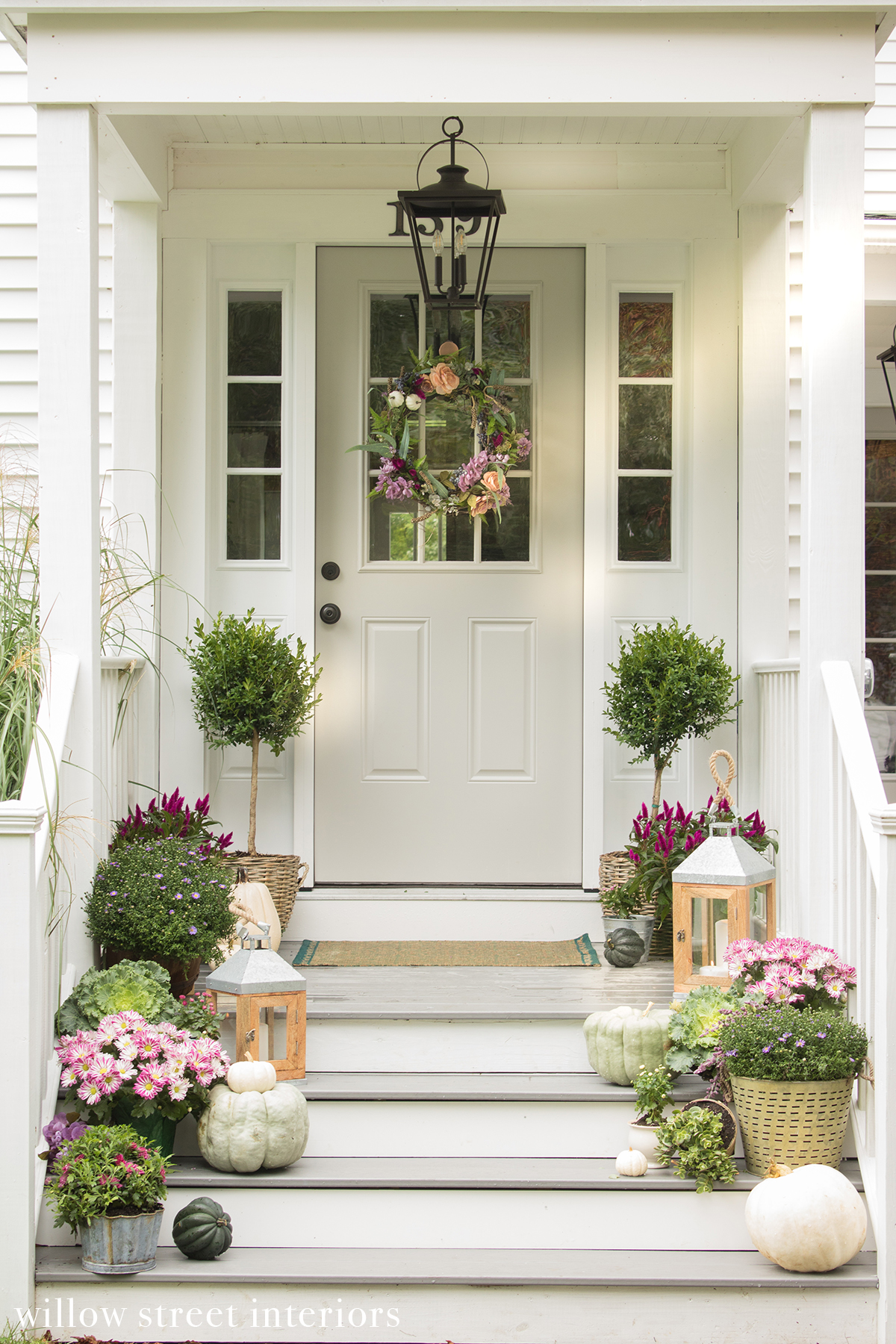 18. Pastel Fall Front Door – Nesting With Grace
17. Fall Stoop Decor – House By Hoff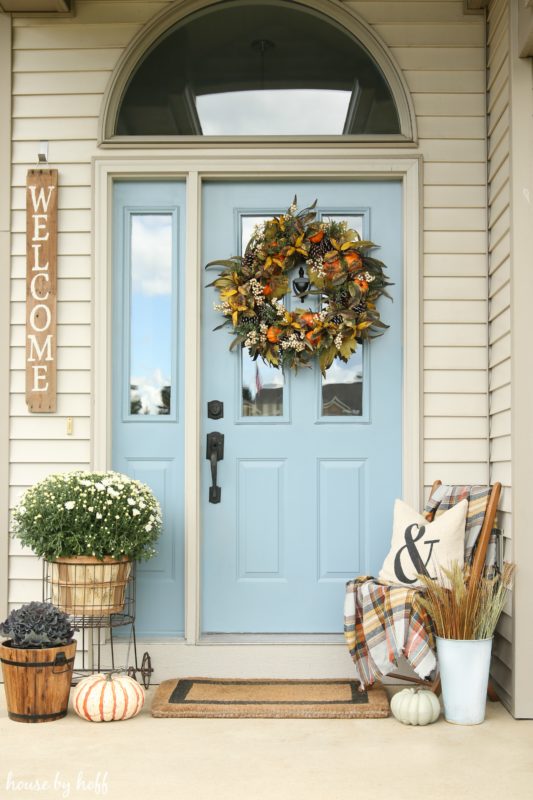 16. Halloween Front Door – 29 Design Studio
15. DIY Rainbow Pumpkins – The House That Lars Built
14. Rustic Cottage Farmhouse Fall Front Door – Liz Marie Blog
13. Fall Hydrangea Wreath – It All Started With Paint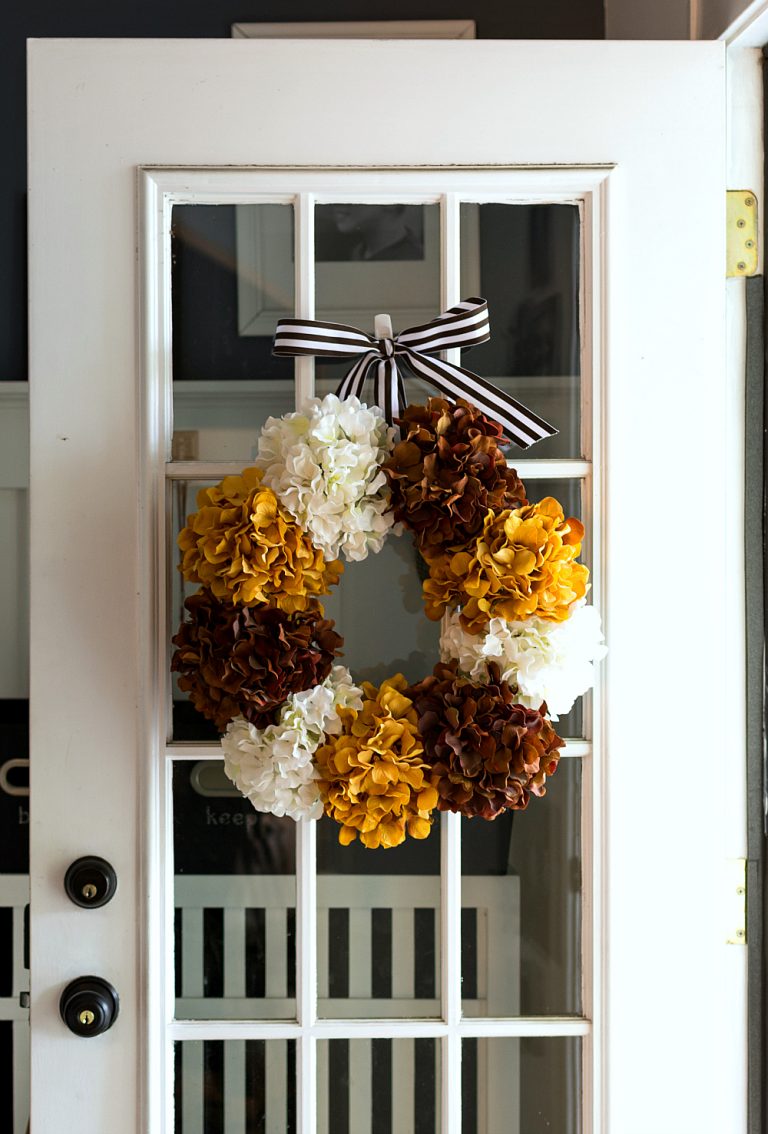 12. Wood Slices Embroidery Hoop Wreath – Lydi Out Loud
11. Fall Awaits Hand Painted Sign – Lydi Out Loud
10. Fall Wheat Wreath – Finding Home Farms
9. Indian Corn Wreath – Stone Gable Blog
8. Circle Pumpkin Wreath – On Sutton Place
7. DIY Giant Wood Tags – Jaime Costiglio
6. Wheat Sheaf – Julie Blanner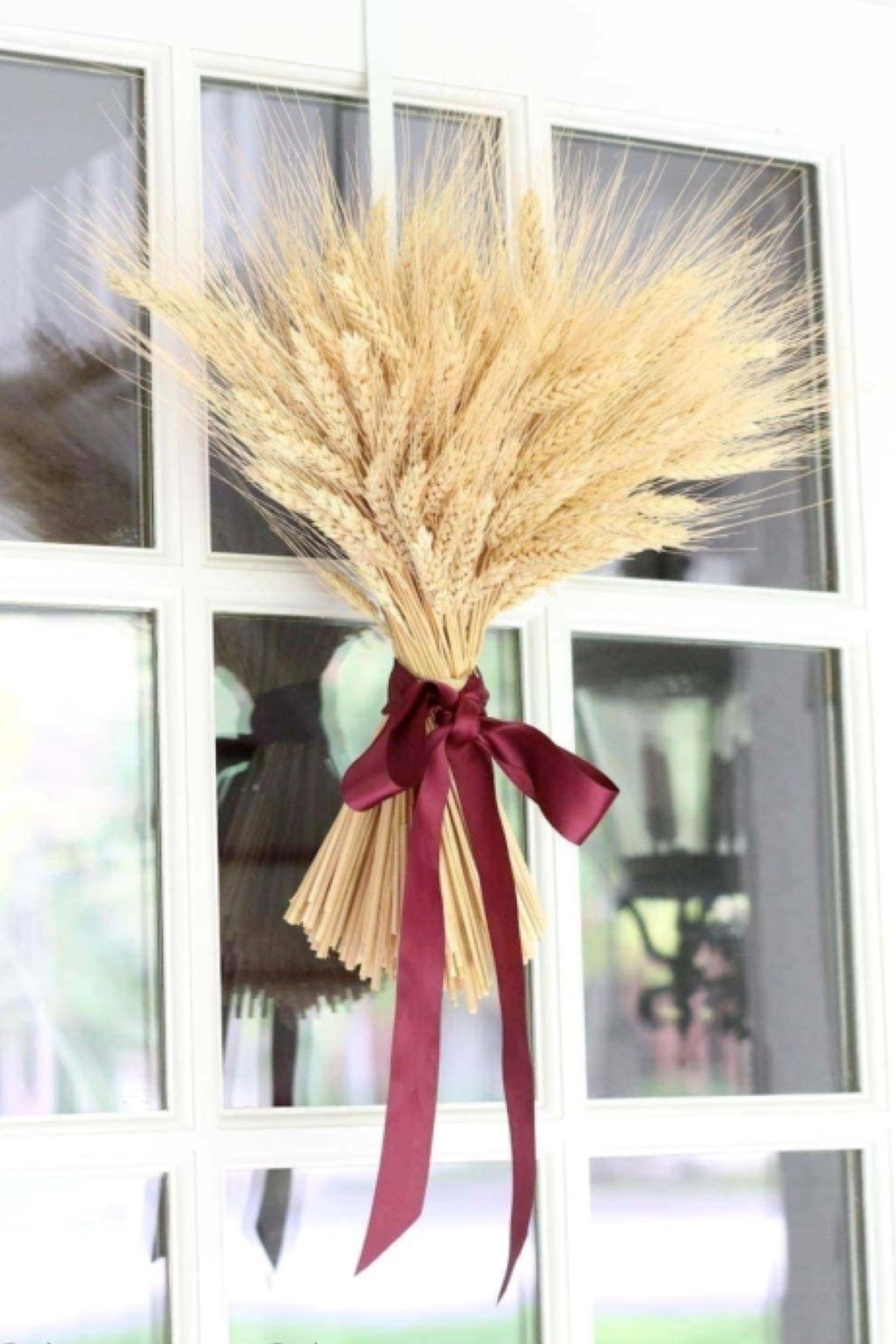 5. Scarecrow Wreath – Always The Holidays
4. Fall Door Arrangement – Between Naps On The Porch
3. Fall Flower Can Door Decor – My Blessed Life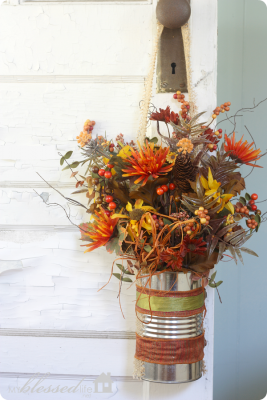 2. Stacked Pumpkin Topiary – Hometalk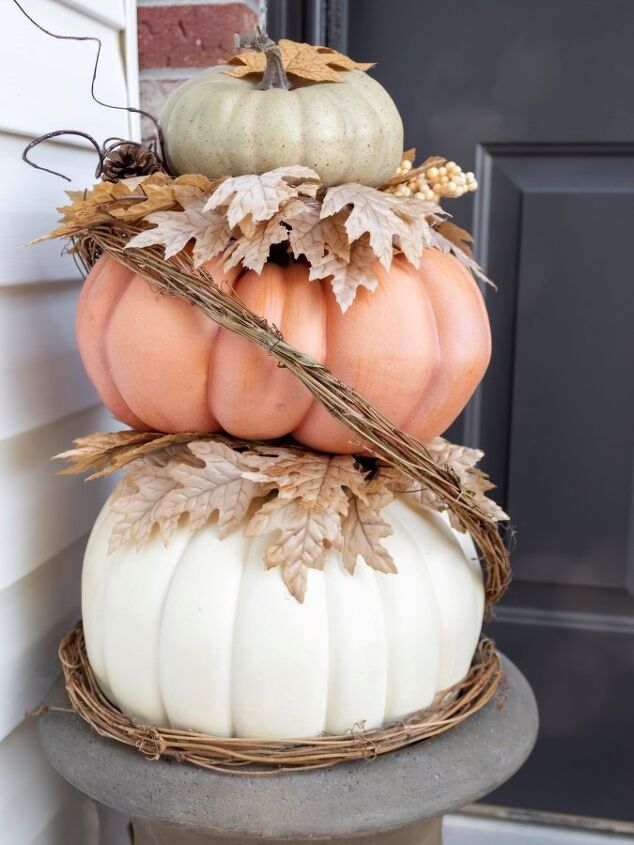 1. Fall Foliage Arch – Celebrate And Decorate
FAQs
Q. How often should I change the decorations on my fall front door?
The frequency of changing your fall front door decorations depends on your personal preference and the overall look you want to achieve. Some people prefer to change them every season to embrace the different aspects of fall, while others may opt to switch them up every few months for variety. Ultimately, it's up to you to decide how often you want to refresh the look of your front door and keep it engaging for visitors.
Q. Can I incorporate artificial elements in my fall front door decor?
Absolutely! Incorporating artificial elements in your fall front door decor is a great idea. Artificial flowers, foliage, and pumpkins can provide long-lasting beauty and require minimal maintenance. They can be an excellent alternative for those who may have allergies or prefer a more durable option that can withstand changing weather conditions while still adding a touch of autumn charm to your front door.
Q.What if I have a small front porch or limited space?
If you have a small front porch or limited space, don't worry! You can still create an inviting fall front door display. Focus on smaller decor elements that make a big impact, such as a well-decorated wreath, a festive doormat, or strategically placed potted plants. By utilizing these smaller items, you can maximize the limited space you have and still achieve a charming and welcoming fall front door aesthetic.
Q. Can I mix different fall themes together?
Yes, you can absolutely mix different fall themes together to create a unique and personalized front door display. Fall offers a rich tapestry of colors, textures, and symbols, so feel free to combine elements from various themes that resonate with you. Whether it's rustic, harvest-inspired decor or a more modern and minimalistic approach, let your creativity guide you in curating a front door display that reflects your personal style and celebrates the beauty of the season.
Q. How can I protect my fall front door decorations from the weather?
To protect your fall front door decorations from the weather, it's essential to choose weather-resistant materials whenever possible. Look for durable items that can withstand rain, wind, and sunlight. Additionally, consider bringing delicate or more vulnerable items indoors during inclement weather to prevent damage. By taking these precautions, you can ensure that your fall front door decorations stay intact and continue to make a welcoming and inviting statement throughout the season.
Now comes the important question… Which fall front door decor do you like the most? Please let me know in the comments.
Few more fall ideas!!!
Want to save this for later? Post these Fall Front Door Decors to the "Fall Decorations" OR "Autumn Decor" Board!