Discover DIY rustic fall decor ideas to cozy up your home. Embrace the warmth of autumn with rustic accents and create a beautiful seasonal ambiance.
As the crisp air ushers in the beauty of autumn, it's time to transform your living space into a haven of rustic charm that reflects the essence of the season.
In this blog, we'll explore a curated collection of rustic fall decor.
From earthy textures and warm color palettes to natural elements and handmade accents, I've gathered a range of inspiring ways to infuse your home with the cozy allure of fall.
Get ready to embrace the inviting ambiance and create a space that exudes warmth and comfort.
Let's dive into the world of rustic fall decor and bring the magic of this season into every corner of your home.
Tips For Combining Rustic & Modern Elements For Fall Decor
Fall is the perfect time to update your home decor and create a welcoming ambiance.
One popular trend is the combination of rustic and modern elements, which can bring a unique and stylish look to your living space.
In this article, we will explore some tips and ideas on how to seamlessly blend rustic and modern elements for stunning fall decor.
1. Embrace Natural Materials
Natural materials play a significant role in both rustic and modern design aesthetics.
Incorporating elements such as wood, stone, and natural fibers can add warmth and texture to your fall decor.
Consider using reclaimed wood furniture or accent pieces, exposed brick walls, or stone countertops to introduce rustic charm.
Pair these with sleek, modern furnishings made of materials like glass, metal, or leather to create an intriguing contrast.
2. Find the Balance in Colors
When combining rustic and modern styles, finding the right balance in colors is crucial.
For a fall-themed decor, opt for warm, earthy tones such as deep oranges, browns, and muted greens.
Use these colors as a base and introduce pops of vibrant hues sparingly.
For example, you can incorporate modern accents in bold colors like teal or mustard yellow to create visual interest against a rustic backdrop.
3. Mix Textures and Patterns
Textures and patterns add depth and visual appeal to any decor.
Combining rustic and modern elements allows you to experiment with various textures and patterns.
For a rustic touch, consider using chunky knits, woven fabrics, or faux fur throws.
These can be paired with smooth, sleek surfaces like glass or metal to create an interesting juxtaposition.
Additionally, incorporate patterns such as plaid, herringbone, or geometric prints to bring a modern twist to your fall decor.
4. Blend Vintage and Contemporary Pieces
To achieve a harmonious fusion of rustic and modern styles, blend vintage and contemporary pieces.
Look for antique furniture or accessories with a weathered patina that exudes rustic charm.
Pair them with sleek, streamlined pieces that boast clean lines and minimalistic designs.
The combination of old and new will create a unique and eclectic look that reflects both rustic and modern sensibilities.
5. Incorporate Nature-Inspired Accents
Fall is a season that celebrates nature's beauty.
To enhance your rustic and modern fall decor, incorporate nature-inspired accents.
Display a collection of dried leaves, branches, or pinecones in sleek glass vases or minimalist containers.
Use them as centerpieces or scatter them on shelves and tables for an organic touch.
You can also add potted plants or seasonal flowers to infuse freshness and natural beauty into your living space.
6. Pay Attention to Lighting
Lighting plays a crucial role in creating the right ambiance for your fall decor.
Opt for warm, soft lighting options like Edison bulbs or warm LED lights to evoke a cozy and inviting atmosphere.
Install sleek, modern light fixtures that complement the overall aesthetic while incorporating rustic elements like wrought iron or copper finishes.
Consider using dimmers to adjust the lighting levels and create the desired mood for different occasions.
7. Showcase Statement Art Pieces
A great way to bring together rustic and modern elements is through statement art pieces.
Look for artwork that combines traditional and contemporary styles or features natural landscapes with a modern twist.
Large-scale paintings, sculptures, or even tapestries can become focal points in your fall decor.
They add character and create a visual bridge between the rustic and modern elements in your living space.
8. Create Cozy Nooks
Fall is all about creating cozy spaces where you can relax and unwind. Incorporate rustic and modern elements into cozy nooks throughout your home.
Use plush, comfortable seating adorned with soft blankets and pillows.
Add a rustic touch with a vintage-inspired side table or a reclaimed wood coffee table.
Incorporate modern conveniences like a sleek reading lamp or a built-in charging station to create a perfect blend of functionality and style.
9. Don't Overcrowd the Space
While combining rustic and modern elements, it's important to maintain a sense of balance and avoid overcrowding the space.
Keep the decor simple and uncluttered, allowing each element to shine.
Embrace negative space and let the selected pieces breathe.
Remember, less is often more when it comes to creating cohesive and visually pleasing fall decor.
Must Try Rustic Fall Decor Ideas
" Affiliate links are provided for your convenience, please read my disclosure for more information."
21. DIY Rustic Mantel Decor – The Frugal Homemaker
20. Rustic Autumn Centerpiece – Jenna Burger
19. Rustic Pallette Pumpkins – Make It Love It
18. Rustic Glass Jar Fall Centerpiece – Love Of Family And Home
17. Fall Rustic Mason Jars – Sincerely Jean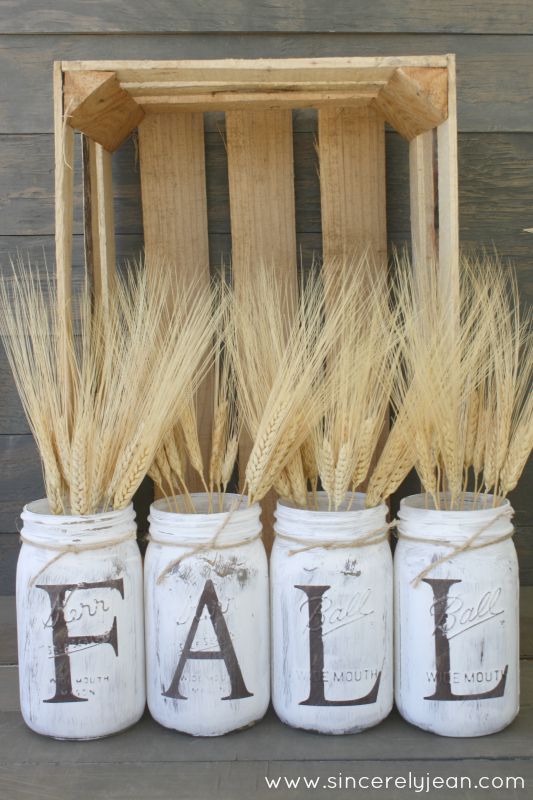 16. DIY Rustic Pumpkin Vase – A Pumpkin And A Princess
15. Real Leaf Art – Just A Girl Blog
14. Fall Candle Centerpiece – A Pumpkin And A Princess
13. Harvest Fall Porch – The Wood Grain Cottage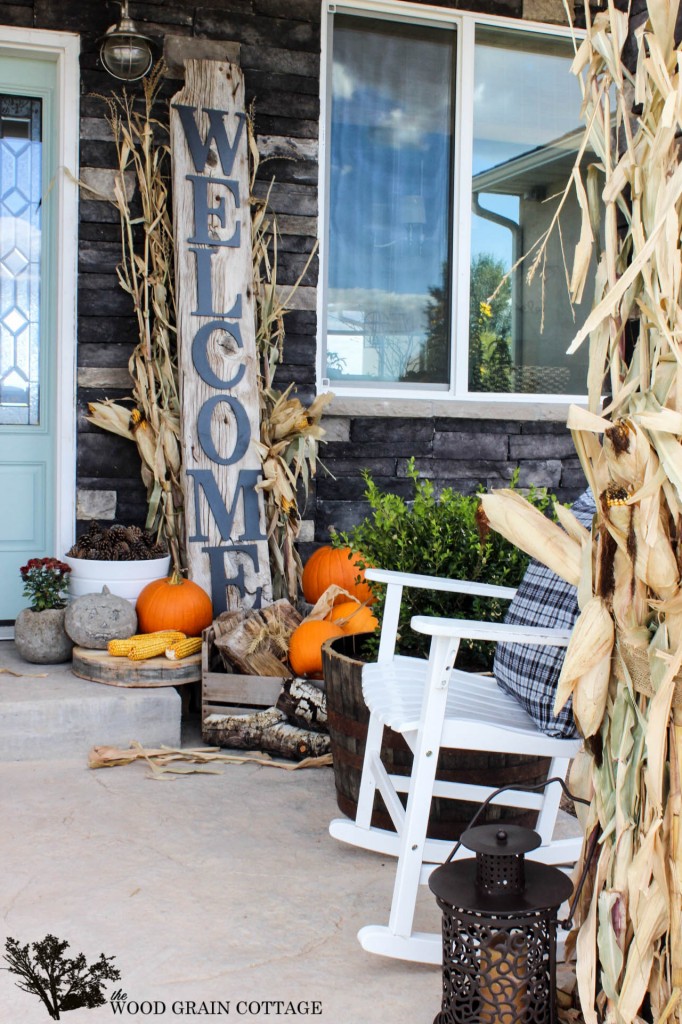 12. Rustic Thanksgiving Centerpiece – The Ideas Room
11. Fall Harvest Basket Centerpiece – Opulent Cottage
10. DIY Fall Leaf Tree – Made In A Day
9. Rustic Fall Porch – The Crafting Chicks
8. Fall Crate Display – Gray House Studio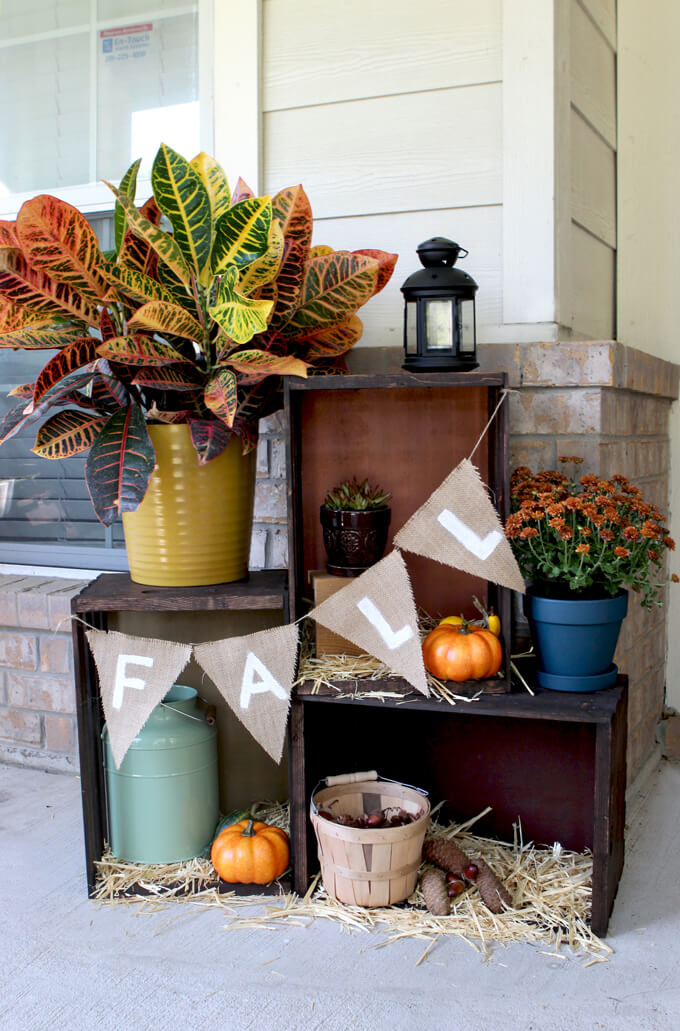 7. Rustic Fall Pallete Sign – Taryn Whiteaker
6. Painted Wood Slice Pumpkins – A Night Owl Blog
5. DIY Wood Crate Pumpkins – Crafty Morning
4. Rustic Harvest Display – Three Pixie Lane
3. DIY Red Berries Fall Wreath – To Simply Inspire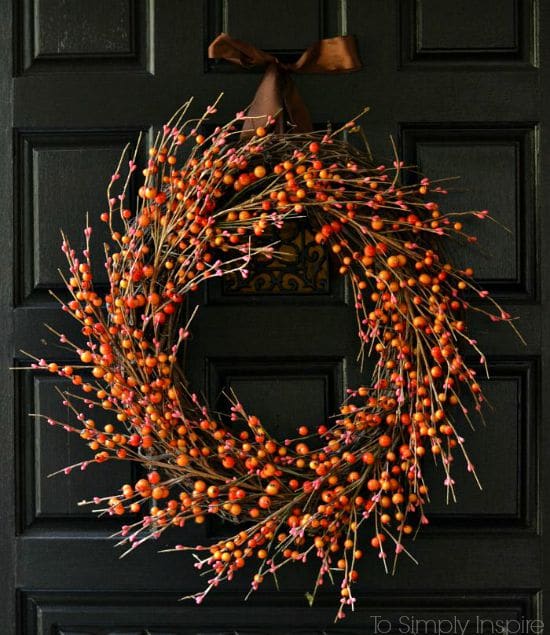 2. DIY Twig Letters – The Happy Housie
1. Fall Acorn Wreath – Tried And True Blog
FAQs
Q. Can I combine rustic and modern elements in any room of my house?
Yes, you can combine rustic and modern elements in any room of your house, from the living room to the bedroom or even the kitchen. The key is to find the right balance and incorporate elements that complement each other in creating a cohesive and stylish look.
Q. What are some examples of rustic and modern combinations for fall decor?
Some examples of rustic and modern combinations for fall decor include pairing a reclaimed wood dining table with modern, upholstered chairs or using a rustic-inspired wallpaper as a backdrop for sleek, minimalist furniture. The goal is to mix elements from both styles to create a visually interesting and harmonious design.
Q. How can I incorporate rustic elements without making my space look outdated?
To incorporate rustic elements without making your space look outdated, choose timeless rustic elements such as natural wood finishes or vintage-inspired accents. By blending them with modern pieces and incorporating a balance of textures and colors, you can achieve a contemporary look while still retaining the warmth and charm of rustic decor.
Q. What lighting options work best for rustic and modern fall decor?
The best lighting options for rustic and modern fall decor are warm, soft lighting choices such as Edison bulbs or warm LED lights. These lighting options create a cozy and inviting atmosphere while complementing the rustic and modern elements in your decor. They add a warm glow and enhance the overall ambiance of your space.
Q. How can I make my fall decor feel cozy and inviting?
To make your fall decor feel cozy and inviting, incorporate layers of soft textiles such as blankets and pillows. Choose warm colors like deep oranges, browns, and muted greens to create a cozy atmosphere. Additionally, create cozy nooks with comfortable seating where you can relax and unwind. These elements will make your space feel warm, inviting, and perfect for enjoying the fall season.
Q. Can I combine rustic and modern elements if I have a small space?
Yes, it's possible to combine rustic and modern elements in a small space. Choose compact furniture with clean lines that are proportionate to the room's size. Incorporate rustic elements through smaller accents like wall decor or decorative objects. By utilizing mirrors and strategic lighting, you can create an illusion of more space while maintaining a harmonious blend of styles in your rustic and modern fall decor.
Now comes the important question… Which rustic fall decor do you like the most? Please let me know in the comments.
Few more fall ideas!!!
Want to save this for later? Post these Rustic Fall Decor to the "Fall Decor" OR "Autumn Decor" Board!