Add a touch of autumn to your home with these DIY fall pumpkin door hangers. Explore our collection of fall door decorations and make your doors look amazing!
As autumn arrives and leaves begin to change color, it's time to embrace the spirit of the season and add a touch of charm to your front door.
One delightful way to do this is by hanging a pumpkin door hanger.
These whimsical decorations not only celebrate the fall season but also welcome guests with a playful and inviting vibe.
In this blog, we'll explore the enchanting world of pumpkin door hangers, from their diverse designs and materials to creative ways to incorporate them into your home decor.
Get ready to elevate your doorstep's appeal and bring a cheerful autumn ambiance to your home with these delightful pumpkin-themed accents.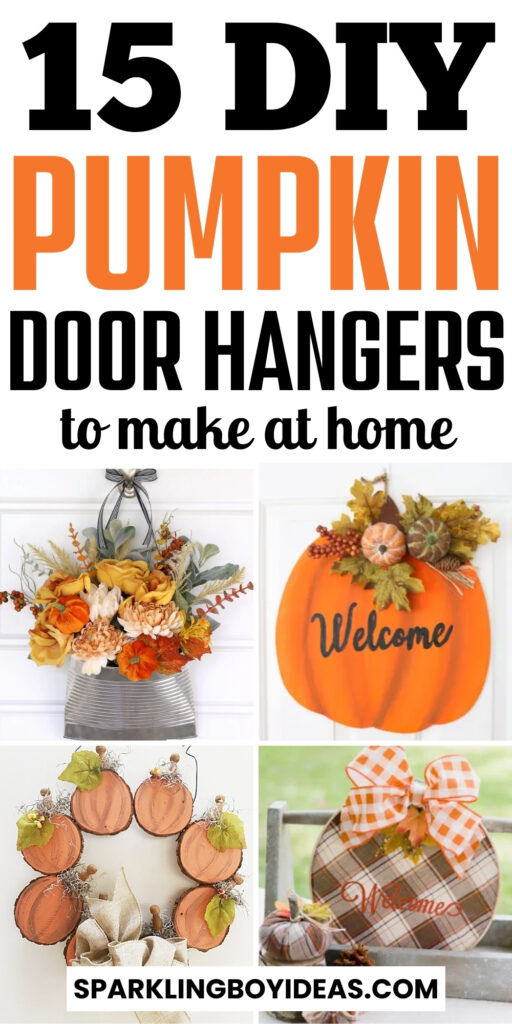 13 Creative Ways To Showcase Pumpkin Door Hangers
Pumpkin door hangers are a delightful and versatile way to add a touch of seasonal charm to your home, office, or event.
These decorative pieces can be customized to suit various themes and occasions, making them a fantastic addition to your festive décor.
In this article, we will explore creative ways to showcase pumpkin door hangers and inspire you to unleash your creativity.
Importance of Pumpkin Door Hangers
Pumpkin door hangers serve as more than just decorative pieces.
They act as visual cues, instantly signaling to guests or passersby that you are celebrating fall and all its festivities.
These charming accents set the mood, creating a welcoming atmosphere that captivates and engages.
1. Pumpkin Patch Display
Transform your front yard into a whimsical pumpkin patch by showcasing pumpkin door hangers on stakes.
This creative display will catch the attention of anyone passing by, and it's a fantastic way to create a warm and inviting entrance to your home.
2. Halloween Party Decoration
For a spooktacular Halloween celebration, use pumpkin door hangers to adorn your party space.
Hang them on walls, doors, or even from the ceiling to create a captivating and festive environment.
The combination of spooky and cheerful designs will delight both children and adults alike.
3. Fall Harvest Festival Decor
If you're organizing or attending a fall harvest festival, consider incorporating pumpkin door hangers into the décor.
Hang them on fences, or trees, or even use them as table centerpieces.
These delightful accents will enhance the festive atmosphere and bring the spirit of the season to life.
4. Front Porch Welcoming
Welcome your guests in style by displaying pumpkin door hangers on your front porch.
Whether you choose traditional designs or opt for something more whimsical, these eye-catching accents will make a charming statement and set the tone for a delightful visit.
5. Classroom or Office Decor
Pumpkin door hangers are not limited to residential settings.
Teachers can use them to decorate their classrooms, infusing a touch of autumnal cheer into the learning environment.
Similarly, offices can benefit from these delightful decorations, fostering a sense of seasonal spirit and boosting employee morale.
6. Neighborhood Contest Entry
Get into the competitive spirit by showcasing pumpkin door hangers as part of a neighborhood decorating contest.
Let your creativity shine and aim to create a unique and captivating display that will make your home the talk of the town.
Unleash your imagination and stand out from the crowd.
7. Seasonal Gift Idea
Pumpkin door hangers also make excellent seasonal gifts for friends and loved ones.
Their charm and versatility make them thoughtful and delightful presents.
Consider personalizing the hangers with initials, names, or heartfelt messages to add an extra special touch.
8. Photo Booth Props
Planning a fall-themed event or a wedding?
Incorporate pumpkin door hangers as props for your photo booth.
Guests will have a blast posing with these festive accents, capturing cherished memories and adding an extra touch of fun to the occasion.
9. Farmhouse Rustic Charm
For those who appreciate a rustic farmhouse aesthetic, pumpkin door hangers are a perfect fit.
Opt for distressed finishes, burlap accents, or neutral color schemes to create a cozy and welcoming atmosphere that exudes charm and simplicity.
10. Themed Storefront Display
If you're a business owner, pumpkin door hangers can be a valuable addition to your storefront decor.
Coordinate them with your branding or incorporate them into seasonal displays to capture the attention of passersby and entice them to explore what your establishment has to offer.
11. Haunted House Entrance
During the Halloween season, use pumpkin door hangers to transform your home into a haunted house.
Hang them on your entrance door or gate, combining eerie designs with spooky lighting to create an atmosphere that sends shivers down the spines of trick-or-treaters.
12. DIY Pumpkin Door Hangers
Unleash your creativity by crafting your own DIY pumpkin door hangers.
Purchase plain wooden or foam pumpkins and personalize them with paint, fabric, ribbons, and other decorative elements.
This hands-on approach allows you to create truly unique and personalized door hangers that reflect your style and artistic flair.
13. Personalized Wedding Decor
Pumpkin door hangers can also be a delightful addition to wedding celebrations, particularly for fall-themed or outdoor ceremonies.
Personalize the hangers with the couple's names, wedding dates, or romantic messages to create a charming and memorable atmosphere that celebrates love and the beauty of the season.
Stunning Pumpkin Door Hanger
" Affiliate links are provided for your convenience, please read my disclosure for more information."
15. Pom Pom Pumpkin Wreath – The Crazy Craft Lady
14. Wood Slice Pumpkin Wreath – Home Road
13. Pumpkin Wreath – Gluesticks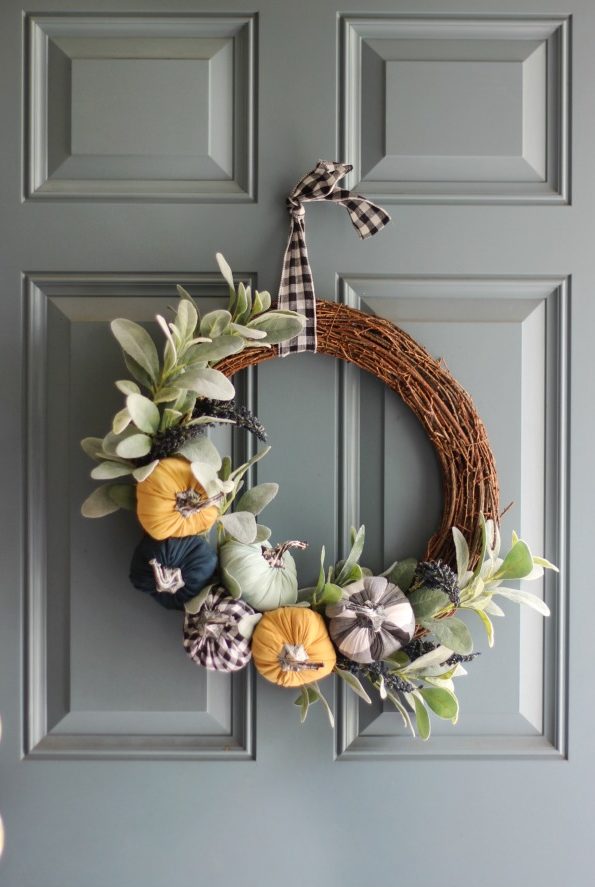 12. Clothespin Pumpkin Wreath – The Crazy Craft Lady
11. DIY Rag Pumpkin Wreath – The Shabby Tree
10. DIY Pumpkin Wreath – It's Always Autumn
9. Unscary Half Pumpkin Door Hanger – Interior Frugalista
8. Hello Fall Door Hanger – Olivia Ohern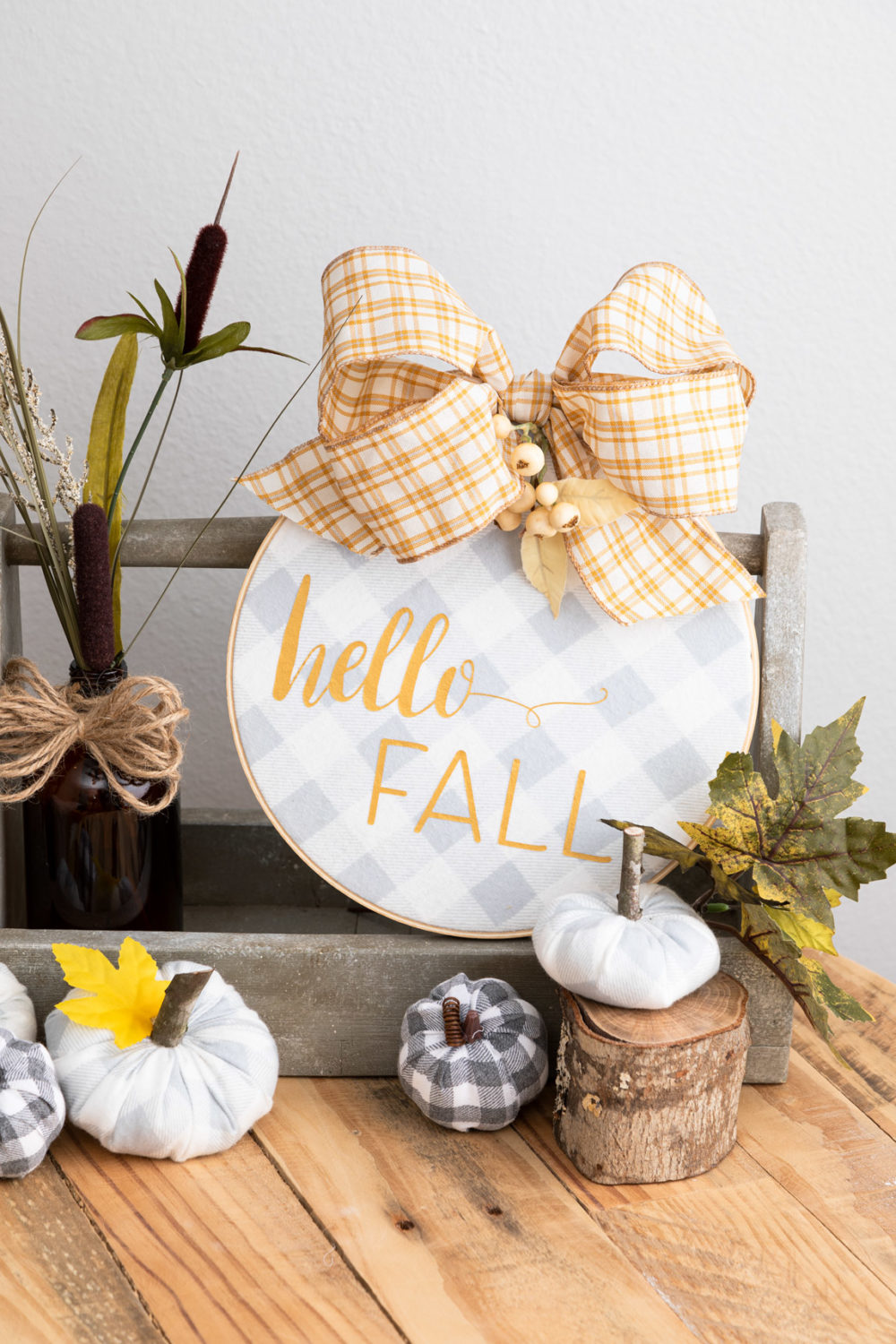 7. Neutral Painted Pumpkin Sign – The Crazy Craft Lady
6. DIY Smashed Can Door Hanger – It's Always Autumn
5. Pumpkin Fall Wreath – Kippi at Home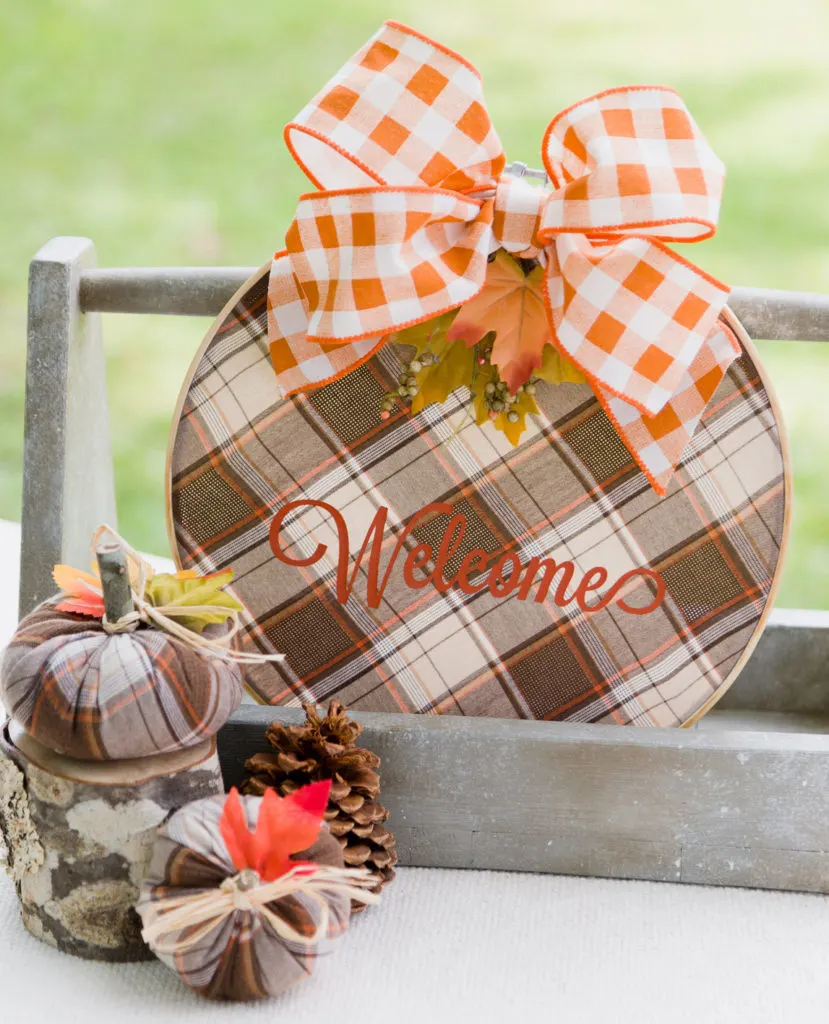 4. Rustic Pumpkin Door Hanger – Cherished Bliss
3. Mickey Pumpkin Door Hanger – Disney Fashionista
2. DIY Fall Wreath – First Day Of Home
1. DIY Pumpkin Door Hanger – Angie Holden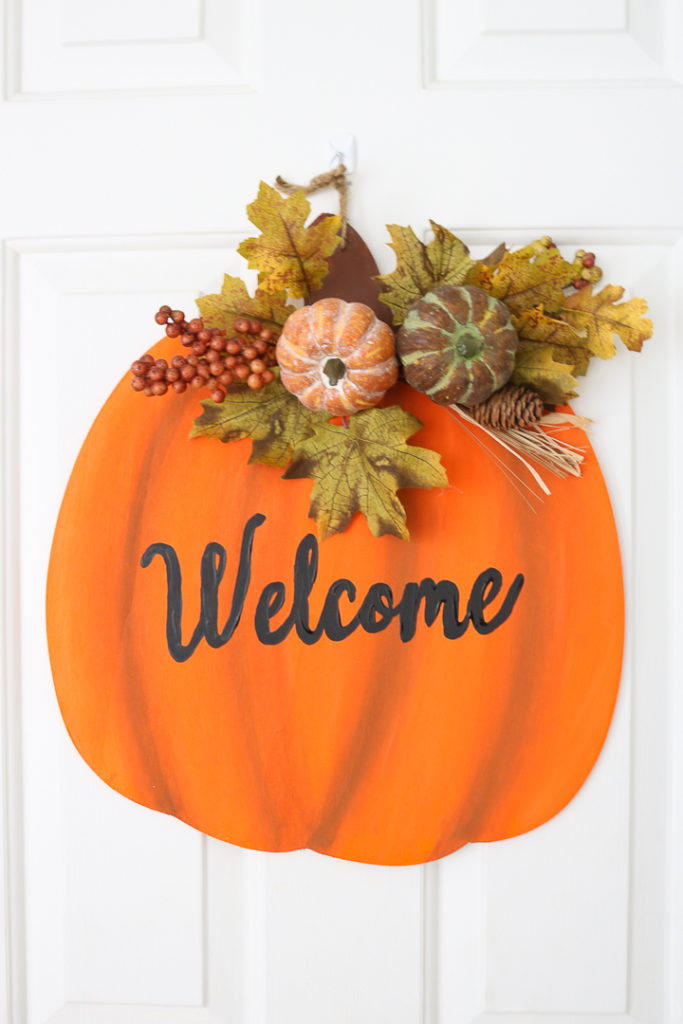 FAQs
Q. Can I use pumpkin door hangers outdoors?
Absolutely! Pumpkin door hangers are designed to withstand outdoor conditions and can add a charming touch to your front porch, garden, or any outdoor space.
Q. How can I personalize pumpkin door hangers?
You can personalize pumpkin door hangers by adding names, initials, or special messages with paint, or markers, or by attaching custom labels or tags.
Q. Are pumpkin door hangers suitable for both Halloween and Thanksgiving?
Yes, pumpkin door hangers are versatile enough to be used for both Halloween and Thanksgiving. They can seamlessly transition from spooky to harvest-themed decor.
Q. Can I create my own DIY pumpkin door hangers?
Absolutely! DIY pumpkin door hangers allow you to showcase your creativity and personalize your decorations according to your taste and style.
Q. How do I properly hang pumpkin door hangers?
To hang pumpkin door hangers securely, use a sturdy adhesive hook or a nail that can support the weight of the hanger. Make sure to position it at a height that allows the hanger to be clearly visible and easily accessible. Avoid placing it in areas prone to direct sunlight or excessive moisture to ensure the longevity of the hanger.
Now comes the important question… Which of these pumpkin door hangers did you like the most? Please let me know in the comments.
Few more fall crafts!!!
Want to save this for later? Post these Pumpkin Door Hangers to the "Pumpkin Decorations" OR "Fall Decorations" Board!