Discover stunning DIY fall outdoor decorations to transform your space. Get inspired by cozy fall wreaths, vibrant pumpkin decors, rustic fall signs, and more. Embrace the beauty of the season and create a warm and inviting ambiance in your outdoor area.
As the leaves begin to change and the air turns crisp, it's time to extend the beauty of fall beyond the confines of your home and into your outdoor spaces.
In this blog, we'll explore a variety of well-researched and creatively curated ideas to inspire your fall outdoor decor.
From festive wreaths and pumpkin displays to cozy seating areas and ambient lighting, I've gathered a collection of inspiring ways to transform your outdoor space into a captivating autumn oasis.
Get ready to embrace the splendor of the season and create an inviting and enchanting atmosphere that will have you falling in love with your outdoor spaces all over again.
Tips to Maximize Fall Outdoor Decor's Lifespan
Fall is the perfect time to spruce up your outdoor spaces with festive decorations that embrace the spirit of autumn.
However, to ensure that your fall outdoor decor lasts throughout the season and beyond, it's important to take some steps to maximize its lifespan.
In this article, we will provide you with valuable tips and tricks to keep your fall outdoor decor looking fresh, vibrant, and welcoming.
1. Choose Weather-Resistant Materials
When selecting fall outdoor decorations, opt for materials that can withstand different weather conditions.
Look for items made from sturdy materials like metal, fiberglass, or polyresin.
These materials are less likely to fade, crack, or deteriorate when exposed to rain, wind, or sunlight.
2. Protect Against Moisture
Moisture can be a significant threat to the longevity of your outdoor decor.
To safeguard against this, consider applying a waterproof sealant or protective spray to your decorations.
This simple step can help repel water and prevent damage caused by rain, dew, or snow.
3. Secure Decorations Properly
To ensure that your fall outdoor decor remains intact, secure it properly.
Use sturdy stakes or anchors to secure larger items such as scarecrows or inflatables.
For lighter decorations like wreaths or hanging ornaments, use durable hooks or hangers that can withstand windy conditions.
4. Regular Cleaning and Maintenance
Regular cleaning and maintenance are essential to keep your fall outdoor decor looking fresh and appealing.
Remove dirt, dust, or debris from your decorations by gently wiping them with a damp cloth or using a soft brush.
Check for any signs of damage or wear and make necessary repairs promptly.
5. Store Decorations Properly
When the fall season comes to an end, it's crucial to store your decorations properly to prevent damage during storage.
Clean your decorations thoroughly and ensure they are completely dry before storing them in a cool, dry place.
Use storage containers or boxes that provide adequate protection against moisture, pests, and physical damage.
6. Enhance with Natural Elements
Incorporating natural elements into your fall outdoor decor not only adds an authentic touch but also enhances its lifespan.
Use natural items like pinecones, acorns, or dried leaves as accents.
These elements are resilient and can withstand the elements better than synthetic materials.
7. Consider Artificial Alternatives
If you want your fall outdoor decor to last even longer, consider using artificial alternatives.
Artificial pumpkins, foliage, and flowers can provide the same visual appeal as their natural counterparts but require less maintenance.
They won't wither or decay, ensuring your decor stays vibrant throughout the entire season.
8. Ensure Proper Lighting
Proper lighting can create a warm and inviting ambiance for your fall outdoor decor.
Use weatherproof outdoor lights or LED candles to illuminate your decorations during the evening.
Ensure that the electrical connections are secure and protected from moisture to prevent any accidents.
9. Don't Forget About Safety
While decorating your outdoor spaces, prioritize safety to prevent accidents or injuries.
Avoid placing decorations in high-traffic areas where they can obstruct pathways or become tripping hazards.
Use flameless candles or LED lights instead of open flames to reduce the risk of fire.
10. Extend the Life of Pumpkins
Pumpkins are synonymous with fall decor, and there are ways to extend their lifespan.
Apply a thin layer of petroleum jelly to the carved or exposed surfaces to seal in moisture and slow down decay.
Alternatively, opt for artificial pumpkins that can be reused year after year.
11. Protect Wreaths and Garlands
Wreaths and garlands add a festive touch to your outdoor spaces, but they are susceptible to damage if not properly cared for.
Hang wreaths and garlands in covered or sheltered areas to shield them from direct exposure to rain or harsh sunlight.
Consider using a protective spray to prevent them from drying out or becoming brittle.
12. Preserve the Beauty of Potted Plants
If you incorporate potted plants into your fall decor, pay attention to their specific care requirements.
Water them adequately and ensure proper drainage to prevent root rot.
Place pots in areas that offer appropriate sunlight and temperature conditions for the plants' optimal growth.
13. Maintain Lawn and Garden
Maintaining your lawn and garden not only enhances the overall appearance of your outdoor space but also protects your fall decor.
Regularly rake fallen leaves to prevent them from accumulating and suffocating plants or causing staining on pathways.
Trim bushes or trees that may interfere with the placement or condition of your decorations.
Stunning Fall Outdoor Decorations
" Affiliate links are provided for your convenience, please read my disclosure for more information."
19. Chalkboard Welcome Sign – Cottage In The Oaks
18. Fall Crate Display – Gray House Studio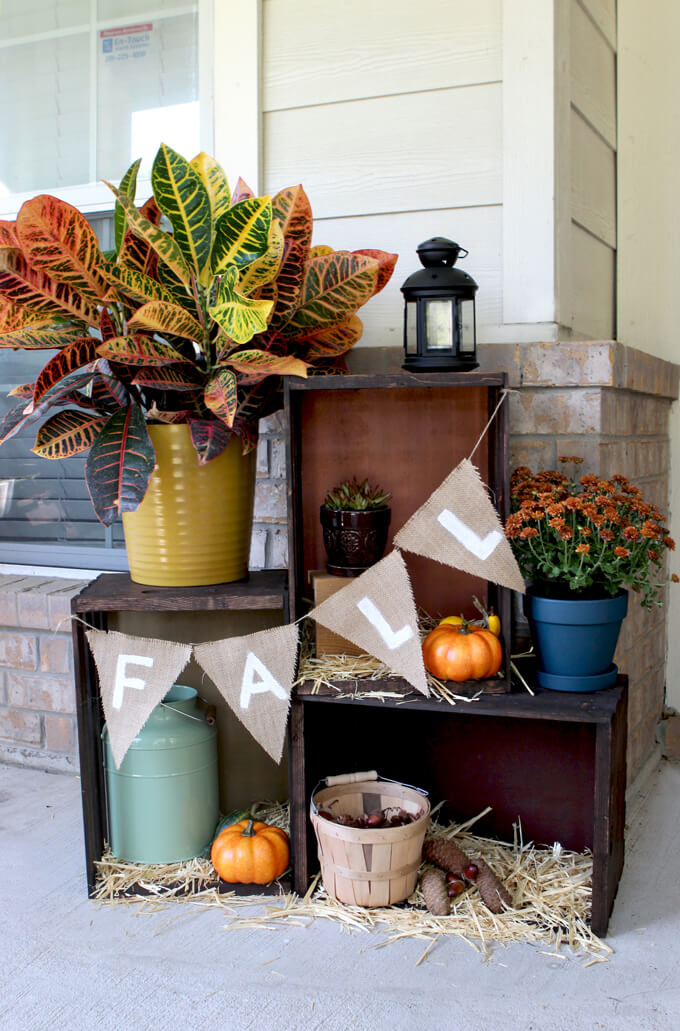 17. Distressed Fall Pumpkin Crate – Anderson And Grant
16. Fall Harvest Display – Three Pixie Lane
15. Pottery Barn Knockoff Metal Pumpkins – The Navage Patch
14. Neutral Fall Porch – Taryn Whiteaker
13. DIY Wood Crate Pumpkins – Crafty Morning
12. Painted Wood Slice Pumpkins – A Night Owl Blog
11. Fall Porch Decor – House Of Hawthornes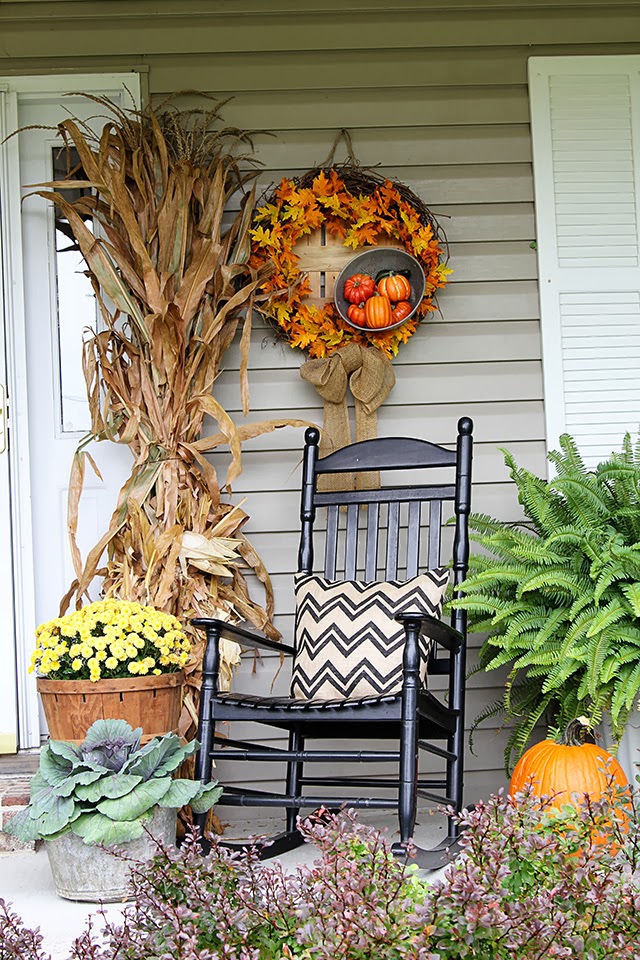 10. Pumpkin Topiaries – Between Naps On The Porch
9. DIY Berry Wreath – To Simply Inspire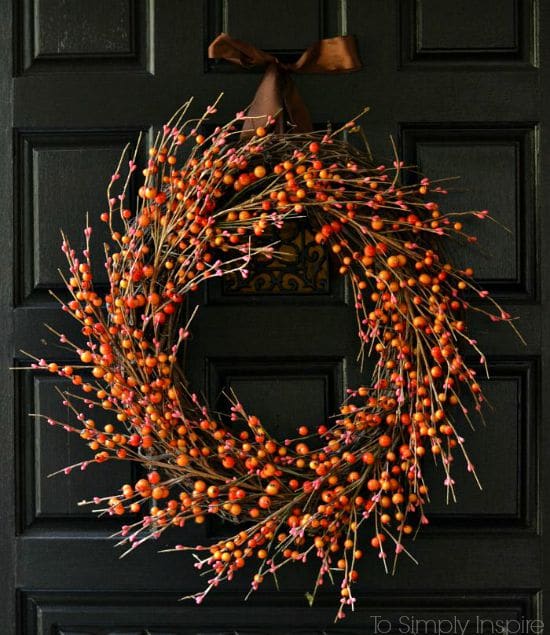 8. Cedar Picket Pumpkins – Gray House Studio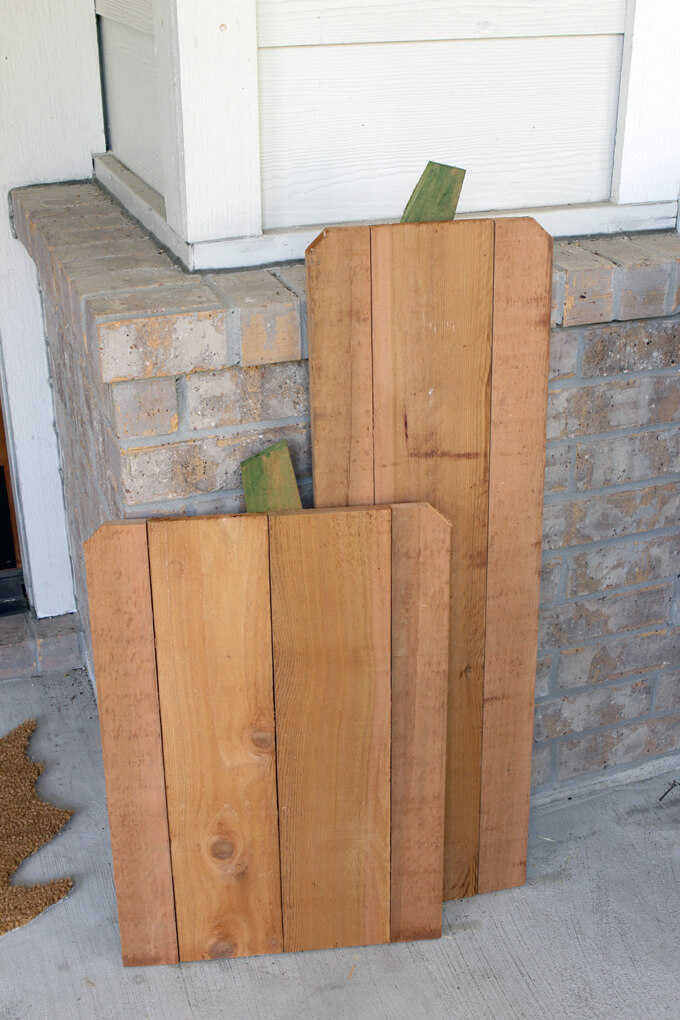 7. DIY Fall Wheat Wreath – On Sutton Place
6. Witch Hat Wreath – Trendy Tree
5. Fall Hoop Wreath – The Pickled Rose
4. Wooden Pumpkins – First Day Of Home
3. Fall Fence Decor – Creative Cain Cabin
2. DIY Scarecrow – The Budget Decorator
1. Pumpkin Man & Fall Sweater Wreath – Jeniffer Faris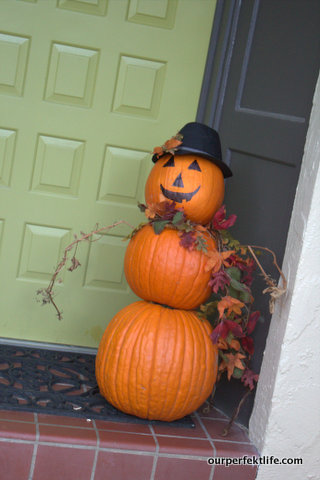 FAQs
Q. How often should I clean my fall outdoor decor?
It's recommended to clean your fall outdoor decor at least once every two weeks to remove dirt and debris. However, if you notice any visible stains or damage, clean the affected area promptly.
Q. Can I leave my fall outdoor decor outside during winter?
While some decorations are designed to withstand winter conditions, it's generally advisable to store them indoors during harsh winter months to prevent damage from freezing temperatures or heavy snowfall.
Q. Are there any eco-friendly options for fall outdoor decor?
Yes, you can opt for eco-friendly fall outdoor decor by using natural materials like reclaimed wood, recycled fabric, or biodegradable elements. These choices reduce environmental impact while adding a rustic charm to your decor.
Q. Can I reuse my fall outdoor decor for other occasions?
Certainly! Many fall outdoor decorations can be repurposed for other occasions or seasons. Get creative and explore different ways to use them in your indoor or outdoor decor throughout the year.
Q. How can I make my fall outdoor decor more unique and personalized?
To make your fall outdoor decor more unique and personalized, consider incorporating handmade elements, such as DIY wreaths or custom signage. You can also showcase your creativity by arranging the decorations in a distinctive and eye-catching manner.
Q. How do I prevent fading of the colors in my fall outdoor decor?
To prevent fading of colors in your fall outdoor decor, consider using UV-resistant spray or sealant on items exposed to direct sunlight. Additionally, you can choose decorations made from fade-resistant materials or bring them indoors during the peak hours of sunlight to minimize exposure.
Q. Can I add a personal touch to my fall outdoor decor without compromising its lifespan?
Absolutely! You can add a personal touch to your fall outdoor decor without sacrificing its lifespan. Consider incorporating personalized items, such as monogrammed flags or customized signs. Just ensure that any additions or modifications are weatherproofed and securely attached to withstand outdoor conditions.
Now comes the important question… Which fall outdoor decor do you like the most? Please let me know in the comments.
Few more fall ideas!!!
Want to save this for later? Post these Fall Outdoor Decors to the "Fall Decorations" OR "Autumn Decor" Board!