Get inspired by these simple fall mantle decor ideas! Create a warm and inviting atmosphere with stylish DIY fall decor. Elevate your home with cozy autumn touches, vibrant foliage, and charming accents.
As the crisp autumn air arrives, it's time to adorn your mantel with captivating fall decor that sets the stage for the season.
In this blog, we'll explore a variety of well-researched and creatively curated ideas to help you create a stunning fall mantle display.
From lush garlands and charming pumpkins to cozy candle arrangements and personalized accents, we've gathered a collection of inspiring ways to infuse your mantel with the enchanting colors and textures of fall.
Get ready to unleash your creativity and transform your mantel into a captivating focal point that captures the essence of the season in a truly unique and beautiful way.
The Importance of Fall Mantle Decoration
The mantle is often considered the heart of a room, making it the perfect spot to showcase your creativity and set the tone for the entire space.
Fall mantle decoration allows you to infuse the spirit of the season into your home, creating a welcoming ambiance that reflects the changing colors of nature outside.
By carefully selecting a color palette, you can create a visually stunning display that captures the essence of autumn.
11 Trending Fall Mantle Color Palettes With Unexpected Combinations
One area that can make a significant impact is your fireplace mantle.
The mantle is often the focal point of a living room or a cozy space, and choosing the right color palette can enhance the overall aesthetic.
In this article, we will explore 11 trending fall mantle color palettes with unexpected combinations that will bring warmth and style to your home.
Let's dive in!
Palette 1: Warm Earth Tones with a Pop of Teal
Embrace the cozy vibes of fall with a palette of warm earth tones such as terracotta, burnt orange, and deep browns.
To add a modern twist, introduce a pop of teal as an unexpected accent color.
This combination evokes a sense of nature and warmth while infusing a refreshing and contemporary touch to your mantle decor.
Palette 2: Rich Jewel Tones for a Luxurious Look
For a more opulent and lavish feel, opt for rich jewel tones like emerald green, sapphire blue, and amethyst purple.
These deep, vibrant colors create a sense of luxury and sophistication, making your mantle a captivating focal point.
Complement the jewel tones with metallic accents such as gold or brass candleholders for an extra touch of elegance.
Palette 3: Cozy Neutrals with a Touch of Rust
If you prefer a more understated and cozy ambiance, consider a palette of soft neutrals like beige, cream, and taupe.
Add depth and warmth to the composition by incorporating a touch of rust, a color reminiscent of falling leaves.
This combination exudes comfort and invites relaxation, perfect for creating a cozy nook to enjoy during the fall season.
Palette 4: Moody Blues and Muted Grays
Create a serene and calming atmosphere by combining moody blues with muted grays.
This color palette captures the essence of a misty autumn morning or a tranquil lakeside retreat.
Choose varying shades of blue and gray to add depth and dimension to your mantle display.
Introduce elements of natural textures, such as driftwood or seashells, to enhance the organic feel.
Palette 5: Vibrant Orange and Contrasting Turquoise
For a bold and eye-catching look, pair vibrant orange with contrasting turquoise.
This unexpected combination brings a burst of energy and playfulness to your mantle.
The warm orange hues evoke the changing leaves, while the cool turquoise adds a refreshing twist.
Balance the colors by incorporating neutral elements to ensure a harmonious composition.
Palette 6: Rustic Browns and Deep Forest Greens
Capture the rustic charm of fall with a combination of earthy browns and deep forest greens.
This palette creates a sense of being surrounded by nature, reminiscent of a walk in the woods during the autumn season.
Use natural materials like twigs, pinecones, and dried flowers to enhance the organic feel of the display.
This color scheme works particularly well in farmhouses or rustic-inspired interiors.
Palette 7: Pastel Pinks and Soft Lilacs for a Feminine Touch
For a more feminine and delicate look, consider pastel pinks and soft lilacs.
This color combination adds a touch of romance and elegance to your fall mantle decor.
Create a graceful display by incorporating flowers, delicate ceramics, and lace details.
The pastel hues bring a subtle nod to the changing season while maintaining a soft and serene atmosphere.
Palette 8: Dramatic Black and Gold for Elegance
If you're aiming for a luxurious and dramatic mantle display, opt for a combination of black and gold.
This timeless duo exudes elegance and sophistication.
Use black as the dominant color and accentuate it with gold details, such as candleholders, frames, or decorative objects.
This striking contrast will create a captivating focal point that demands attention.
Palette 9: Earthy Browns and Mustard Yellow
Embrace the warm and cozy tones of fall by combining earthy browns with mustard yellow.
This palette creates a sense of comfort and invites relaxation.
The earthy browns represent the changing foliage, while the mustard yellow adds a vibrant and energizing touch.
Incorporate natural textures like woven baskets or wooden accents to enhance the autumnal feel.
Palette 10: Serene Whites and Soft Pastels
For a light and airy aesthetic, opt for a palette of serene whites and soft pastels.
This combination evokes a sense of tranquility and simplicity, creating a soothing atmosphere in your living space.
Use white as the base color and introduce pastel shades such as pale pink, baby blue, or mint green as accents.
This palette is perfect for those who prefer a minimalist and contemporary approach to fall decor.
Palette 11: Classic Red and Warm Beige Combination
Finally, for a traditional and timeless look, consider a classic combination of red and warm beige.
This color palette embodies the quintessential colors of fall, reminiscent of apple orchards and cozy fireside gatherings.
Use red as the main color and balance it with warm beige tones. Incorporate plaid patterns or tartan fabrics to enhance the traditional feel.
Gorgeous Fall Mantle Decor Ideas
" Affiliate links are provided for your convenience, please read my disclosure for more information."
15. French Country Fall Mantel – Serendipity Refined
14. Reclaimed Pallet Wood Fall Mantle – The Frugal Homemaker
13. Fall Harvest Chalkboard Mantle – Nest Of Posies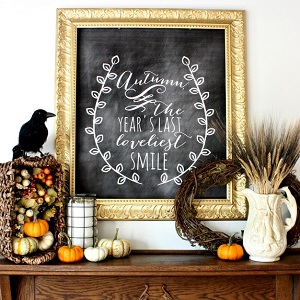 12. Vintage Fall Mantle – My Blessed Life
11. Fresh Fall Mantle Decor – Landeesee Landeedo
10. Thanksgiving Mantel Decor – The Lily Pad Cottage
9. Rustic Fall Mantle – Taryn Whiteaker
8. Farmhouse Fall Mantel – Confessions Of A Plate Addict
7. Vibrant Orange Fall Mantle – Adventures In Decorating
6. Eclectic Fall Mantle – Craft Berry Bush
5. Give Thanks Mantle – A Diamond In The Stuff
4. 30$ Fall Mantel – House By Hoff
3. Rustic Pallet Pumpkins With Bunting – Make It Love It
2. Fall Mantel – The Frugal Homemaker
1. Rustic Fall Mantel With DIY Items – The Frugal Homemaker
FAQs
Q. Can I mix and match different color palettes for my fall mantle?
Absolutely! Mixing and matching different color palettes can create a unique and eclectic look for your fall mantle decor. Just ensure that the colors complement each other and maintain a cohesive overall theme.
Q. How can I incorporate the fall mantle color palette into other areas of my home?
You can extend the fall color palette to other areas of your home by incorporating similar hues in your furniture, accessories, and textiles. This will create a harmonious flow and a cohesive look throughout your living space.
Q. Are there any specific materials or textures that work well with fall color palettes?
Natural materials and textures like wood, wicker, burlap, and dried foliage complement fall color palettes beautifully. Consider incorporating these elements into your mantle decor for an authentic and rustic touch.
Q. What lighting options should I consider for my fall mantle?
To enhance the ambiance of your fall mantle, consider using warm and soft lighting options such as candles, string lights, or table lamps. These create a cozy and inviting atmosphere, perfect for the fall season.
Q. Can I incorporate metallic accents into my fall mantle decor?
Absolutely! Metallic accents like gold, brass, or copper can add a touch of elegance and sophistication to your fall mantle. Consider using metallic candleholders, frames, or vases to create a luxurious aesthetic.
Now comes the important question… Which fall mantle decor do you like the most? Please let me know in the comments.
Few more fall ideas!!!
Want to save this for later? Post these Fall Mantle Decors to the "Fall Mantle Decorations" OR "Autumn Mantle Decor" Board!