Discover fun easy fall crafts for preschoolers. Engage their creativity with holiday crafts and activities and enjoy the autumn spirit together. Perfect for young learners!
Get ready for a world of fun and creativity with adorable fall crafts designed just for you.
As the leaves change color and a gentle breeze fills the air, let's dive into a collection of cute and simple projects that will spark joy and imagination.
From handprint turkeys and paper plate owls to leaf collages and apple stamping, these crafts are perfect for tiny hands and big smiles.
Add a personal touch with your favorite colors, glitter, and stickers, and watch as your creations come to life.
With easy-to-follow instructions and simple words, even the youngest crafters can join in on the fun.
So grab your smocks and prepare for a delightful adventure of fall crafts that will make your heart soar with cuteness.
10 Natural Materials To Make Fall Crafts
Fall is the perfect time to explore your creativity and make beautiful crafts using natural materials.
With vibrant colors and a cozy atmosphere, the season offers a wealth of inspiration for crafting enthusiasts.
From leaves and acorns to pinecones and twigs, nature provides a wide range of materials to work with.
By incorporating these elements into your crafts, you can infuse them with the spirit of autumn.
In this article, we will explore various natural materials and craft ideas that will help you create stunning fall-themed decorations for your home.
1. Leaf Crafts
Leaves are iconic symbols of the fall season, and they offer countless possibilities for crafting.
Pressed leaves can be used to make bookmarks, wall art, or collages.
You can also use preserved leaves to decorate candles, picture frames, and greeting cards.
The vibrant colors and unique shapes of leaves add a touch of natural beauty to your crafts, capturing the essence of autumn.
2. Acorn Decorations
Acorns, with their charming caps and nutty shells, are wonderful natural materials for fall crafts.
Transform them into adorable acorn people by adding painted faces and clothing.
They can also be used to create wreaths, garlands, or embellishments for seasonal table settings.
The versatility of acorns allows you to bring a touch of whimsy and warmth to your fall decor.
3. Pinecone Creations
Pinecones are abundant during the fall season and provide a versatile medium for crafting.
Paint them in vibrant colors to create eye-catching decorations or sprinkle them with glitter for a touch of sparkle.
You can also use pinecones to make miniature animals, place card holders, or natural fire starters for cozy autumn evenings.
The natural texture and shape of pinecones add a rustic charm to your crafts.
4. Twig Art
Twigs and branches offer a rustic charm that can be incorporated into various craft projects.
Use them to make unique wall hangings, dream catchers, or mobiles.
Arrange twigs in a circular shape to create natural wreaths and adorn them with berries, ribbons, or dried flowers.
The organic and earthy feel of twigs adds a natural and rustic touch to your fall crafts.
5. Harvest Wreaths
Celebrate the bountiful harvest season by creating stunning wreaths using fall foliage, dried flowers, and wheat stalks.
Hang them on your front door or use them as table centerpieces to add a touch of rustic elegance to your home.
Harvest wreaths symbolize abundance and the beauty of the season, making them a perfect addition to your fall decor.
6. Cornhusk Crafts
Cornhusks are traditional materials used in fall crafts.
They can be transformed into beautiful cornhusk dolls, decorative garlands, or intricate cornhusk flowers.
These crafts not only showcase your creativity but also pay homage to the agricultural roots of the fall season.
Cornhusk crafts add a unique and rustic touch to your fall decorations.
7. Gourd Painting
Fall is synonymous with pumpkins and gourds. Instead of carving them, consider painting intricate designs on their surfaces.
You can create stunning patterns, and scenes, or even use them as canvases for seasonal artwork.
Painted gourds can be displayed as centerpieces or outdoor decorations, adding a personalized and artistic touch to your fall decor.
8. Nature-Inspired Candles
Add a warm and inviting touch to your home by incorporating nature into your candle-making endeavors.
Embed dried flowers, leaves, or twigs into homemade candles for a unique and fragrant experience.
These nature-inspired candles create a cozy ambiance during the crisp fall evenings, filling your space with the scents and beauty of the season.
9. Scarecrow Making
Bring the spirit of fall to your garden by making your very own scarecrow.
Use old clothes, straw, and a few accessories to create a friendly or spooky scarecrow that will add character to your outdoor space.
Scarecrow-making is a fun and engaging activity that allows you to showcase your creativity while embracing the whimsical side of the fall season.
10. Pumpkin Carving
No fall craft list is complete without mentioning the beloved tradition of pumpkin carving.
Get your carving tools ready and transform pumpkins into spooky jack-o'-lanterns or intricate designs that showcase your artistic skills.
Display your carved pumpkins on your porch or use them as stunning centerpieces.
Pumpkin carving is a classic fall activity that brings joy and creativity to people of all ages.
Easy Fun Fall Crafts For Preschoolers
" Affiliate links are provided for your convenience, please read my disclosure for more information."
21. Paper Bat Craft – Made With Happy
20. Mummy Paper Plate Lacing Craft – Our Kid Things
19. Q-Tip Skeleton – Recycled Crafts
18. Smoky Witch Cauldrons – The Pinterested Parent
17. Paper Bag Scarecrow Craft – Simple Everyday Mom
16. Paper Plate Frankenstein Craft – Simple Everyday Mom
15. Sponge Printed Thanksgiving Turkey – The Resourceful Mama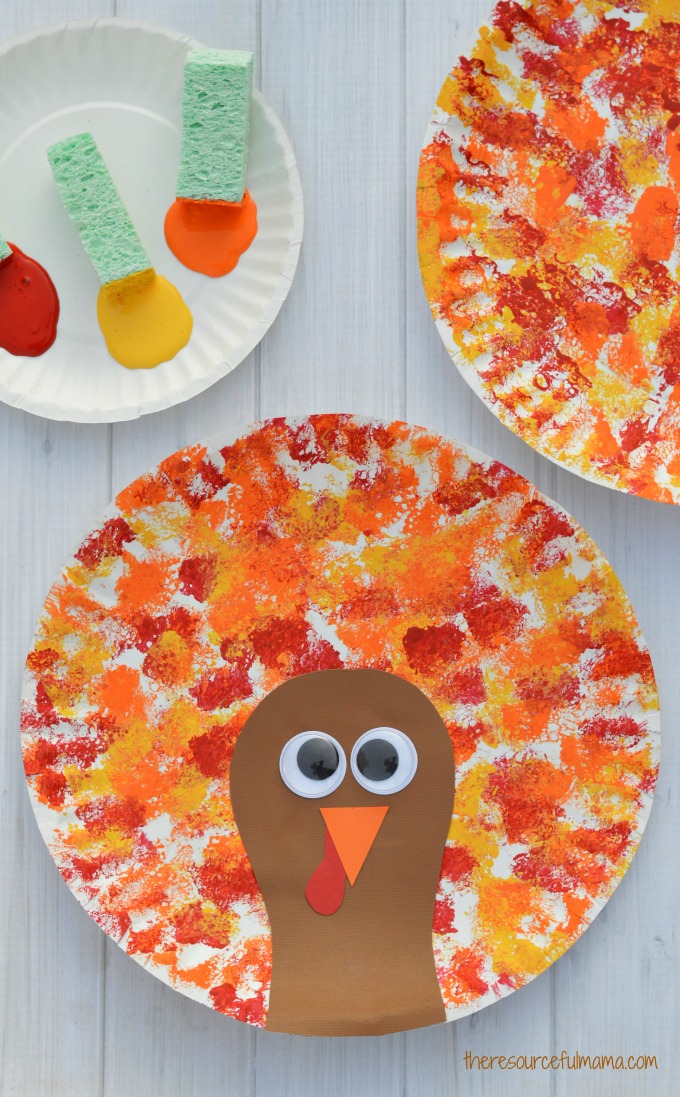 14. Paper Plate Pumpkin Pie Slice Craft – Glued To My Crafts Blog
13. Coffee Filter Turkeys – Darcy And Brian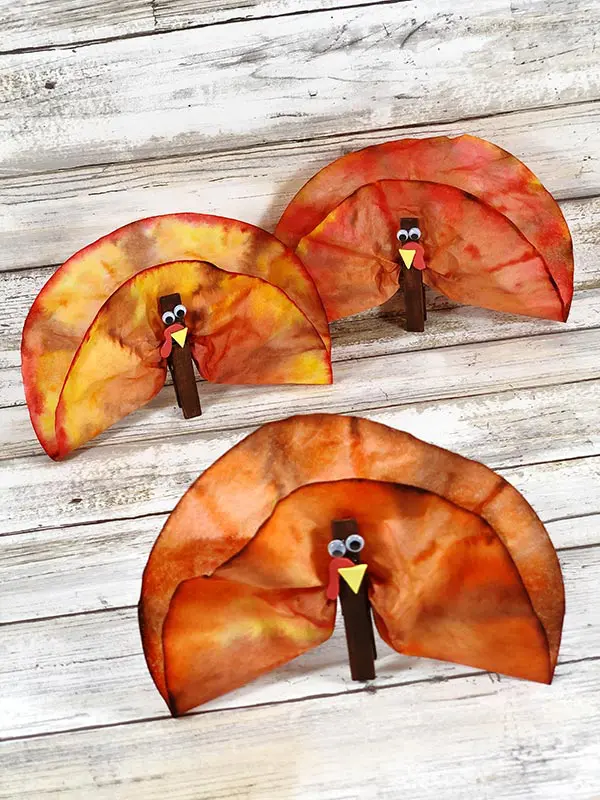 12. Scarecrow Headband Craft – Simple Everyday Mom
11. Fall Leaf Suncatchers – Crafts On Sea
10. Popsicle Stick Owls -Glued To My Crafts Blog
9. Pine Cone Turkey – Manda Panda Projects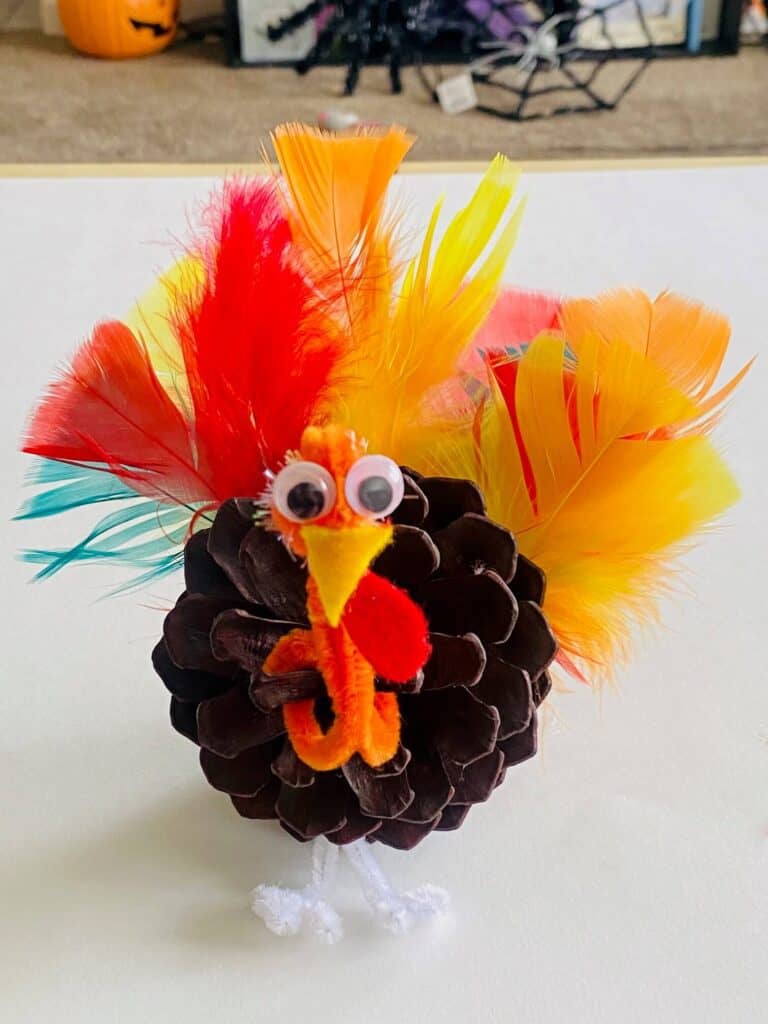 8. Autumn Tree Crafts – Crafts On Sea
7. Leaf Suncatcher Craft – The Best Ideas For Kids
6. Tissue Paper Fall Tree Craft – Glued To My Crafts Blog
5. Broccoli Tree Painting – One Little Project
4. Acorn Craft – Simple Everyday Mom
3. Torn Paper Autumn Leaves – Tots And Me
2. Broccoli Stamped Fall Tree – Glued To My Crafts Blog
1. Autumn Leaf Craft – A Little Pinch Of Perfect
FAQs
Q. Can I use real leaves for leaf crafts, or should I opt for artificial ones?
You can use real leaves for leaf crafts to add authenticity to your creations. However, if you prefer a longer-lasting option, you can opt for artificial leaves available in craft stores.
Q. How do I preserve leaves for crafts?
To preserve leaves for crafts, place them between sheets of wax paper and press them under heavy books for several days. This method helps retain their color and shape, ensuring they last longer in your craft projects.
Q. What type of paint should I use for painting pinecones?
Acrylic paint is ideal for painting pinecones. It provides good coverage, dries quickly, and allows you to add multiple layers or intricate details to enhance the beauty of your pinecone creations.
Q. Can I use a glue gun to attach natural materials to my crafts?
Yes, a glue gun is a great tool for attaching natural materials such as twigs, pinecones, and leaves to your crafts. Just remember to handle the hot glue with caution to avoid any accidents or burns.
Q. Are there any safety precautions I should take when making crafts with natural materials?
When working with natural materials, it's important to be cautious and take safety precautions. Use sharp tools carefully, especially when carving or cutting items like pumpkins or gourds. If you're collecting materials from nature, be aware of any potential allergens or toxins that may be present.
Q. How can I make my fall crafts last longer?
To make your fall crafts last longer, store them in a cool, dry place when not in use to prevent moisture damage. If you're using natural materials that may decay over time, consider applying a clear sealant or varnish to protect them. Properly packing and storing delicate items like wreaths or floral arrangements can also help preserve their shape and prevent damage.
Now comes the important question… Which fall crafts for preschoolers do you like the most? Please let me know in the comments.
Few more fall ideas!!!
Want to save this for later? Post these Fall Crafts For Toddlers to the "Fall Crafts" OR "Autumn Crafts" Board!