Discover easy DIY fall mason jar crafts to add a cozy touch to your fall home decor. Get inspired with easy DIY fall crafts and autumn-themed decorations.
As the leaves start to paint the world in hues of red, orange, and gold, it's time to harness the enchanting charm of fall with creative and simple mason jar crafts.
In this blog, we'll explore a collection of fall mason jar crafts that effortlessly add a touch of whimsy and warmth to your home.
From glowing lanterns and charming vases to festive candle holders and delightful centerpieces, I've gathered a range of inspiring ways to transform ordinary mason jars into delightful autumn treasures.
Get ready to unlock the potential of mason jars and infuse your home with the cozy ambiance of fall as we delve into the world of creative and simple mason jar crafts.
Let's illuminate your space with the beauty of autumn, one jar at a time.
Unique Ways To Paint or Decorate Mason Jars For A Personalized Fall Touch
Mason jars offer endless possibilities for crafting and DIY projects.
With their versatility and charm, they can be transformed into stunning decorative pieces for the autumn season.
In this article, we will explore innovative ways to paint or decorate mason jars, allowing you to infuse your home with a warm and cozy ambiance.
So, grab your paintbrushes, and let's get started!
Preparing the Mason Jars
Before diving into the exciting world of mason jar decor, it's important to prepare your jars properly.
Start by cleaning them thoroughly to remove any dirt or residue.
Ensure that the jars are dry before proceeding to the next step.
You may also consider applying a coat of primer to enhance the adherence of the paint or other materials.
1. Painting Techniques
Dip-Dye Effect
The dip-dye effect adds a charming and rustic touch to mason jars.
Choose warm autumn colors such as burnt orange, deep red, or mustard yellow.
Fill a container with water and add a few drops of acrylic paint.
Dip the bottom of the mason jar into the mixture, allowing the paint to slowly creep up the sides.
Once dry, you'll have a lovely gradient effect that exudes autumnal vibes.
Ombre Style
For a more gradual color transition, the ombre technique works wonders.
Select a color palette that complements your fall decor.
Start with the lightest shade at the top of the jar and gradually add darker hues as you move downward.
Blend the colors together using a sponge or a soft brush.
This creates a beautiful and harmonious gradient that captures the essence of the changing season.
Chalkboard Mason Jars
Chalkboard paint offers a unique and versatile way to decorate mason jars.
Apply several coats of chalkboard paint to the exterior of the jar, allowing each layer to dry before adding the next.
Once dry, you can use chalk or chalk markers to write messages, draw intricate designs, or label the contents of the jar.
This technique allows for customization and provides a reusable canvas for your creativity.
2. Decoupage Designs
Decoupage is a technique that involves applying paper or fabric cutouts to a surface using a special adhesive.
It offers a wide range of possibilities for decorating mason jars with intricate designs and patterns.
Autumn Leaves
Embrace the beauty of falling leaves by decoupaging mason jars with autumn leaf motifs.
Collect colorful, dried leaves and carefully adhere them to the jar's surface using decoupage glue.
Once the glue dries, apply a layer of sealant to protect the design.
The result is a stunning jar that captures the essence of nature's transformation during the fall season.
Floral Patterns
Incorporating floral patterns into your mason jar decor adds a touch of elegance and femininity.
Select delicate flower-themed napkins or paper cutouts and adhere them to the jar using decoupage glue.
Apply multiple layers of glue, allowing each layer to dry before proceeding.
The final result will be a charming and unique jar that brings the beauty of flowers into your fall decor.
3. Glitter and Metallic Accents
For those seeking a touch of sparkle and glamour, incorporating glitter and metallic accents into mason jar decor is a perfect choice.
These shimmering elements add a touch of luxury and can complement various fall themes.
Sparkling Fall Harvest
Paint the mason jars in rich fall colors like deep burgundy or golden yellow.
Once the paint is dry, apply a layer of decoupage glue to the desired areas and sprinkle glitter over them.
Shake off the excess glitter and allow it to dry. The resulting jars will shimmer and add a glamorous touch to your fall display.
Gold Leaf Elegance
Create an opulent and sophisticated look by incorporating gold leaf accents into your mason jar decor.
Apply adhesive to the jar's surface in your desired pattern, and carefully place gold leaf sheets on top.
Gently press down to ensure adherence, and then remove any excess gold leaf.
The finished product will radiate elegance and luxury, making it a stunning addition to your fall decor.
4. Nature-Inspired Themes
The beauty of the fall season lies in its connection to nature. Incorporating natural elements into your mason jar decor captures this essence perfectly.
Rustic Burlap and Twine
Wrap burlap fabric or twine around the mason jar, securing it with hot glue.
Add embellishments such as faux autumn leaves or miniature pine cones for an extra touch of rustic charm.
These nature-inspired mason jars will bring warmth and coziness to your fall decor.
Acorn and Pine Cone Accents
Collect acorns and pine cones during your fall walks and use them to adorn your mason jars.
Glue the acorns or pine cones to the jar's surface, creating a visually appealing texture and a connection to the natural world.
These jars can be used as candle holders or simply displayed as decorative pieces.
5. Seasonal Silhouettes
Embrace the festive spirit of fall by incorporating seasonal silhouettes into your mason jar decor.
Halloween Mason Jars
Paint the mason jars in black or orange, and then carefully apply vinyl or stencil cutouts of bats, witches, or other spooky symbols.
Spray paint the jars using a contrasting color and then remove the vinyl or stencils to reveal the silhouette designs.
These Halloween-themed mason jars will add a touch of whimsy and spookiness to your fall decorations.
Thanksgiving Mason Jars
Express gratitude and celebrate the harvest season by decorating mason jars with Thanksgiving-inspired motifs.
Paint the jars in warm, earthy tones and use stencils or freehand painting to add images of pumpkins, cornucopias, or leaves.
These mason jars can serve as beautiful centerpieces for your Thanksgiving feast, reminding everyone of the joy and blessings of the season.
6. Illuminating Creations
Adding illumination to your mason jar decor creates a cozy and inviting ambiance.
Fall-themed Candle Holders
Place candles inside painted or decorated mason jars to create charming fall-themed candle holders.
The soft glow of the candles will enhance the warm and cozy atmosphere of your space.
Consider using scented candles with fragrances like cinnamon, apple, or pumpkin to fully embrace the fall spirit.
Fairy Light Lanterns
Transform mason jars into enchanting lanterns by filling them with fairy lights.
The delicate twinkling lights will add a magical touch to your fall decor.
You can hang them from trees or display them on tables or shelves for a captivating and ethereal effect.
Creative Fall Mason Jar Crafts
" Affiliate links are provided for your convenience, please read my disclosure for more information."
21. Mason Jar Scarecrow – Made To Be A Momma
20. Buffalo Plaid Mason Jars – Hammons Nest
19. Thanksgiving Mason Jars – The Country Chic Cottage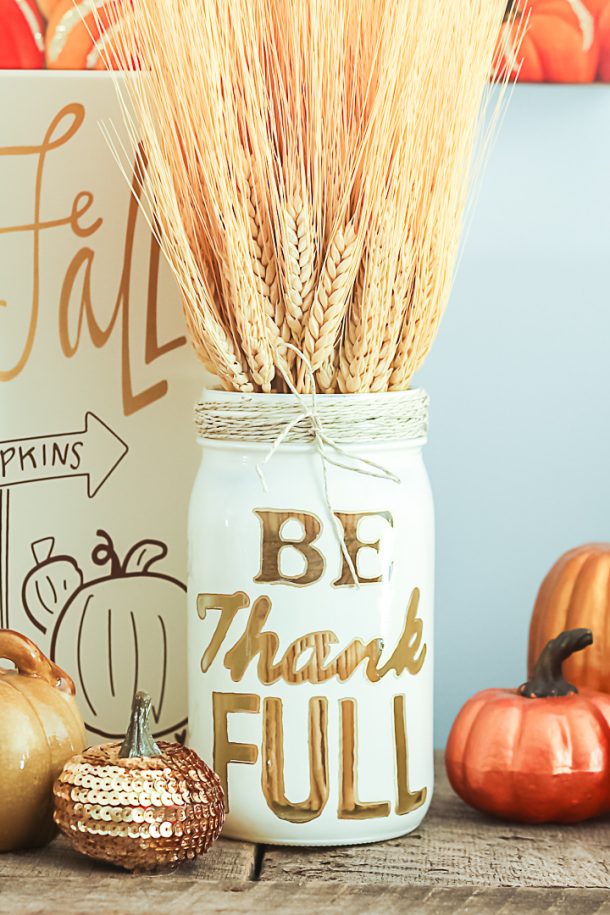 18. DIY Painted Candy Corn Mason Jars – Hip Mama's Place
17. Mason Jar Pumpkin Jars – Make It Love It
16. Jack O'Lantern Nightlight Jars – Fireflies And Mud Pies
15. Pumpkin Mason Jar – The Best Ideas For Kids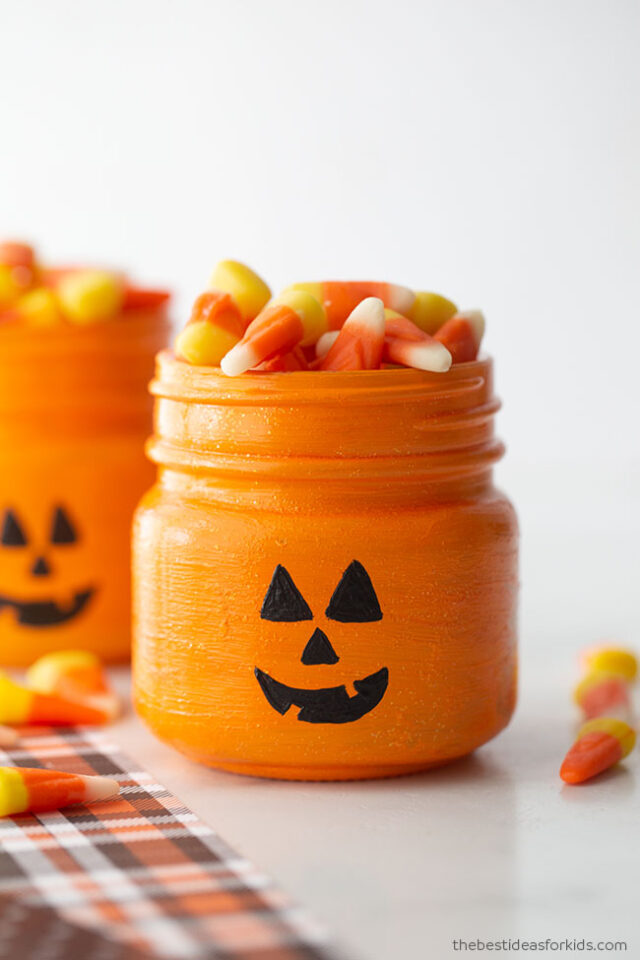 14. Pumpkin Mason Jar Crafts – Sustain My Craft Habit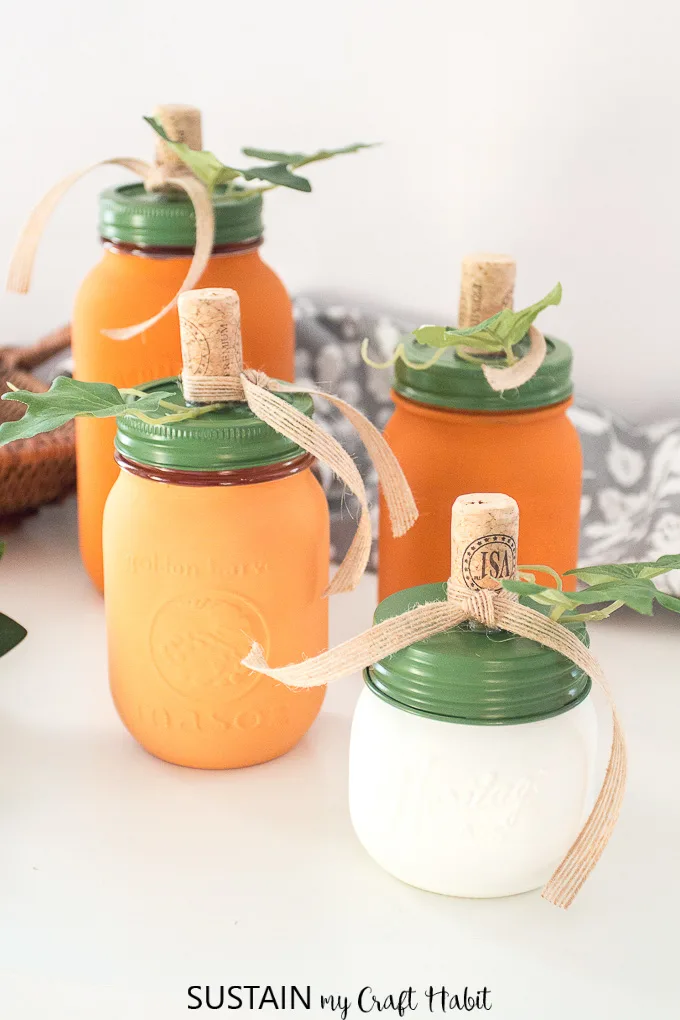 13. Mason Jar Fall Luminary – Create Craft Love
12. Rustic Plaid Painted Mason Jar – Daily DIY Life
11. Fall Napkin Luminaries – Crafts By Amanda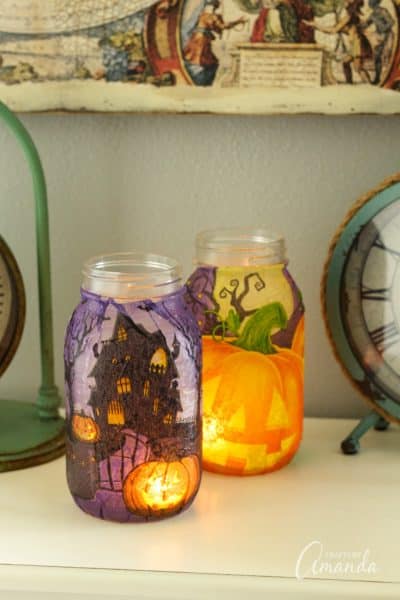 10. Fall Mason Jar Luminaries – Sugar Bee Crafts
9. Buffalo Check Mason Jar – Weekend Craft
8. Mason Jar Candle Holder – The Country Chic Cottage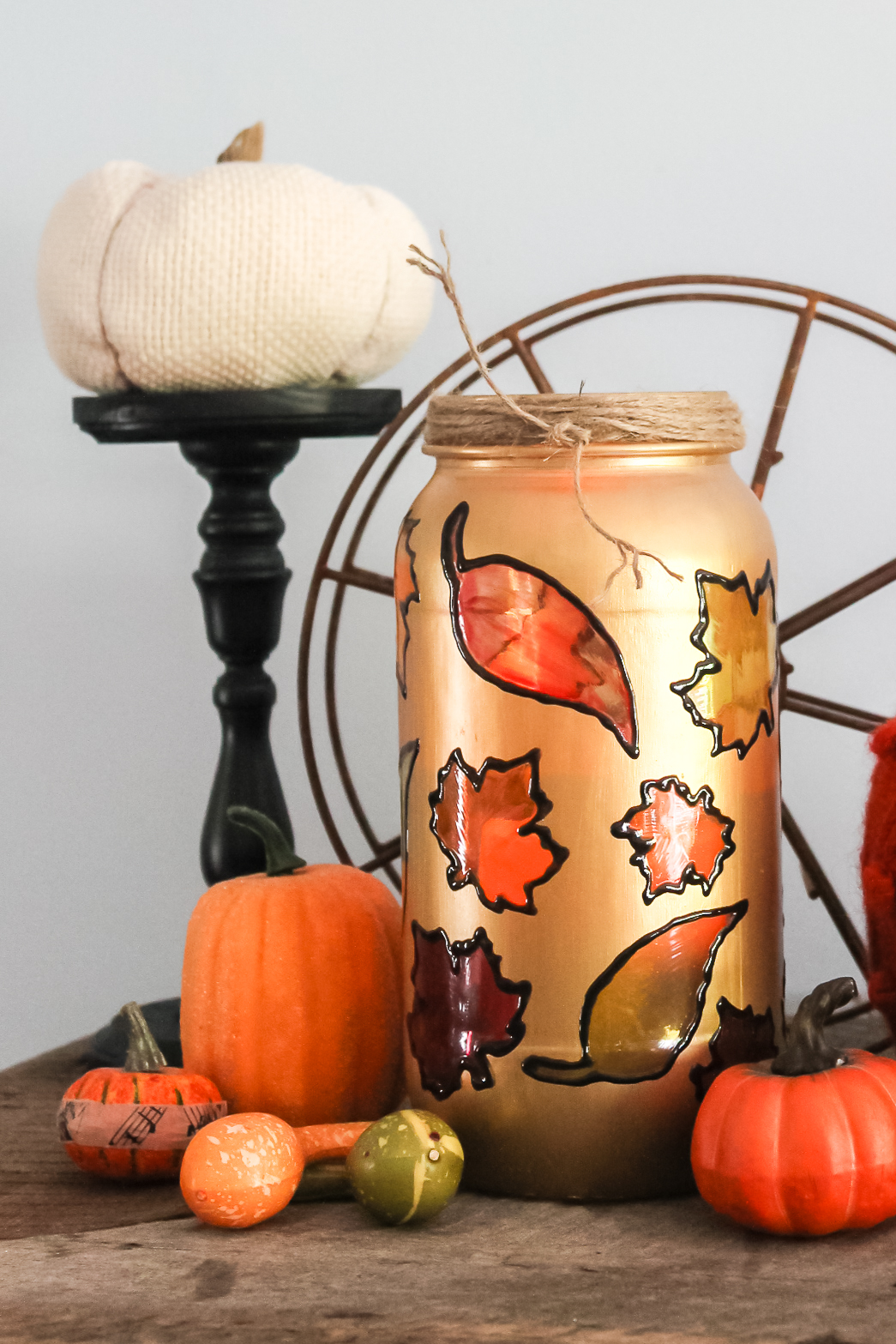 7. DIY Pumpkin Mason Jar Craft – Ruffles And Rain Boots
6. Painted Thanksgiving Mason Jars – Sustain My Craft Habit
5. Mason Jar Leaf Lanterns – One Little Project
4. Fall Mason Jars – Angie Holden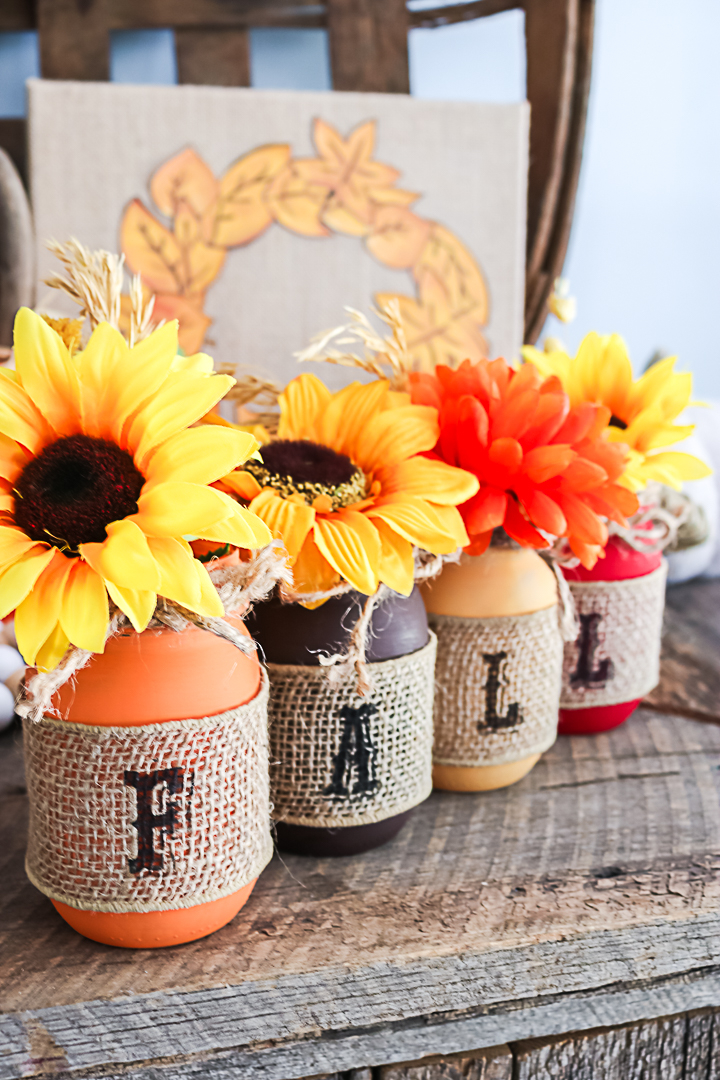 3. Burlap Wrapped Mason Jars – Honey I'm Home DIY
2. DIY Fall Chalk Painted Mason Jars – Simply Refinished
1. DIY Scarecrow Painted Mason Jars – Hip Mama's Place
FAQs
Q. Can I reuse the mason jars after the fall season?
Yes, mason jars are highly versatile and can be reused for various purposes even after the fall season. They make great storage containers for pantry staples, stylish vases for fresh flowers, or even candle holders for different occasions throughout the year. Let your creativity flow and find new uses for your mason jars beyond fall decor.
Q. Can I mix and match different techniques and themes?
Absolutely! Feel free to mix and match different painting techniques, decoupage designs, and themes to create a truly unique and personalized fall decor. Combining different elements allows you to add depth and visual interest to your mason jar creations. Experiment with different combinations and let your imagination guide you.
Q. Are these techniques suitable for kids' crafts?
Yes, many of these techniques can be adapted for fun and engaging kids' crafts with proper adult supervision. It's a wonderful way to involve children in creative projects and introduce them to the joy of crafting. Choose age-appropriate materials and techniques, and enjoy the process of creating beautiful mason jar crafts together as a family.
Q. Can I use artificial materials instead of natural elements?
Certainly! If you prefer to use artificial materials such as silk flowers or faux leaves, you can still achieve stunning results while ensuring durability and ease of maintenance. Artificial materials provide the advantage of long-lasting beauty and the ability to reuse your fall-themed mason jars year after year. Embrace the convenience and endless options offered by artificial elements.
Q. Where can I find the materials needed for these projects?
You can find the materials needed for these projects at various locations. Craft stores are a great option, offering a wide range of mason jars, paints, decoupage supplies, and embellishments. Online marketplaces like Amazon also provide a convenient way to browse and purchase crafting materials. Additionally, check out your local dollar store for affordable options and seasonal selections that can help bring your mason jar creations to life.
Now comes the important question… Which fall mason jar crafts do you like the most? Please let me know in the comments.
Few more fall ideas!!!
Want to save this for later? Post these Fall Mason Jar Crafts to the "Fall Crafts" OR "Autumn Crafts" Board!