Get inspired by stunning DIY fall porch decor ideas! From fall wreaths, pumpkins, and rustic accents to DIY fall crafts, try these seasonal inspirations to create a warm and inviting atmosphere for the harvest season.
As the autumn breeze sets in, it's time to transform your porch into a cozy and inviting space that celebrates the beauty of fall.
In this blog, we'll explore a variety of well-researched ideas for fall porch decor that will welcome guests and evoke a sense of seasonal charm.
From vibrant wreaths and colorful pumpkins to cozy seating areas and festive accents, I've gathered a collection of inspiring and easy-to-implement decor ideas that will make your porch the perfect spot to savor the joys of the season.
Get ready to embrace the warmth and beauty of fall with these delightful porch decor ideas that will captivate both residents and passersby.
11 Tips To Create Dynamic Fall Porch Display With Texture & Height
Fall is a season that celebrates the beauty of nature's transformation.
By bringing this beauty to your porch, you can create a captivating display that reflects the essence of autumn.
To achieve a dynamic fall porch display, it is essential to consider elements such as color, texture, height, and seasonal decorations.
Let's explore these tips in detail to help you create a stunning fall porch display.
1. Choosing a Color Palette
The first step in creating a dynamic fall porch display is to select a color palette that complements the season.
Embrace the warm and earthy tones of fall by incorporating colors such as orange, red, yellow, and brown.
These hues evoke a sense of coziness and perfectly capture the essence of autumn.
2. Incorporating Natural Elements
To add a touch of authenticity to your fall porch display, incorporate natural elements like pumpkins, gourds, cornstalks, and hay bales.
These items not only enhance the overall aesthetic but also bring a sense of nature's abundance to your porch.
Place them strategically to create focal points and visual interest.
3. Layering Textures
Texture plays a crucial role in creating a dynamic fall porch display.
Layer different textures to add depth and visual appeal.
For example, mix smooth pumpkins with rough burlap or straw.
Consider incorporating textured foliage like ornamental grasses or kale to create contrast and intrigue.
4. Selecting the Right Containers
Choosing the right containers for your fall porch display can elevate the overall look.
Opt for containers that complement the style and color palette of your porch.
Rustic wooden crates, galvanized buckets, or decorative ceramic pots are great options.
Ensure that the containers are large enough to accommodate the plants and decorative items.
5. Adding Height with Plants and Accessories
To create visual interest and add dimension to your fall porch display, incorporate plants and accessories of varying heights.
Tall grasses, cornstalks, or birch branches can be strategically placed to create a vertical element.
This adds drama and draws the eye upward, making the display more captivating.
6. Mixing Different Plant Varieties
Consider using a mix of plant varieties that thrive during the fall season.
Combine flowering plants like chrysanthemums, asters, and pansies with foliage plants such as ornamental cabbage and kale.
This combination adds diversity to your display and ensures a vibrant and colorful porch throughout the season.
7. Using Seasonal Decorative Items
Enhance the charm of your fall porch display by incorporating seasonal decorative items.
Hang a fall-themed wreath on your door, place a scarecrow in a corner, or add a rustic sign with a welcoming message.
These decorative accents add personality and create a warm and inviting atmosphere.
8. Illuminating the Porch
As the days get shorter in the fall, consider adding lighting elements to your porch display.
String fairy lights along the railings or wrap them around the porch pillars.
Lanterns or candle holders with flameless candles can also provide a cozy and warm glow during the evenings.
Illuminating your porch creates a magical ambiance.
9. Creating a Cozy Seating Area
Make your fall porch display not just visually appealing but also inviting by creating a cozy seating area.
Place comfortable chairs or a porch swing adorned with plaid cushions and cozy blankets.
This allows you and your guests to relax and enjoy the beauty of the season right at your doorstep.
10. Maintenance and Upkeep
To ensure your fall porch display remains vibrant and appealing throughout the season, regular maintenance is crucial.
Water the plants appropriately, remove any faded flowers or leaves, and clean the porch surface.
Additionally, protect your display from extreme weather conditions by moving delicate items indoors when necessary.
11. Adding a Seasonal Doormat
Don't forget to incorporate a seasonal doormat as a finishing touch to your fall porch display.
Choose a doormat with fall-themed patterns, colors, or messages to greet your guests with warmth and style.
It not only adds an extra decorative element but also helps keep your porch clean by trapping dirt and debris.
Gorgeous Fall Porch Decor Ideas
" Affiliate links are provided for your convenience, please read my disclosure for more information."
17. Fall Harvest Wheelbarrow – Folded Gingham
16. DIY Fall Dreamcatcher Door – DIY Showoff
15. Fall Maple Leaves Wreath – House Of Hepworths
14. Orange & Red Berries Fall Wreath – To Simply Inspire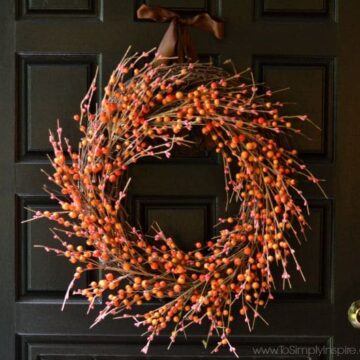 13. Fall Tub Harvest Display – Three Pixie Lane
12. Fall Palette Sign – Taryn Whiteaker
11. Harvest Porch – Centsational Style
10. Fall Decor with Ribbon – May Arts
9. DIY Pumpkin Flower Pot – The Inspiration Board
8. Natural Leaf & Branch Door Hanging – Gray House Studio
7. Fall Crate Display – Gray House Studio
6. Fall Monogram Doormat – H2O Bungalow
5. Fall Welcome Sign – The Wood Grain Cottage
4. Distressed Pumpkin Crate – Anderson And Grant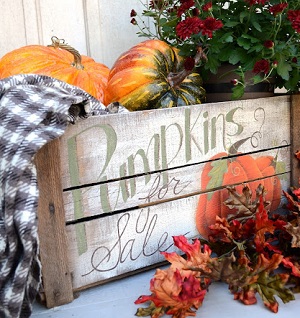 3. DIY Fall Olive Bucket Pumpkin Planters – On Sutton Place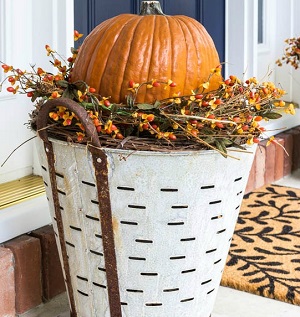 2. Reversible Wood Slice Pumpkins & Snowman – The Craft Patch Blog
1. DIY Pumpkin Topiary – A Pumpkin And A Princess
FAQs
Q. How often should I water the plants in my fall porch display?
It is important to water the plants in your fall porch display regularly, ensuring the soil remains moist but not overly saturated. Check the moisture level of the soil before watering and adjust accordingly.
Q. Can I use artificial pumpkins and foliage in my fall porch display?
Yes, artificial pumpkins and foliage can be used in your fall porch display. They offer the advantage of lasting longer and requiring less maintenance. However, consider combining them with real elements to create a more authentic and visually appealing display.
Q. How can I protect my fall porch display from strong winds?
To protect your fall porch display from strong winds, secure lightweight items such as wreaths or lightweight decorations with sturdy hooks or adhesive. Consider moving delicate items indoors during severe weather conditions.
Q. Are there any specific plants that are known for their fall colors?
Yes, several plants are known for their vibrant fall colors. Some popular choices include maple trees, burning bush, Virginia creeper, and Japanese maples. Incorporating these plants in your fall porch display can enhance the overall visual impact.
Q. Can I reuse the decorative items from my fall porch display for other seasons?
Many decorative items used in fall porch displays can be repurposed for other seasons or occasions. For example, pumpkins can be painted or carved for Halloween, and certain wreaths can be adapted for winter or spring by adding seasonal accents. Get creative and explore different possibilities.
Q. How can I protect my fall porch display from frost or freezing temperatures?
During colder temperatures, it's important to protect your fall porch display from frost or freezing conditions. Bring delicate potted plants indoors or cover them with frost blankets or burlap. Remove any water sources, such as decorative fountains, to prevent them from freezing and causing damage. Taking these precautions will help preserve the beauty of your display.
Q. Can I incorporate DIY crafts into my fall porch display?
Absolutely! DIY crafts can add a personal and unique touch to your fall porch display. Consider creating your wreaths, garlands, or other decorative items using materials like dried leaves, pinecones, or twigs. DIY crafts allow you to unleash your creativity and tailor your display to your style.
Now comes the important question… Which fall porch decor do you like the most? Please let me know in the comments.
Few more fall ideas!!!
Want to save this for later? Post these Fall Porch Decors to the "Fall Porch Decor" OR "Autumn Porch Decorations" Board!