Discover charming DIY rustic farmhouse fall decor ideas to add warmth to your home. Explore these DIY fall crafts and stylish DIY fall projects. Transform your space into an inviting haven with these delightful farmhouse-inspired decorations.
As the autumn season unfolds, there's no better way to celebrate its rustic beauty than with farmhouse-inspired fall decor.
In this blog, we'll explore a variety of easy-to-incorporate ideas that will infuse your home with the cozy charm of a farmhouse aesthetic.
From weathered wooden accents and burlap textures to muted color palettes and natural elements, we've gathered a collection of inspiring farmhouse fall decor ideas.
Get ready to create a warm and inviting atmosphere that embodies the essence of fall and showcases the timeless allure of farmhouse style in simple and delightful ways.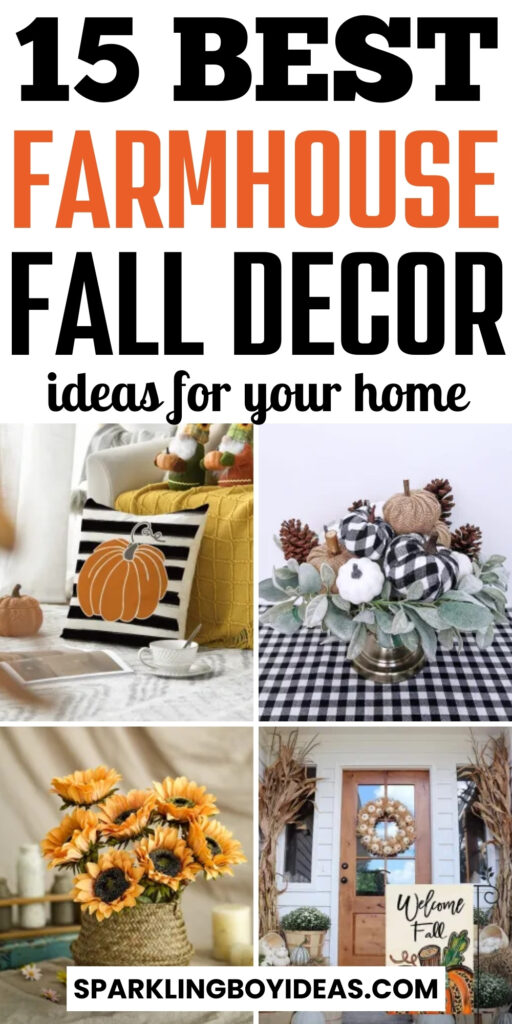 13 Tips To Add Rustic Farmhouse Touch In Fall Decor
Fall is a wonderful time to bring the charm of rustic farmhouse decor into your home.
By combining natural elements, warm colors, vintage pieces, and seasonal accents, you can create a cozy and inviting ambiance that reflects the beauty of the season.
1. Embrace Natural Materials
To achieve a rustic farmhouse look, start by incorporating natural materials into your decor.
Opt for wooden furniture, such as a farmhouse-style dining table or a reclaimed wood coffee table.
Use wicker baskets for storage and display woven rugs made of jute or sisal.
These materials add texture and rustic touch to your space.
2. Incorporate Warm Colors
Warm colors are key to creating a cozy atmosphere in your fall decor.
Choose earthy tones like deep reds, burnt oranges, golden yellows, and rich browns for your walls, furniture, and accessories.
These colors mimic the changing leaves of autumn and evoke a sense of warmth and comfort.
3. Introduce Vintage Elements
Vintage pieces add character and authenticity to your rustic farmhouse decor.
Look for antique furniture, such as a distressed wooden cabinet or a vintage rocking chair.
Incorporate weathered signs, old window frames, or vintage farm tools as wall decorations.
These elements bring a nostalgic charm to your fall decor.
4. Display Harvest-inspired Decorations
Fall is synonymous with harvest time, so incorporate harvest-inspired decorations into your rustic farmhouse decor.
Display dried cornstalks, wheat bundles, or burlap sacks in a corner of your living room.
Arrange a display of pumpkins, gourds, and colorful autumn leaves on your mantel or entryway table.
These decorations celebrate the bounty of the season and add a rustic touch to your home.
5. Use Cozy Textiles
To create a warm and inviting atmosphere, incorporate cozy textiles into your fall decor.
Add plaid or checkered throw blankets to your sofas and armchairs.
Use soft, knitted, or faux fur pillows to make your seating areas more comfortable.
Layer your beds with warm quilts and flannel sheets. These textiles not only provide warmth but also add visual interest to your space.
6. Add Wooden Accents
Wooden accents are essential in achieving a rustic farmhouse look.
Incorporate wooden picture frames, candle holders, and wall shelves into your fall decor.
Hang a distressed wooden mirror on the wall or place a wooden tray on your coffee table.
These accents bring a natural and rustic feel to your home.
7. Create a Farmhouse-inspired Centerpiece
A centerpiece can become the focal point of your fall decor.
Create a farmhouse-inspired centerpiece by arranging a collection of pumpkins, pinecones, and candles on a wooden tray or a galvanized metal tray.
Add some sprigs of dried wheat or eucalyptus for an extra touch of rustic charm.
Place this centerpiece on your dining table or coffee table for a cozy autumn vibe.
8. Enhance Lighting with Candles
Candles provide soft and warm lighting that enhances the cozy atmosphere of a rustic farmhouse decor.
Place candles of different heights and sizes on your mantel, dining table, or sideboard.
Use candlesticks made of brass or wrought iron to add a vintage touch.
Light the candles in the evening to create a soothing and intimate ambiance.
9. Decorate with Pumpkins and Gourds
Pumpkins and gourds are iconic symbols of fall.
Decorate your home with various sizes and colors of pumpkins and gourds.
Place them on your front porch, staircase, or windowsills.
You can also create a pumpkin display by arranging them on a wooden ladder or a vintage wagon.
These natural elements instantly bring a rustic farmhouse charm to your fall decor.
10. Incorporate Seasonal Wreaths
Hang a seasonal wreath on your front door or above your fireplace to welcome the autumn season.
Choose a wreath made of dried leaves, twigs, or burlap.
Add some faux berries or pinecones for extra texture.
The rustic appeal of a seasonal wreath sets the tone for your entire fall decor.
11. Arrange a Fall-inspired Tablescape
Set a charming fall-inspired tablescape for your dining table or kitchen island. Use a burlap or plaid table runner as the base.
Place rustic dinnerware, such as stoneware or enamelware, on the table.
Add small pumpkins, pinecones, and autumn leaves as decorative accents.
This tablescape creates a cozy and inviting space for family meals during the fall season.
12. Personalize with Family Photos
Incorporate personal touches into your fall decor by displaying family photos in rustic frames.
Choose frames made of reclaimed wood or metal with distressed finishes.
Create a gallery wall of family memories or place framed photos on shelves and side tables.
These personalized elements add warmth and sentimentality to your rustic farmhouse decor.
13. Create a Cozy Reading Nook
Design a cozy reading nook where you can curl up with a book and enjoy the autumn season.
Place a comfortable armchair or a cushioned bench near a window or by the fireplace.
Add a knitted throw blanket and a side table for your cup of tea or coffee.
Decorate the nook with a floor lamp and some vintage books.
This inviting space allows you to relax and embrace the cozy atmosphere of fall.
Rustic Farmhouse Fall Decor
" Affiliate links are provided for your convenience, please read my disclosure for more information."
15. Rustic Wooden Sign – Amazon
14. Fall Tiered Tray – Amazon
13. Artificial Silk Sunflowers – Amazon
12. Farmhouse Pumpkin Fall Sign – Amazon
11. Welcome Fall Pumpkin Garden Flag – Amazon
10. Vanilla Spike Plants in Galvanized Metal Vase – Amazon
9. Fall Watercolor Stripes Pumpkin Throw Pillow Cover – Amazon
8. Fall Leaf Garlands With Lights – Amazon
7. Beige & Orange Wood Bead Tassel Garland – Amazon
6. Artificial Pumpkins – Amazon
5. Fall Pillow Covers – Amazon
4. Eucalyptus Garland with White Pumpkins – Amazon
3. Artificial Eucalyptus Leaves – Amazon
2. Fall Pumpkin Block – Amazon
1. Fall Table Runner – Amazon
FAQs
Q. Can I add a rustic farmhouse touch to my fall decor on a budget?
Absolutely! There are many budget-friendly ways to add a rustic farmhouse touch to your fall decor. You can repurpose items you already have, such as mason jars or old wooden crates, and use them as decorative elements. Thrift stores and flea markets are also great places to find affordable vintage pieces that can enhance your decor.
Q. Are there any DIY projects I can try for my rustic farmhouse fall decor?
Certainly! DIY projects can be a fun and creative way to add a personal touch to your fall decor. You can make your own rustic wooden signs, paint, and distress furniture, or create a wreath using natural materials like twigs and dried flowers. There are plenty of tutorials available online to guide you through the process.
Q. How can I incorporate a rustic farmhouse touch into my outdoor fall decor?
To incorporate a rustic farmhouse touch into your outdoor fall decor, consider using natural elements like hay bales, cornstalks, and wooden crates. Arrange pumpkins and gourds on your porch or create a cozy seating area with wooden Adirondack chairs and plaid blankets. Adding string lights or lanterns can also create a warm and inviting ambiance.
Q. Can I mix the rustic farmhouse style with other decor styles for fall?
Yes, you can definitely mix the rustic farmhouse style with other decor styles to create unique and personalized fall decor. For example, you can combine rustic farmhouse elements with modern accents for a contemporary twist. Play around with different textures, colors, and patterns to find a balance that suits your taste and style.
Q. How can I maintain a cohesive look throughout my fall decor?
To maintain a cohesive look throughout your fall decor, choose a consistent color palette and stick to it. Incorporate similar materials, such as wood, burlap, and metal, in different areas of your home. Pay attention to the placement and arrangement of decorative items to create a sense of harmony. Step back and evaluate your decor from different angles to ensure a cohesive and visually pleasing result.
Q. Can I add a rustic farmhouse touch to my fall decor if I live in a small apartment?
Absolutely! Even in a small apartment, you can add a rustic farmhouse touch to your fall decor. Opt for smaller-scale rustic furniture pieces, such as a wooden side table or a vintage-inspired shelf. Use wall space to hang rustic signs or display a collection of framed family photos. Incorporate cozy textiles and seasonal accents, like mini pumpkins and burlap garlands, to create a warm and inviting atmosphere.
Q. How can I incorporate the rustic farmhouse style into my fall table settings?
To incorporate the rustic farmhouse style into your fall table settings, use natural and textured elements like burlap or linen table runners, rustic dinnerware such as ceramic or stoneware plates, and add a centerpiece of fresh flowers in a distressed wooden box or a bundle of wheat for a rustic touch.
Now comes the important question… Which farmhouse fall decor do you like the most? Please let me know in the comments.
Few more fall ideas!!!
Want to save this for later? Post these Farmhouse Fall Decors to the "Fall Decorations" OR "Autumn Decor" Board!