Discover DIY fall centerpieces for table that will bring warmth and beauty to your home. Find creative fall decor ideas for your fall table decorations. Perfect for cozy gatherings and festive occasions.
As the leaves change colors and a cool breeze fills the air, it's time to infuse your home with the warm and inviting ambiance of fall.
In this blog, we'll explore a variety of enchanting fall centerpiece ideas that will add a touch of seasonal beauty to your living space.
From rustic arrangements of pumpkins and dried flowers to elegant displays of autumn foliage and candles, I've curated a collection of captivating centerpieces that will celebrate the charm of the season.
Get ready to embrace the cozy atmosphere of fall and transform your home into a haven of autumnal elegance with these inspiring and easy-to-create centerpiece ideas.
15 Tips To Create A Versatile DIY Fall Centerpiece For Halloween & Thanksgiving
Fall is a magical time of year when nature transitions into a mesmerizing display of warm colors and textures.
Halloween and Thanksgiving are two special occasions that celebrate the essence of this beautiful season.
By creating a versatile DIY fall centerpiece, you can infuse your home with the spirit of fall while incorporating elements that reflect both holidays.
In this article, I will provide you with tips to help you craft a versatile DIY fall centerpiece that will impress your guests and make your home feel warm and inviting.
1. Choosing the Perfect Base
To start your fall centerpiece, you'll need to choose the right base.
Consider using a rustic wooden tray, a decorative platter, or a vintage crate.
These bases provide a solid foundation for your arrangement and add a charming touch of rustic appeal.
2. Selecting Seasonal Elements
When it comes to selecting seasonal elements for your centerpiece, think about the colors and symbols associated with fall.
Opt for items like mini pumpkins, pinecones, acorns, dried corn husks, and colorful leaves.
These elements will instantly bring a festive autumn vibe to your centerpiece.
3. Incorporating Natural Elements
Bringing nature indoors is a key aspect of fall decor.
Consider incorporating natural elements like branches, twigs, berries, and moss into your centerpiece.
These elements add texture and create an organic feel, enhancing the overall look and feel of your fall centerpiece.
4. Exploring Color Schemes
Fall is all about warm and rich colors.
When choosing a color scheme for your centerpiece, think about earthy tones like deep oranges, yellows, reds, and browns.
These colors create a cozy and inviting atmosphere that perfectly captures the essence of the season.
5. Adding Texture and Layers
To make your fall centerpiece visually appealing, add texture and layers to your arrangement.
Combine different materials such as burlap, lace, fabric, or ribbon to create depth and interest.
Experiment with various textures to achieve a visually stunning centerpiece.
6. Embracing Candlelight
Candlelight adds a magical ambiance to any centerpiece.
Incorporate candles of various sizes and shapes into your fall centerpiece.
Use candle holders made of metallic or wooden materials to enhance the rustic and warm feel of your arrangement.
7. Incorporating Pumpkins and Gourds
Pumpkins and gourds are iconic symbols of fall.
Consider using different sizes and shapes of pumpkins and gourds to add visual interest to your centerpiece.
You can paint them, carve them, or leave them in their natural state to suit your desired aesthetic.
8. Including Fall Foliage
Fall foliage is known for its vibrant colors and unique shapes.
Incorporate colorful autumn leaves into your centerpiece to create a lively and festive look.
You can either use real leaves or opt for artificial ones for a longer-lasting centerpiece.
9. Personalizing with DIY Crafts
Add a personal touch to your fall centerpiece by incorporating DIY crafts.
You can create custom name tags, hand-painted signs, or decorative elements using materials like paper, twine, and fabric.
These personalized touches will make your centerpiece truly one-of-a-kind.
10. Creating a Festive Vignette
To make your centerpiece more visually appealing, create a vignette by arranging multiple elements together.
Combine pumpkins, candles, foliage, and other decorative items to form an eye-catching arrangement.
Experiment with different heights and shapes to achieve a balanced and visually pleasing centerpiece.
11. Switching between Halloween & Thanksgiving Themes
To make your fall centerpiece versatile, consider transitioning between Halloween and Thanksgiving themes.
For Halloween, incorporate spooky elements like bats, spiders, and witch hats.
Then, as Thanksgiving approaches, replace them with items like cornucopias, turkeys, and gratitude-themed decor.
This allows you to enjoy the centerpiece for both holidays.
Stunning DIY Fall Centerpieces
" Affiliate links are provided for your convenience, please read my disclosure for more information."
21. DIY Color Wrapped Wheat – Inspired By Charm
20. Fall Pumpkin – Shanty 2 Chic
19. DIY Pumpkin Flower Arrangements – Garden Therapy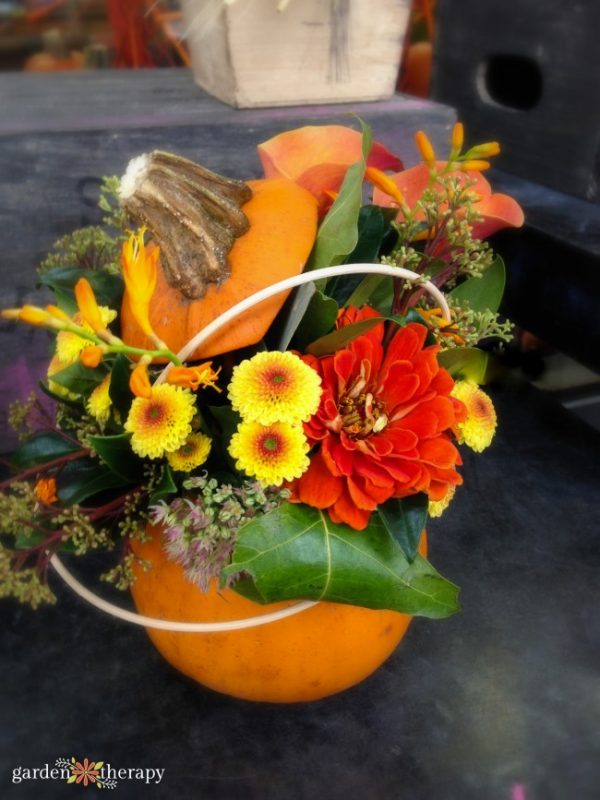 18. Pottery Barn Inspired Fall Centerpiece – Live Laugh Rowe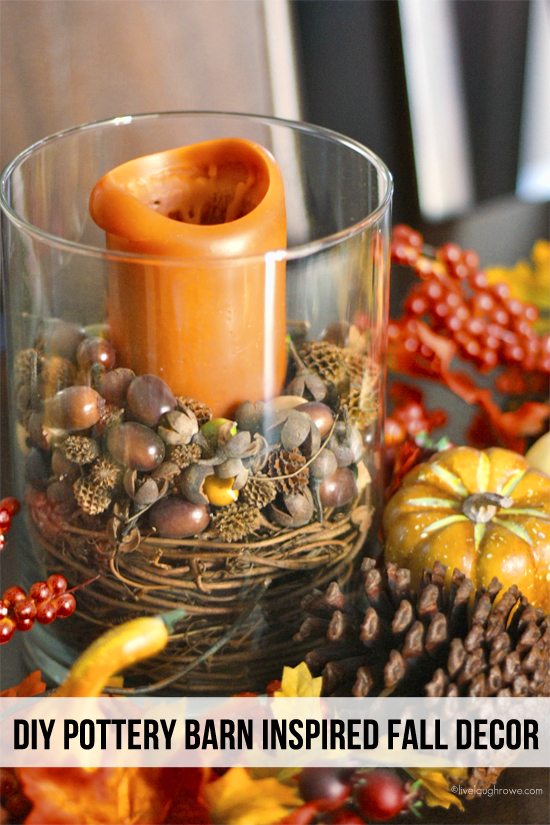 17. DIY Pumpkin Vase – A Pumpkin And A Princess
16. Fall Rustic Mason Jars – Sincerely Jean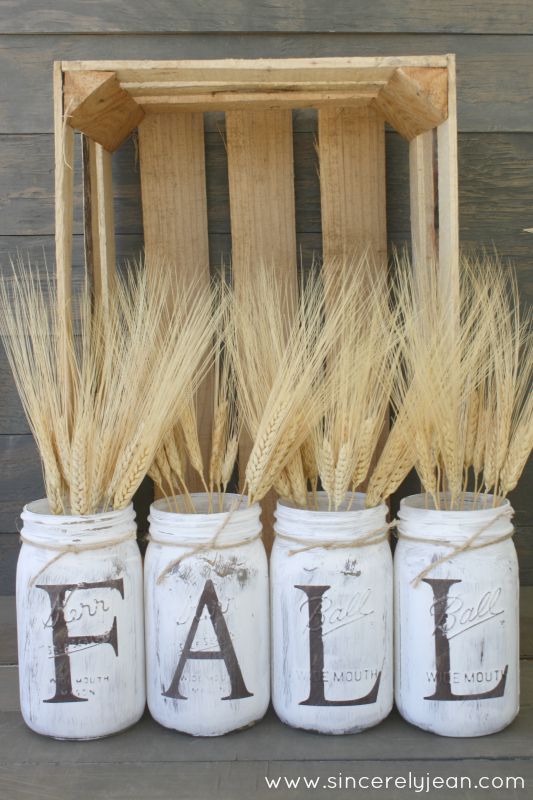 15. Farmhouse Fall Table Centerpiece – Worthing Court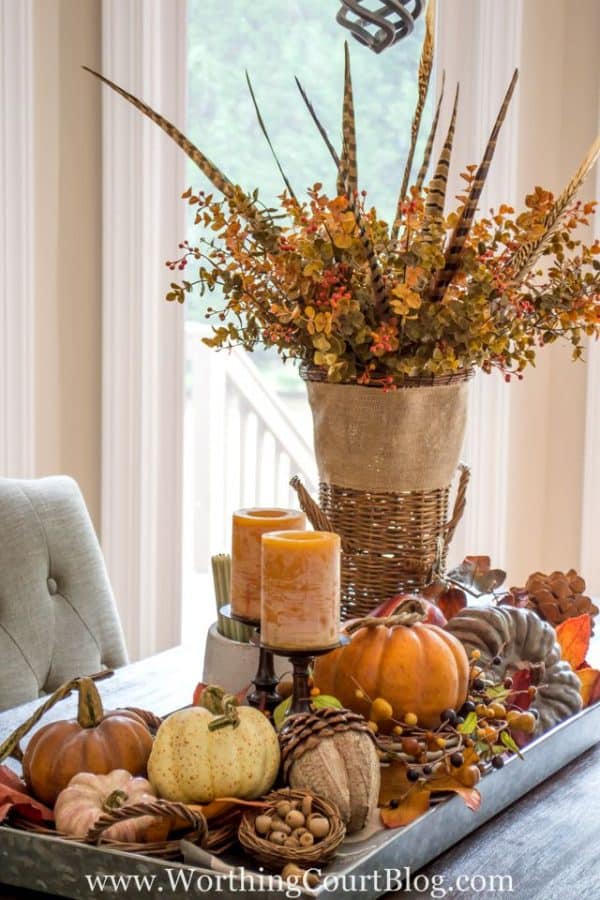 14. Vintage Thanksgiving Table – Sarah Joy
13. Fall Table Centerpiece – Shanty 2 Chic
12. Fall Candle Centerpiece – A Pumpkin And A Princess
11. White Pumpkins & Pine Cones – Shanty 2 Chic
10. Apple Centerpiece – Julie Blanner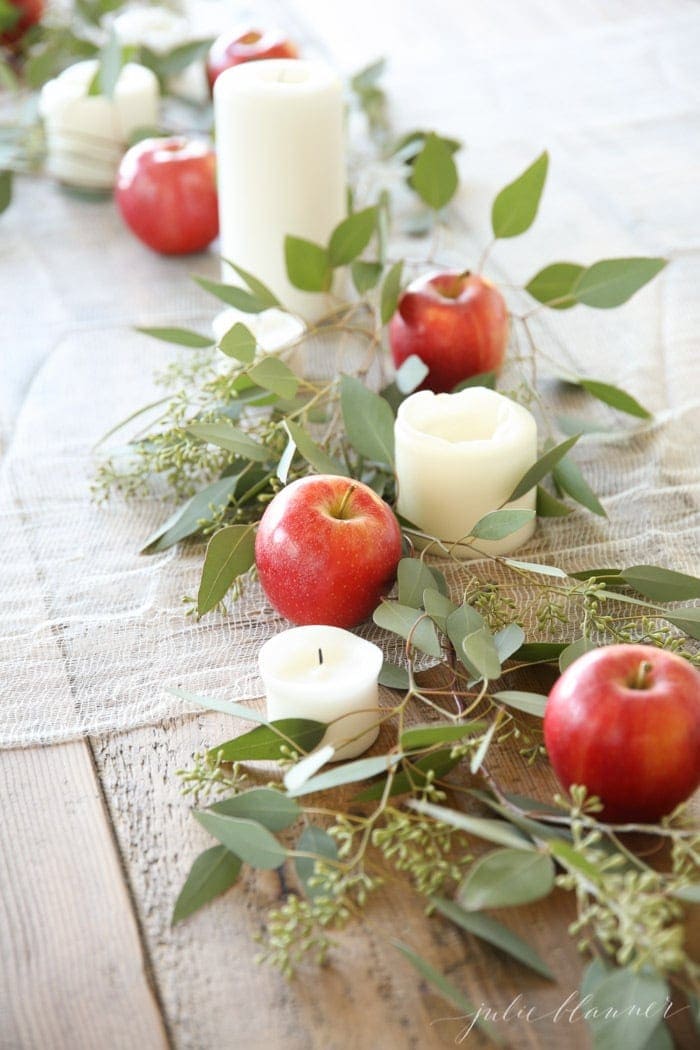 9. Fall Harvest Basket Centerpiece – Opulent Cottage
8. Fall Dough Bowl Arrangement – Stone Gabble
7. Fall Log Centerpiece – Jenna Burger
6. DIY Seeded Eucalyptus Garland – On Sutton Place
5. Neutral & Copper Fall Centerpiece – Liz Marie
4. Spray Painted Pumpkins – Hip 2 Save
3. White Pumpkin Centerpiece – Your Cozy Home
2. Fall Hurricane Vases – Amanda Jane Brown
1. Fall Lantern Centerpiece – The Frugal Homemaker
FAQs
Q. How long will it take to create a DIY fall centerpiece?
Creating a fall centerpiece can vary in time, depending on the complexity of your design and the availability of materials. On average, it may take a few hours to gather the supplies and assemble the centerpiece.
Q. Can I use artificial elements in my fall centerpiece?
Yes, artificial elements like silk flowers, artificial leaves, and synthetic pumpkins can be used in your fall centerpiece. They provide longevity and can be reused for future seasons.
Q. Are there any safety precautions I should consider when using candles in my centerpiece?
When using candles, always ensure they are placed on stable surfaces and away from flammable materials. Never leave candles unattended, and always extinguish them before leaving the room or going to bed.
Q. How can I make my centerpiece more kid-friendly for Halloween?
If you have children, consider using non-toxic materials and avoiding sharp or hazardous objects. You can also incorporate playful elements like friendly ghost decorations or pumpkin-themed crafts.
Q. Can I reuse my fall centerpiece for other occasions?
Certainly! You can repurpose your fall centerpiece for other occasions by simply removing or replacing certain elements. For example, you can remove Halloween-themed items and add festive Christmas decorations for the holiday season.
Q. Can I use fresh flowers in my fall centerpiece?
Yes, fresh flowers can add a beautiful touch to your fall centerpiece. Consider incorporating seasonal blooms like sunflowers, dahlias, and chrysanthemums, or dried flowers like dried hydrangeas and wheat. However, keep in mind that fresh flowers may have a limited lifespan, so be prepared to replace them or opt for artificial flowers for a longer-lasting centerpiece.
Now comes the important question… Which fall centerpieces do you like the most? Please let me know in the comments.
Few more fall ideas!!!
Want to save this for later? Post these Fall Centerpieces to the "Fall Decor" OR "Centerpiece Ideas" Board!