Discover budget-friendly dollar store fall decor ideas. Transform your home with stylish and affordable DIY fall decorations. Get inspired today!
As the leaves turn golden and the air becomes crisp, it's time to embrace the beauty of fall and transform your home into a cozy haven.
But you don't have to break the bank to achieve a stylish autumnal atmosphere.
In this blog, we'll explore the world of dollar store fall decor and discover a treasure trove of affordable finds that will add charm and warmth to your living space.
From seasonal wreaths and vibrant foliage to decorative pumpkins and cozy textiles, we've researched and curated a collection of budget-friendly ideas that will help you create a stunning fall ambiance without breaking the bank.
Get ready to unleash your creativity and adorn your home with delightful autumnal touches that will impress and inspire.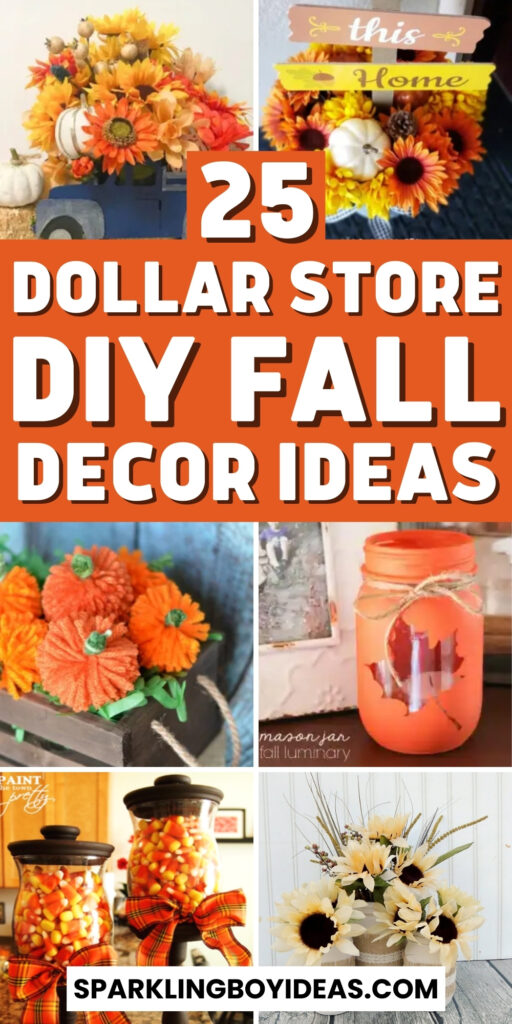 12 Tips To Create A Stylish Fall Decor Theme On A Budget
Are you ready to embrace the beauty of fall and transform your home into a cozy and stylish haven?
Creating a captivating fall decor theme doesn't have to break the bank.
With a few clever tips and tricks, you can infuse your space with the warm and inviting ambiance of autumn without spending a fortune.
In this article, we will explore budget-friendly ideas that will help you create a stunning fall decor theme. So let's dive in!
1. Set a Budget: Plan Your Expenses Wisely
Before you embark on your fall decor journey, it's essential to establish a budget.
Determine how much you are willing to spend on decorations and stick to it.
By planning your expenses wisely, you can ensure that you don't overspend and still achieve a stylish fall decor theme.
2. Repurpose and Upcycle: Give New Life to Old Items
One of the most cost-effective ways to create a stylish fall decor theme is to repurpose and upcycle items you already have.
Look around your home for objects that can be transformed with a little creativity.
Paint old vases in fall colors, repurpose glass jars into candle holders, or create a unique centerpiece using branches and pinecones from your backyard.
3. Natural Elements: Bring the Outdoors In
Fall is a season of abundance when it comes to natural elements.
Incorporating elements such as branches, acorns, pinecones, and dried leaves into your decor can instantly evoke the spirit of fall.
Arrange them in vases, create a seasonal wreath, or scatter them on tabletops for a touch of nature's beauty.
4. Color Palette: Embrace the Rich Hues of Autumn
When choosing a color palette for your fall decor, opt for warm and earthy tones that reflect the essence of the season.
Deep oranges, rustic browns, golden yellows, and vibrant reds can add depth and warmth to your space.
Introduce these colors through textiles, artwork, and accessories for a cohesive and stylish look.
5. DIY Artwork: Add a Personal Touch
Creating your own artwork is a fantastic way to personalize your fall decor theme while staying on a budget.
You don't have to be an experienced artist to produce beautiful pieces.
Experiment with watercolor painting, leaf printing, or simple brushstroke techniques to create unique and meaningful artwork that showcases your creativity.
6. Cozy Textiles: Layering for Warmth and Comfort
Fall is all about embracing cozy textures and layering for warmth.
Introduce soft blankets, plush pillows, and warm rugs to your space.
Opt for fabrics like wool, faux fur, and knits that invite you to snuggle up and enjoy the comfort of the season.
7. Candles and Scents: Create a Soothing Ambiance
Candles not only provide a warm and inviting glow but also infuse your home with delightful scents.
Choose candles with fall-inspired fragrances like pumpkin spice, cinnamon, or apple cider.
Place them strategically around your space to create a soothing ambiance that complements your fall decor theme.
8. Seasonal Centerpieces: Focal Points of Beauty
A well-designed centerpiece can become the focal point of your fall decor.
Consider creating a centerpiece using elements such as pumpkins, gourds, fall flowers, or a combination of all three.
Arrange them on a decorative tray or a rustic wooden platter to add visual interest and charm to your dining table or coffee table.
9. Wreaths and Garlands: Welcome Guests with Elegance
Wreaths and garlands are perfect for adding a touch of elegance to your fall decor.
You can make your own using natural elements like branches, dried flowers, and colorful leaves.
Hang a wreath on your front door to welcome guests or drape garlands along stair railings for a festive touch.
10. Outdoor Decor: Extend the Fall Charm
Extend your fall decor theme to your outdoor space and create a warm and inviting atmosphere from the moment guests arrive.
Place pumpkins and lanterns on your porch, hang a fall-inspired wreath on your door, and decorate your outdoor seating area with cozy blankets and pillows.
Embrace the beauty of fall in every corner of your home.
11. Thrift Stores and Flea Markets: Hidden Gems for Bargains
Thrift stores and flea markets are treasure troves when it comes to finding budget-friendly fall decor items.
Explore these places for unique and affordable pieces that can add charm and character to your home.
Keep an open mind and let your creativity guide you as you uncover hidden gems waiting to be discovered.
12. Simplicity is Key: Less is More
When it comes to fall decor, simplicity is key.
Avoid cluttering your space with too many decorations. Instead, focus on a few key pieces that create a cohesive and stylish look.
Remember, less is more, and by embracing simplicity, you allow the beauty of each element to shine through.
DIY Dollar Store Fall Decorations
" Affiliate links are provided for your convenience, please read my disclosure for more information."
25. Candy Corn Candles – Simple Joy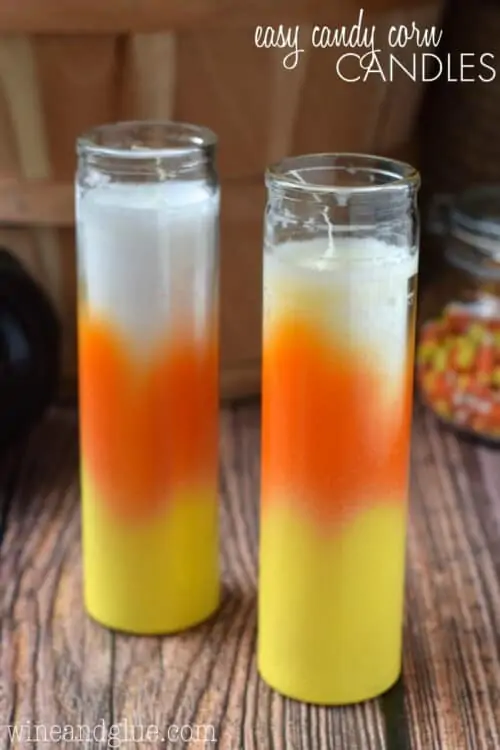 24. Mason Jar Fall Luminary – Create Craft Love
23. DIY Yarn Pumpkins – Not Quite Susie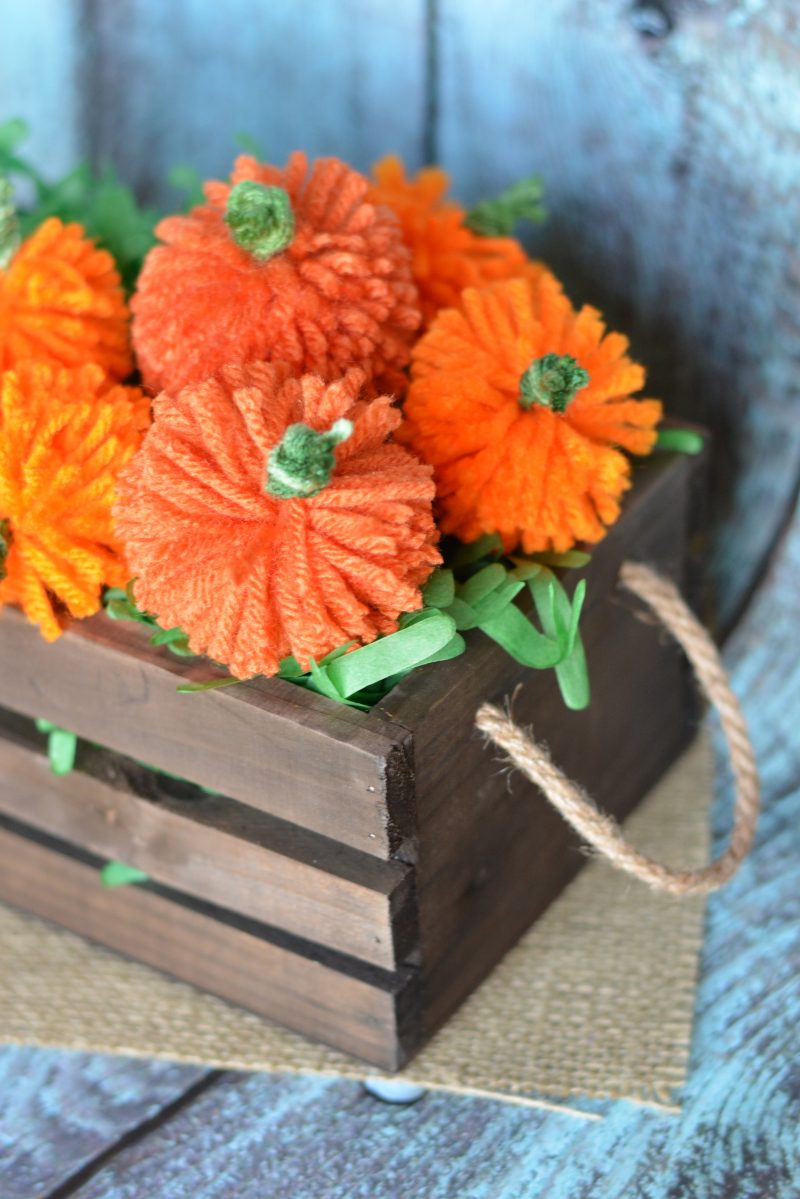 22. DIY Fabric Tape Pumpkins – Mountain Modern Life
21. Dollar Store Fall Leaf Tree – The Kim Six Fix
20. Dollar Store Pumpkin Centerpiece – Simply Beautiful By Angela
19. Thrifted Antiqued Pumpkins – DIY Beautify
18. Dollar Store Pumpkin Painted Jars – Little House Of Four
17. Fall Candy Corn Jars – Paint The Town Pretty
16. Spray Painted Pumpkins – Hip 2 Save
15. Fall Jars with Dollar Store Flowers – Crafting In The Rain
14. DIY Pumpkin Topiary – Intelligent Domestications
13. DIY Dollar Tree Fall Centerpiece – Our Crafty Mom
12. DIY Fall Leaves Bowls – Happy Mothering
11. Clay Pot Scarecrow – Walmart Spark
10. Metallic Foil Pumpkins – Atta Girl Says
9. DIY Painted Candy Corn Mason Jars – Hip Mama's Place
8. Dollar Tree Fall Sunflower Wreath – Where'd My Sanity Go
7. DIY Pine Cone Vase Filler with Fairy Lights – To Simply Inspire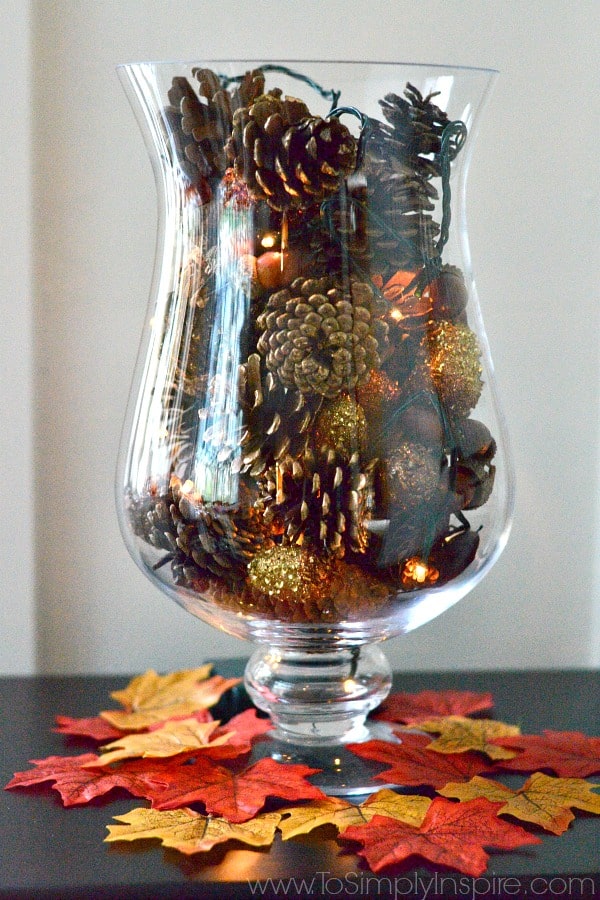 6. DIY Fall Garland – Making Home Base
5. DIY Metallic Apples – Att Girl Says
4. Dollar Store Fall Flower Bucket – Girl Just DIY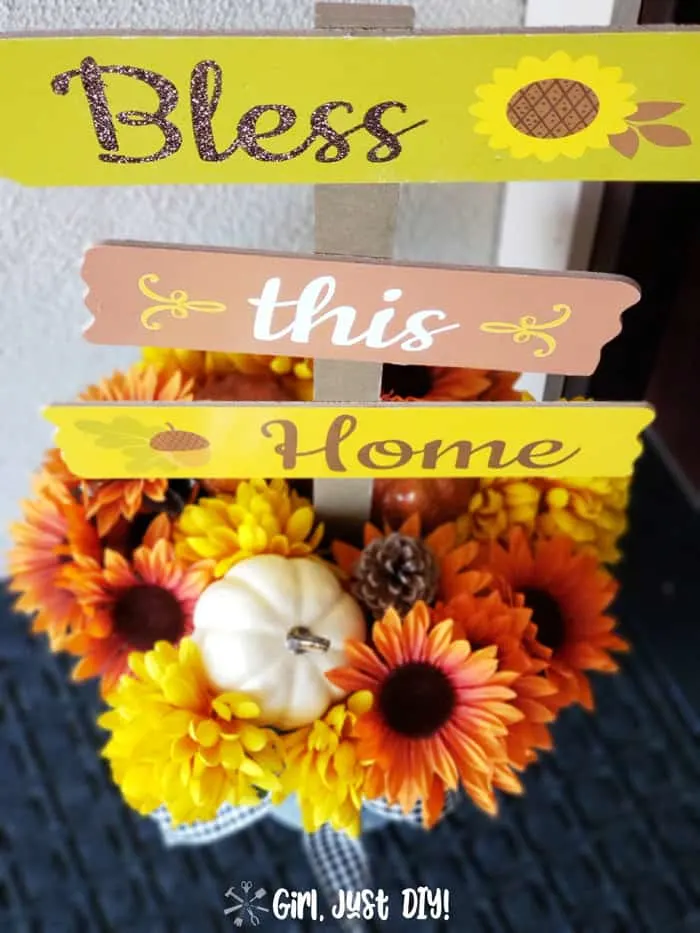 3. DIY Wood Bead Pumpkin – DIY With My Guy
2. Decoupage Glass with Napkins – Leaf Of Faith Crafting
1. Mason Jar Lid Pumpkins – Crafts By Amanda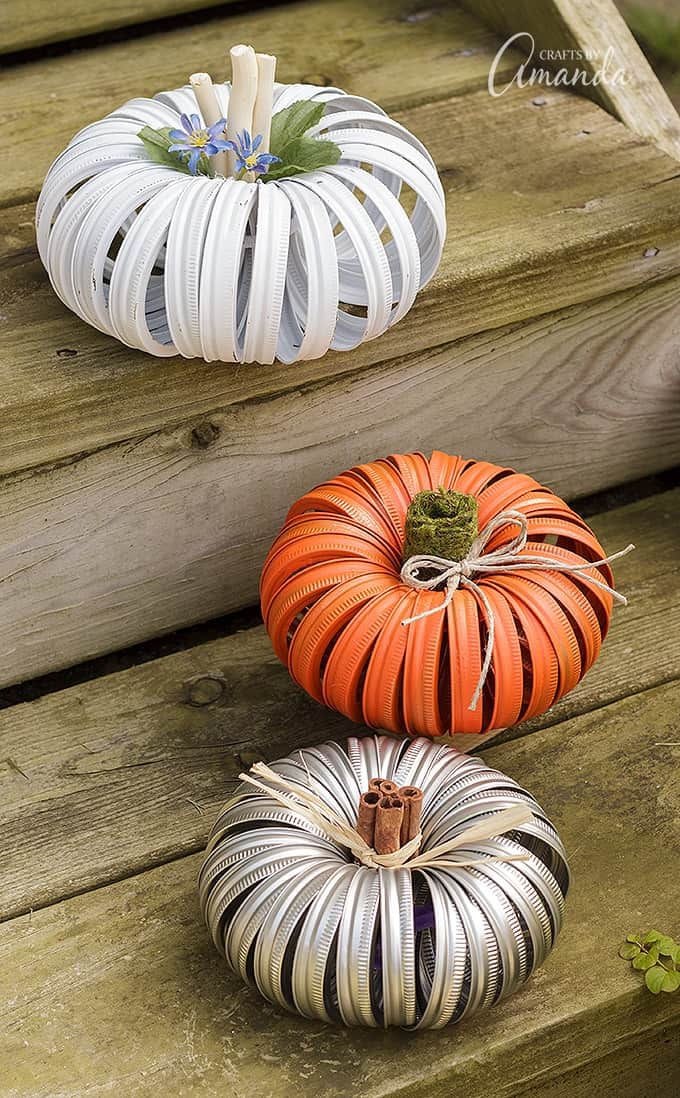 FAQs
Q. How can I create a fall decor theme without spending too much money?
To create a fall decor theme on a budget, consider repurposing and upcycling items you already have, using natural elements like leaves and branches, and shopping at thrift stores or flea markets for affordable finds.
Q. Which colors should I use to create a fall-inspired color palette?
When creating a fall-inspired color palette, opt for warm and earthy tones that mimic the hues of the season. Deep oranges, rustic browns, golden yellows, and vibrant reds are excellent choices. You can also incorporate shades of burgundy, olive green, and mustard yellow to capture the essence of autumn. These colors evoke a sense of coziness and warmth, perfect for creating a fall-inspired ambiance in your decor.
Q. How can I incorporate natural elements into my fall decor theme?
Incorporate natural elements into your fall decor theme by using branches, pinecones, dried leaves, and acorns in arrangements, wreaths, and centerpieces. You can also bring in fresh fall flowers or create displays with pumpkins and gourds.
Q. How can I make my fall decor theme unique and personalized?
To make your fall decor theme unique and personalized, consider adding personal touches such as family photos, handmade crafts, or items that hold sentimental value. Incorporate elements that reflect your personal style and preferences to make your decor truly one-of-a-kind.
Q. How can I create a cozy atmosphere with fall decor?
To create a cozy atmosphere with fall decor, focus on incorporating soft and warm textiles like blankets and pillows, use ambient lighting with candles or string lights, and arrange seating areas to encourage relaxation and conversation. Adding elements of warmth and comfort will help create a cozy ambiance that complements your fall decor theme.
Now comes the important question… Which dollar store fall decor do you like the most? Please let me know in the comments.
Few more fall ideas!!!
Want to save this for later? Post these Dollar Store Fall Decor to the "Fall Decor" OR "Dollar Store Decor" Board!