Elevate your home with cozy DIY fall kitchen decor ideas. Discover fall decor ideas to bring warmth and autumnal charm to your culinary space. Embrace the season's colors, textures, and themes for a delightful kitchen transformation.
As the autumn season arrives, it's time to infuse your kitchen with fall's cozy and inviting charm.
In this blog, we'll explore a variety of creatively curated ideas for fall kitchen decor that will transform your space into a delightful haven.
From seasonal accents and festive tablescapes to clever storage solutions and warm color schemes, we've gathered a collection of inspiring ways to bring the spirit of the season into your culinary domain.
Get ready to spice up your kitchen with these creative and functional fall decor ideas that will delight your cooking and dining experience.
11 Budget-Friendly Tips For Fall Kitchen Transformation On A Budget
Transforming your kitchen on a budget is not only possible but can also be an exciting and creative endeavor.
With a little planning and some budget-friendly tips, you can achieve a stunning fall kitchen transformation without spending a fortune.
In this article, we will explore eleven practical and affordable ideas to revamp your kitchen for the upcoming season.
1. Plan and Budget
Before embarking on your kitchen transformation journey, it's essential to plan and establish a budget.
Assess your needs, set priorities, and determine how much you can afford to spend on each aspect of the renovation.
This step will guide you in making informed decisions and prevent overspending.
2. Declutter and Organize
Start your fall kitchen transformation by decluttering and organizing the space.
Clear out items you no longer use or need, creating a clean canvas for your makeover.
Utilize storage solutions such as baskets, drawer organizers, and shelving units to maximize space and keep everything in order.
3. Paint Cabinets and Walls
One of the most effective and affordable ways to transform your kitchen is by painting the cabinets and walls.
Choose a warm and inviting color palette that complements the fall season, such as deep greens, warm browns, or rich oranges.
This simple update can breathe new life into your kitchen and give it a fresh, updated look.
4. Replace Cabinet Hardware
Upgrading your cabinet hardware can make a significant impact on the overall appearance of your kitchen.
Opt for stylish and affordable handles, knobs, or pulls that align with your desired aesthetic.
Matte black or brushed brass hardware can add a touch of elegance and sophistication to your cabinets.
5. Install New Lighting Fixtures
Lighting plays a crucial role in creating a cozy and inviting atmosphere in your kitchen.
Replace outdated light fixtures with modern and energy-efficient options.
Consider pendant lights above the kitchen island or a statement chandelier over the dining area to elevate the overall ambiance of the space.
6. Update the Backsplash
Give your kitchen a fresh look by updating the backsplash.
Peel-and-stick tiles or adhesive backsplash panels are affordable alternatives to traditional tile installations.
Choose designs that incorporate warm fall colors or opt for classic subway tiles for a timeless appeal.
7. Enhance the Countertops
Transform the look of your countertops without the need for a full replacement. Consider using contact paper or countertop resurfacing kits to give your existing countertops a new lease on life. These budget-friendly options can mimic the appearance of luxurious materials like marble or granite.
8. Refresh with Textiles and Accessories
Incorporate fall-themed textiles and accessories to infuse your kitchen with seasonal charm.
Switch out your tablecloth, placemats, and kitchen towels for ones that feature autumnal patterns or colors.
Add decorative elements such as a cozy rug, seasonal wall art, or decorative pumpkins to enhance the fall ambiance.
9. Create a Cozy Dining Nook
If space allows, create a cozy dining nook in your kitchen where you can enjoy meals with family and friends.
Use a small bistro table or a built-in bench with cushions and throw pillows to create a comfortable seating area.
Complete the look with a statement pendant light or a wall sconce to set the mood.
10. Add Greenery and Natural Elements
Bring the beauty of nature indoors by incorporating greenery and natural elements into your kitchen design.
Place potted plants, fresh herbs, or a vase of seasonal flowers on your countertops or windowsills.
Additionally, consider adding a bowl of fall fruits, such as apples or pumpkins, as a charming centerpiece.
11. Implement Energy-Saving Appliances
Consider upgrading your kitchen appliances to energy-efficient models.
Energy-saving appliances not only help reduce your carbon footprint but also save you money on utility bills in the long run.
Look for appliances with the ENERGY STAR label, indicating their energy efficiency.
This small change can contribute to both your kitchen's transformation and your overall sustainability efforts.
Gorgeous Fall Kitchen Decor
" Affiliate links are provided for your convenience, please read my disclosure for more information."
15. Elegant Fall Kitchen Decor – Craft Berry Bush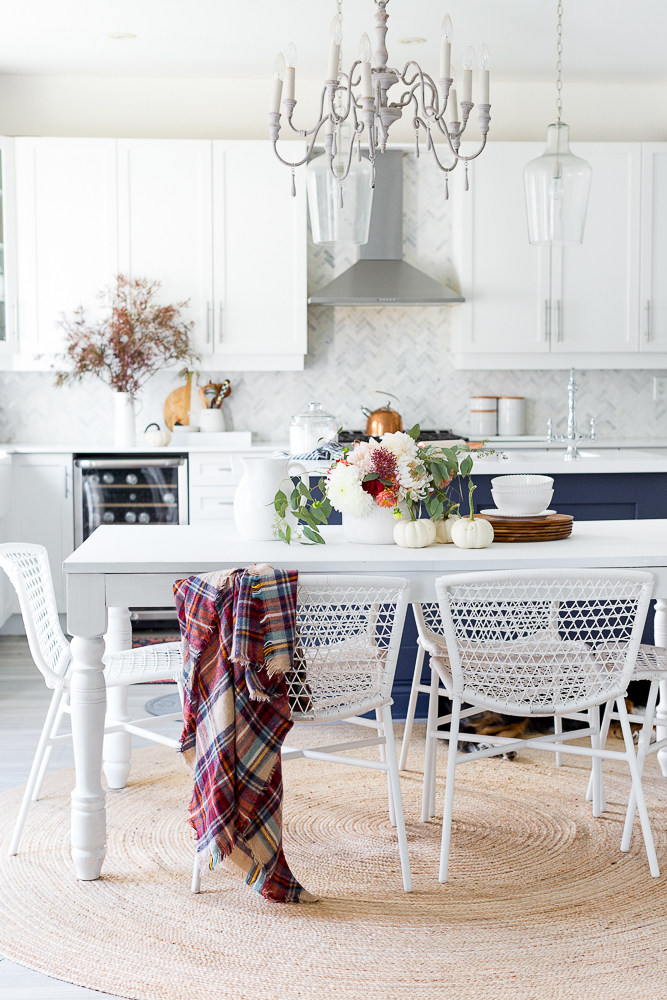 14. Budget Fall Kitchen Decor – Hallstorm Home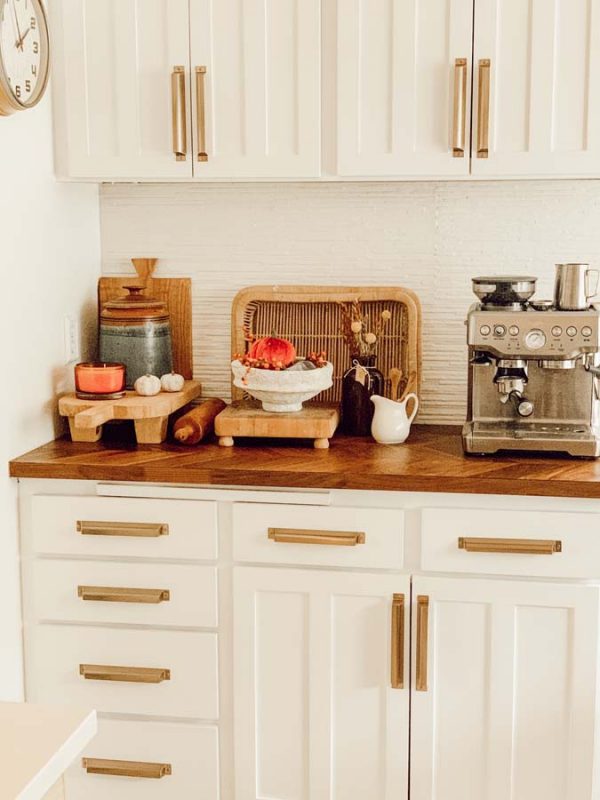 13. Fall Vintage Kitchen Decorating – Fox Hollow Cottage
12. Fall Kitchen with Touches of Mauve & Copper – Styled With Lace
11. Pumpkin Kitchen Decor – Liz Marie Blog
10. Minimalist Fall Kitchen Decor – House On Longwood Lane
9. Blue & White Fall Kitchen Tour – Randi Garrett Design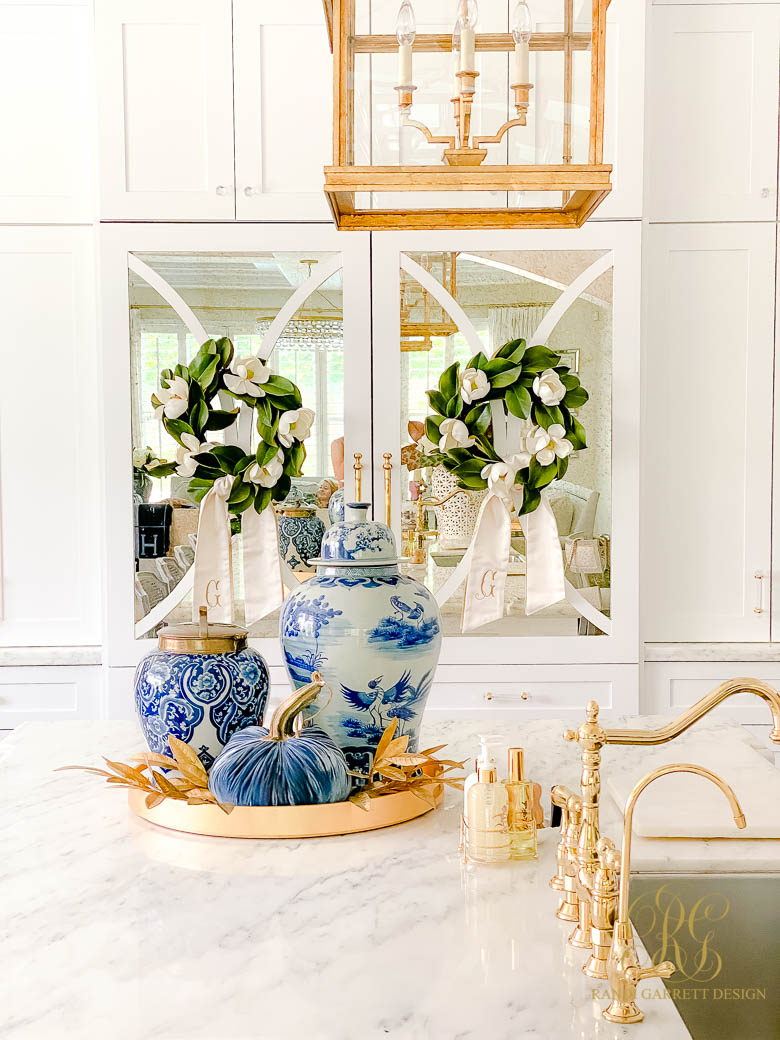 8. Copper Themed Fall Kitchen – Sanctuary Home Decor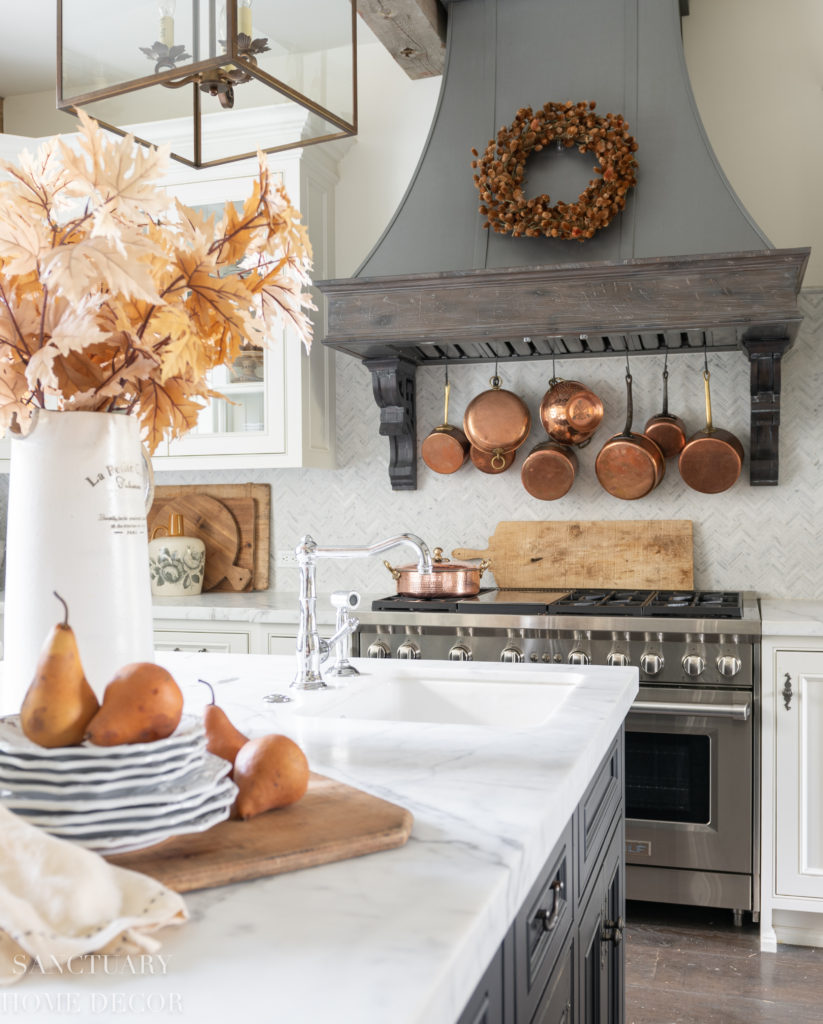 7. Natural Fall Kitchen Decor – Michaela Dean Designs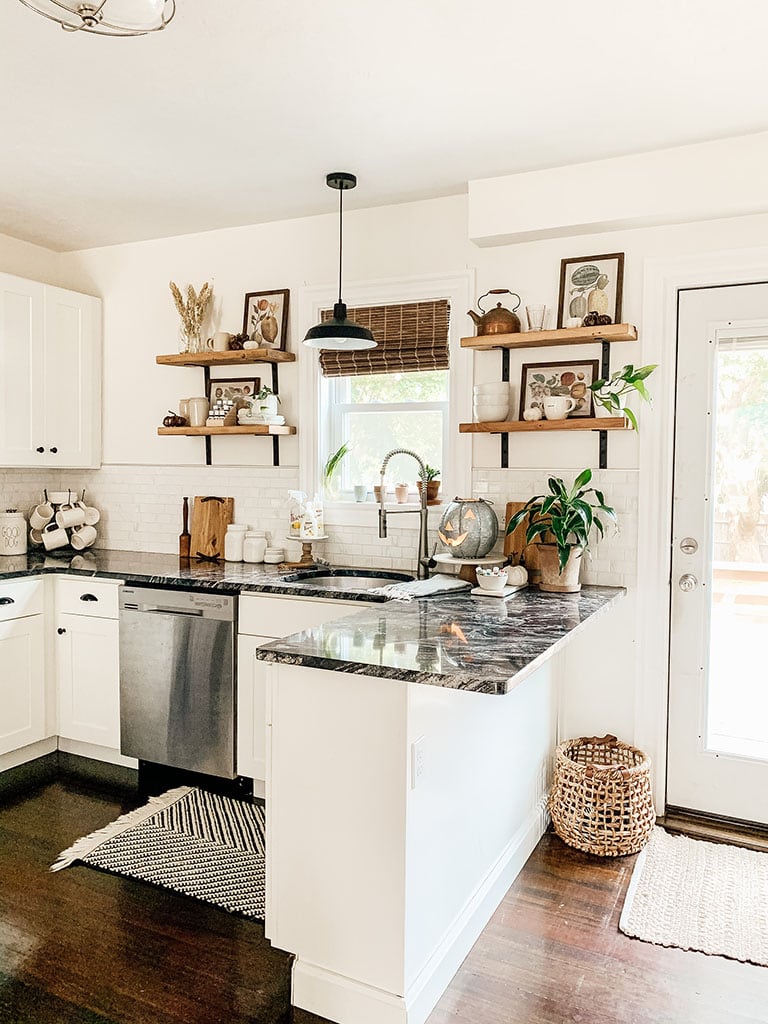 6. Cozy Fall Kitchen with Rose & Plum Tones – Styled With Lace
5. Metallic Gold Fall Kitchen Decor – The Sunny Side Up Blog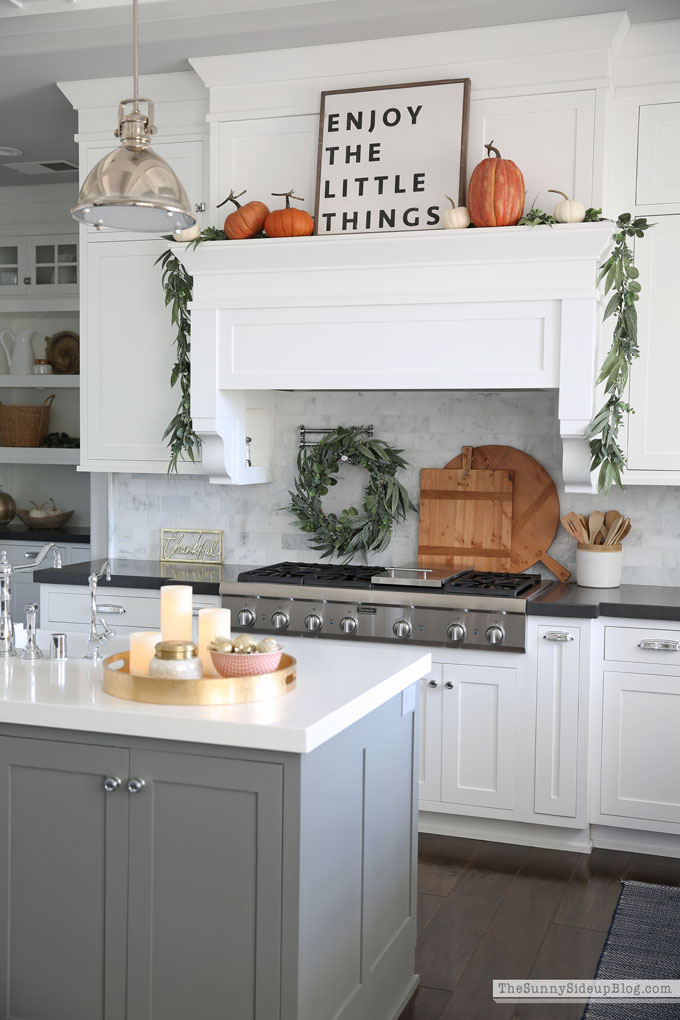 4. Kitchen Island Fall Centerpiece – Southern State Of Mind Blog
3. Metallic Copper Fall Kitchen – Golden Boys And Me
2. Elegant Fall Kitchen Decor – Clean And Scentible
1. Apple Picking Fall Printable – Clean And Scentible
FAQs
Q. Can I transform my kitchen on a tight budget?
Absolutely! With careful planning and creative solutions, you can achieve a stunning kitchen transformation without spending a fortune. The key is to prioritize and make smart choices.
Q. How can I update my kitchen cabinets without replacing them?
Painting your cabinets and replacing the hardware are cost-effective ways to update their appearance. Choose colors and hardware styles that align with your desired aesthetic.
Q. Are there affordable alternatives to expensive countertop materials?
Yes, there are budget-friendly options such as contact paper and countertop resurfacing kits that can give your countertops a fresh look without the need for a full replacement.
Q. What are some inexpensive ways to enhance kitchen lighting?
Replacing outdated light fixtures with modern and energy-efficient options can significantly enhance your kitchen's lighting. Consider pendant lights or a statement chandelier for added style.
Q. How can I incorporate fall elements into my kitchen design?
You can infuse your kitchen with fall charm through textiles, accessories, and natural elements. Opt for seasonal patterns and colors, add decorative elements, and incorporate greenery and natural accents.
Q. How can I make my kitchen feel more spacious without a major renovation?
There are several ways to create a sense of space in your kitchen without a complete overhaul. Opt for light-colored paint on the walls and cabinets to reflect more light and make the space feel larger. Utilize open shelving or glass-front cabinets to visually open up the room. Additionally, keep countertops clear of clutter and use efficient storage solutions to maximize space.
Q. Can I achieve a fall kitchen transformation without changing the layout or structure?
Absolutely! A fall kitchen transformation can be achieved purely through cosmetic changes and decorative elements. By implementing the budget-friendly tips mentioned in this article, such as painting cabinets, updating hardware, and incorporating seasonal accents, you can give your kitchen a fresh look and feel without altering the layout or structure.
Now comes the important question… Which fall kitchen decor do you like the most? Please let me know in the comments.
Few more fall ideas!!!
Want to save this for later? Post these Fall Kitchen Decor to the "Fall Decorations" OR "Autumn Decor" Board!