Indulge in the flavors of autumn with these cute easy fall cupcakes. Perfectly spiced and beautifully decorated, these fall desserts are a must-have for the season!
As the summer warmth gradually gives way to the crispness of autumn, it's time to indulge in the delightful flavors and colors that define the season.
And what better way to celebrate the arrival of fall than with delectable fall-inspired cupcakes?
These little treats perfectly capture the essence of the season, evoking images of crunchy leaves, cozy sweaters, and the aroma of freshly baked goods.
From rich pumpkin spice and comforting apple cinnamon to luscious caramel and warm spices, fall cupcakes offer a delightful medley of flavors that will make your taste buds dance with joy.
In this blog, we'll explore the enchanting world of fall cupcakes, from mouthwatering recipes to creative decorating ideas that will leave you craving a bite.
Get ready to embark on a culinary adventure that celebrates the essence of autumn, one cupcake at a time.
13 Creative Ways To Add Autumn Colors To Fall Cupcakes
By incorporating autumn colors into your fall cupcakes, you can create a visually stunning and delicious treat that reflects the beauty of the season.
Let's explore some creative ways to add autumn colors to your cupcakes and make them the star of your next gathering.
1. Natural Food Coloring
One of the easiest ways to add autumn colors to your cupcakes is by using natural food coloring.
Instead of artificial dyes, opt for natural alternatives like beetroot powder, turmeric, or matcha powder.
These ingredients not only provide vibrant colors but also add a unique flavor profile to your cupcakes.
Experiment with different ratios to achieve the desired shades of red, orange, and yellow.
2. Spiced Flavors
To complement the autumn colors, infuse your cupcakes with warm and aromatic spices.
Cinnamon, nutmeg, ginger, and cloves are popular choices that evoke the cozy feeling of fall.
These spices not only add depth to the flavor but also enhance the overall sensory experience of enjoying a fall cupcake.
3. Leaf Decorations
Create edible leaf decorations using fondant or modeling chocolate.
Use leaf-shaped cutters or molds to shape the decorations, and then paint them with food coloring gels in various autumn shades.
These delicate leaf decorations can be placed on top of your cupcakes, adding a touch of elegance and capturing the essence of the season.
4. Ombre Effect
Create a stunning ombre effect by layering different shades of autumn colors on your cupcakes.
Start with a lighter shade at the base and gradually transition to a darker hue on the top.
Use an offset spatula or piping bag to smoothly blend the colors together, creating a visually appealing gradient effect.
5. Caramel Drizzle
Drizzle caramel sauce over your cupcakes to add a rich and indulgent touch.
The golden tones of caramel perfectly complement the warm colors of autumn.
You can also sprinkle some sea salt on top for a delightfully sweet and salty combination.
6. Pumpkin Spice Frosting
What better way to celebrate fall than with a classic pumpkin spice frosting?
Incorporate pumpkin puree and a blend of spices like cinnamon, nutmeg, and cloves into your frosting recipe.
Not only will it add a burst of flavor, but the creamy orange frosting will also enhance the autumn theme of your cupcakes.
7. Sprinkles and Edible Glitters
Add a touch of sparkle and fun to your cupcakes with autumn-themed sprinkles and edible glitters.
Look for sprinkles in shades of red, orange, and yellow, as well as leaf-shaped decorations.
These small details can make a big difference and turn ordinary cupcakes into dazzling treats.
8. Apple Cider Reduction
Create a luscious apple cider reduction to drizzle over your cupcakes.
Simmer apple cider on low heat until it thickens into a syrupy consistency.
The warm amber color and fragrant apple flavor will add a delightful autumn touch to your cupcakes.
9. Chocolate Ganache with Autumn Tones
Indulge your taste buds with a decadent chocolate ganache in autumn tones.
Use dark chocolate and incorporate natural food coloring to achieve shades of brown and deep red.
Drizzle or spread the ganache over your cupcakes, creating a luxurious and visually appealing treat.
10. Maple Syrup Swirl
Maple syrup is synonymous with fall, and incorporating it into your cupcakes is a surefire way to infuse autumn flavors.
Create a swirl effect by gently swirling maple syrup into your cupcake batter before baking.
This not only adds a subtle sweetness but also enhances the overall taste and appearance of the cupcakes.
11. Autumn-inspired Toppings
Take inspiration from nature's bounty and top your cupcakes with autumn-inspired ingredients.
Consider using roasted nuts, dried fruits, candied ginger, or even small pieces of caramelized apples.
These toppings not only add texture but also provide a burst of flavor that complements the autumn theme.
12. Edible Leaves
Create edible leaves using wafer paper or thinly rolled fondant.
Use leaf-shaped cutters to create realistic shapes, and then paint them with food coloring to achieve vibrant autumn colors.
These edible leaves can be placed on top of your cupcakes as beautiful and edible decorations.
13. Decorative Cupcake Liners
Elevate the presentation of your fall cupcakes by using decorative cupcake liners.
Look for liners with autumn-inspired designs such as leaves, pumpkins, or acorns.
These liners not only add a festive touch but also serve as an additional element of decoration.
Beautiful Fall Cupcakes
" Affiliate links are provided for your convenience, please read my disclosure for more information."
17. Apple Crisp Cupcakes – Pies And Tacos
16. Pumpkin Cheesecake Cupcakes – Modern Meal Makeover
15. Caramel Apple Butter Cupcakes – Snappy Gourmet
14. Cranberry Orange Cupcakes + White Chocolate Buttercream Frosting – My Wife Can Cook
13. Chocolate Pumpkin Cupcakes + Pumpkin Whipped Cream – I Am Baker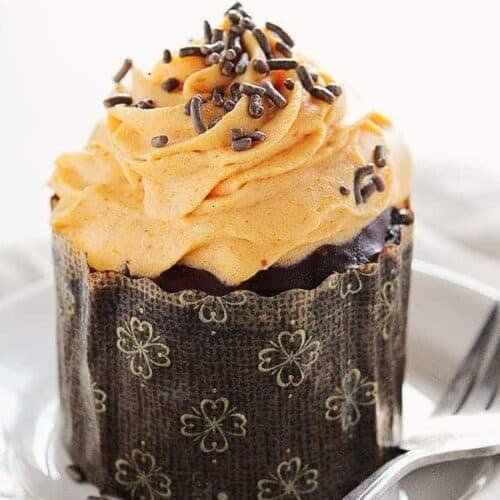 12. Pumpkin Spice Cupcakes – Simply Homecooked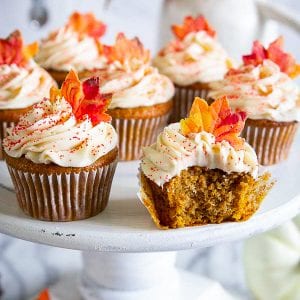 11. Apple Pie Cupcakes – Mildly Meandering
10. Chai Latte Cupcakes – Sally's Baking Addiction
9. Apple Cider Cupcakes + Spiced Buttercream Frosting – Mile High Mitts
8. Sweet Potato Pie Cupcakes – Sweet And Savory Meals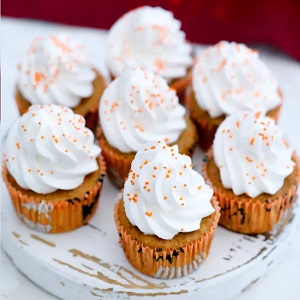 7. Chocolate Caramel Cupcakes – Spatula Desserts
6. Apple Pie Cupcakes – I Am Baker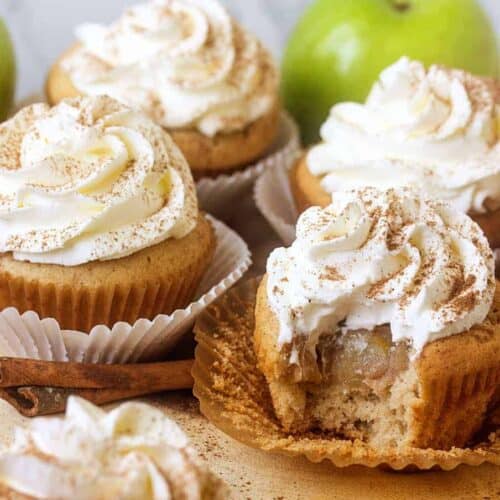 5. Apple Cider Cupcakes + Cider Buttercream Frosting – Freutcake
4. Pumpkin Cupcakes + Cinnamon Cream Cheese Frosting – Just So Tasty
3. Pumpkin Spice Cupcakes – Partylicious
2. Chocolate Bourbon Pecan Pie Cupcakes + Butter Pecan Frosting – Half Baked Harvest
1. Pumpkin Chocolate Chip Cupcakes – Just So Tasty
FAQs
Q. Can I use artificial food coloring instead of natural alternatives?
Yes, artificial food coloring can be used as an alternative to natural options. However, it's worth considering that natural alternatives offer a healthier choice and can impart unique flavors to your cupcakes.
Q. Can I use ready-made frosting instead of making my own pumpkin spice frosting?
Certainly! If you're short on time or prefer convenience, using ready-made frosting is a viable option. You can find a variety of frosting flavors at your local grocery store or bakery supply shop.
Q. How can I create an ombre effect without blending the colors too much?
To achieve a subtle ombre effect, apply different shades of frosting to your cupcakes in distinct layers. Gently spread or pipe the colors, allowing them to blend slightly at the edges while maintaining distinct color variations.
Q. How long will natural food coloring last on the cupcakes?
Natural food coloring can last on cupcakes for several days, depending on the specific ingredients used. However, exposure to light and air may cause the colors to fade over time.
Q. Can I freeze cupcakes decorated with edible leaves?
While it's generally recommended to freeze cupcakes without decorations, you can freeze cupcakes with edible leaves. However, keep in mind that the leaves may become slightly softer or lose their crispness after thawing.
Q. Can I substitute maple syrup with another sweetener in the maple syrup swirl?
Yes, you can substitute maple syrup with other sweeteners like honey or agave syrup if desired. However, keep in mind that the distinct flavor of maple syrup contributes to the overall taste and autumn theme of the cupcakes.
Now comes the important question… Which fall cupcakes do you like the most? Please let me know in the comments.
Few more fall recipes!!!
Want to save this for later? Post these Fall Cupcakes to the "Fall Themed Cupcakes" OR "Autumn Cupcakes" Board!