Discover comforting healthy fall soup recipes that will warm your soul. From hearty chicken soups to creamy pumpkin soups, these fall recipes are perfect for chilly autumn days. Get inspired and enjoy the flavors of the season!
As the temperatures drop and the autumn chill sets in, there's nothing quite as comforting as a steaming bowl of soup to nourish and warm you from the inside out.
In this blog, we'll explore a collection of creatively inspired fall soup recipes that are both delicious and easy to prepare.
From hearty vegetable soups and creamy bisques to fragrant broths and comforting stews, I've gathered a range of inspiring recipes that showcase the flavors and ingredients of the season.
Get ready to indulge in bowls of simmering comfort as we dive into the world of fall soup recipes, where simplicity meets creativity to bring you soul-warming goodness.
Tips For Adding The Seasonal Touch In Fall Soups
As the seasons transition, it's the perfect opportunity to add a seasonal touch to your fall soups.
In this article, we will explore some tips and ideas to elevate your soups with the flavors and ingredients that best represent the essence of autumn.
1. Choosing Seasonal Ingredients
To add a seasonal touch to your fall soups, start by selecting ingredients that are readily available during this time of year.
Opt for seasonal produce like pumpkins, butternut squash, sweet potatoes, apples, pears, kale, and Brussels sprouts.
These ingredients not only bring a burst of flavor but also provide essential nutrients that are beneficial for your health.
2. Embracing Warm and Earthy Flavors
Fall is all about warmth and earthiness, so make sure to infuse your soups with flavors that evoke these sensations.
Ingredients like cinnamon, nutmeg, ginger, cumin, and thyme can add depth and richness to your soups, creating a cozy and inviting aroma.
3. Incorporating Hearty Vegetables
Fall is the time for hearty vegetables that can withstand the cooler weather.
Add vegetables like carrots, parsnips, turnips, and leeks to your soups for a robust and satisfying texture.
These vegetables not only provide a great source of nutrients but also add a delightful earthy flavor to your fall soups.
4. Experimenting with Spices and Herbs
Spices and herbs play a crucial role in enhancing the flavors of your fall soups.
Try experimenting with combinations like sage and thyme, rosemary and garlic, or paprika and bay leaves.
These aromatic additions will elevate your soups to new levels of deliciousness.
5. Utilizing Autumn Squashes
Autumn squashes like butternut squash, acorn squash, and delicata squash are quintessential fall ingredients.
Roast or puree these squashes and incorporate them into your soups for a creamy and velvety texture.
Their natural sweetness will complement the savory elements of your soup, creating a harmonious balance of flavors.
6. Enhancing Texture with Nuts and Seeds
To add an element of crunch and texture to your fall soups, consider adding nuts and seeds as toppings or garnishes.
Toasted pumpkin seeds, crushed walnuts, or sunflower seeds can provide a delightful contrast to the smoothness of the soup while adding a nutty and rich flavor profile.
7. Adding a Creamy Element
Creaminess can make a soup feel indulgent and comforting.
Consider adding a creamy element like coconut milk, heavy cream, or Greek yogurt to your fall soups.
This will impart a luxurious texture and a creamy richness that will satisfy your taste buds.
8. Pairing Soups with Seasonal Garnishes
Garnishes not only add visual appeal but also enhance the overall taste of your fall soups.
Consider garnishing your soups with crispy bacon bits, fresh herbs like chives or parsley, grated cheese, or a dollop of sour cream.
These simple additions can elevate your soup to a whole new level of flavor and presentation.
9. Exploring Sweet and Savory Combinations
Fall soups provide an excellent opportunity to experiment with sweet and savory flavor combinations.
For a unique twist, try adding ingredients like apples, cranberries, or maple syrup to your savory soups.
The interplay of sweet and savory flavors will surprise and delight your taste buds.
10. Considering Seasonal Soup Serving Vessels
Presentation matters when it comes to serving fall soups.
Consider using seasonal soup bowls or hollowed-out mini pumpkins as serving vessels.
This adds an extra touch of charm and visual appeal, making your fall soups even more enticing.
11. Using Homemade Stocks and Broths
Homemade stocks and broths can enhance the depth of flavor in your fall soups.
Consider making your own stock using leftover vegetable scraps or bones from roasted meats.
The homemade stock will infuse your soups with rich flavors, elevating them to a new level of deliciousness.
12. Incorporating Fall Fruits
Fall fruits like apples, pears, and figs can add a delightful sweetness and complexity to your soups.
Experiment with incorporating them into your recipes to create a unique flavor profile.
Their natural sugars will balance the savory elements and provide a refreshing twist.
13. Making Use of Fresh Herbs
Fresh herbs add brightness and freshness to your fall soups.
Consider using herbs like parsley, cilantro, or dill as a garnish or incorporate them into the soup during the cooking process.
They will provide a burst of flavor and a vibrant green color to your dish.
14. Creating Soup Infusions
Infusions can take your fall soups to a whole new level.
Try infusing your soups with aromatics like garlic, ginger, or lemongrass.
Simply simmer these ingredients in the soup to impart their flavors.
This technique will add complexity and depth to your soups, making them truly unforgettable.
15. Balancing Sweet and Tangy Flavors
Fall soups can benefit from a balance of sweet and tangy flavors.
Consider adding a splash of apple cider vinegar or a squeeze of lemon juice to brighten up your soups.
This will provide a refreshing and tangy note that cuts through the richness, resulting in a well-balanced and delightful flavor profile.
Hearty Fall Soup Recipes
" Affiliate links are provided for your convenience, please read my disclosure for more information."
21. Roasted Tomato Basil Soup – How To Feed A Loon
20. Chicken Stew – Budget Bytes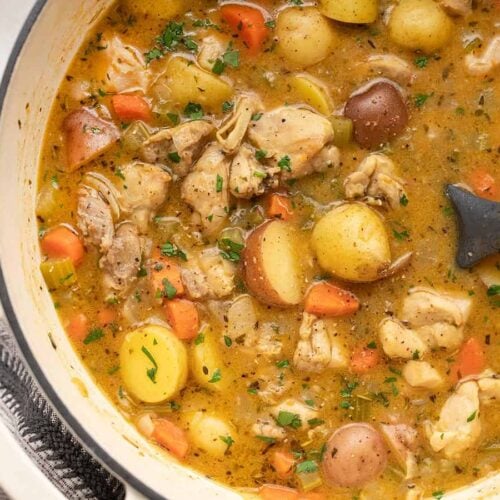 19. Chicken Pot Pie Soup – The Clean Eating Couple
18. Italian Pasta Fagioli Soup – Taste And See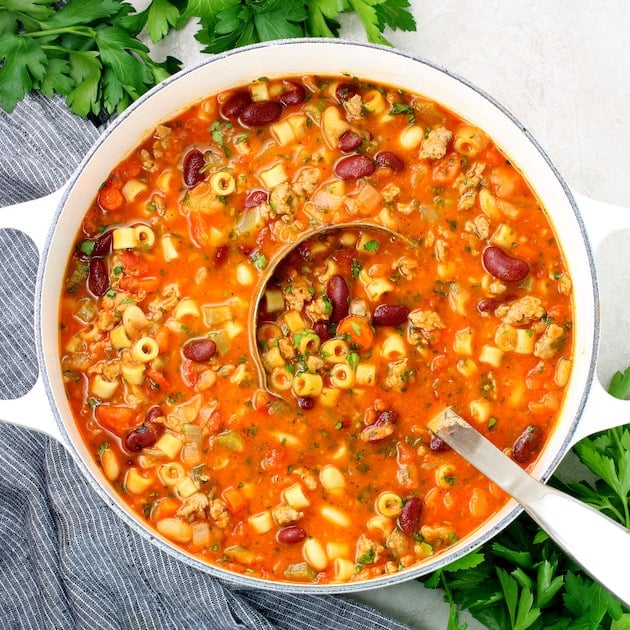 17. Creamy Chicken & Mushroom Soup -Damn Delicious
16. Hearty Homemade Corn Chowder – The Chunky Chef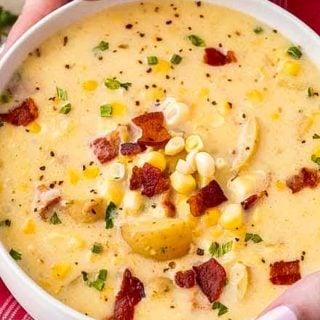 15. Pumpkin Lasagna Soup – Rainbow Plant Life
14. Creamy Tomato Soup – The Recipe Rebel
13. Cauliflower Sausage Kale Soup – Little Broken
12. Chicken Taco Soup – Salt And Lavender
11. Cabbage Roll Soup – Dinner At The Zoo
10. Instant Pot White Chicken Chili – The Almond Eater
9. Creamy Chicken & Rice Soup – Salt And Lavender
8. Vegan Mushroom Wild Rice Soup – Short Girl Tall Order
7. Split Pea Soup – Cooking Classy
6. Italian Sausage & Orzo Soup – The Flavors Of Kitchen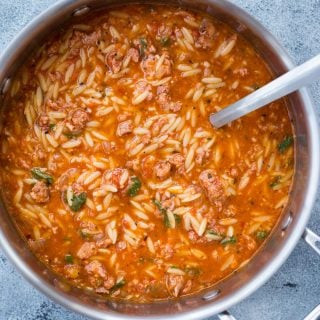 5. Creamy Wild Rice Soup – Savor The Flavour
4. Instant Pot Minestrone Soup – Piping Pot Curry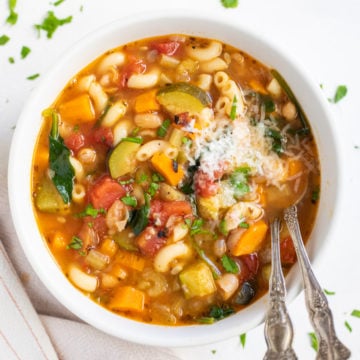 3. Potato Kielbasa Soup – Honey And Birch
2. Italian Sausage Soup + Orzo – The Kitchen Girl
1. Cabbage Roll Soup – Kitchen Fun With My 3 Sons
FAQs
Q. Can I freeze fall soups for later use?
Yes, fall soups can be frozen for later use. Make sure to let the soup cool completely before transferring it to freezer-safe containers. It's also a good idea to label the containers with the soup name and date of preparation.
Q. Are there any vegetarian options for fall soups?
Absolutely! Fall soups can be easily adapted to suit vegetarian preferences. Replace meat-based stocks with vegetable broth and incorporate a variety of seasonal vegetables and herbs for a flavorful vegetarian soup.
Q. Can I make fall soups in a slow cooker or Instant Pot?
Yes, slow cookers and Instant Pots are great tools for making fall soups. They allow for convenient and hands-off cooking, resulting in tender and flavorful soups.
Q. Can I add protein to fall soups?
Certainly! You can add protein to fall soups by incorporating ingredients like cooked chicken, turkey, beans, lentils, or tofu. These additions will make your soups more filling and nutritious.
Q. Can I make fall soups ahead of time and reheat them later?
Absolutely! Fall soups often taste even better when the flavors have had time to meld together. You can make your fall soups ahead of time, allow them to cool, and store them in the refrigerator for a day or two. When ready to serve, simply reheat them on the stovetop or in the microwave.
Q.How can I make my fall soups more filling and hearty?
If you want to make your fall soups more filling and hearty, there are several options. You can add ingredients like beans, lentils, quinoa, or barley to increase the protein and fiber content. Another option is to include chunks of cooked chicken, beef, or sausage for added texture and flavor. Additionally, adding root vegetables like potatoes or sweet potatoes can make the soup more substantial. Feel free to customize your soups according to your preferences and dietary needs.
Now comes the important question… Which fall soup recipes do you like the most? Please let me know in the comments.
Few more fall recipes!!!
Want to save this for later? Post these Fall Soup Recipes to the "Fall Soup Recipes" OR "Autumn Soup Ideas" Board!