Indulge in the warm flavors of fall with easy decorated fall cookies. From pumpkin cookies to caramel apple cookies, these fall treats will fill your home with the cozy aroma of autumn. Perfect for sharing or enjoying on your own. Get ready to satisfy your sweet tooth!
As the leaves transform into a tapestry of warm hues, it's time to indulge in the delightful world of fall-inspired cookies.
In this blog, we'll look at homemade fall cookies that will fill your home with the irresistible aromas and flavors of the season.
From spiced pumpkin snickerdoodles and maple-glazed sugar cookies to decadent apple cider sandwich cookies and caramel pecan treats, I've gathered a collection of inspiring cookie recipes that celebrate the essence of autumn.
Get ready to unleash your baking prowess and create mouthwatering treats that will delight both young and old.
Let's dive into the world of fall cookies and savor the sweet delights that this season brings.
11 Tips To Make Soft & Chewy Fall Cookies For Cold Weather
Soft and chewy fall cookies are a delightful treat that can warm your heart and bring a touch of sweetness to cold weather.
In this article, we will explore some expert tips and techniques to help you achieve perfect soft and chewy fall cookies every time.
1. Choosing the Right Ingredients
To create soft and chewy fall cookies, it's important to start with high-quality ingredients.
Opt for unsalted butter, which allows you to control the amount of salt in the recipe.
Brown sugar adds moisture and enhances chewiness, while granulated sugar contributes to softness.
Use large eggs at room temperature to ensure proper incorporation into the dough.
2. Balancing Wet and Dry Ingredients
Achieving the ideal texture in your fall cookies requires a balance between wet and dry ingredients.
Too much flour can result in dry and crumbly cookies, while too little can cause spreading and flatness.
It's recommended to use a combination of all-purpose flour and a small amount of cornstarch to achieve a soft and chewy consistency.
3. The Importance of Proper Mixing
Proper mixing techniques play a crucial role in the texture of your fall cookies.
Creaming the butter and sugars together until light and fluffy helps to incorporate air, resulting in a softer cookie.
When adding the dry ingredients, mix until just combined to avoid overworking the dough, which can lead to tougher cookies.
4. Chilling the Dough
Chilling the cookie dough before baking is a vital step in achieving soft and chewy fall cookies.
Place the dough in the refrigerator for at least an hour or overnight.
This allows the fats to solidify, preventing excessive spreading during baking and resulting in a thicker and chewier cookie.
5. Baking at the Right Temperature
Preheat your oven to the correct temperature to ensure even baking and optimal texture.
For soft and chewy fall cookies, a slightly lower temperature, around 325°F (160°C), is recommended.
This lower temperature allows the cookies to bake more evenly and retain their softness.
6. Timing is Key
Knowing when to remove your fall cookies from the oven is crucial.
Overbaking can result in dry and crispy cookies while underbaking may lead to doughy centers.
As a general guideline, remove the cookies from the oven when the edges are set but the centers still appear slightly underdone.
They will continue to firm up as they cool, resulting in soft and chewy perfection.
7. Cooling and Storing the Cookies
After baking, transfer the cookies to a wire rack and allow them to cool completely.
This helps them retain their chewiness and prevents them from becoming overly crispy.
Store the cookies in an airtight container at room temperature for up to a week, or freeze them for longer storage.
8. Creative Flavor Combinations
Fall is a season filled with delicious flavors, and you can incorporate them into your cookies for added warmth and depth.
Consider adding spices like cinnamon, nutmeg, or pumpkin pie spice to infuse your cookies with autumnal goodness.
You can also experiment with flavorings like vanilla extract, maple syrup, or even a touch of espresso for a unique twist.
9. Adding Texture with Mix-ins
For extra indulgence and texture, consider adding mix-ins to your fall cookies.
Chopped nuts, such as pecans or walnuts, can add crunch and richness.
Dried fruits like cranberries or raisins can provide bursts of sweetness.
And for a decadent treat, try adding chocolate chips or chunks for melty pockets of goodness.
10. Presentation and Serving Suggestions
To make your fall cookies visually appealing, consider rolling the dough in cinnamon sugar or coating them with a light dusting of powdered sugar.
You can also press a few extra mix-ins onto the tops of the dough balls before baking for an enticing appearance.
Serve your cookies alongside a warm cup of apple cider or hot cocoa for the perfect fall treat.
11. Enjoying Your Fall Cookies
Take a moment to savor the delightful flavors and textures of your soft and chewy fall cookies.
Whether you enjoy them on a cozy evening by the fireplace or share them with loved ones during a gathering, these cookies are sure to bring joy and warmth to any occasion.
Homemade Fall Cookies
" Affiliate links are provided for your convenience, please read my disclosure for more information."
15. Mini Pumpkin Pie Slice Cookies – Sweet Sugar Belle
14. Pumpkin Spice Snickerdoodles – Melissa's Southern Style Kitchen
13. Caramel Apple Cookies – Dear Crissy
12. Reese's Peanut Butter Cup Cookies – Creations By Kara
11. Triple Chocolate Cookies – Dinner Then Dessert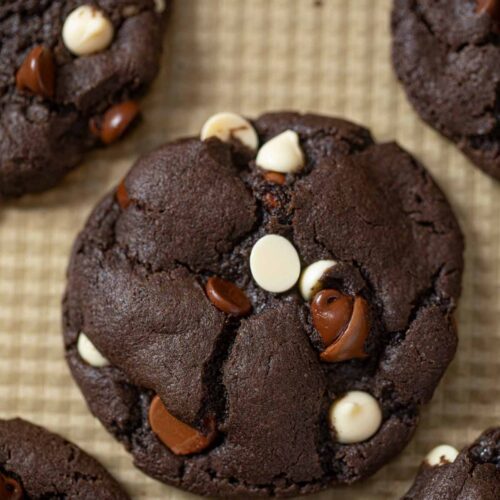 10. Milk Chocolate Stuffed Jack-O'-Lantern Cookies – Half Baked Harvest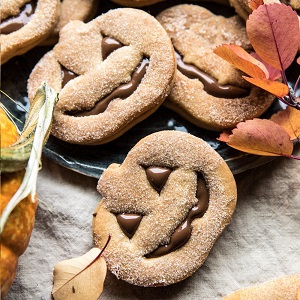 9. Dutch Apple Pie Cookies – Lovely Little Kitchen
8. Pumpkin Oatmeal Cookies – Live Well Bake Often
7. Butter Pecan Cookies – Baker By Nature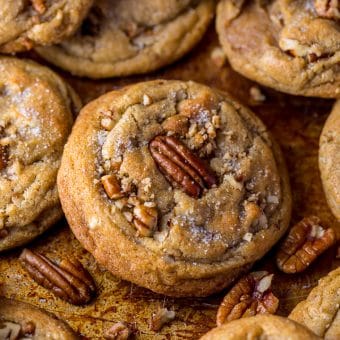 6. Pumpkin Spice Toffee Cut-Out Cookies – Sweetopia
5. Marshmallow Toffee Cookies – Oh Sweet Basil
4. Harvest Marble Chocolate Chip Cookies – Two Sisters Crafting
3. Copy Cat Nutter Butter – The Soccer Mom Blog
2. Pecan Maple Cookies + Maple Glaze – The Food Charlatan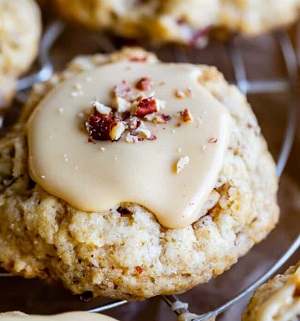 1. Oatmeal Pumpkin Cookies – On My Kids Plate
FAQs
Q. Can I substitute margarine for butter in fall cookies?
While butter is recommended for its flavor and texture, margarine can be used as a substitute if needed. Keep in mind that the taste and texture of the cookies may be slightly different.
Q. Can I freeze the cookie dough instead of chilling it?
Yes, freezing the cookie dough is an option. Portion the dough into individual balls, freeze them on a lined baking sheet, then transfer them to a freezer-safe container. Thaw before baking according to the recipe instructions.
Q. Can I use dark brown sugar instead of light brown sugar?
Yes, dark brown sugar can be used as a substitute for light brown sugar in fall cookies. Just be aware that the darker sugar will add a stronger molasses flavor to the cookies.
Q. Can I add oats to the fall cookie dough?
Absolutely! Adding oats can give your fall cookies a delightful texture. You can replace a portion of the flour with rolled oats or use quick oats for a finer texture. Adjust the recipe accordingly to maintain the proper balance of wet and dry ingredients.
Q. Can I use vegetable oil instead of butter in fall cookies?
While butter is typically preferred for its flavor and texture, vegetable oil can be used as a substitute. Keep in mind that using oil may result in a slightly different texture and taste in the final cookies.
Q. How can I make my fall cookies healthier?
To make your fall cookies healthier, consider using alternative sweeteners like honey or maple syrup instead of granulated sugar. You can also incorporate whole wheat flour or oat flour for added fiber. Additionally, try reducing the overall amount of sugar and fat in the recipe while adding nutritious mix-ins like chopped nuts or dried fruits.
Now comes the important question… Which fall cookies do you like the most? Please let me know in the comments.
Few more fall ideas!!!
Want to save this for later? Post these Fall Cookies to the "Fall Cookie Ideas" OR "Autumn Cookies" Board!