Discover quick and easy fall dinner recipes that will warm your soul. From hearty fall soups to chicken recipes, explore a variety of fall recipes perfect for autumn evenings. Embrace the flavors of the season and create memorable meals for your loved ones.
As the autumn breeze carries the aroma of changing leaves and crisp air, it's time to gather around the dinner table and indulge in the flavors of fall.
In this blog, we'll explore a collection of creatively inspired fall dinner recipes that are both delicious and easy to prepare.
From comforting casseroles and roasted vegetables to savory stews and seasonal twists on classic dishes, I've gathered a range of inspiring recipes that capture the essence of the season.
Get ready to elevate your dinner routine and savor the vibrant flavors of autumn as we embark on a culinary journey filled with creativity and simplicity.
Let's celebrate the harvest and enjoy the delectable delights that fall has to offer.
9 Ways To Incorporate Seasonal Produce Into Fall Dinner Recipes
Fall brings an array of fruits, vegetables, and herbs that can elevate your dinner recipes to new heights.
By incorporating these seasonal treasures, you not only infuse your meals with unique flavors but also take advantage of the nutritional benefits they offer.
1. Apples: The Versatile Fruit of Autumn
Apples are a quintessential fall fruit, and their versatility knows no bounds.
From sweet and juicy varieties like Honeycrisp and Gala to tart options like Granny Smith, apples can be used in both savory and sweet dishes.
Dice them and add to salads for a refreshing crunch or bake them with cinnamon and nutmeg for a comforting dessert.
Don't forget to make a batch of homemade applesauce or apple butter to savor the flavors of fall throughout the year.
2. Pumpkins and Squash: Fall's Culinary Stars
Pumpkins and squash take center stage during the fall season and for good reason.
These vibrant and nutrient-packed vegetables lend themselves to a wide range of recipes.
Roast butternut squash with a drizzle of maple syrup for a delightful side dish or stuff acorn squash with a flavorful mixture of grains and vegetables for a hearty main course.
Let's not forget about pumpkin—whip up a batch of creamy pumpkin soup or indulge in a slice of pumpkin pie.
3. Pears: A Sweet and Juicy Delight
Pears offer a sweet and juicy alternative to other fall fruits.
Their delicate flavor pairs beautifully with a variety of ingredients.
Slice them thinly and top a pizza with pears, blue cheese, and caramelized onions for a unique twist.
Alternatively, poach pears in spiced syrup and serve them alongside a scoop of vanilla ice cream for an elegant dessert.
4. Root Vegetables: Earthy and Nutritious
Root vegetables like carrots, beets, and parsnips are not only packed with nutrients but also impart a distinct earthy flavor to fall dishes.
Roast a medley of root vegetables with olive oil, garlic, and rosemary for a simple yet flavorful side.
Alternatively, grate them and toss them with lemon juice and olive oil for a refreshing and colorful salad.
5. Cruciferous Vegetables: A Burst of Fall Goodness
Cruciferous vegetables such as broccoli, cauliflower, and Brussels sprouts shine during the fall season.
These hearty vegetables can be roasted, sautéed, or even enjoyed raw.
Toss Brussels sprouts with balsamic glaze and bacon for a savory side dish or roast cauliflower florets with turmeric and cumin for a flavorful twist on a classic.
6. Grapes: From Vine to Plate
Grapes are a delightful addition to fall recipes, bringing a burst of natural sweetness and a pop of color.
Roast them alongside chicken or pork for a savory-sweet combination, or freeze them to create a refreshing snack.
Additionally, grapes can be transformed into delicious homemade jams and jellies, allowing you to savor the flavors of fall long after the season ends.
7. Berries: Bursting with Flavor
While berries are often associated with summer, some varieties are available well into the fall season.
Cranberries, for example, add a tangy and vibrant touch to both savory and sweet dishes.
Simmer cranberries with orange juice and spices to create a flavorful sauce or fold them into muffin batter for a delightful breakfast treat.
8. Fresh Herbs: Adding Fragrance and Depth
Fresh herbs are a must-have in any kitchen, and fall is no exception. Sage, rosemary, and thyme are particularly prevalent during this season and can enhance the flavors of your fall dishes.
Add a sprinkle of chopped sage to roasted butternut squash or infuse rosemary into a savory bread recipe.
The aromatic qualities of these herbs will transport you to an autumnal paradise with every bite.
9. Nuts: Crunchy Goodness in Every Bite
Nuts are a staple in fall recipes, providing texture, flavor, and a dose of healthy fats.
Pecans, walnuts, and almonds are excellent options to incorporate into your dinner recipes.
Toast them and sprinkle over salads or use them as a crust for chicken or fish.
You can also grind nuts and use them as a base for hearty fall desserts like tarts and pies.
Comforting Fall Dinner Recipes
" Affiliate links are provided for your convenience, please read my disclosure for more information."
17. Maple Walnut Twice Baked Sweet Potatoes – Savory Nothings
16. Creamy Chicken Enchilada Soup – Healthy Fitness Meals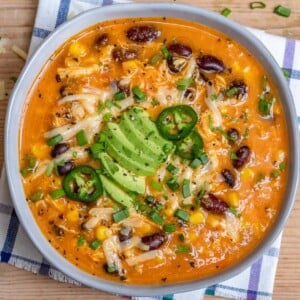 15. Butternut Squash Quinoa Bowls – Purely Kaylie
14. Baked Chicken with Apples – Fab Everyday
13. Roasted Fall Vegetables + Cranberries, Maple, & Walnuts – Delicious Little Bites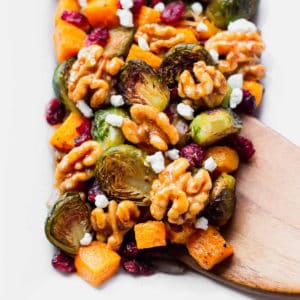 12. Pumpkin Ravioli + Sage, Brown Butter, & Toasted Walnuts – Nourish And Fete
11. Cinnamon & Pecan Crusted Salmon – Simply Quinoa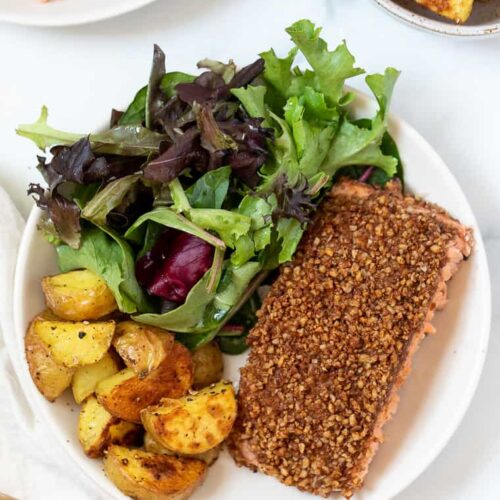 10. Fall Harvest Salad + Pumpkin Maple Dressing – Honest Grub Honedt Foodie
9. One-Pot Harvest Chicken Skillet – Family Food And The Table
8. Creamy Pumpkin & Sausage Gnocchi – Fox And Briar
7. Creamy Butternut Squash Pasta + Sausage & Spinach – Julia's Album
6. Cheesy Baked Chicken Breasts + Mushrooms – Diethood
5. French Onion Pot Roast – Amanda Cooks And Styles
4. Autumn Grain Bowls – Plays Well With Butter
3. Stuffed Butternut Squash + Wild Rice & Mushrooms – Ahed Of Thyme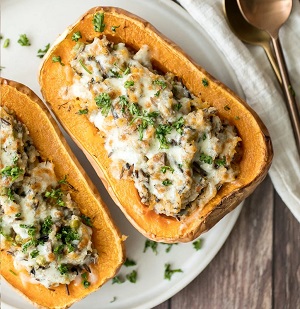 2. Creamy Chicken Tortilla Soup – The Cookie Rookie
1. Sweet Potato Ground Turkey Chili – Evolving Table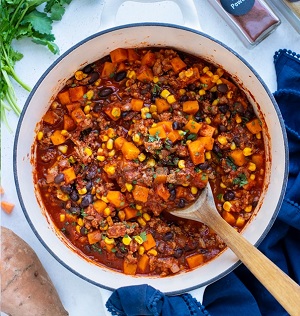 FAQs
Q. Can I use frozen seasonal produce instead of fresh?
Yes, you can use frozen seasonal produce if fresh options are not available. Just ensure that they are properly thawed before incorporating them into your recipes.
Q. Are there any fall fruits that are suitable for baking?
Yes, apples and pears are excellent choices for baking due to their firm texture and natural sweetness. They can be used in pies, tarts, crumbles, and cakes.
Q. Can I substitute one seasonal produce for another in a recipe?
In some cases, you can substitute one seasonal produce for another, but keep in mind that it may alter the flavor and texture of the dish. It's best to choose substitutes that are similar in taste and consistency.
Q. How can I store seasonal produce to prolong its freshness?
To prolong the freshness of seasonal produce, store them in a cool, dry place or refrigerate them if recommended. Proper storage can help retain their flavor and nutritional value.
Q. Are there any specific fall-produce combinations that work well together?
Absolutely! Some popular fall produces combinations include apples and cinnamon, butternut squash and sage, and cranberries and orange. These pairings create harmonious flavor profiles in your fall dishes.
Now comes the important question… Which fall dinner recipes do you like the most? Please let me know in the comments.
Few more fall recipes!!!
Want to save this for later? Post these Fall Dinner Recipes to the "Fall Meal Ideas" OR "Autumn Dinner Recipes" Board!