Discover the cozy flavors of fall pasta recipes. Indulge in comforting dishes that blend seasonal ingredients with rich sauces. Delight in the perfect harmony of flavors and textures as you savor the taste of fall with each bite. Experience the magic of the season through these mouthwatering pasta creations, perfect for cozy gatherings or a delightful weeknight treat.
As the leaves start to paint the world with stunning hues, it's time to embrace the cozy vibes of fall and satisfy our taste buds with delightful pasta recipes that perfectly capture the essence of the season.
From creamy pumpkin Alfredo to savory butternut squash lasagna, we've got a unique twist on traditional favorites that will leave your mouth watering for more.
These fall pasta dishes are not only delicious but also super easy to prepare, so even beginners can step into the kitchen and create a culinary masterpiece.
Get ready to embark on a flavorful journey that combines the warmth of fall with the comfort of pasta in every bite!
Let's dig in and celebrate the season's goodness together!
10 Must Try Sauces For Fall Pasta
One of the best ways to enjoy the fall harvest is by indulging in delicious fall pasta, and what better way to enhance those dishes than with exquisite sauces?
In this article, we present a comprehensive list of the 10 must-try sauces for fall pasta that will add a burst of autumn flavors to your meals.
These sauces are carefully curated to complement the earthy and comforting notes of fall produce, creating a perfect harmony of taste and textures.
Let's dive into the world of fall-inspired pasta sauces and elevate your culinary experience.
1. Creamy Pumpkin Alfredo
Embrace the essence of fall with a creamy pumpkin alfredo sauce.
This luscious sauce combines the velvety texture of pumpkin puree with the richness of heavy cream, Parmesan cheese, and a hint of nutmeg.
The result is a delectable sauce that coats your pasta beautifully and adds a mild, sweet undertone.
Drizzle this sauce over fettuccine or penne for a divine fall pasta experience.
2. Roasted Butternut Squash Sauce
Indulge in the sweet and nutty flavor of roasted butternut squash sauce.
Roasting the squash brings out its natural sweetness, while a touch of garlic and thyme adds depth to the sauce.
Puree the roasted squash with a splash of vegetable broth until you achieve a smooth consistency.
Serve it with gnocchi or ravioli for a delightful autumnal meal.
3. Apple Cider Glaze
Create a tangy and delightful apple cider glaze that perfectly complements your fall pasta.
Reduce apple cider with a bit of brown sugar and cinnamon until it forms a thick, glossy glaze.
This sauce pairs wonderfully with pasta dishes featuring pork, chicken, or even a medley of roasted fall vegetables.
4. Sage and Brown Butter Sauce
The combination of sage and brown butter is a classic fall flavor pairing.
Heat butter in a pan until it turns golden brown, then add fresh sage leaves for a fragrant twist.
Toss this savory sauce with butternut squash ravioli or pumpkin-filled tortellini for a luxurious autumn feast.
5. Creamy Gorgonzola Sauce
For a bold and cheesy sauce, try the creamy gorgonzola sauce.
Melt gorgonzola cheese in a saucepan with heavy cream and a dash of black pepper until it becomes velvety and smooth.
This rich sauce pairs wonderfully with spinach and walnut-stuffed pasta, creating a delicious contrast of flavors.
6. Maple and Bacon Marinara
Elevate your regular marinara sauce with the addition of maple syrup and crispy bacon.
The sweetness of maple syrup and the smokiness of bacon elevate this sauce to a whole new level.
Serve it with your favorite pasta for a delightful fusion of sweet and savory.
7. Mushroom and Thyme Cream Sauce
Indulge in the earthy and comforting flavors of a mushroom and thyme cream sauce.
Sautee a mix of wild mushrooms with garlic and fresh thyme, then add heavy cream for a luxurious creaminess.
This sauce pairs beautifully with tagliatelle or pappardelle, allowing the pasta to absorb all the flavors.
8. Cranberry and Orange Reduction
Experience a burst of fruity flavors with cranberry and orange reduction.
Simmer cranberries and orange juice until the mixture thickens into a luscious sauce.
The tangy and slightly sweet taste of this sauce pairs exceptionally well with turkey and cranberry-filled ravioli.
9. Walnut and Sage Pesto
Upgrade your traditional pesto with the addition of toasted walnuts and aromatic sage.
Blend the ingredients together with olive oil, Parmesan cheese, and garlic for a flavorful and nutty pesto sauce.
Serve it over spaghetti or farfalle for a comforting fall meal.
10. Creamy Roasted Garlic and Rosemary Sauce
Delight your taste buds with creamy roasted garlic and rosemary sauce.
Roast garlic until it becomes soft and caramelized, then puree it with heavy cream and fresh rosemary.
This sauce is perfect for enriching pasta dishes featuring roasted vegetables or grilled chicken.
Must Try Fall Pasta Recipes
" Affiliate links are provided for your convenience, please read my disclosure for more information."
30. Pumpkin Mac & Cheese – Platings And Cravings
29. Pumpkin Sausage Pasta – Jo Cooks
28. Spicy Pumpkin & Pesto Cheese Stuffed Shells – Half Baked Harvest
27. Creamy Pumpkin Pasta Bake – A Family Feast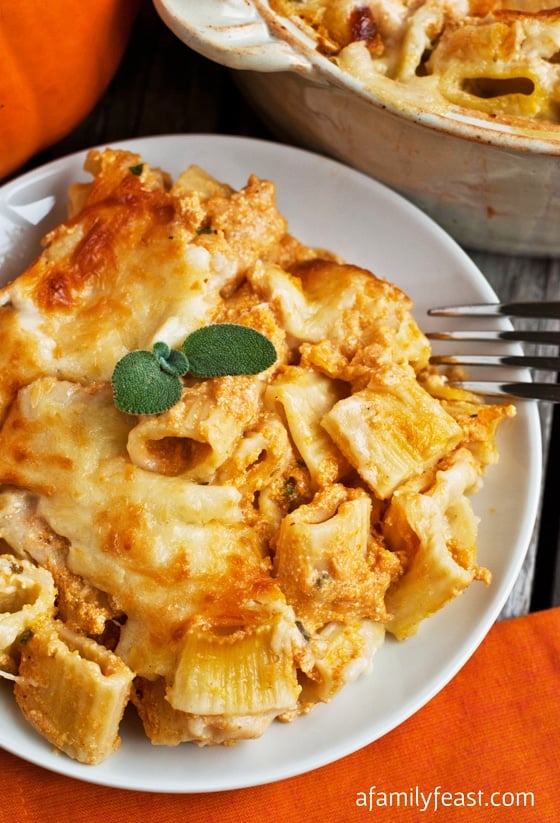 26. Pumpkin Pasta with Italian Sausage – West Via Mindset
25. Pumpkin Alfredo Pasta with Sage – No Plate Like Home
24. Pumpkin Feta Pasta – Cooking With Ayeh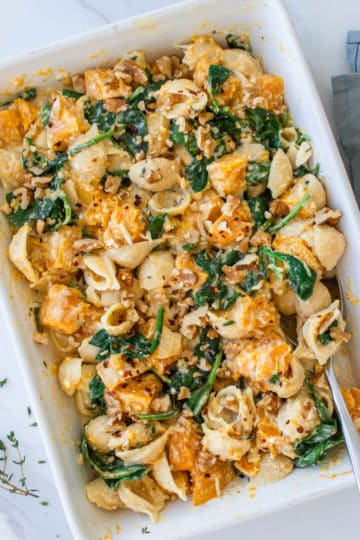 23. Creamy Pumpkin Pasta With Spinach – With Sweet Honey
22. Pumpkin Pasta – The Almond Eater
21. Pumpkin Rigatoni with Crispy Sage – Craving California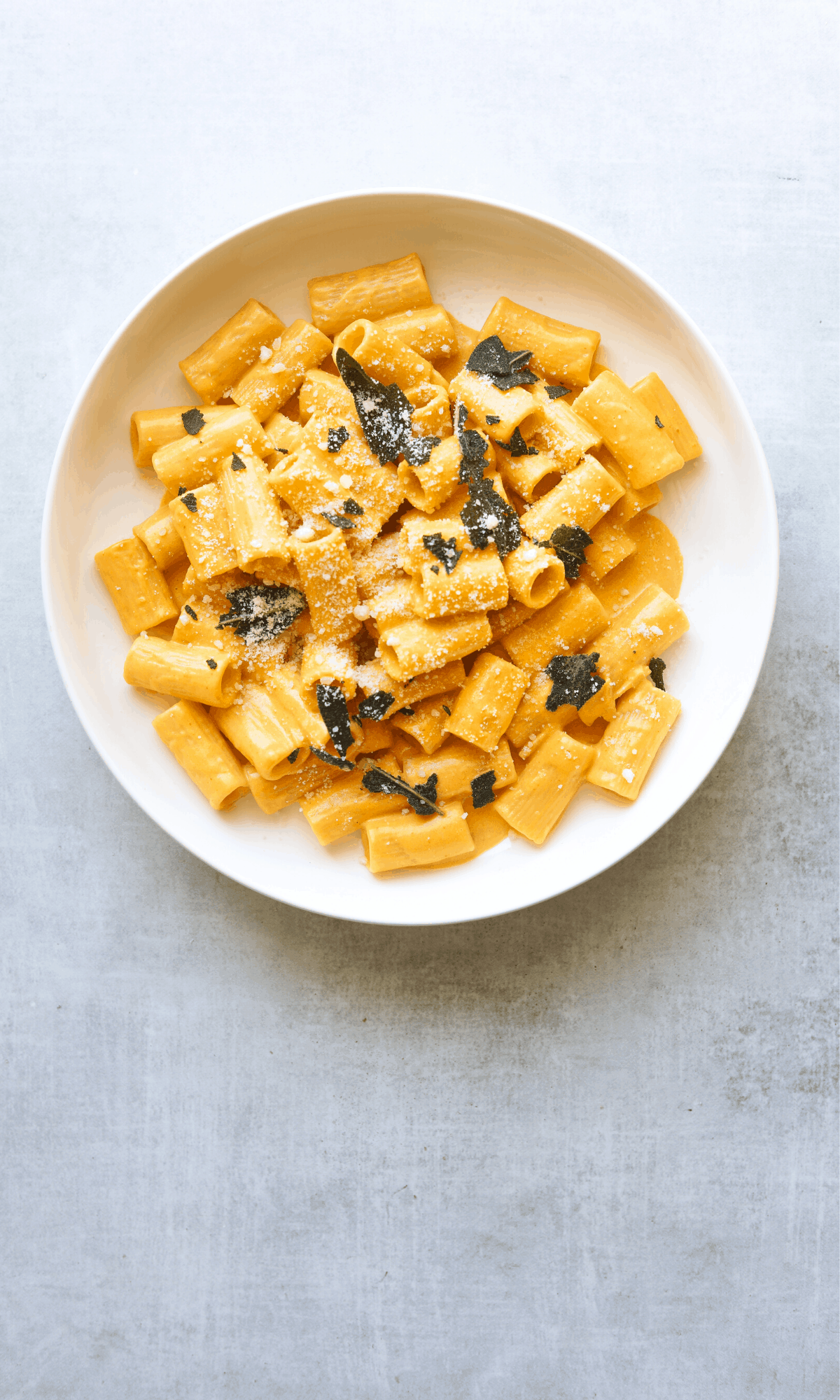 20. Creamy Pumpkin Pasta – Eating Birdfood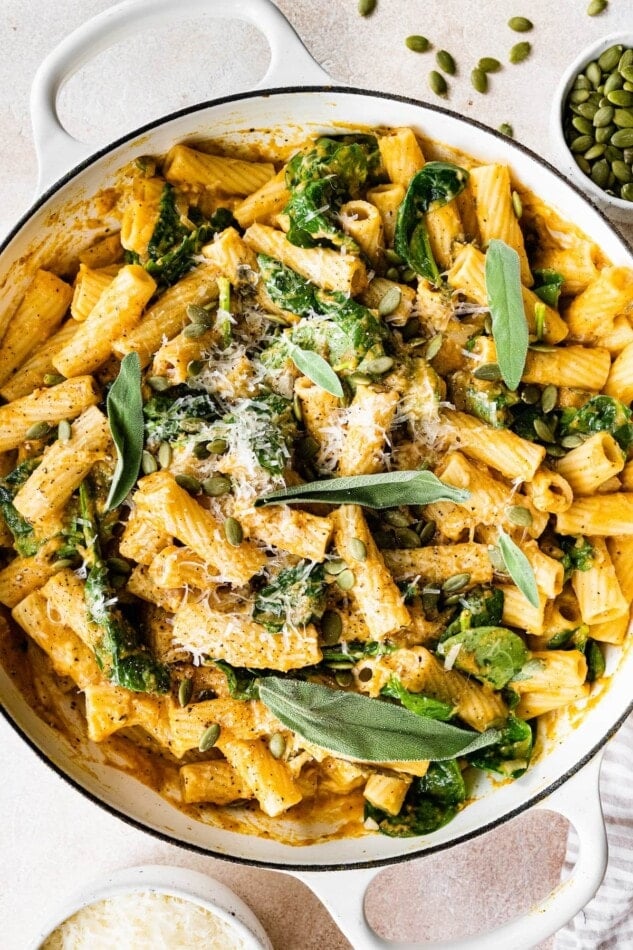 19. Sausage Meatball & Pumpkin Pasta – Vikalinka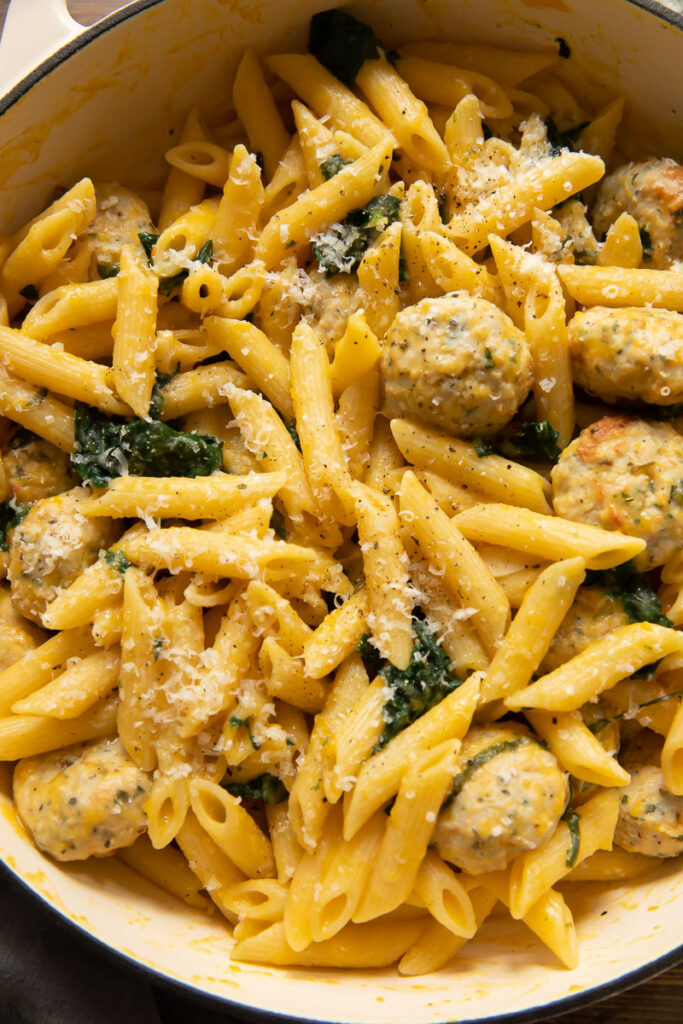 18. Pumpkin & Sausage Pasta Bake – Now Cook This
17. Creamy Pumpkin Pasta – The Bitter Side Of Sweet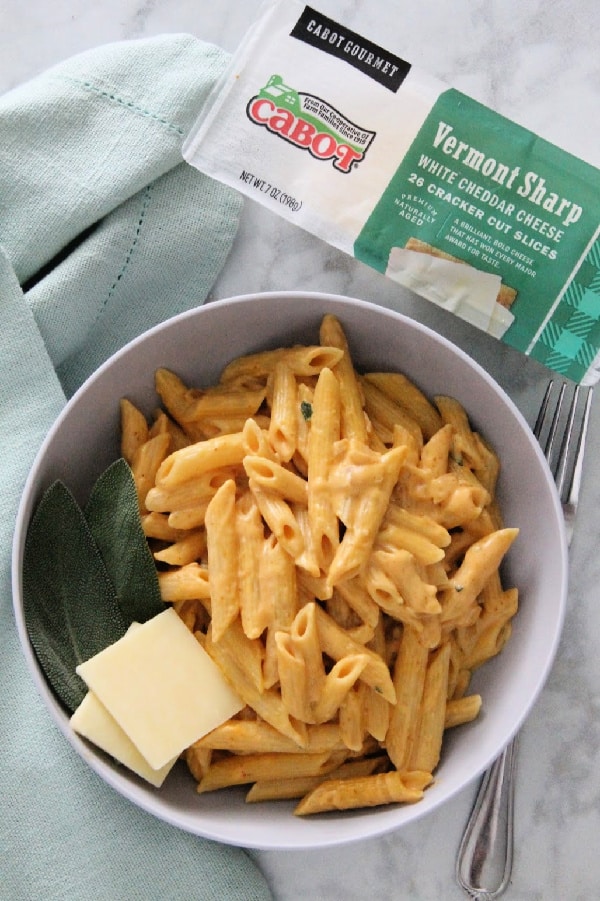 16. Creamy Pumpkin Alfredo Pasta – Eatwell With Sari
15. Vegan Pumpkin Pasta – Purely Kaylie
14. Pasta Bake with Pumpkin Tomato Sauce – Dishing Out Health
13. Vegan Pumpkin Pasta – Eat With Clarity
12. Caramelized Onion, Apple, & Sausage Pasta – The Kitchn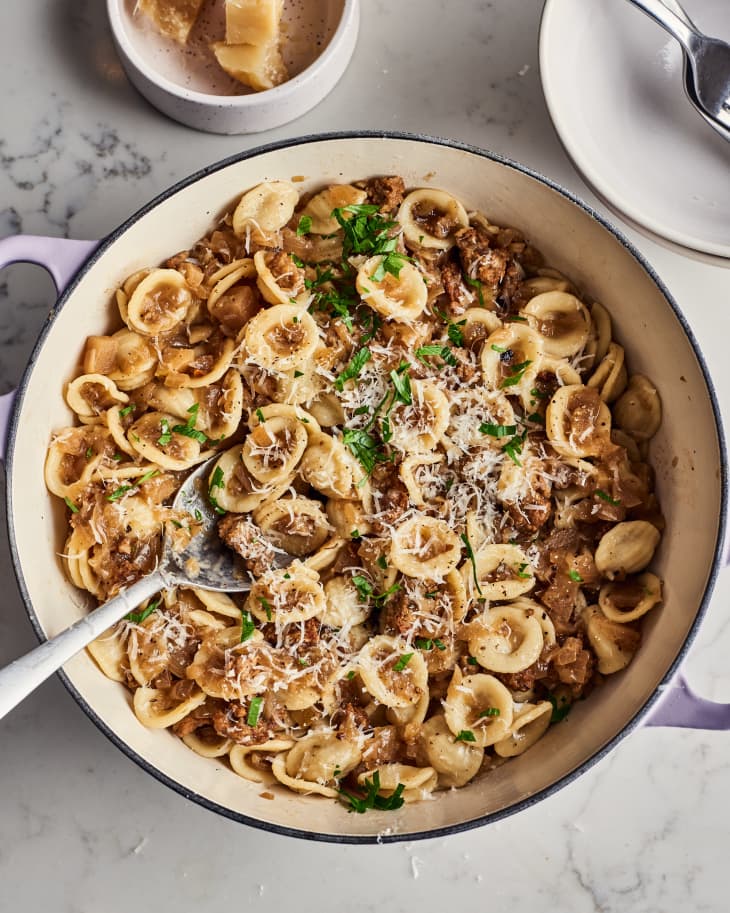 11. Creamy Pumpkin Pasta – JZ Eats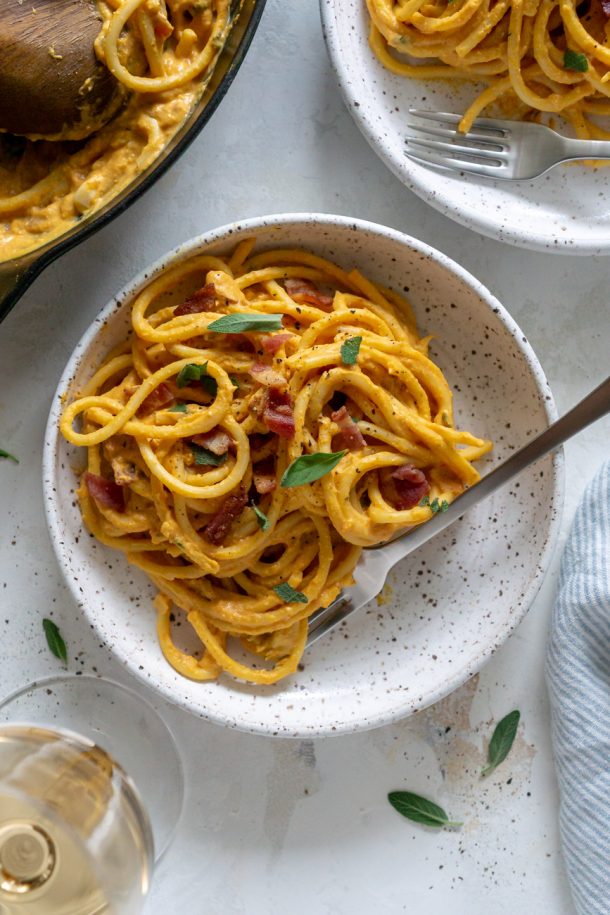 10. Cauliflower Pumpkin Fettuccine Alfredo – Rhubarbarians
9. Pumpkin alla Vodka Pasta – Dishing Out Health
8. Creamy Pumpkin Sausage Pasta – Cookies And Cups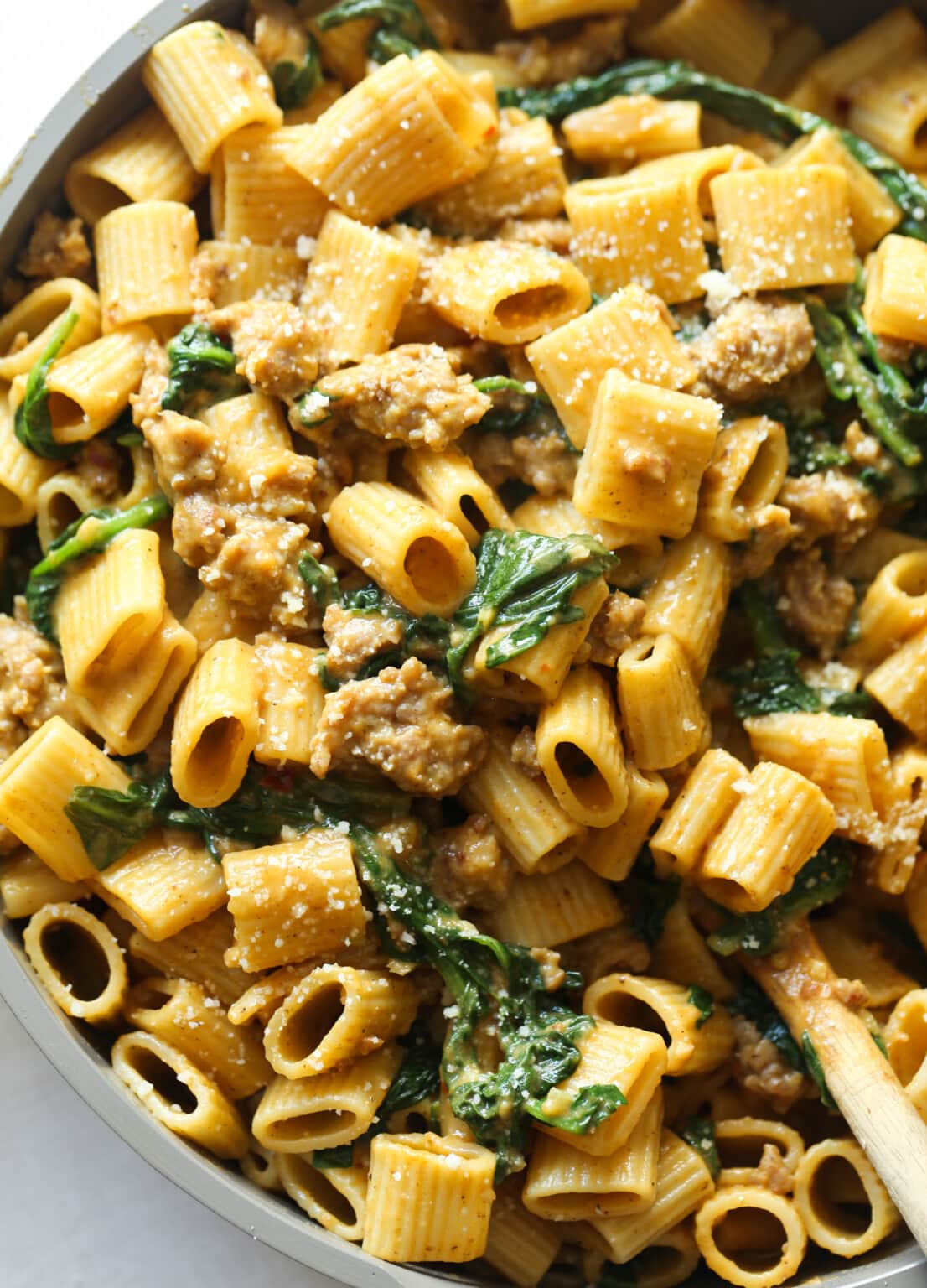 7. Pasta with Brussels Sprouts, Butternut Squash & Kale – Spoonful Of Flavor
6. Creamy Pumpkin Pasta Sauce – Cozy Cravings
5. Winter Harvest Pasta – Call Me PMC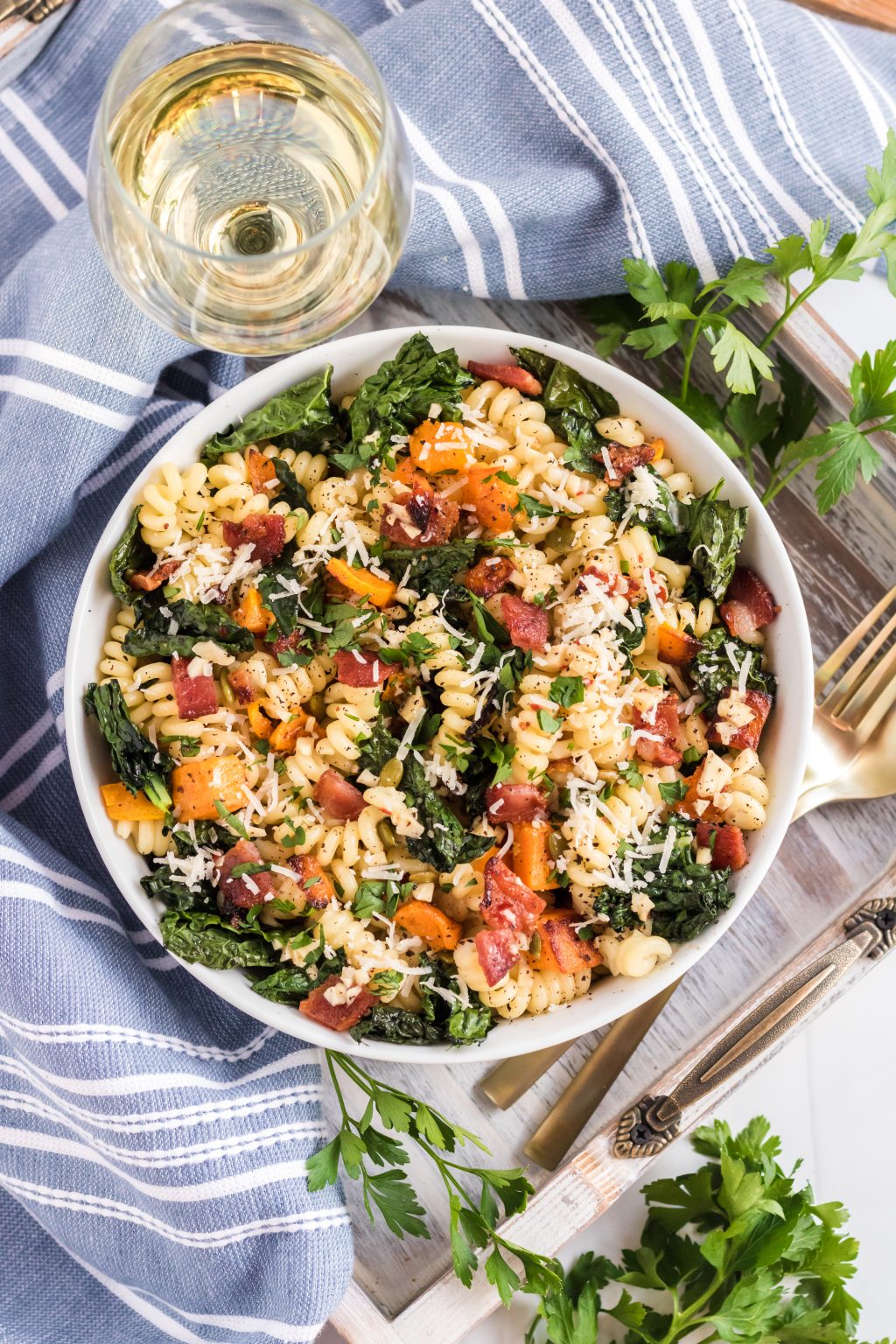 4. Fall Pasta Salad – The Toasty Kitchen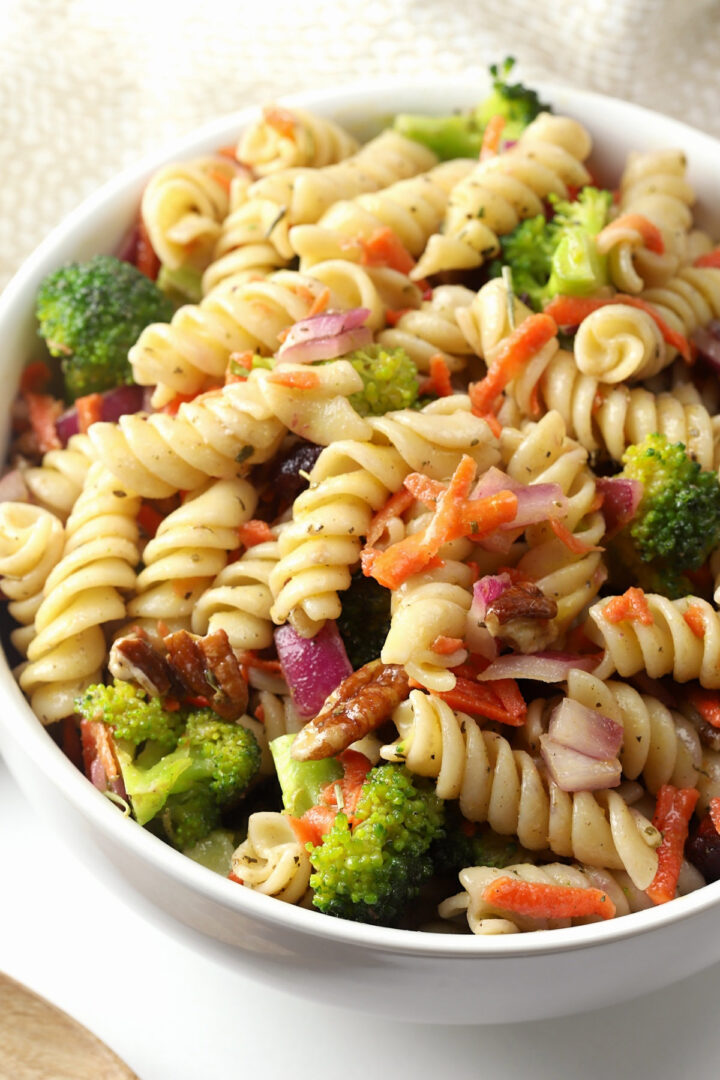 3. Pumpkin Fettuccine Alfredo – Herbs And Flour
2. Pumpkin Pasta Sauce
– Three Olives Branch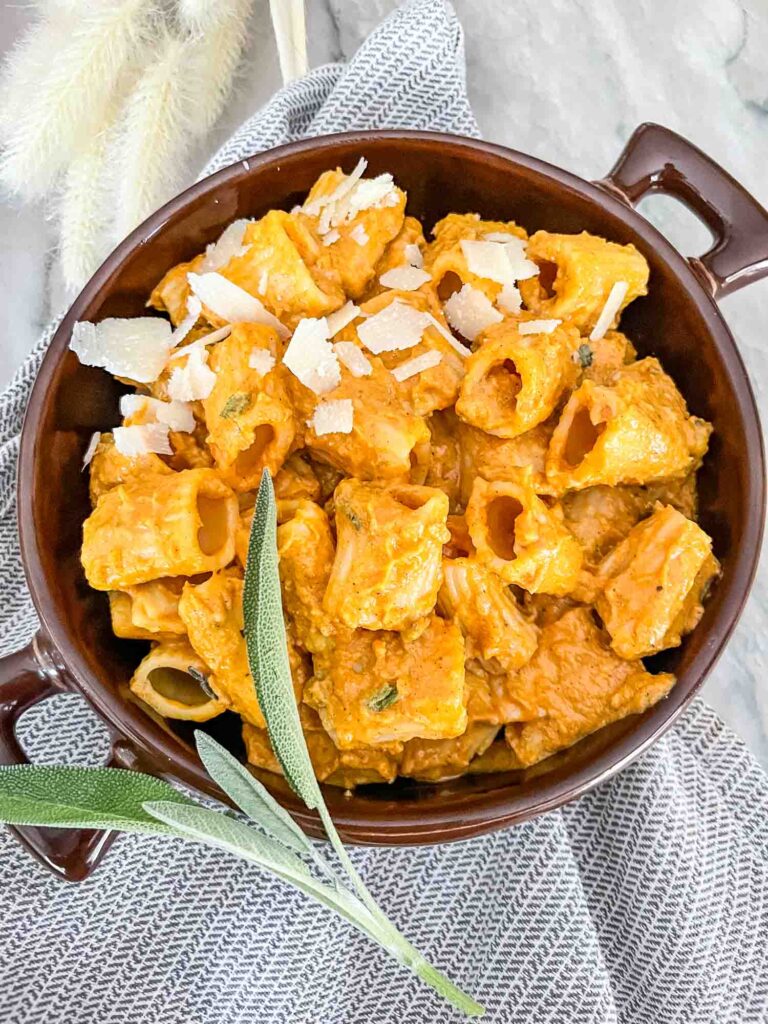 1. Pumpkin Cacio e Pepe – Tasting With Tina
Now comes the important question… Which fall pasta recipes do you like the most? Please let me know in the comments.
Few more fall recipes!!!
Want to save this for later? Post these Fall Pasta Recipes to the "Fall Recipes" OR "Pasta Recipes" Board!