Discover easy summer salads for bbq parties. From pasta salads, fruit salads, and chicken salads to a variety of other summer recipes. Get inspired and embrace the flavors of the season with these delightful summer salad ideas.
When the summer heat rolls in, there's nothing quite like a light and refreshing salad to keep you cool and satisfied.
In this blog, we'll explore a delightful variety of summer salad recipes that are not only easy to prepare but also bursting with vibrant flavors.
From crisp and colorful vegetable salads to fruity and tangy combinations, we've researched and compiled a collection of salads that will elevate your summer dining experience.
Get ready to tantalize your taste buds with these easy-to-make, nutritious, and oh-so-delicious summer salads that will help you beat the heat in style.
13 Tips For Crisp, Flavorful Summer Salads In Hot Weather
When the scorching summer heat hits, there's nothing more refreshing and satisfying than a crisp, flavorful salad.
Packed with fresh ingredients and bursting with vibrant colors, summer salads are not only delicious but also a nutritious way to beat the heat.
In this article, we'll explore tips to help you create the perfect summer salad that will tantalize your taste buds and keep you cool all season long.
1. Start with Fresh Ingredients
The foundation of any great salad is fresh, high-quality ingredients.
Opt for locally sourced produce whenever possible, as it tends to be more flavorful and nutritious.
Choose crisp and vibrant vegetables, such as lettuce, cucumbers, tomatoes, and bell peppers.
Look for firm and juicy fruits like watermelon, berries, and peaches.
By starting with the best ingredients, you'll ensure a delicious and satisfying salad.
2. Embrace Seasonal Produce
Take advantage of the abundance of seasonal produce during the summer months.
Seasonal fruits and vegetables are at their peak freshness and flavor, making them perfect for salads.
Incorporate juicy heirloom tomatoes, sweet corn, zucchini, and fresh herbs like basil and mint.
Not only will this add variety to your salads, but it will also support local farmers and promote sustainability.
3. Incorporate a Variety of Colors and Textures
To make your summer salad visually appealing and exciting, aim for a variety of colors and textures.
Mix and match different vegetables and fruits to create a vibrant and inviting plate.
Combine crunchy lettuce with creamy avocado, tangy cherry tomatoes, and sweet mango slices.
The more diverse your ingredients, the more enjoyable your salad experience will be.
4. Experiment with Different Leafy Greens
While lettuce is a classic choice for salads, don't limit yourself to just one type.
Explore a range of leafy greens to add depth and complexity to your summer salad.
Try peppery arugula, nutrient-rich spinach, or tender baby kale.
Each green brings its own unique flavor and nutritional profile, enhancing the overall taste and health benefits of your salad.
5. Add Protein for Sustenance
To transform your summer salad into a satisfying and nutritious meal, include a good source of protein.
Grilled chicken, shrimp, salmon, or tofu are excellent options.
Protein not only provides sustenance but also helps balance blood sugar levels and keeps you feeling full for longer.
Experiment with different protein choices to find your favorite combination.
6. Balance Flavors with Sweet and Tangy Elements
Achieving the perfect balance of flavors is key to a memorable salad.
Incorporate sweet and tangy elements to create a harmonious taste profile.
Consider adding fresh fruits like oranges, strawberries, or pomegranate seeds for natural sweetness.
For a tangy kick, squeeze some lemon or lime juice over your salad or drizzle a balsamic vinaigrette.
7. Make Your Own Dressings
Ditch store-bought dressings loaded with preservatives and unhealthy additives.
Instead, make your own dressings using simple, wholesome ingredients.
Combine olive oil, vinegar, honey, mustard, and herbs for a flavorful and healthier alternative.
Homemade dressings allow you to customize the taste according to your preference and ensure you're enjoying a truly fresh and delicious salad.
8. Include Fresh Herbs and Spices
Elevate the taste of your summer salad by incorporating fresh herbs and spices.
Fragrant herbs like basil, cilantro, or dill can add depth and aroma to your dish.
Experiment with spices like cumin, paprika, or turmeric to infuse your salad with exciting flavors.
Fresh herbs and spices not only enhance the taste but also contribute to the overall nutritional value of your salad.
9. Don't Overlook Crunchy Toppings
Adding crunchy toppings to your salad can elevate the texture and make each bite more enjoyable.
Consider adding toasted nuts, such as almonds or walnuts, for a satisfying crunch.
Crispy bacon bits, croutons, or even sesame seeds can also provide that extra crispy element that takes your summer salad to the next level.
10. Add Some Creaminess
Creamy ingredients can add richness and indulgence to your salad.
Consider including creamy elements like crumbled feta cheese, diced avocado, or a dollop of Greek yogurt.
These additions not only enhance the flavor but also provide a satisfying creaminess that balances the other ingredients.
11. Play with Temperature Contrasts
In hot weather, incorporating temperature contrasts into your summer salad can be refreshing and delightful.
Mix chilled ingredients like cold watermelon or cucumber with room-temperature items like roasted vegetables or grilled proteins.
This temperature variation adds excitement to your salad, making it even more enjoyable during those scorching summer days.
12. Use Citrus Fruits for Brightness
Citrus fruits are a perfect addition to summer salads, as they bring brightness and tang to the dish.
Squeeze some fresh lemon or lime juice over your salad to enhance the flavors and provide a zesty kick.
Alternatively, try incorporating segments of oranges or grapefruits for a burst of juicy sweetness.
Citrus fruits add a refreshing twist that can make your salad truly memorable.
13. Make It a Complete Meal
If you're looking to make your summer salad a complete meal, ensure it contains all the necessary nutrients.
Include a variety of vegetables, proteins, healthy fats, and complex carbohydrates.
Consider adding cooked quinoa, chickpeas, or grilled sweet potatoes to make your salad more filling and nutritionally balanced.
A complete meal ensures you're getting all the essential nutrients your body needs.
Refreshing Summer Salads
" Affiliate links are provided for your convenience, please read my disclosure for more information."
30. Tri Color Pasta Salad – from Courtney Sweets
29. Tuna Pasta Salad – from Simple Joy
28. Southwest Pasta Salad – from LMLD
27. Watermelon Feta Salad with Mint – from Evolving Table
26. Peruvian Grilled Chicken Salad – from Closet Cooking
25. Grilled Chicken Cobb Caesar Salad – from Cafe Delites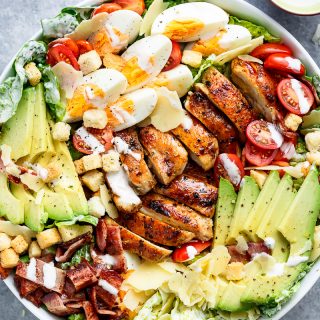 24. Grilled Chicken Caesar Salad – from The Wooden Skillet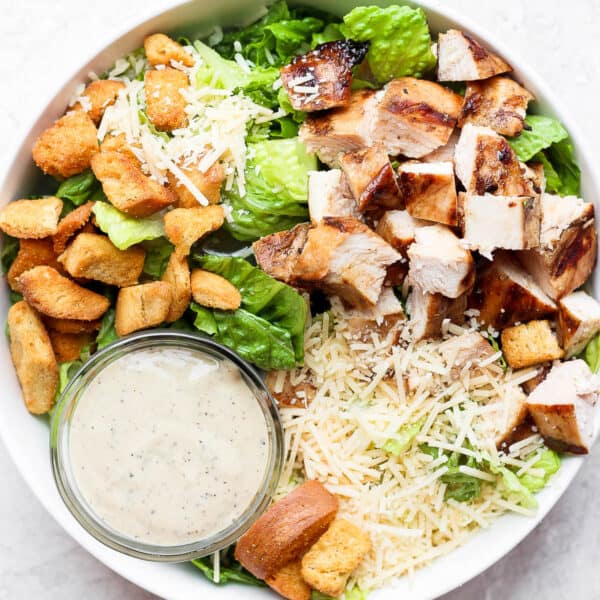 23. Mango Cucumber Summer Slaw – from Reluctant Entertainer
22. Strawberry Spinach Salad – from Julia's Album
21. Food Truck Hawaiian Macaroni Salad – from Food Folks And Fun
20. Hawaiian Cheesecake Salad – from Salty Side Dish
19. Buffalo Chicken Salad with Spicy Ranch Dressing – from Recipe Runner
18. Greek Tortellini Pasta Salad With Feta Cheese – from Taste And See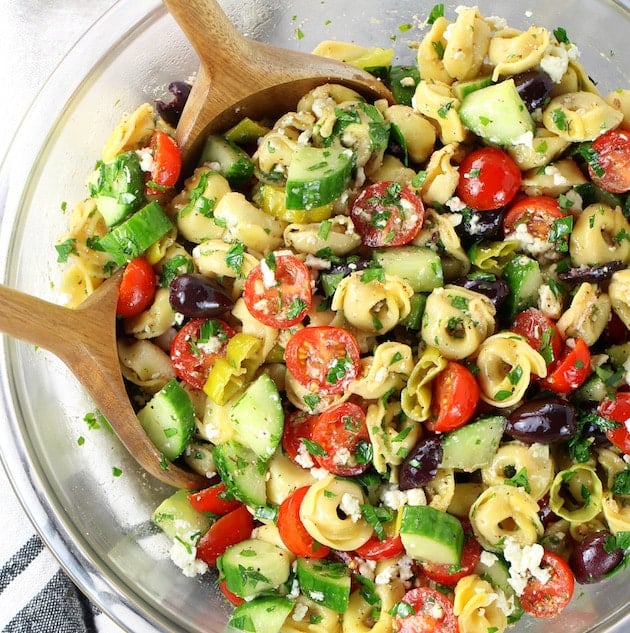 17. Black Bean Salad – from Dinner At The Zoo
16. Olive Garden Salad – from Midget Momma
15. Strawberry Spinach Salad – from Valentina's Corner
14. Tomato Cucumber Avocado Salad – from Julia's Album
13. Creamy Broccoli, Cauliflower, Corn & Bacon Salad – from Julia's Album
12. Mediterranean Bean Salad – from The Harvest Kitchen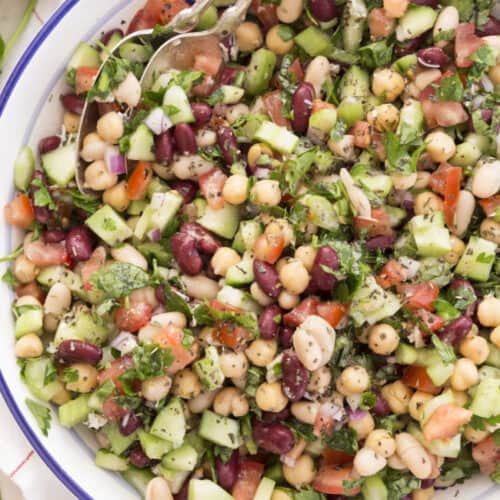 11. BBQ Chicken Salad – from A Mind Full Mom
10. Israeli Salad – from Know Your Produce
9. Pea Salad With Red Onions & Cheese – from Salty Side Dish
8. Broccoli Salad – from The Chunky Chef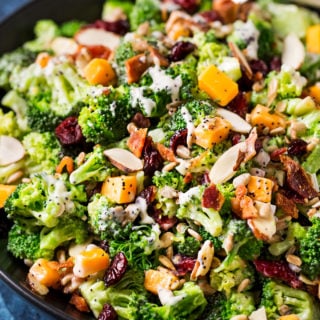 7. Cucumber Tomato Salad – from Kristine's Kitchen
6. Berry Spinach Salad – from Downshiftology
5. Hot Girl Summer Salad – from Sugar And Soul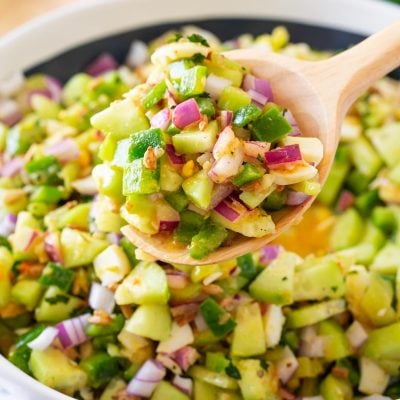 4. Tex-Mex Chopped Chicken Salad – from From Gate To Plate
3. Seven-Layer Salad – from Melissa's Southern Style Kit
2. Summer Orzo Salad – from Crumb Top Baking
1. Mediterranean Pasta Salad – from Gimme Some Oven
FAQs
Q. Can I use pre-packaged salad greens for my summer salads?
While pre-packaged salad greens offer convenience, they may not be as fresh or flavorful as buying whole heads of lettuce or fresh greens. Opting for fresh, locally sourced greens will enhance the taste and nutritional value of your summer salads.
Q. How can I prevent my salad from getting soggy in hot weather?
To keep your salad crisp, it's best to store the dressing separately and only add it when you're ready to eat. Additionally, consider using sturdy vegetables and fruits that can withstand heat without wilting or releasing excess moisture.
Q. Can I make a large batch of salad in advance for multiple meals?
Yes, you can prepare a large batch of salad in advance, but it's important to store it properly. Keep the dressing separate, and store the salad in an airtight container in the refrigerator. Add the dressing just before serving to maintain the freshness and texture of the ingredients.
Q. How can I make my salad more filling without adding too many calories?
To make your salad more filling without adding excessive calories, incorporate lean proteins like grilled chicken or shrimp, high-fiber ingredients like beans or quinoa, and healthy fats like avocado or nuts. These additions will provide satiety without compromising on taste or nutrition.
Q. Are there any specific salad combinations that work well for hot weather?
Some refreshing salad combinations for hot weather include watermelon and feta salad, cucumber and mint salad, or a grilled peach and arugula salad. These combinations offer a balance of sweet, tangy, and fresh flavors that are perfect for hot summer days.
Now comes the important question… Which summer salads do you like the most? Please let me know in the comments.
Few more summer recipes!!!
Want to save this for later? Post these Summer Drinks to the "Summer Recipes" OR "Summer Meals" Board!