A collection of easy healthy cucumber recipes. These include both accompanying recipes in addition to simple cucumber recipes that can be eaten alone as an appetizer or even as a salad. Cucumbers are great if you're on a low carb diet. If you love to make cucumber appetizers, salads, and or as a garnish then you'll love these cucumber recipes.
Cucumbers are perfect food for weight loss. They're low in calories and high in water content, which means they fill you up without making you fat.
They also have a relatively low glycemic index, so they don't spike your blood sugar as much as other types of carbs do.
If you're looking for an easy cucumber recipe that's healthy, here are some ideas.
Cucumber Recipes
" Affiliate links are provided for your convenience, please read my disclosure for more information."
21. Cucumber Tomato Salad With Bacon
20. Cucumber Sushi
18. Cucumber Salad with Blueberries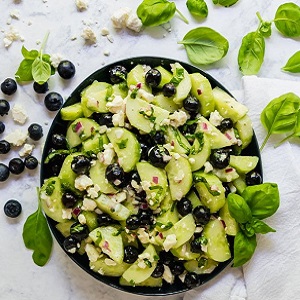 9. Cucumber Cream Cheese Spread
8. Cucumber & Cream Cheese Sandwich Rolls
7. Cucumber Dip
1. Sweet & Spicy Cucumber Salad
Now comes the important question… Which of these cucumber recipes did you like the most? Please let me know in the comments.
Few more salad ideas!!!
Want to save this for later? Post these Cucumber Recipes to the "Cucumber Recipes" OR "Healthy Salad Recipes" Board!