Looking for delicious campfire food ideas? Our easy-to-follow campfire recipes are perfect for both novice and experienced campers alike. So grab your skewers and get ready to create some unforgettable campfire meals around the campfire! Discover the best camping recipes including hot dogs, burgers, kebabs, pancakes, and more. These delicious and easy campfire food ideas will make your next camping trip a breeze.
Oh, there's nothing quite like sitting around a campfire with friends, telling stories, and roasting some delicious food!
As someone who loves camping and spending time outdoors, I've had my fair share of campfire meals and have discovered some food ideas that are both easy to make and absolutely delicious.
One of my favorite things to make over the campfire is foil packets.
These are basically meals that are cooked in individual foil packets, which can be customized to each person's preferences.
To make them, simply wrap your desired ingredients in foil and place them over the fire, flipping them occasionally until they're cooked through.
I love making foil packets with potatoes, carrots, onions, and sausage – it's a hearty and delicious meal that's perfect after a long day of hiking.
Another great meal to make over the campfire is hot dogs.
Sure, it might seem basic, but there's something so satisfying about cooking up a hot dog over an open flame!
You can get creative with toppings, too – my personal favorite is chili and cheese.
If you're looking for something a little more substantial, consider making a one-pot pasta dish.
Simply cook your pasta in a pot over the fire and add your desired sauce and toppings.
I like to make a creamy tomato sauce with mushrooms and onions – it's both easy to make and totally delicious.
No campfire meal is complete without s'mores, of course!
While the classic graham cracker, chocolate, and marshmallow combo is always a winner, there are plenty of ways to switch it up.
You can try using different types of chocolate or adding in some peanut butter for a twist.
Or, if you're feeling really adventurous, you can even try making s'mores with different types of cookies – like Oreos or chocolate chip cookies – instead of graham crackers.
Of course, these are just a few ideas – the possibilities for campfire meals are endless!
The key is to keep it simple and to stick with foods that are easy to cook over an open flame.
And, of course, don't forget to bring along plenty of snacks and beverages to enjoy while you're gathered around the fire.
Delicious Campfire Food Ideas
" Affiliate links are provided for your convenience, please read my disclosure for more information."
19. Cinnamon Monkey Bread Foil Packets – from Gimme Some Grilling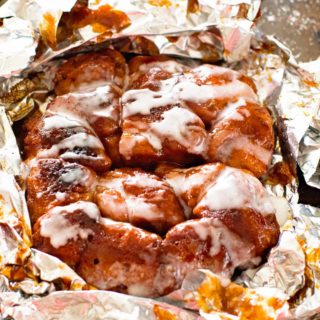 18. Fudge Striped Cookie S'mores – from Butter With A Side Of Bread
17. Banana Split Smores Dip – from Home Cooking Memories
16. Campfire Peach Cobbler – from Adventures Of Mel
15. Campfire Apple Pie Packets – from Love From The Oven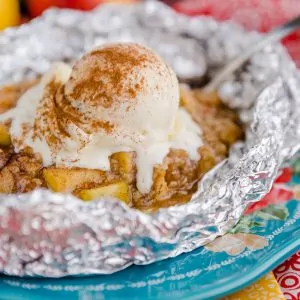 14. Camping Quesadillas – from Cupcake Diaries
13. Campfire Bean 'N' Ham Soup – from Taste Of Home
12. Tin Foil Packet Italian-Seasoned Chicken & Veggies – from Chelsea's Messy Apron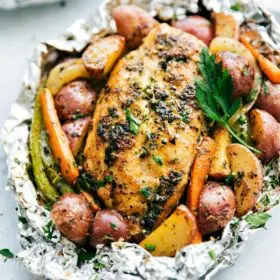 11. BBQ Chicken Foil Packs – from Life In The Lofthouse
10. Chicken Fajita Foil Packets – from Budget Delicious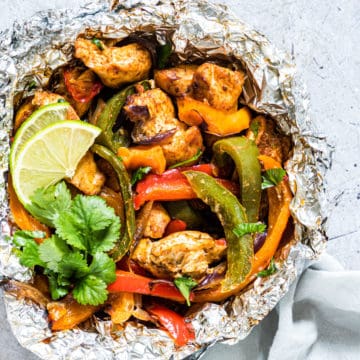 9. Dutch Oven Enchiladas – from Fresh Off The Grid
8. Spicy Teriyaki Grilled Steak Kebabs – from Butter Your Biscuit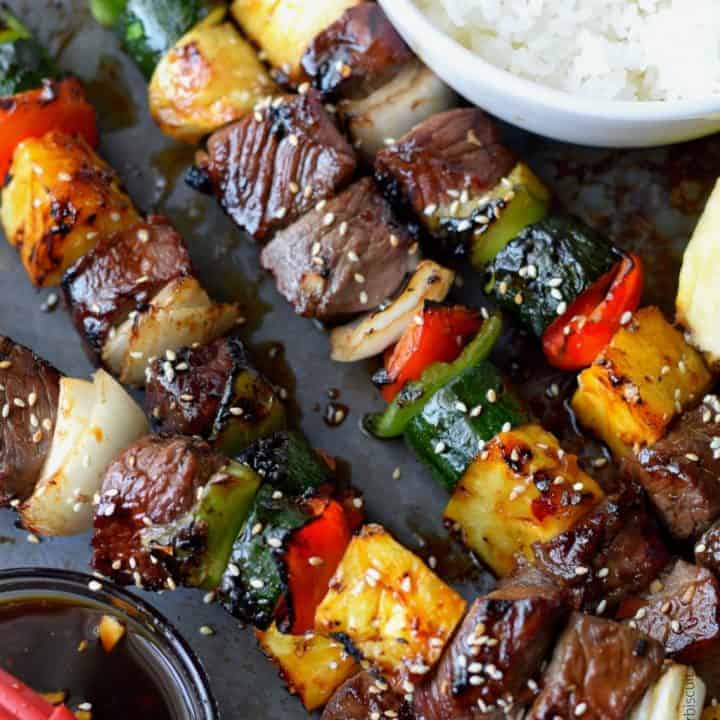 7. Campfire Spaghetti Bake – from Campfire Foodie
6. Dutch Oven Lasagna – from Fresh Off The Grid
5. Grilled Baked Potatoes – from Olgas Flavor Factory
4. Grilled Mexican Street Corn – from Fresh Off The Grid
3. Campfire Potatoes – from Splendid Table
2. Campfire Veggies – from Bless Her Hearty All
1. Grilled Corn – from The Classy Chapter
Now comes the important question… Which campfire food ideas do you like the most? Please let me know in the comments.
Few more campfire recipes!!!
Want to save this for later? Post these Campfire Food Ideas to the "Campfire Recipes" OR "Camping Recipes" Board!