Delight your taste buds with irresistible skewer recipes! From skewer kabobs to flavorful fruit skewers, try these easy summer recipes to elevate your grilling game.
I've always been a fan of grilling, especially during the summer months when the weather is warm and the days are long.
But after a while, the same old burgers and hot dogs can get a bit boring.
That's when I discovered the world of skewer recipes.
Skewers are a simple and versatile way to grill meats, veggies, and fruits, and they're perfect for creating a variety of delicious and healthy meals.
From sweet and savory to spicy and tangy, there's a skewer recipe for every taste and occasion.
In this blog post, I'll be sharing a collection of skewer recipes – the ones that have become staples in my grilling repertoire.
From classic chicken and vegetable skewers to exotic recipes like pineapple and shrimp skewers, I'll show you how to create flavorful and satisfying meals that are sure to impress your family and friends.
So fire up the grill, grab some skewers, and let's get cooking!
Creative & Unique Ingredients To Use For Skewers
Get ready to tantalize your taste buds and impress your friends with these delicious skewer ideas!
1. Pineapple Chunks
Pineapple is a tropical fruit that adds a burst of sweetness to your skewers.
It contains bromelain, an enzyme that aids in digestion, making it a healthy choice.
The juicy and tangy flavor of pineapple pairs well with savory ingredients, creating a delightful contrast in every bite.
Tips for using in skewers
1. Alternate pineapple chunks with chicken or shrimp for a classic Hawaiian-inspired skewer.
2. Add a sprinkle of chili powder to balance the sweetness and create a spicy-sweet combination.
2. Halloumi Cheese
Halloumi is a firm and salty cheese that originated in Cyprus.
It has a high melting point, making it perfect for grilling.
When heated, halloumi develops a crispy exterior while maintaining a soft and gooey center.
Its unique flavor adds depth to any skewer recipe.
Tips for using in skewers
1. Combine halloumi with cherry tomatoes and basil leaves for a Mediterranean-inspired skewer.
2. Drizzle with a balsamic glaze to enhance the flavors and add a touch of sweetness.
3. Watermelon Cubes
Watermelon is a refreshing and hydrating fruit that's perfect for summer skewers.
It's rich in vitamins A and C, as well as lycopene, a powerful antioxidant.
The juicy and slightly sweet taste of watermelon complements various ingredients, creating a vibrant and juicy skewer.
1. Thread watermelon cubes with feta cheese and mint leaves for a refreshing and colorful skewer.
2. Sprinkle with a squeeze of lime juice to enhance the flavors and add a tangy twist.
4. Tofu Cubes
Tofu is a versatile and nutritious ingredient that works well in both vegetarian and meat-based skewers.
It is a great source of plant-based protein and contains essential amino acids.
Tofu has a mild and slightly nutty flavor, allowing it to absorb the flavors of marinades and spices.
Tips for using in skewers
1. Marinate tofu cubes in a teriyaki sauce for an Asian-inspired skewer.
2. Grill until golden and serve with a peanut dipping sauce for an extra burst of flavor.
5. Zucchini Slices
Zucchini is a low-calorie vegetable that adds a subtle sweetness and texture to skewers.
It is rich in antioxidants, vitamins A and C, and dietary fiber.
The mild and delicate flavor of zucchini pairs well with a variety of ingredients, making it a versatile choice for skewers.
Tips for using in skewers
1. Layer zucchini slices with cherry tomatoes and mozzarella balls for a delightful Caprese skewer.
2. Brush with olive oil and sprinkle with herbs like thyme or rosemary for added aroma and flavor.
6. Bacon Strips
Bacon is a beloved ingredient known for its smoky and savory taste.
It adds richness and depth to any skewer recipe.
While it should be consumed in moderation due to its high-fat content, a little bacon can go a long way in enhancing the flavors of other ingredients.
Tips for using in skewers
1. Wrap bacon strips around chunks of chicken, shrimp, or vegetables for a flavorful and indulgent skewer.
2. Brush with a maple glaze for a touch of sweetness that complements the saltiness of the bacon.
7. Lemon Wedges
Lemons are a citrus fruit known for their tangy and acidic taste.
They are rich in vitamin C and have antioxidant properties.
Adding lemon wedges to your skewers not only imparts a zesty flavor but also helps tenderize meats and seafood.
Tips for using in skewers
1. Skewer lemon wedges alongside fish or shrimp for a bright and refreshing seafood skewer.
2. Squeeze the grilled lemon over the skewers before serving to add a burst of citrusy goodness.
8. Cumin Seeds
Cumin is a popular spice that adds warmth and earthiness to dishes.
It has been used in traditional medicine for its potential health benefits, including aiding digestion and improving immunity.
The aromatic and slightly smoky flavor of cumin can elevate the taste of skewers.
Tips for using in skewers
1. Sprinkle cumin seeds over lamb or beef skewers for a Middle Eastern-inspired flavor.
2. Combine cumin with other spices like paprika and coriander for a flavorful dry rub.
9. Peach Halves
Peaches are juicy fruits that offer a balance of sweetness and acidity.
They are a good source of vitamins A and C and provide dietary fiber.
Grilling peach halves on skewers brings out their natural sugars, creating a caramelized and luscious treat.
Tips for using in skewers
1. Place grilled peach halves on skewers with prosciutto and arugula for a sweet and savory combination.
2. Drizzle with honey and sprinkle with crumbled goat cheese for a gourmet touch.
10. Rosemary Sprigs
Rosemary is a fragrant herb that adds a unique and aromatic taste to skewers.
It contains antioxidants and anti-inflammatory compounds, and it may have potential health benefits.
The woody and pine-like flavor of rosemary complements various ingredients, imparting a delightful herbal note.
Tips for using in skewers
1. Strip the leaves from the rosemary sprigs and use them as skewers for bite-sized meat, poultry, or vegetable pieces.
2. The rosemary-infused skewers add an extra layer of flavor while grilling.
Must Try Skewer Recipes
" Affiliate links are provided for your convenience, please read my disclosure for more information."
35. Banana Split Dessert Kabobs
34. Strawberry Dessert Skewers
33. Strawberry Shortcake Kabobs
31. Fruit Kabobs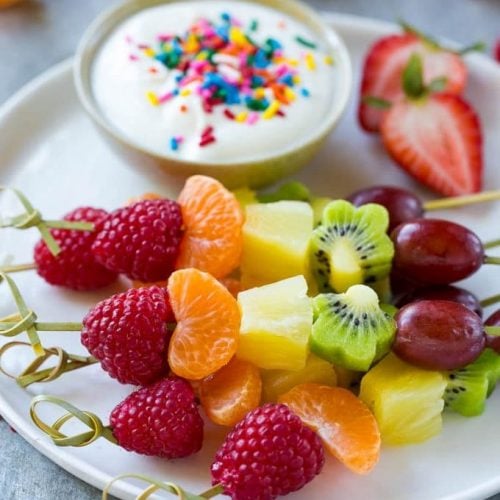 30. Mediterranean Grilled Veggie Kabobs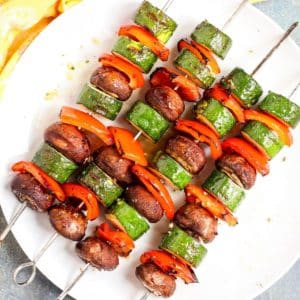 29. Rainbow Veggie Skewers
28. Grilled Mediterranean Marinated Vegetable Kabobs
27. Grilled Vegetable Kabobs with Fajita Butter
25. Grilled Halibut & Vegetable Skewers
24. Air Fryer Swordfish Kebabs
23. Grilled Shrimp & Scallop Kabobs
22. Grilled Salmon Skewers with Garlic & Dijon
21. Grilled Greek Salmon Kebabs
20. Rainbow Salmon Skewers
19. Mojo Fish Kabobs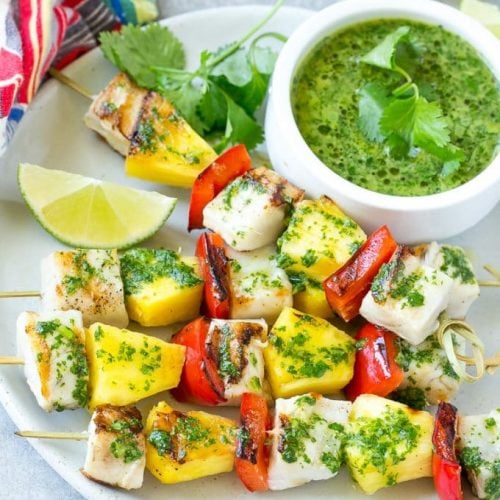 18. Shrimp Pineapple Kabobs
17. Sausage & Grilled Shrimp Kabobs
16. Grilled Shrimp Kabobs
15. Salmon Kabobs
13. Grilled Chicken Breasts with Lemon Garlic
12. Teriyaki Chicken Kabobs
11. Honey Garlic Chicken Skewers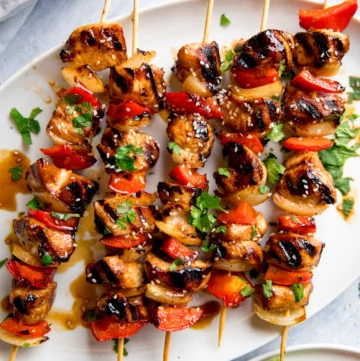 10. Grilled Chicken Kabob
9. Antipasto Skewers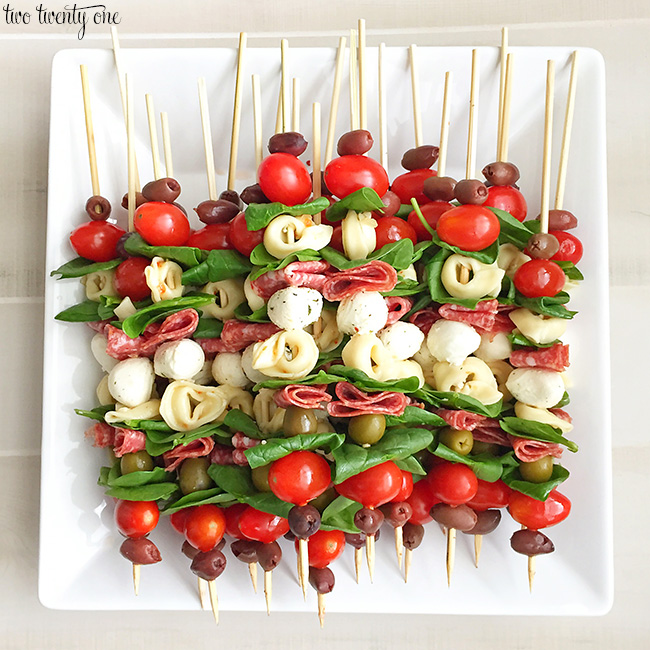 8. Italian Chicken Skewers
7. Sticky Bourbon Chicken Skewers
6. Grilled Surf & Turf Skewers
5. Breaded Chicken Skewers
4. Hawaiian Teriyaki Chicken Skewers
3. Hawaiian Chicken Kebabs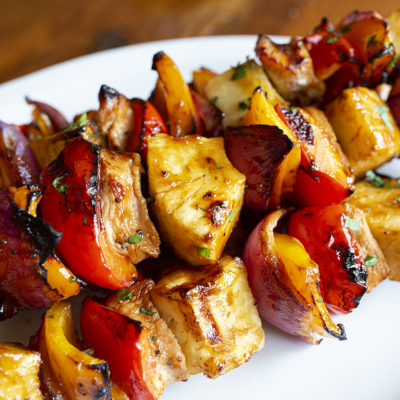 2. Chicken Skewers
1. Ham & Pineapple Kabobs
FAQs
Q. What are the best types of skewers to use?
When it comes to skewers, you have a few options. Metal skewers are durable and can be reused, while bamboo skewers are disposable and convenient. If using bamboo skewers, soak them in water for 30 minutes before grilling to prevent burning.
Q. Can I mix and match different ingredients on one skewer?
Absolutely! Mixing and matching ingredients on one skewer allows you to create exciting flavor combinations. Just ensure that the ingredients have similar cooking times to ensure even grilling.
Q. How long should I marinate the ingredients before skewering them?
Marinating times can vary depending on the ingredients and the desired flavors. As a general guideline, marinate meats and seafood for at least 30 minutes to a few hours, while vegetables and fruits can benefit from a shorter marinating time of 15 to 30 minutes.
Q. Can I use these ingredients for vegetarian or vegan skewers?
Definitely! Many of the ingredients mentioned, such as tofu, zucchini, and watermelon, are perfect for vegetarian or vegan skewers. You can create delicious plant-based skewers using these ingredients and explore other vegetarian options.
Q. Are there any special cooking techniques for skewers?
To ensure even cooking, preheat your grill and oil the grates before placing the skewers. Flip the skewers occasionally to prevent burning and ensure that all sides are cooked evenly. If using wooden skewers, remember to soak them in water beforehand to prevent charring.
Now comes the important question… Which skewer recipes do you like the most? Please let me know in the comments.
Few more summer recipes!!!
Want to save this for later? Post these Skewer Recipes to the "Summer Recipes" OR "Summer Food Ideas" Board!