Experience a burst of flavors with easy kabob recipes! From chicken kabobs, shrimp kabobs, and fish kabobs to fruit kabobs and vegetable kabobs, explore perfect combinations that will delight your taste buds.
There's something magical about the aroma of sizzling food on the grill.
It signals the start of a delicious feast and brings people together, ready to enjoy the flavors of summer.
And when it comes to grilling, one of my all-time favorite dishes is kabobs.
Kabobs, also known as kebabs, are skewered pieces of marinated meat and vegetables that are grilled to perfection.
They originated in the Middle East but have since gained popularity worldwide for their mouthwatering flavors and versatility.
From tender chunks of meat to vibrant veggies, kabobs offer a delightful combination of textures and tastes.
For me, kabob nights are a special occasion.
They bring back memories of gathering with loved ones, laughter filling the air as we threaded ingredients onto skewers and eagerly waited for the grill to work its magic.
There's something satisfying about assembling each kabob, carefully selecting the ingredients, and creating a work of culinary art.
In this blog post, I'll be sharing my personal collection of kabob recipes, passed down through generations and refined with my own twists.
From classic chicken kabobs to vegetarian options bursting with flavors, I'll guide you through the steps to create kabobs that will transport you to a world of delightful tastes.
So grab your skewers, sharpen your knife, and let's embark on a culinary journey filled with tantalizing kabob recipes that will elevate your grilling game to new heights.
Get ready to savor every juicy bite, because kabob night is about to become your favorite summer tradition.
10 Mistakes To Avoid When Making Kabobs
Kabobs are a delicious and popular summer grilling option, but there are some common mistakes that can ruin them.
Here are a few tips to ensure perfect kabobs every time.
1. Using Low-Quality Meat
The foundation of a great kebab lies in the quality of the meat.
Using low-quality or tough cuts can result in chewy and unappetizing kebabs. Instead, opt for tender cuts like sirloin, tenderloin, or chicken breast.
These cuts are more tender and flavorful, providing a better overall kebab experience.
2. Not Marinating the Meat Properly
Marinating the meat is crucial for infusing it with flavor and tenderness.
Many people make the mistake of not marinating the meat for long enough or skipping this step altogether.
To achieve mouthwatering kebabs, marinate the meat for at least two hours, allowing the flavors to penetrate the meat fully.
3. Overcooking the Kebabs
Overcooking kebabs can lead to dry and tough meat.
It's important to determine the right cooking time based on the type of meat and the size of the pieces.
Generally, kebabs cook quickly on high heat, achieving a slightly charred exterior while keeping the meat juicy and tender on the inside.
Pay attention to the cooking time and avoid leaving the kebabs on the grill for too long.
4. Not Using Skewers Correctly
Skewers play a significant role in kebab preparation.
One common mistake is using thin or flimsy skewers that can't hold the weight of the ingredients.
Opt for sturdy metal skewers or wooden skewers that have been soaked in water beforehand to prevent them from burning.
Additionally, ensure that you thread the ingredients tightly onto the skewers to prevent them from spinning or falling apart during grilling.
5. Neglecting Proper Seasoning
Seasoning is what elevates the flavors of kebabs.
Many people make the mistake of not seasoning the meat and vegetables adequately.
Be generous with your seasonings, including salt, pepper, garlic, and spices like paprika, cumin, or oregano.
The flavors will intensify during grilling, so don't be afraid to experiment and find your preferred combination of seasonings.
6. Ignoring the Grilling Temperature
Grilling temperature plays a crucial role in achieving perfectly cooked kebabs.
If the grill is too hot, the kebabs may char quickly on the outside while remaining undercooked inside.
On the other hand, if the grill is too low, the kebabs may become dry without developing that desirable char.
Aim for medium-high heat to ensure even cooking and a delightful charred exterior.
7. Improper Handling of Kebabs
Improper handling of kebabs during the grilling process can lead to uneven cooking or ingredient loss.
When flipping the kebabs, use tongs instead of a fork to prevent piercing the meat and losing its juices.
Additionally, handle the skewers with care to avoid burning yourself or causing the kebabs to fall apart.
Rotate the skewers gently to ensure even cooking on all sides.
8. Overcomplicating the Kebab Recipe
While creativity is welcome in the kitchen, overcomplicating the kebab recipe can lead to overwhelming flavors or ingredients that don't complement each other well.
Keep the recipe simple and focus on a few key flavors and ingredients.
This will allow the natural tastes to shine and create a harmonious blend of flavors in each bite.
9. Not Considering Dietary Restrictions
In today's diverse dietary landscape, it's essential to consider different dietary restrictions when making kebabs.
Provide alternative options for vegetarians or individuals with specific dietary needs.
For example, offer vegetable kebabs or tofu skewers alongside traditional meat options.
This inclusivity will ensure that everyone can enjoy the deliciousness of kebabs together.
10. Rushing the Cooking Process
Patience is key when making kebabs.
Rushing the cooking process can result in undercooked or unevenly cooked kebabs.
Allow the kebabs to cook slowly and evenly, giving the meat and vegetables enough time to develop their flavors and textures.
The end result will be worth the wait.
Mouthwatering Kabob Recipes
" Affiliate links are provided for your convenience, please read my disclosure for more information."
45. Grilled Fruit Kabobs
44. Mojito Fruit Kabobs
43. Red, White & Blue Fruit Kabobs
42. Banana Split Dessert Kabobs
41. Rainbow Fruit Kabobs with Greek Yogurt Dip
40. Grilled Salmon Skewers
39. BBQ Salmon Mango Kabobs
38. Mediterranean Salmon Kabobs
37. Caribbean Grilled Salmon Kabobs
36. Salmon Kabobs
35. Grilled Salmon Shish Kabobs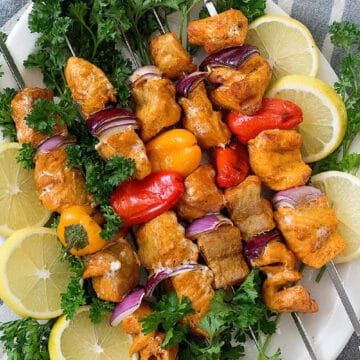 34. Three-Fish Kabobs
33. Smoky Fish Kebab
32. Mojo Fish Kabobs
31. Rainbow Salmon Skewers
30. Chipotle Glazed Vegetable Kabobs
29. Marinated Baked Veggie Kabobs
28. Rainbow Vegetable Kabobs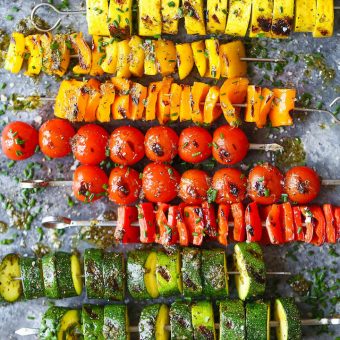 27. Grilled Vegetable Kabobs with Fajita Butter
26. Balsamic Grilled Veggie Kebabs
25. Vegetable Kabobs
24. Vegetable Kebabs
23. Roasted Veggie Kebabs
22. Grilled Vegetable Kabobs
21. Grilled Marinated Vegetable Kabobs
20. Cajun Garlic Butter Grilled Shrimp Skewers
19. Shrimp Boil Kabobs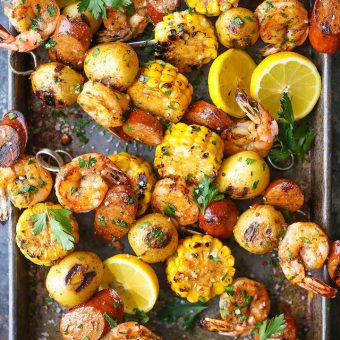 18. Pineapple Shrimp & Kielbasa Kabobs
17. Mediterranean Shrimp Kabobs
16. Grilled Shrimp Kabob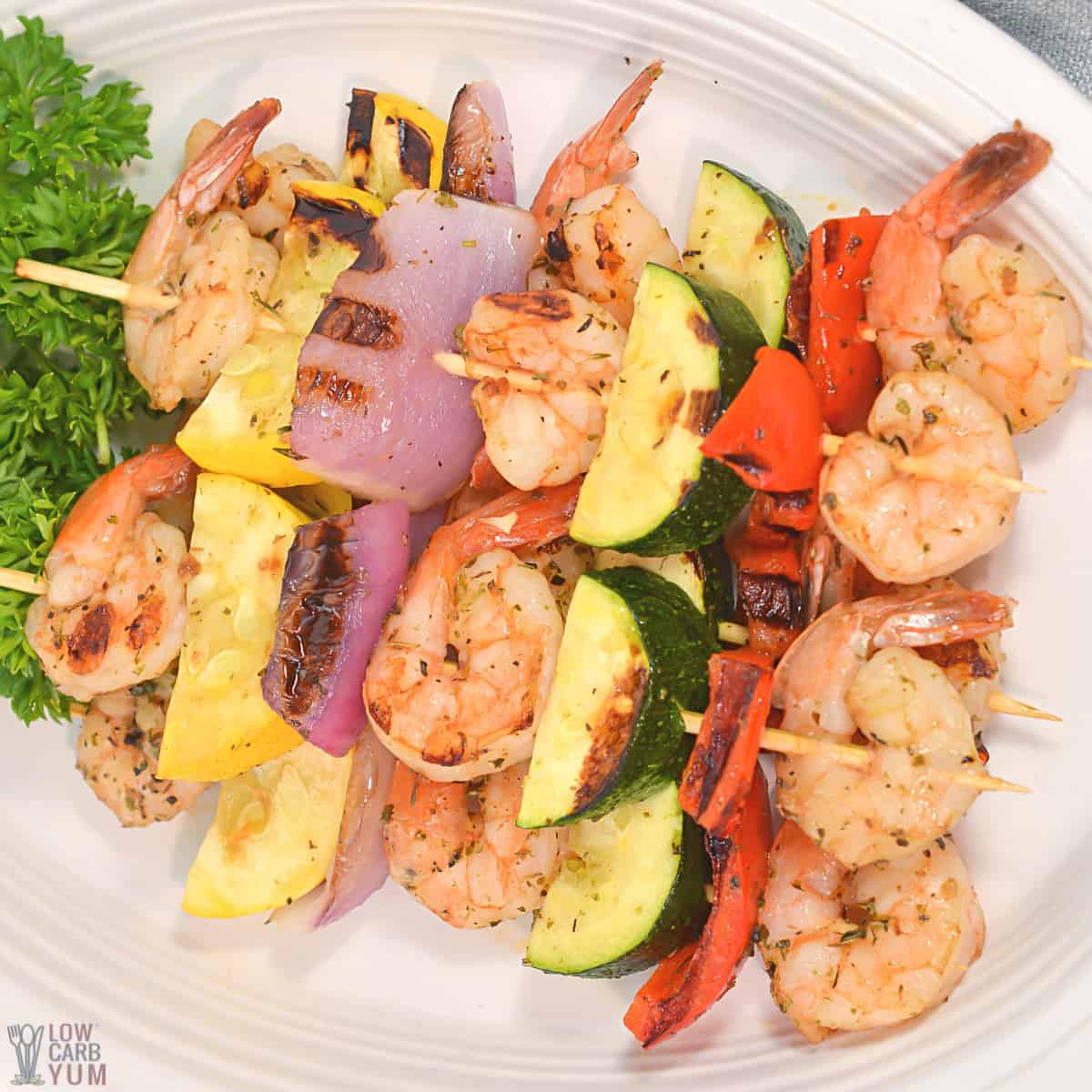 15. Chili Lime Shrimp Kabobs
14. Grilled Shrimp Kabobs with Vegetables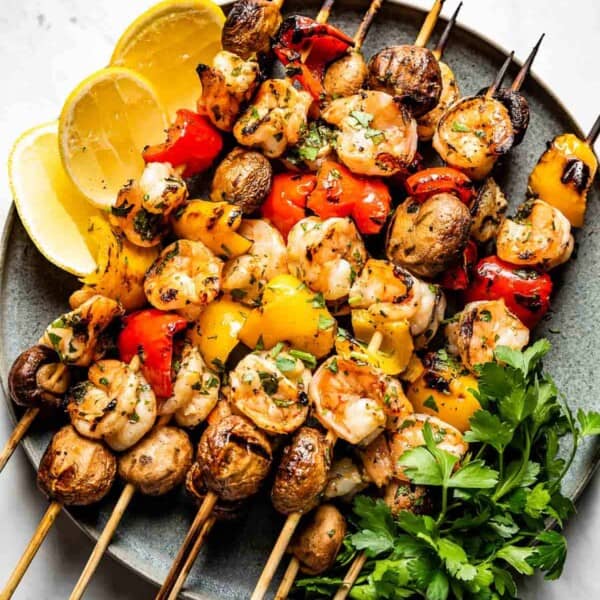 13. Lemon Garlic Shrimp Kabobs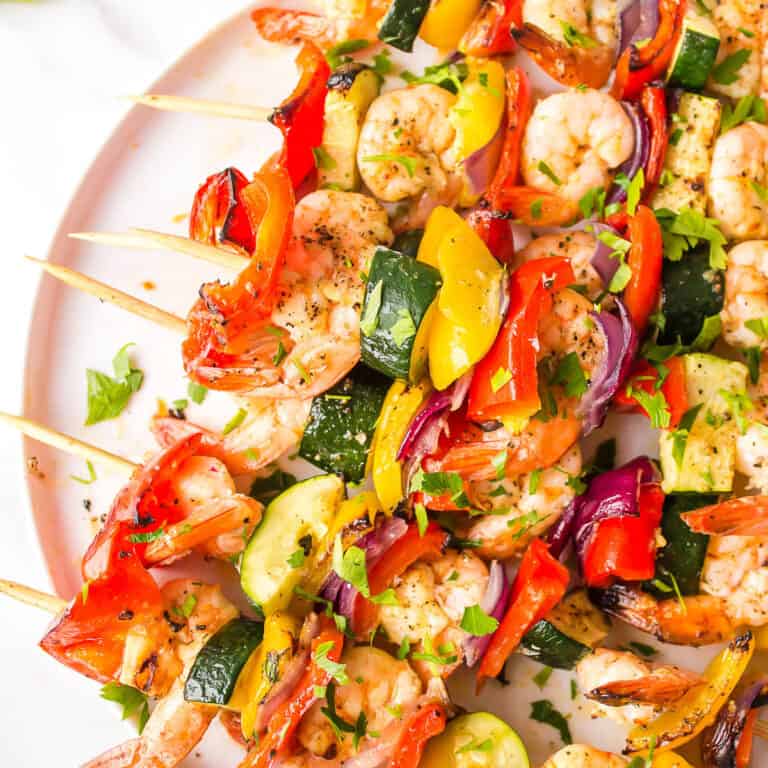 12. Sweet Chili Shrimp & Pineapple Skewers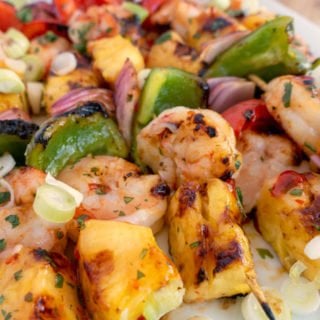 11. Grilled Shrimp Kebobs
10. Grilled Chicken Breasts with Lemon Garlic
9. Pineapple BBQ Chicken Kabobs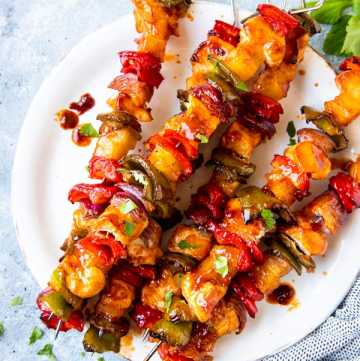 8. Honey Garlic Chicken Skewers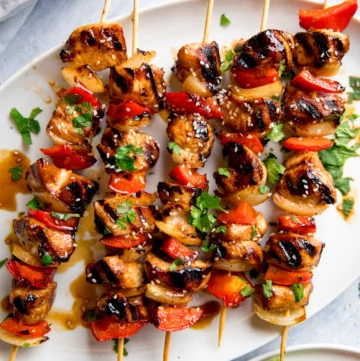 6. Chicken Kabobs
5. Chicken Skewers With Chicken Kabob Marinade
4. Ham & Pineapple Kabobs
3. Grilled Chicken Kabob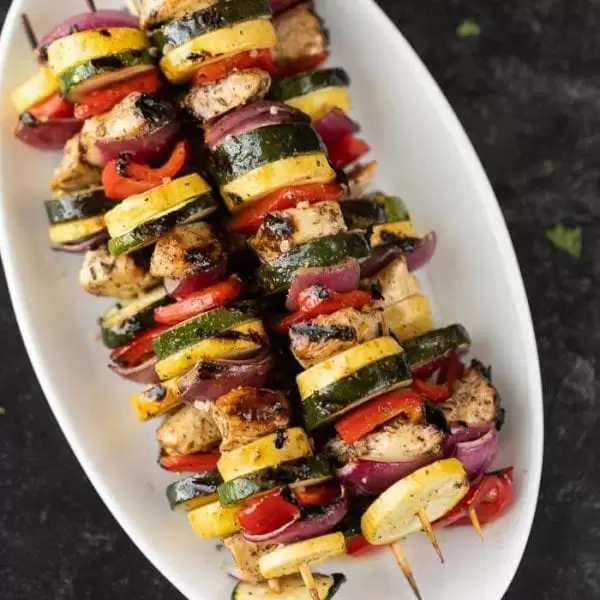 2. Chicken Kabobs
FAQs
Q. Can I use chicken instead of beef for kebabs?
Absolutely! Chicken is a popular choice for kebabs and can be just as delicious as beef. Ensure that you use boneless chicken breasts or thighs for easier grilling and adjust the cooking time accordingly.
Q. How long should I marinate the meat?
For the best flavor infusion, marinate the meat for at least two hours. However, if you have more time, marinating it overnight in the refrigerator can enhance the flavors even further.
Q. Can I grill kebabs in the oven?
Yes, you can. If you don't have access to an outdoor grill, you can still enjoy kebabs by using your oven's broiler. Place the skewers on a broiler pan and cook them under the broiler, turning occasionally to ensure even cooking.
Q. What are some popular kebab seasonings?
Popular kebab seasonings include a combination of salt, black pepper, garlic powder, paprika, cumin, and oregano. However, feel free to experiment with different spices and herbs to create unique flavor profiles that suit your taste.
Q. Are kebabs a healthy option?
Kebabs can be a healthy option, especially when using lean cuts of meat and including a variety of vegetables. The grilling process allows excess fat to drip away, making kebabs a relatively healthier choice compared to other cooking methods. Just be mindful of portion sizes and avoid excessive oil or high-calorie marinades.
Now comes the important question… Which kabob recipes do you like the most? Please let me know in the comments.
Few more summer recipes!!!
Want to save this for later? Post these Kabob Recipes to the "Summer Recipes" OR "BBQ Recipes" Board.