Get spooktacular with spooky DIY farmhouse Halloween decorations. Get inspired with pumpkin decorations, Halloween wreaths, and other fall decorations. Embrace the spirit of the season with a farmhouse style!
Prepare to be bewitched by the perfect blend of farmhouse charm and spine-tingling spookiness as we delve into the world of farmhouse Halloween decor.
Embrace the eerie allure of the season and infuse your home with a personal touch that combines rustic elements with haunting accents.
From weathered wooden signs and distressed pumpkins to black lace table runners and flickering candlelit mantels, I'll guide you through a hauntingly beautiful journey of farmhouse-inspired Halloween decorations.
Discover how to create a spellbinding atmosphere that balances the warmth of farmhouse style with the chilling thrill of the supernatural.
So grab your cauldron, summon your creativity, and join us as we conjure up farmhouse Halloween decor that will leave your guests mesmerized and shivering with delight.
10 Tips To Incorporate Natural Elements In Farmhouse Halloween Decor
If you're a fan of the farmhouse style, you can take your Halloween decorations to the next level by incorporating natural elements.
In this article, we will explore some tips and ideas on how to bring a touch of nature into your farmhouse Halloween decor.
So, grab your pumpkins, and let's get started!
1. Bringing the Outdoors In: Autumnal Foliage
One of the simplest and most effective ways to incorporate natural elements into your farmhouse Halloween decor is by using autumnal foliage.
Gather colorful leaves, twigs, and branches from your backyard or local park.
Arrange them in vases, mason jars, or baskets, and place them strategically around your home.
The vibrant hues of red, orange, and yellow will add a touch of seasonal beauty to your decor.
2. Rustic Accents: Incorporating Tree Branches and Logs
Tree branches and logs can be fantastic additions to your farmhouse Halloween decor.
Use them as standalone pieces or as part of larger displays.
Arrange branches in vintage pitchers or buckets and hang mini pumpkins or spooky ornaments from them.
Logs can be used as pedestals for candle holders or carved with eerie faces to create rustic Halloween decorations.
3. Enchanting Lighting: Candles and Fairy Lights
To create a magical ambiance, incorporate candles and fairy lights into your farmhouse Halloween decor.
Place votive candles inside mason jars filled with acorns or small pebbles for a rustic look.
String fairy lights around tree branches, stair railings, or mantels to add a whimsical touch.
The soft glow of candles and fairy lights will lend a bewitching charm to your Halloween setting.
4. Harvest Bounty: Pumpkins, Gourds, and Hay Bales
No Halloween decor is complete without pumpkins and gourds.
Choose a variety of shapes, sizes, and colors to create an eye-catching display.
Arrange them on hay bales for a rustic touch.
You can also carve intricate designs or paint them with spooky faces for added flair.
Pumpkins and gourds can be placed on your porch, or mantel, or used as centerpiece decorations for your farmhouse Halloween theme.
5. Spooky Flora: Dried Flowers and Wreaths
Dried flowers and wreaths can add an elegant yet eerie touch to your farmhouse Halloween decor.
Incorporate dried roses, lavender, or hydrangeas into wreaths or floral arrangements.
Add faux spiderwebs or small plastic spiders for a spooky twist.
Hang the wreaths on your front door or use them as wall decorations to welcome your guests with a hauntingly beautiful display.
6. Wicked Webs: Spiderwebs and Creepy Crawlers
Spiderwebs are a classic symbol of Halloween.
Embrace the spooky theme by incorporating spiderwebs into your farmhouse decor.
Hang fake cobwebs in corners, doorways, or chandeliers for an authentic haunted house look.
Add plastic spiders or other creepy crawlies to complete the eerie atmosphere.
Be sure to place them strategically to create a sense of surprise and anticipation.
7. Haunting Scents: Using Fragrant Herbs and Spices
Engage your guests' senses by incorporating fragrant herbs and spices into your farmhouse Halloween decor.
Display bowls of cinnamon sticks, cloves, or dried orange slices for a warm and inviting aroma.
You can also use scented candles with autumn-inspired scents like pumpkin spice, apple cider, or warm vanilla.
The delightful fragrances will enhance the overall ambiance of your Halloween setting.
8. Nature-Inspired Crafts: DIY Decorations
Tap into your creativity and make nature-inspired DIY decorations for your farmhouse Halloween decor.
Create wreaths using twigs, leaves, and small pumpkins.
Paint rocks to resemble ghosts, bats, or jack-o'-lanterns. Use fallen branches to make rustic signs with spooky messages.
DIY crafts allow you to personalize your decor and add a unique touch to your farmhouse Halloween theme.
9. Farmhouse-Inspired Halloween Table Setting
When hosting a Halloween gathering, pay attention to your table setting.
Incorporate natural elements into your farmhouse-inspired table decor.
Use burlap table runners or placemats for a rustic touch.
Arrange mini pumpkins, dried flowers, and autumn leaves as centerpieces.
Add small wooden accents or vintage-inspired candle holders to complete the farmhouse look.
A beautifully decorated table will set the mood for a memorable Halloween feast.
10. Outdoor Decor: Welcoming Visitors with Natural Elements
Extend your farmhouse Halloween decor to your outdoor space to welcome visitors with a festive atmosphere.
Place haystacks or bales of straw near your entrance and adorn them with pumpkins, gourds, and cornstalks.
Hang a Halloween-themed wreath on your front door and add outdoor lanterns or string lights to create a warm glow.
Incorporate scarecrows or vintage wheelbarrows filled with natural elements for a charming outdoor display.
Precautions for Outdoor Decorations
While it's exciting to create a spooky outdoor display, safety should always be a priority.
Ensure that your outdoor decorations do not obstruct walkways or create tripping hazards.
Use flameless candles or LED lights instead of open flames to reduce fire risks.
Avoid using sharp or dangerous props that may cause harm to children or pets.
By taking the necessary precautions, you can enjoy a safe and enchanting farmhouse Halloween decor.
Spooktacular Farmhouse Halloween Decor
" Affiliate links are provided for your convenience, please read my disclosure for more information."
15. Dark Creepy Halloween Table – Sivan Ayla
14. Jack-O-Lantern Halloween Tablescape – Deb And Danelle
13. Lazy Bones Tiered Tray – 2 The Sunny Side
12. Trick Or Treat Halloween Kitchen – Life By Leanna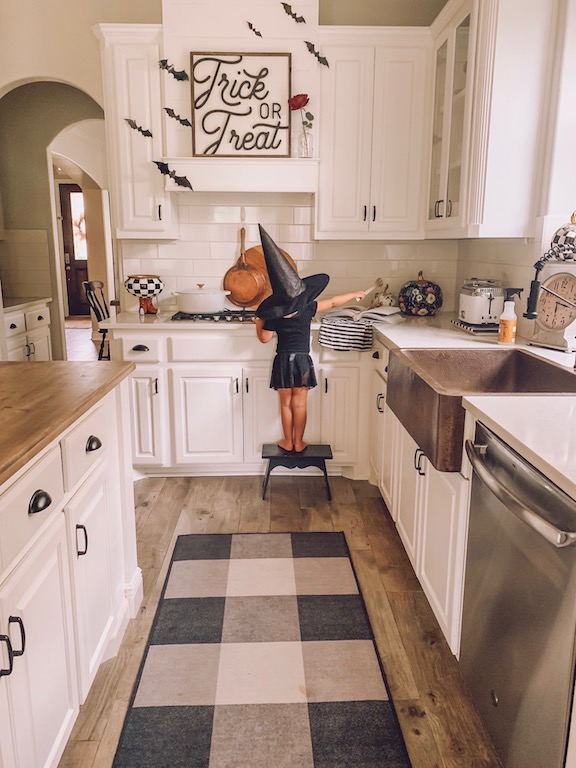 11. Spooky Halloween Porch – The Crafting Chicks
10. Trick Or Treat Side Table – 2 The Sunny Side
9. Black & White Halloween Decor – Start At Home Decor
8. Painted Jack O Lanterns Mantle – Liz Marie Blog
7. Farmhouse Halloween Porch Decor – 2 The Sunny Side
6. Spooky Halloween Corner – Like To Have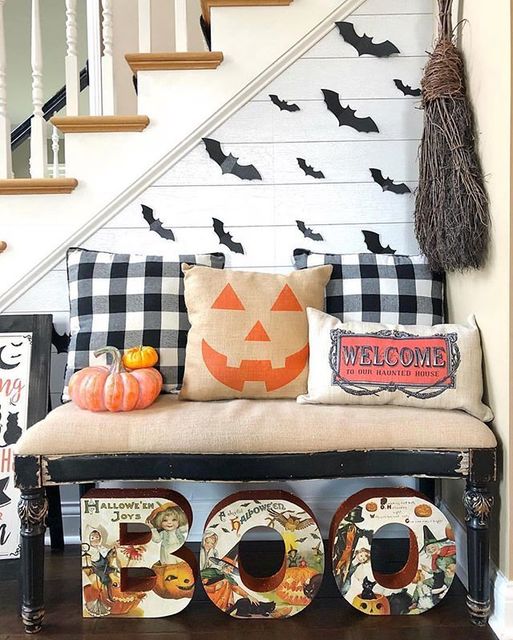 5. Black Plaid Dining Area – The Design Twins
4. Halloween Side Board – farmhousestyleinspo
3. Spooky Kitchen Corner – Liz Marie Blog
2. Halloween Front Door Decor – Joyfully Living Blog
1. Bat Swarm Living Room – SBK Living
FAQs
Q. Can I incorporate natural elements into a modern farmhouse Halloween decor?
Yes, absolutely! Natural elements can complement any style, including modern farmhouse decor. You can use sleek vases with minimalist designs to display autumnal foliage or incorporate clean lines and geometric shapes into your DIY crafts. The key is to find a balance between natural elements and the overall aesthetic of your decor.
Q. Are there any specific color schemes that work well with farmhouse Halloween decor?
Farmhouse decor often features neutral colors such as whites, grays, and browns. To incorporate a Halloween theme, you can add pops of color like deep oranges, rich purples, or dark greens. These colors will complement the natural elements and create a cohesive and visually appealing farmhouse Halloween decor.
Q. How can I make my farmhouse Halloween decor child-friendly?
If you have young children or want to create a family-friendly atmosphere, there are several ways to make your farmhouse Halloween decor child-friendly. Opt for cute or friendly Halloween motifs instead of scary ones. Use non-toxic paints and materials for DIY crafts. Avoid using small decorations that could be a choking hazard. By considering these factors, you can ensure that your decor is safe and enjoyable for children.
Q. Can I reuse the natural elements from my farmhouse Halloween decor for other occasions?
Absolutely! Many natural elements used in farmhouse Halloween decor, such as pumpkins, gourds, or dried flowers, can be repurposed for other occasions or seasons. You can use them for Thanksgiving decor or incorporate them into your fall-themed arrangements. Get creative and find ways to extend the lifespan of these natural elements beyond Halloween.
Q. How can I make my farmhouse Halloween decor budget-friendly?
Creating budget-friendly farmhouse Halloween decor is possible with some creative ideas. Instead of purchasing expensive decorations, consider using items you already have, such as mason jars, old picture frames, or empty wine bottles. You can transform them into spooky candle holders or unique centerpiece displays. Additionally, take advantage of nature's offerings by collecting fallen leaves, branches, or pinecones from your surroundings. With a little imagination, you can achieve stunning farmhouse Halloween decor on a budget.
Q. Are there any specific natural elements that are associated with Halloween?
While there are no strict rules, certain natural elements are commonly associated with Halloween. Pumpkins, gourds, and cornstalks are quintessential symbols of the season and can be incorporated into your farmhouse Halloween decor. Other popular natural elements include dried flowers, hay bales, and autumnal foliage. However, feel free to explore and experiment with other elements that resonate with your personal style and preferences.
Q. How can I ensure that my farmhouse Halloween decor stays cohesive with my existing farmhouse-style interior?
To maintain cohesiveness between your existing farmhouse-style interior and your Halloween decor, consider incorporating natural elements that blend seamlessly with your existing design. Choose colors, textures, and materials that complement the overall aesthetic of your home. For instance, if you have a lot of white and neutral tones in your farmhouse decor, opt for pumpkins or gourds in similar shades. By maintaining a consistent style and color palette, your farmhouse Halloween decor will effortlessly integrate with your existing interior design.
Now comes the important question… Which of these farmhouse Halloween decors did you like the most? Please let me know in the comments.
Few more Halloween ideas!!!
Want to save this for later? Post these Farmhouse Halloween Decorations to the "Halloween Decor" OR "Farmhouse Decor" Board!