Discover spooky DIY Halloween kitchen decor ideas to transform your culinary space. Get inspired with spooky Halloween indoor decor ideas and elevate your Halloween decorations with stylish and eerie decorations.
As the shadows lengthen and the spooky season approaches, it's time to give your kitchen a frightfully fun makeover with creative and simple Halloween decor.
In this blog, we'll explore a collection of ideas to infuse your culinary space with the spirit of Halloween.
From wickedly charming window decals and eerie dishware to bewitching table runners and whimsical pumpkin accents, I've gathered a range of inspiring ways to transform your kitchen into a Halloween haven.
Get ready to cast a spell on your cooking space as we dive into the world of creative and simple Halloween kitchen decor.
Let's unleash your imagination and conjure up a hauntingly delightful ambiance that will delight both young and old during this spooktacular season.
13 Simple & Affordable Tips To Spookify Your Kitchen
Halloween is a time of year when people embrace the spooky and the supernatural.
While most of the focus tends to be on costumes and decorations for the rest of the house, the kitchen is often overlooked.
However, with a few simple and affordable tips, you can transform your kitchen into a hauntingly memorable space that will impress your guests and make your Halloween celebrations truly spooktacular.
1. Halloween-themed Tablecloth
To set the eerie tone, start by covering your kitchen table with a Halloween-themed tablecloth.
Choose one with a pattern featuring bats, spiders, pumpkins, or other spooky elements.
The tablecloth will instantly add a festive touch to your kitchen and serve as a great backdrop for all the other decorations.
2. Creepy Centerpieces
Create a captivating centerpiece that will catch everyone's attention as they enter the kitchen.
Arrange a selection of artificial black roses or sinister-looking branches in a tall vase.
Add some fake cobwebs, plastic spiders, or small skull decorations for an extra creepy effect.
Place the centerpiece on your kitchen island or dining table, and watch as it becomes a conversation starter.
3. Sinister Storage Jars
Empty glass jars can be transformed into eerie storage containers with just a little creativity.
Fill them with creepy items such as plastic eyeballs, fake insects, or colored water to resemble potions.
Attach handwritten labels with spooky names like "Witch's Brew" or "Zombie Brains."
These jars can be placed on your kitchen shelves or countertops to give your kitchen a bewitching touch.
4. Ghostly Window Silhouettes
Turn your kitchen windows into spooky spectacles by creating ghostly silhouettes.
Cut out ghost shapes from white cardboard or poster board and attach them to the windows using double-sided tape.
When the lights are on in the kitchen, the ghostly figures will cast eerie shadows, adding a chilling atmosphere to the room.
5. Spooky Dishware
Replace your everyday dishes with Halloween-themed ones to add a playful and spooky element to your meals.
Look for plates, bowls, and mugs with designs like witches, ghosts, or skeletons.
Black or orange utensils can also add a festive touch to your kitchen.
Using these spooktacular dishware pieces will make every meal feel like a Halloween feast.
6. Petrifying Potions
Create a bewitching atmosphere by displaying jars or bottles filled with colored liquids on your kitchen countertops.
Use food coloring to create potions in shades of green, purple, or red.
Add labels with mysterious names like "Toadstool Elixir" or "Vampire Blood."
These potions can be a fun and eye-catching addition to your spookified kitchen.
7. Haunted Utensils
Give your kitchen utensils a haunting makeover.
Wrap the handles of your cooking utensils in black electrical tape or cover them with spooky-patterned washi tape.
This simple trick will instantly transform your everyday tools into witchy or ghostly implements, adding an extra dose of Halloween flair to your kitchen.
8. Wicked Wall Decorations
Spruce up your kitchen walls with wicked decorations.
Hang Halloween-themed artwork, such as framed vintage spooky prints or handmade paper bats.
You can also create a gallery wall with eerie family photos or portraits that you've modified with ghoulish effects.
These wall decorations will add character and charm to your spooktacular kitchen.
9. Sinister Serving Platters
When hosting Halloween gatherings, serve your spooky snacks and treats on sinister serving platters.
Look for platters in the shape of coffins, skulls, or tombstones.
These unique serving pieces will add an extra element of surprise and delight to your Halloween-themed kitchen.
10. Bewitching Baking Supplies
If you enjoy baking during the Halloween season, why not add some bewitching supplies to your kitchen?
Look for Halloween-themed cookie cutters in the shapes of bats, witches, or pumpkins.
Use black or orange cupcake liners to make your homemade treats even more spooktacular.
These baking supplies will make your kitchen the go-to place for deliciously eerie treats.
11. Ghoulish Recipe Ideas
Enhance the Halloween spirit in your kitchen by preparing ghoulish recipes.
Get creative with dishes like "Mummy Dogs" (hot dogs wrapped in biscuit dough to resemble mummies) or "Witch's Finger Cookies" (sugar cookies shaped like witch fingers with almond slice fingernails).
These recipes are fun to make and will add a touch of spookiness to your culinary creations.
12. Chilling Lighting Effects
Lighting plays a crucial role in creating a spooky ambiance.
Replace your regular light bulbs with orange or purple ones to give your kitchen a ghostly glow.
You can also use battery-powered LED candles or string lights to add an ethereal and eerie atmosphere to your spookified kitchen.
13. Startling Sound Effects
Take your kitchen spookification to the next level by incorporating eerie sound effects.
Set up a small Bluetooth speaker hidden in a corner and play spooky soundtracks or haunting melodies.
The subtle background sounds will send shivers down your guests' spines and create an immersive Halloween experience in your kitchen.
Spooky Halloween Kitchen Decor
" Affiliate links are provided for your convenience, please read my disclosure for more information."
13. Black & White Halloween Kitchen – Re-Fabbed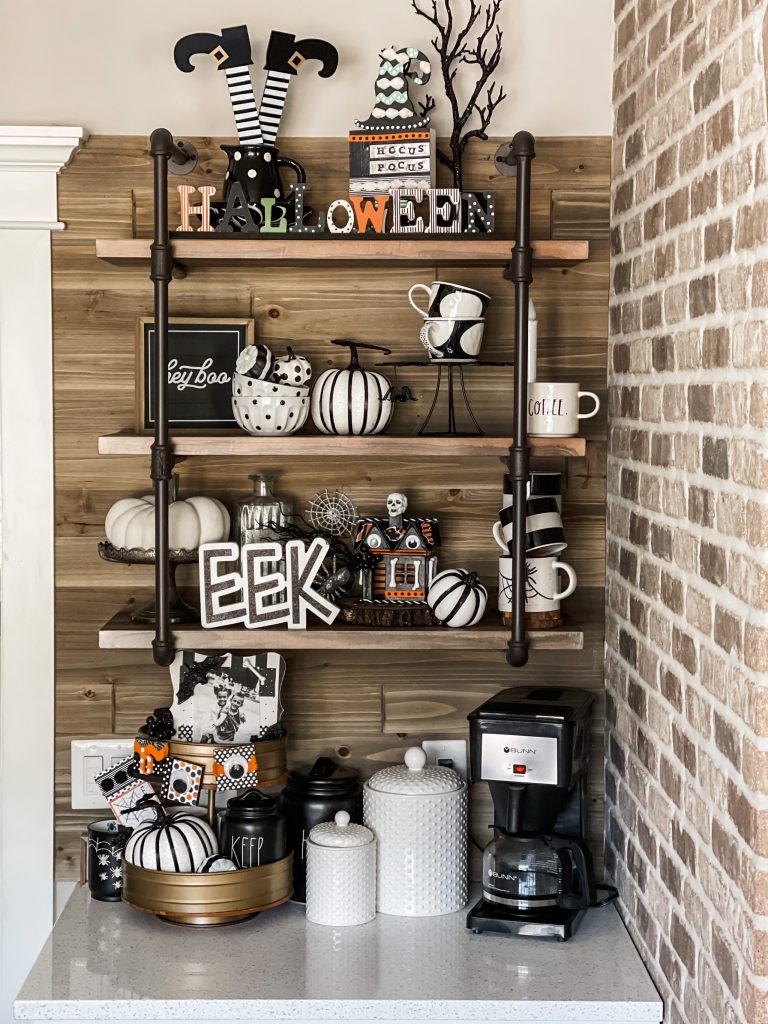 12. Spiders on a Halloween Tablescape – Whispers Of The Heart
11. Spooktacular Halloween Tablescape – Smashing Plates Tablescapes
10. Spooky Halloween Dinner Guest – Smashing Plates Tablescapes
9. Halloween Centerpiece – Clean And Scentsible
8. Halloween Coffee Bar – Michelle's Party Plan It
7. Haunted Halloween Kitchen – Dixie Delights Online
6. Ghosts on a Halloween Tablescape – Whisper Of The Heart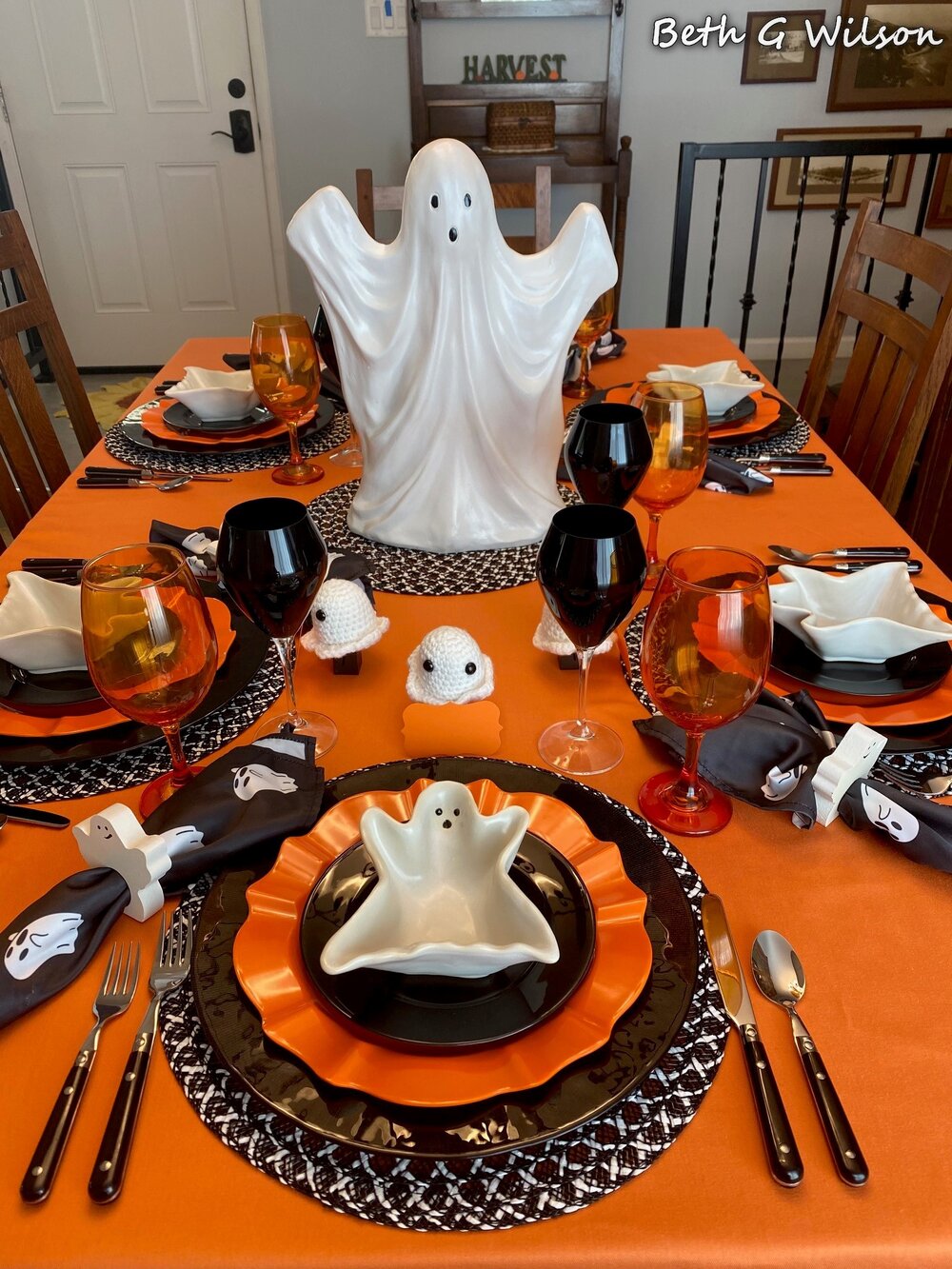 5. Halloween Hutch Kitchen – Blue Ribbon Kitchen
4. Vintage Halloween Kitchen – It's A Charming Life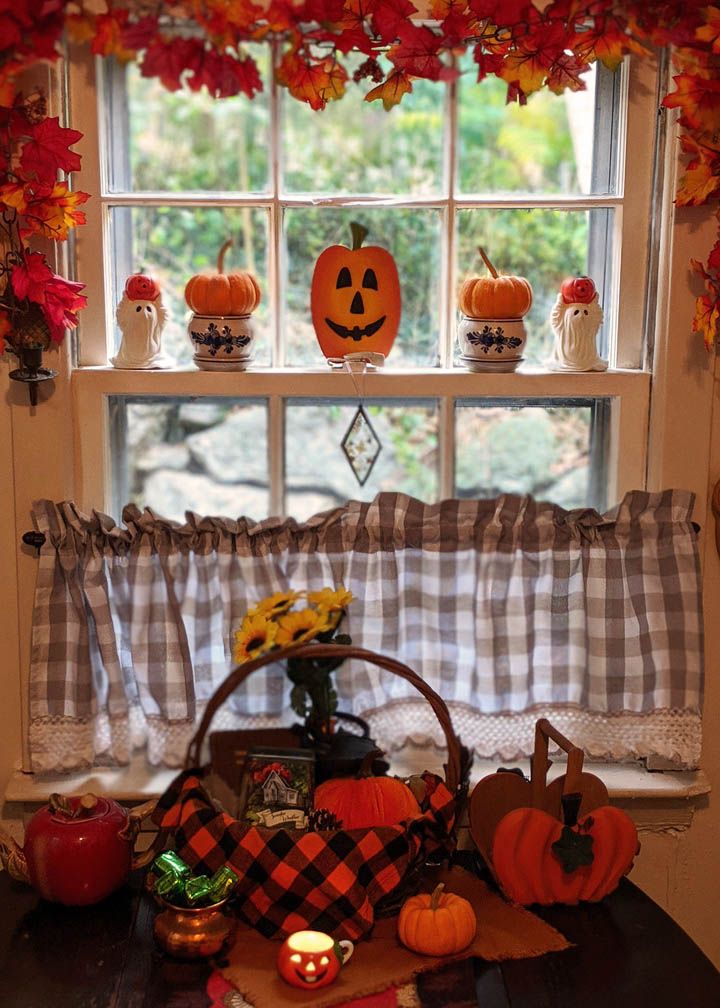 3. Trick Or Treat Kitchen – Golden Boys And Me
2. Halloween Kitchen Sideboard – Dining Delight
1. Dark Gothic Kitchen – Gothic Home
FAQs
Q. Can I reuse the Halloween-themed decorations for future years?
Absolutely! Most Halloween decorations are designed to be reusable, so you can enjoy them year after year. Just make sure to store them properly in a cool, dry place to prevent any damage.
Q. Are there any safety precautions to consider when using lighting effects?
When using lighting effects, make sure to follow the manufacturer's instructions and avoid leaving lights unattended. Use LED lights or battery-powered candles instead of real flames to minimize the risk of accidents.
Q. How can I remove the Halloween-themed decorations without leaving any residue?
To remove decorations without leaving any residue, carefully peel off any adhesive materials and use a mild cleaning solution to wipe off any remaining residue. Test the cleaning solution on a small, inconspicuous area first to ensure it doesn't damage the surface.
Q. How can I make my kitchen appear haunted without using too many decorations?
To create a haunted atmosphere with minimal decorations, focus on lighting and sound effects. Use dim lighting or flickering candles to create an eerie ambiance. Play spooky music or soundtracks in the background to enhance the haunted vibe. These simple techniques can go a long way in setting a spooky mood in your kitchen.
Q. Are there any temporary ways to add spooky elements to my kitchen walls?
If you want to add spooky elements to your kitchen walls without leaving permanent marks, consider using removable wall decals or stickers. These are available in various Halloween-themed designs and can be easily applied and removed without causing damage to your walls. They provide a quick and convenient way to add a touch of spookiness to your kitchen.
Q. How can I incorporate a Halloween scent into my spookified kitchen?
Scent plays a significant role in creating an immersive atmosphere. To incorporate a Halloween scent into your spookified kitchen, you can use scented candles or essential oil diffusers with fragrances like pumpkin spice, apple cider, or cinnamon. These seasonal scents will not only add to the ambiance but also enhance the overall Halloween experience in your kitchen.
Now comes the important question… Which of these Halloween kitchen decors did you like the most? Please let me know in the comments.
Few more Halloween ideas!!!
Want to save this for later? Post these Halloween Kitchen decors to the "Halloween Decor" OR "Kitchen Decor" Board!