Unleash the spookiness with spooky DIY Halloween table decorations. Set the perfect eerie ambiance with haunting centerpieces and ghostly table runners. Embrace the darkness with candlelit arrangements and creepy-cute accents. Transform your table into a bewitching focal point for a memorable Halloween gathering.
Get ready to set the stage for a hauntingly elegant Halloween feast with black and spooky-cute table decor that won't break the bank.
Embrace the magic of the season and let your creativity shine as you transform your dining table into a classy yet eerie masterpiece.
From bewitching black tablecloths and charming pumpkin centerpieces to adorable ghostly place cards and haunting candle holders, these DIY decorations will cast a spell on your guests.
Add your personal touch by incorporating stylish details, creative accents, and pops of color, making your table decor truly unique.
With simple and easy-to-follow instructions, even beginner crafters can achieve spellbinding results.
So gather your DIY supplies, unleash your inner decorator, and let's create a Halloween dining experience with a personal touch that will leave everyone enchanted and delighted.
Get ready for a Halloween feast that's classy, spooky, and oh-so-cute!
14 Tips To Add Stylish Details, Accents, & Color To Halloween Table Decor
As we prepare to welcome trick-or-treaters and host hauntingly memorable parties, decorating our homes becomes a top priority.
One area that deserves special attention is our Halloween table decor.
The dining table serves as the centerpiece for gatherings, making it the ideal canvas to showcase your creativity and style.
In this article, we'll explore 14 tips to transform your Halloween table into a stylish and bewitching spectacle.
From adding eerie details to incorporating vibrant colors, we'll cover every aspect to ensure your Halloween table is a hit among both kids and adults.
1. Spooky Centerpieces: Setting the Mood
The centerpiece plays a crucial role in setting the mood for your Halloween table decor.
Move beyond the typical pumpkin and explore a range of eerie alternatives to create a bewitching ambiance.
Consider haunted candelabras, creepy cloches, or a mysterious potion cauldron as your focal point.
Placing these eerie centerpieces on a rustic black table runner will enhance the haunting effect.
With the right centerpiece, you can instantly captivate your guests and transport them to a world of spooky enchantment.
2. Ghostly Table Linens: Draped in Elegance
Elevate your Halloween table with ghostly table linens that exude both elegance and spookiness.
Opt for black or deep purple tablecloths and complement them with lace overlays to add texture and sophistication.
These table linens not only protect your table from spills and stains but also create a bewitching atmosphere for your gathering.
The ethereal touch of ghostly linens will undoubtedly enhance the overall visual appeal of your Halloween table decor.
3. Bewitching Place Settings: A Feast for the Eyes
Transform your table settings into a feast for the eyes by using Halloween-themed dinnerware.
Choose plates featuring bats, witches, or eerie landscapes to infuse a touch of the supernatural.
Pair them with metallic silver or gold cutlery for added elegance and contrast.
Don't forget to include stylish napkin holders adorned with bat or spider motifs.
These bewitching place settings will surely impress your guests and make them feel like they're dining in a haunted castle.
4. Ghoulish Glassware: Raise a Toast
Elevate your drink presentation with ghoulish glassware that adds a touch of macabre charm to your Halloween table.
Consider using black stemware, skull-shaped shot glasses, or blood-red goblets to add a spooky vibe.
Serving colorful beverages like a purple punch or green mocktails in these eerie glassware pieces will further enhance the overall visual appeal of your table setting and delight your guests.
5. Menacing Menu Cards: Creepily Creative
Delight your guests with menacing menu cards featuring spooky fonts that perfectly match your Halloween theme.
Give creative names to your dishes, such as "Witch's Brew Soup" or "Monster Mash Potato," to add a touch of playfulness.
Display these cards on each place setting to surprise and excite your guests, leaving them eager to indulge in your devilishly delicious treats.
6. Ephemeral Candlelight: A Ghostly Glow
Create an enchanting and ethereal ambiance with the soft glow of candles.
Choose flickering LED candles inside eerie candleholders or carve out small pumpkins to create custom candle holders.
The gentle flicker of candlelight will cast a hauntingly beautiful spell over your Halloween table, adding to the overall mystical atmosphere.
7. Petrifying Party Favors: Tokens of Appreciation
Surprise and delight your guests with petrifying party favors they can take home as mementos.
Fill small black cauldrons with candies, mini witch broomsticks, or spooky keychains.
These thoughtful tokens of appreciation will remind your guests of the spooktacular time they had at your Halloween gathering.
8. Mysterious Music: Haunting Harmonies
Set the mood for your Halloween feast with a playlist of mysterious and haunting music.
Choose eerie instrumentals or spooky soundtracks to create an immersive Halloween experience.
The background music will add depth to your table decor, delighting your guests and adding to the overall ambiance.
9. Creepy Crawly Accents: Embrace the Creatures
Incorporate creepy crawlies into your Halloween table decor to embrace the spooky creatures of the night.
Scatter plastic spiders, rubber snakes, or bat figurines strategically around the table to give the impression that these critters are visiting your Halloween feast.
This attention to detail will surprise and delight your guests, creating an unforgettable experience.
10. Jack-o'-Lantern Magic: Carved Charm
No Halloween table decor is complete without the quintessential jack-o'-lanterns.
Carve intricate designs on pumpkins and place LED candles inside them for a mesmerizing effect.
Consider using a mix of traditional and modern patterns to showcase your creativity and add a touch of charm to your Halloween table.
11. Enchanting Floral Arrangements: Blooming Beauty
Elevate your Halloween table with enchanting floral arrangements featuring dark blooms like black roses or deep purple dahlias.
Add eerie elements like black branches or tiny skulls to enhance the mysterious vibe.
These floral arrangements will add a touch of elegance and beauty to your Halloween table decor.
12. Spellbinding Table Runner: Runway of Elegance
A stylish table runner can transform the look of your Halloween table.
Opt for a black and white striped or spider-web patterned runner to make a statement.
The table runner will tie all your decor elements together and add visual interest, creating an elegant runway for your Halloween feast.
13. Wicked Chandelier: From Above
If you have a chandelier above your dining table, give it a Halloween makeover.
Hang mini black bats or spiderwebs from the chandelier arms for a wickedly delightful touch.
This attention to detail will leave a lasting impression on your guests and add to the overall spooky ambiance.
14. Haunted Treats: Devilishly Delicious
Serve Halloween-themed treats like "Mummy Wrapped Finger Sandwiches" or "Eyeball Cake Pops" to delight your guests' taste buds.
These devilishly delicious delights will not only satisfy their cravings but also blend seamlessly with your spooky table decor, creating a cohesive and memorable Halloween feast.
Spooky DIY Halloween Table Decor Ideas
" Affiliate links are provided for your convenience, please read my disclosure for more information."
19. Black & Orange Halloween Table – Home With Holliday
18. Not So Scary Halloween Tablescape – Corner Of Plaid And Paisley
17. Elegant Black Halloween Table – Cause We Can Events
16. Vintage-Inspired Halloween Tablescape – Inspired By Charm
15. Spooky Halloween Table – Smashing Plates Tablescapes
14. Spooky Spider Halloween Tablescape – Garrison Street Design Studio
13. Haunted Halloween Tablescape – Loveland Lodge
12. Black Spider Themed Table – Whispers Of The Heart
11. Creepy Halloween Table – Jordan's Easy Entertaining
10. Pumplin Themed Halloween Table – Whispers Of The Heart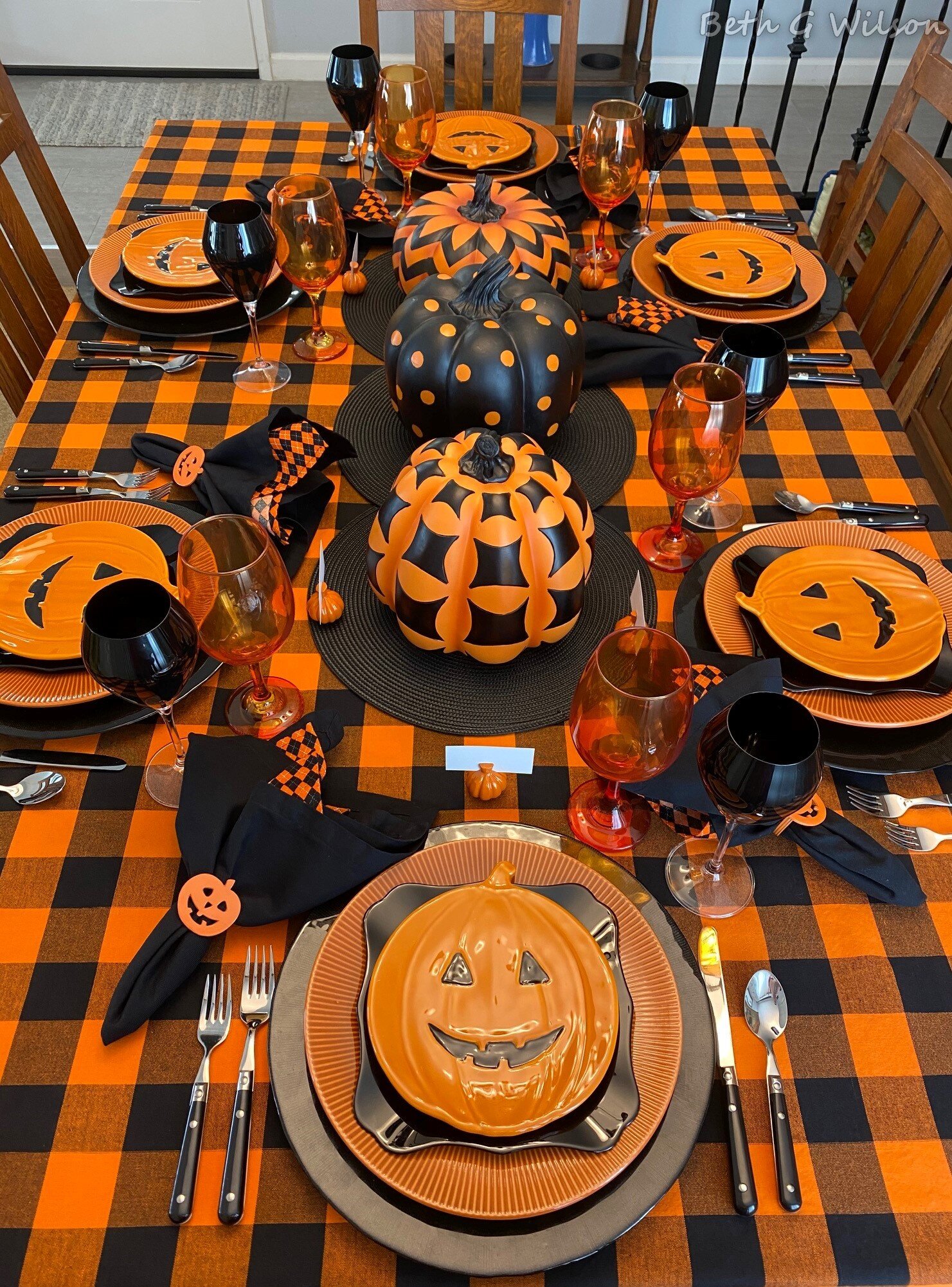 9. Spooky Adult Halloween Table – Pizzazzerie
8. Black Themed Halloween Table – Seeking Lavender Lane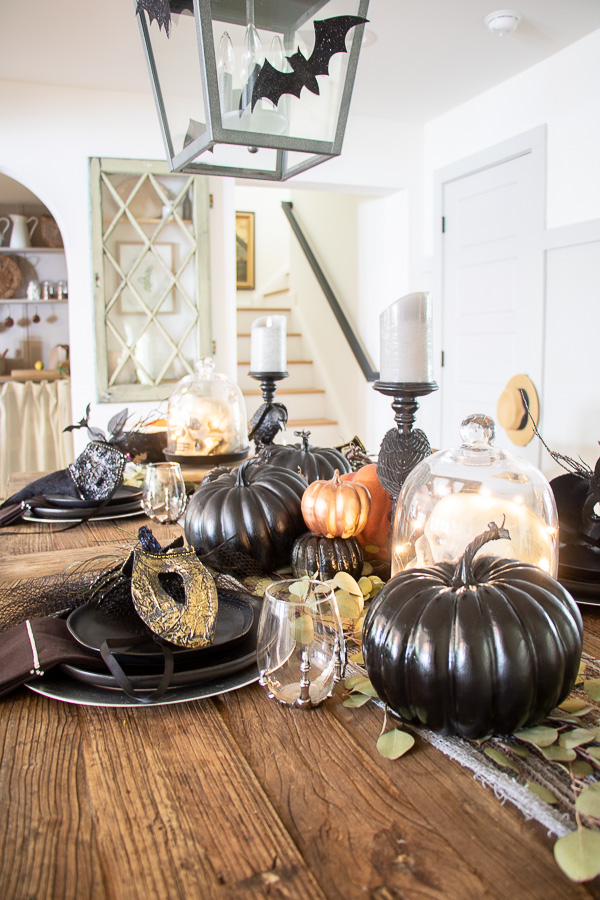 7. Black & White Halloween Table – Ciao New Port Beach
6. Witch & Raven Halloween Table – Sweet Rose And Wren
5. Black & Gold Halloween Tablescape – Blue Sky At Home
4. Black, Red & Gold Halloween Table Setting – Entertaining Diva
3. Black & Gold Halloween Table – Danimar Designs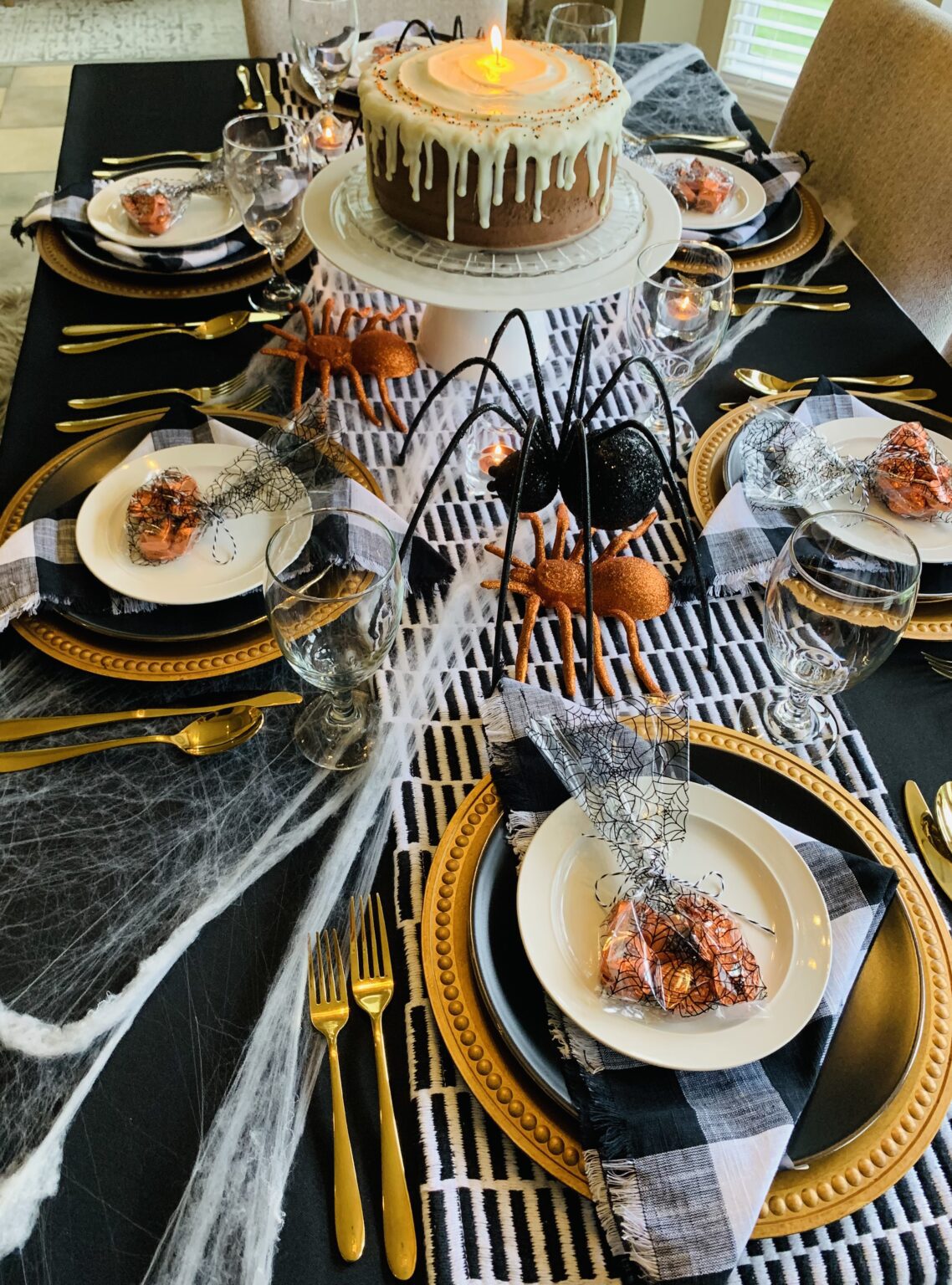 2. Gory-Chic Halloween Table – Craft And Sparkle
1. Black Themed Halloween Table – Home With Holly J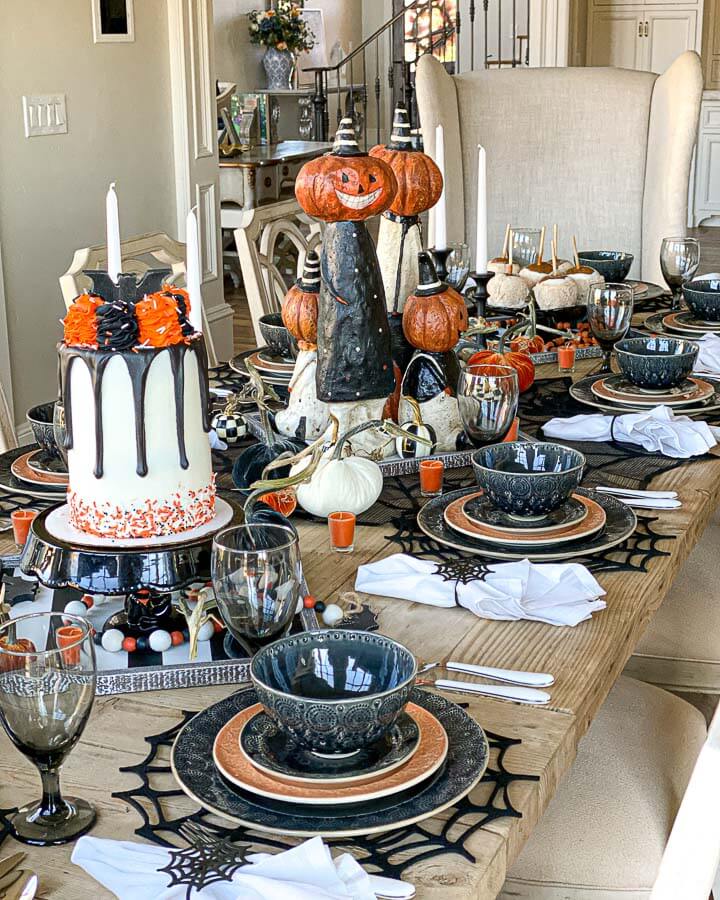 FAQs
Q. How can I make my Halloween table decor stand out?
To make your Halloween table decor stand out, focus on creating a cohesive theme by selecting a color palette and eerie elements that complement each other. Pay attention to details like centerpieces, table linens, place settings, and spooky accents to create a captivating and unique ambiance that sets the mood for a spooktacular gathering.
Q. Can I use real candles on the table?
While real candles add an authentic touch to your Halloween table, it's safer to use flickering LED candles or battery-operated tea lights. These alternatives eliminate the risk of accidents and keep your table decor looking perfect throughout the event, allowing you and your guests to enjoy the magical candlelight without any worries.
Q. How can I involve my kids in Halloween table decor preparations?
Involving kids in Halloween table decor can be a fun and engaging activity. Let them help with carving pumpkins, arranging spooky accents like plastic spiders or ghostly figurines, or creating handwritten menu cards with their creative designs. Allowing them to contribute to the decor will not only ignite their imagination but also create special memories and a sense of pride in their Halloween celebration.
Q. How can I make my Halloween table kid-friendly?
To make your Halloween table kid-friendly, opt for playful and less scary decorations. Use cute Halloween-themed dinnerware with friendly characters like pumpkins, ghosts, or friendly witches. Incorporate bright and vibrant colors into the table setting, and serve kid-approved treats that are fun and not too spooky. This way, the little ones can enjoy the Halloween festivities without feeling overwhelmed by scary elements.
Q. How can I create a haunted atmosphere without going overboard on scary elements?
To create a haunted atmosphere without being too scary, focus on subtle and mysterious decor. Use dim lighting with candles or fairy lights, add fog machines for a ghostly effect, and incorporate eerie music in the background. Opt for classic Halloween symbols like pumpkins, bats, and witches rather than extremely frightening elements. This balance will create a hauntingly beautiful ambiance suitable for all ages.
Q. How can I incorporate traditional Halloween colors into my table decor?
Traditional Halloween colors like black, orange, and purple are perfect for adding a spooky touch to your table. Use black tablecloths or placemats as a base and accentuate with orange or purple napkins and dinnerware. Create centerpieces featuring pumpkins or black and purple flowers. Don't forget to use black or orange candles for an extra Halloween flair. By incorporating these classic colors strategically, you'll infuse a traditional Halloween vibe into your table decor.
Now comes the important question… Which of these Halloween table decor did you like the most? Please let me know in the comments.
Few more Halloween decor!!!
Want to save this for later? Post these Halloween Table Decor Ideas to the "Halloween Decor" OR "Table Decorations" Board!