Discover elegant Halloween tablescape ideas that will bewitch your guests! Transform your dining space into a spooky spectacle with hauntingly beautiful Halloween decorations. Embrace eerie elegance with black and gold accents, eerie candlelit ambiance, and pumpkins adorned with shimmering jewels. Elevate your Halloween gathering with a mesmerizing tablescape that will leave your guests spellbound.
Step into the realm of gothic splendor and embrace the haunting allure of Halloween with black and white tablescapes that exude spooky elegance.
Get ready to curate a bewitching dining experience that perfectly blends classiness with a dash of spookiness.
From eerie candelabras and ornate candlesticks to haunting lace table runners and ghostly centerpieces, these tablescapes will transport your guests to a world of dark magic.
Add your personal touch by incorporating intricate details, silver accents, and stylish touches that reflect your unique style.
With simple and easy-to-follow instructions, you can master the art of creating a gothic masterpiece that will leave everyone mesmerized.
So gather your black-and-white elements, ignite your creativity, and let's conjure up an unforgettable Halloween tablescape with a personal touch that will leave a lasting impression on all who gather around it.
Get ready for a Halloween dining experience like no other!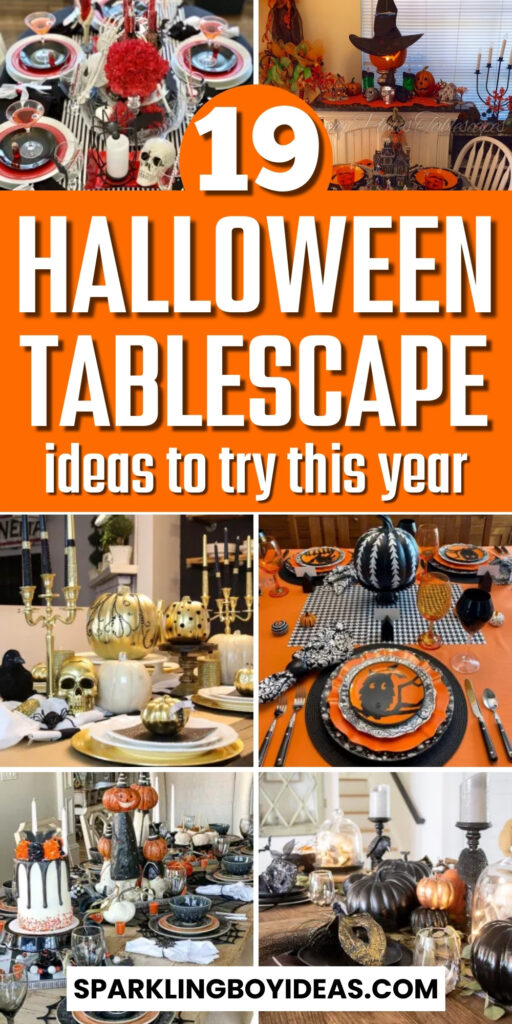 13 Tips To Add Personal Touch To Your Halloween Tablescape
A well-decorated table can instantly transform your Halloween gathering, adding a touch of personality and charm that will leave a lasting impression on your guests.
In this article, we'll explore 13 tips to help you create a Halloween tablescape that is both hauntingly beautiful and uniquely yours.
1. Embrace the Seasonal Colors
Infuse your Halloween tablescape with the rich and vibrant colors of the season.
Deep oranges, eerie purples, and mysterious blacks set the perfect foundation for your decor.
Complement these hues with accents of gold or silver for a touch of sophistication.
By using seasonal colors, you set the tone for your Halloween tablescape.
These deep and alluring shades create a captivating backdrop, making the overall decor more visually appealing and in sync with the spirit of Halloween.
2. Choose a Theme
Selecting a theme will guide your tablescape's overall aesthetic.
Whether you opt for a classic haunted house vibe or a whimsical witches' gathering, having a clear theme will help you curate cohesive decorations.
A well-chosen theme acts as the backbone of your Halloween tablescape.
It provides direction for your creative choices and ensures that all elements on the table harmoniously come together to tell a spooky and intriguing story.
3. Spook-tacular Centerpiece
The centerpiece is the focal point of your tablescape.
Create a spooktacular display with items like carved pumpkins, eerie candles, or a haunted miniature village.
The centerpiece serves as the show-stopper of your tablescape.
Choose eye-catching and spooky elements that demand attention.
It's the perfect opportunity to showcase your creativity and set the tone for the rest of the table.
4. Hauntingly Beautiful Table Linens
Elevate your Halloween tablescape with hauntingly beautiful table linens.
Look for clothes adorned with cobwebs, bats, or elegant Gothic patterns that evoke the spirit of the season.
Table linens play a crucial role in tying the entire Halloween theme together.
Opt for intricate designs or patterns that symbolize the spooky elements of the holiday, instantly elevating the ambiance of your tablescape.
5. Playful Place Settings
Enhance the individual place settings with playful touches.
Use themed name cards, mini pumpkins, or spider-shaped napkin rings to add a whimsical charm to each seat.
The devil is in the details!
Adding playful and thematic touches to each place setting adds a delightful surprise for your guests, making them feel special and immersed in the Halloween experience.
6. Sinister Serveware
Choose serveware that complements your Halloween theme.
Serving dishes shaped like cauldrons, skulls, or ghostly figures will bring an extra dash of enchantment to your table.
Investing in Halloween-themed serveware adds an extra layer of authenticity to your tablescape.
These spooky serving dishes not only showcase your attention to detail but also enhance the overall dining experience.
7. Bewitching Glassware and Stemware
Opt for glassware with a touch of enchantment.
Black wine glasses, eerie tumblers, or pumpkin-shaped mugs add a bewitching element to your Halloween tablescape.
Unique glassware and stemware elevate the overall aesthetic of your table.
Whether it's serving mystical potions or wicked brews, such creative glassware adds a sense of intrigue and magic to your Halloween celebration.
8. Ghostly Glow
Set the ambiance with haunting lighting.
Use candlesticks, string lights, or eerie lanterns to create a ghostly glow that will set the perfect mood for your gathering.
Lighting sets the mood and tone of your Halloween tablescape.
Opt for soft and eerie lighting to create an enchanting atmosphere, making your guests feel like they've stepped into a haunted world.
9. Spellbinding Centerpiece
Create a spellbinding centerpiece by incorporating live elements like autumn flowers, eerie branches, or even tiny pumpkins.
The natural touch adds depth and life to your tablescape.
Introducing live elements into your centerpiece not only adds freshness but also gives an authentic and organic feel to your Halloween tablescape.
It's a subtle way to bring the outdoors inside and infuse a hint of nature's magic.
10. DIY Halloween Crafts
Engage your creative side by crafting your own Halloween decorations.
DIY projects like handmade potion bottles, spooky banners, or ghostly garlands can add a unique and personal touch.
DIY crafts are an excellent way to add a personal touch to your Halloween tablescape.
Unleash your creativity and create one-of-a-kind decorations that perfectly align with your theme and vision.
11. Spine-Chilling Accents
Sprinkle spine-chilling accents throughout your tablescape.
Use faux spiders, skeleton hands, or ghostly silhouettes to give your setting an extra dose of Halloween spirit.
Halloween is all about embracing the spooky and supernatural.
Adding spine-chilling accents to your tablescape ensures that every corner of the table exudes the essence of the holiday.
12. Themed Menu Cards
Design themed menu cards that match your Halloween decor.
Use spooky fonts and add playful descriptions to set the tone for the culinary delights that await your guests.
Themed menu cards elevate the dining experience and keep the Halloween theme consistent throughout the event.
The quirky and creative descriptions add an element of fun and anticipation to the meal.
13. Capture the Memories
Lastly, don't forget to capture the magical moments.
Place disposable cameras or encourage guests to use their smartphones to take pictures of the spooktastic tablescape and their costumes.
By providing cameras or encouraging guests to take pictures, you ensure that your meticulously designed Halloween tablescape lives on in their hearts and photo albums.
Elegant Halloween Tablescape Ideas
" Affiliate links are provided for your convenience, please read my disclosure for more information."
19. Elegant & Eerie Halloween Tablescape – Between Naps On The Porch
18. Black & White Halloween Tablescape – Pizzazzerie
17. Gothic Black Halloween Table – Between Naps On The Porch
16. Ghost Themed Halloween Table – Whispers Of The Heart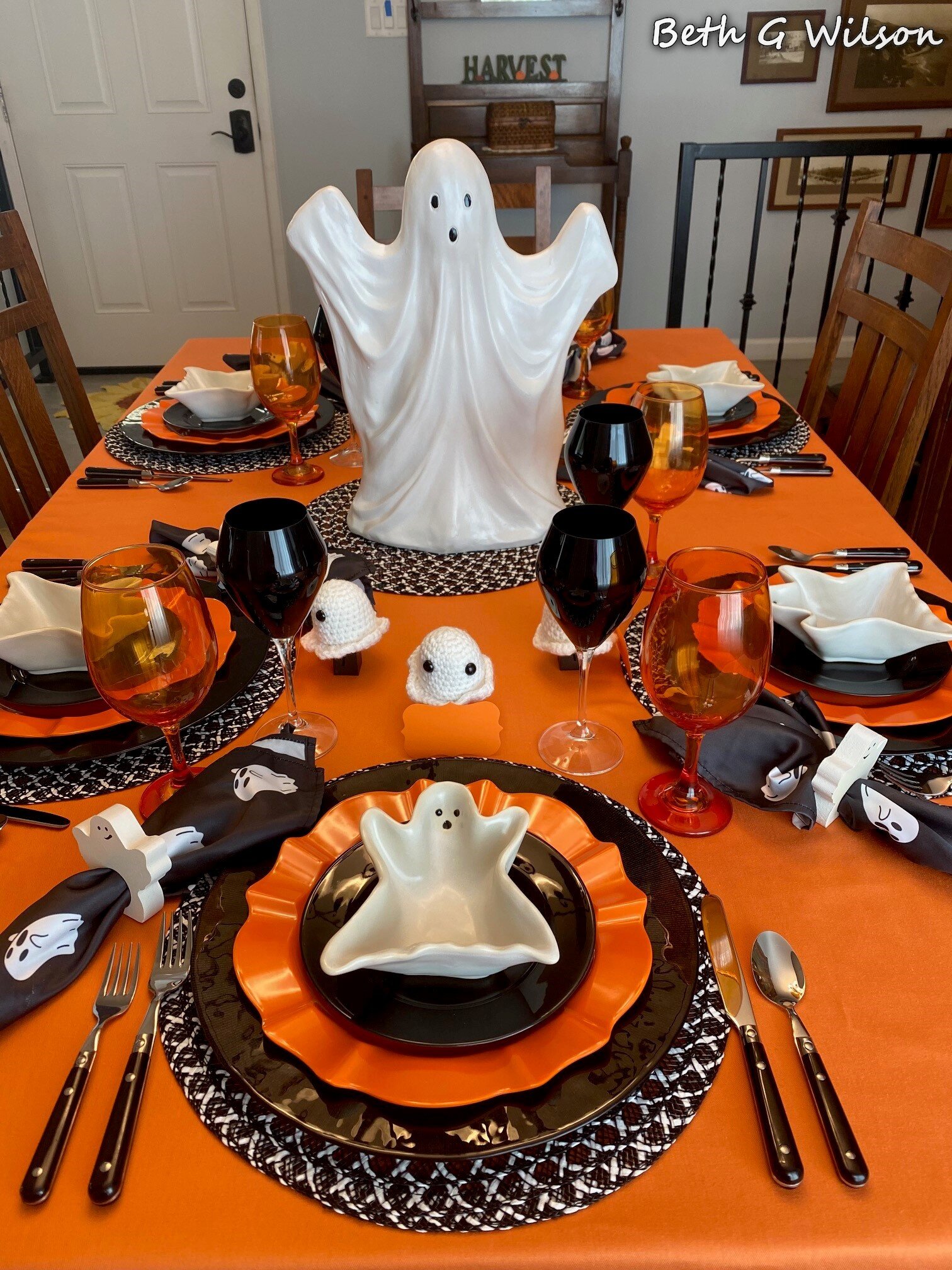 15. Blue & Orange Pumpkin Themed Tablescape – Home With Holly J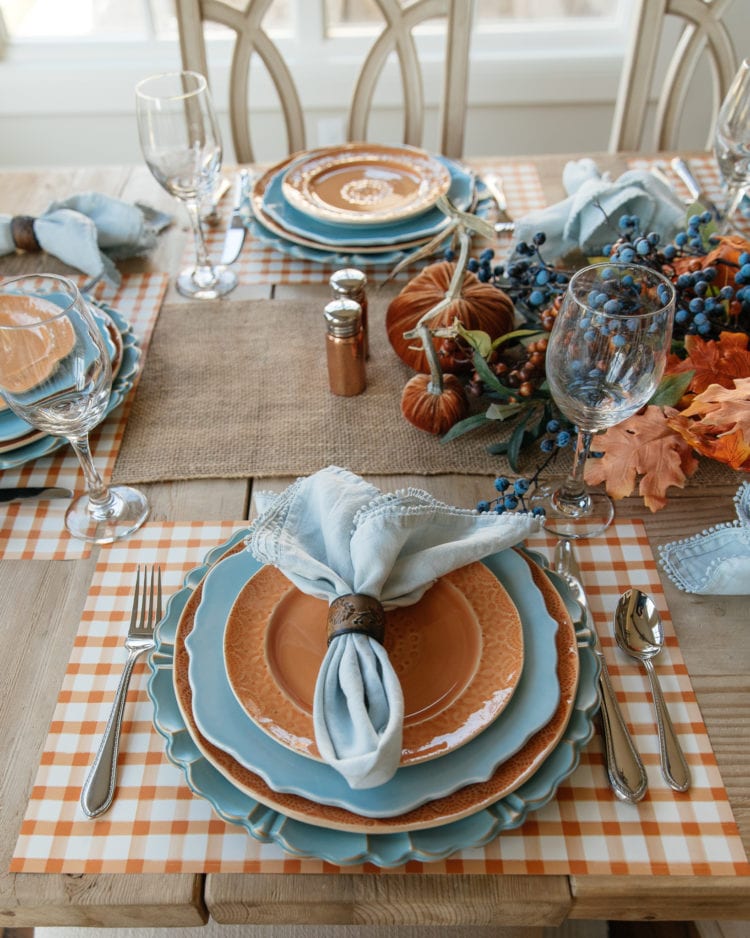 14. Not So Scary Halloween Tablescape – Corner Of Plaid And Paisley
13. Simple Halloween Table – Our Crafty Mom
12. Gory Chic Halloween Table – Craft And Sparkle
11. Vintage Halloween Tablescape – Whispers Of The Heart
10. October 31st Halloween Table – Make Joyful Home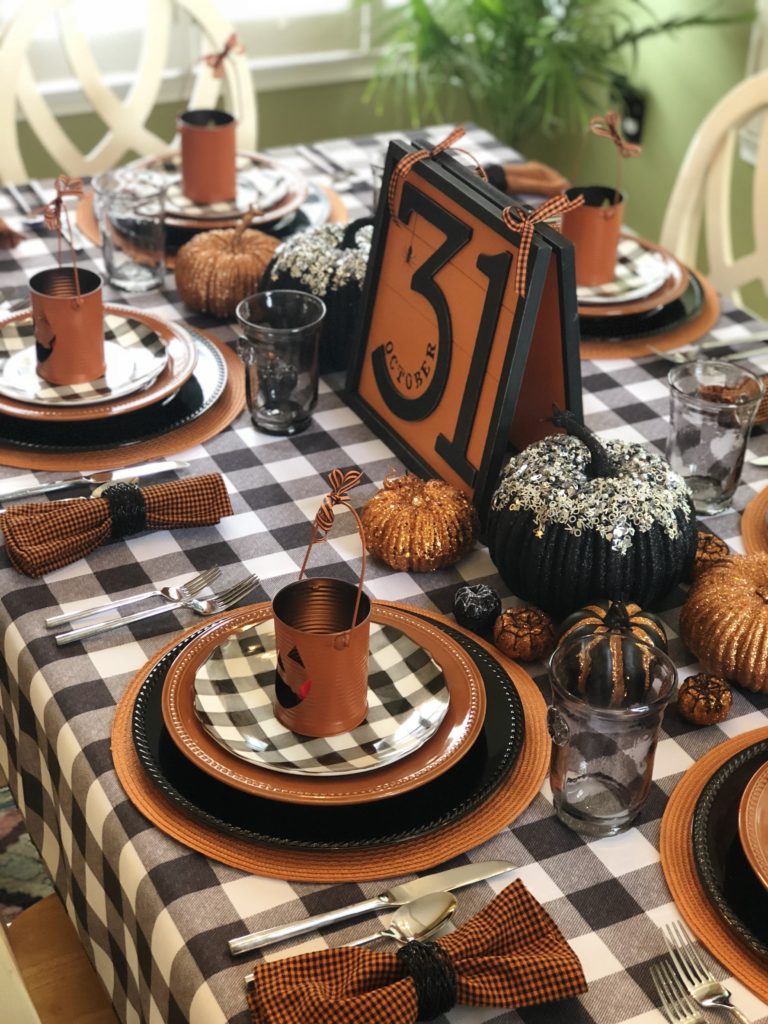 9. Spooktacular Halloween Tablescape – Smashing Plates Tablescapes
8. Jack & Sally Halloween Tablescape – Parties 365
7. Elegant Black Halloween Table – Home With Holly J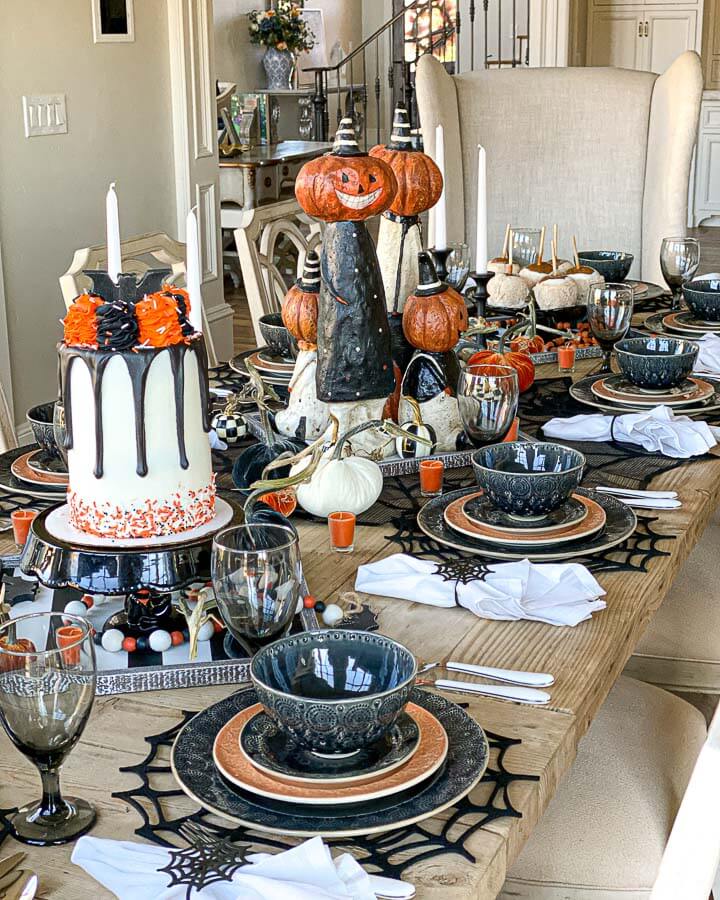 6. Spider-Themed Halloween Tablescape – Whispers Of The Heart
5. Creepy Black Halloween Tablescape – Seeking Lavender Lane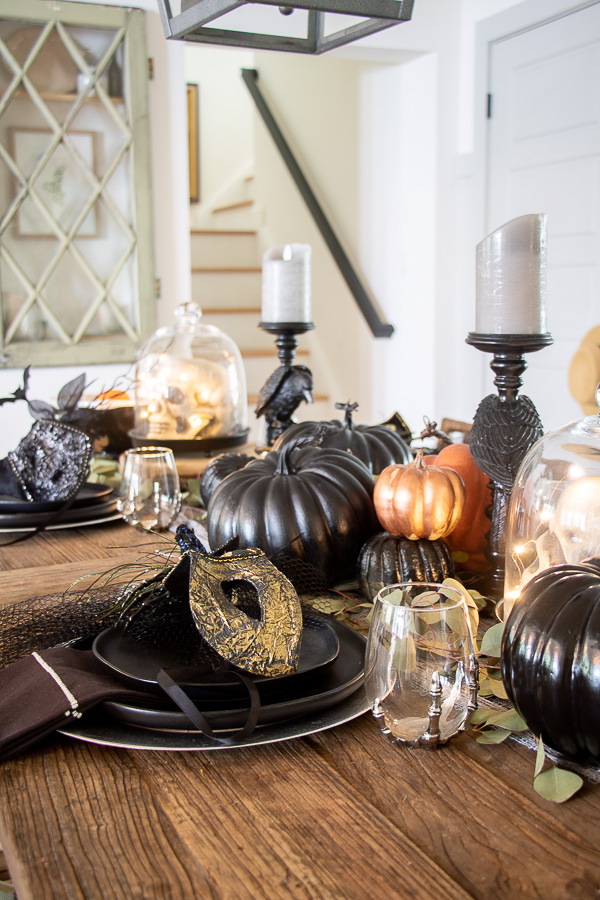 4. Black & Gold Halloween Tablescape – 29 Design Studio
3. Golden Skull & Pumpkins Halloween Table – Classy Clutter
2. Black, White & Orange Tablescape – Whisper Of The Heart
1. Black, Red & Gold Halloween Table Setting – Entertaining Diva
FAQs
Q. How can I make my Halloween tablescape stand out from the rest?
To make your Halloween tablescape stand out, focus on a unique theme, incorporate personalized DIY elements, and use attention-grabbing accents that reflect your personality. Choosing a theme that resonates with you will give your table a distinctive touch. Handcrafted DIY decorations add exclusivity, while creative accents capture the essence of Halloween, leaving a lasting impression on your guests.
Q. Are there any budget-friendly ideas to add a personal touch to my Halloween tablescape?
Absolutely! Consider repurposing household items for decorations, create DIY crafts using affordable materials, and shop for Halloween decor during seasonal sales. Upcycling everyday objects can add charm to your tablescape without breaking the bank. Engaging in DIY projects allows you to customize your decorations while being budget-conscious. Additionally, shopping during sales periods ensures you can find spooky decor at discounted prices.
Q. What are some kid-friendly Halloween tablescape ideas?
For a kid-friendly tablescape, use playful and non-threatening decorations like friendly ghost motifs, cartoonish pumpkin designs, and colorful table linens. Creating a fun and whimsical ambiance will make the Halloween experience enjoyable for young ones. Opt for cheerful decorations that are not too scary, ensuring that the kids feel excited and comfortable during the celebration.
Q. How can I ensure my Halloween tablescape is Instagram-worthy?
To make your tablescape Instagram-worthy, focus on well-coordinated colors, captivating centerpieces, and strategically placed lighting to enhance the overall aesthetic. Choosing a cohesive color scheme that complements your theme will make your photos visually appealing. The centerpiece should be eye-catching and well-arranged, while carefully positioned lighting creates a captivating atmosphere that translates beautifully in photos.
Q. Can I incorporate sustainable elements into my Halloween tablescape?
Absolutely! Use reusable or biodegradable tableware, decorate with natural elements like pine cones and leaves, and choose energy-efficient LED lighting for an eco-friendly touch. Opting for reusable or biodegradable tableware reduces waste while incorporating elements from nature adds a rustic and sustainable charm. Energy-efficient LED lighting is both environmentally friendly and cost-effective.
Q. What if I'm not crafty? How can I still add a personal touch to my tablescape?
No worries! You can add a personal touch by curating decorations that reflect your interests and hobbies, showcasing your favorite Halloween-themed items. Focus on selecting Halloween decor that resonates with your style and preferences, even if you don't craft them yourself. Displaying items that hold sentimental value or are unique to you will infuse your tablescape with a personal touch.
Q. How do I create a sophisticated and elegant Halloween tablescape?
To create a sophisticated and elegant Halloween tablescape, opt for a black and gold color scheme, use luxurious fabrics like velvet for table linens, and choose elegant centerpieces such as tall candle holders or crystal vases. Incorporate subtle Halloween motifs like bats or spiders in a tasteful manner to maintain the sophisticated vibe.
Q. Can I incorporate elements of different Halloween themes into one tablescape?
Yes, you can! Mixing elements from different Halloween themes can result in a unique and eclectic tablescape. For example, you can combine elements from a haunted forest theme with a mystical witch's den theme. Just ensure that the different elements complement each other and create a cohesive overall look.
Q. What are some tips for creating a kid-friendly but spooky Halloween tablescape?
For a kid-friendly yet spooky tablescape, opt for cute and friendly Halloween characters like friendly ghosts or smiling pumpkins. Use bright and cheerful colors while incorporating subtle spooky elements like cobwebs or playful monsters. Strike a balance between fun and mildly spooky to create a memorable experience for kids.
Q. How can I make my Halloween tablescape interactive for guests?
To make your Halloween tablescape interactive, incorporate elements like a DIY candy station, where guests can create their own treat bags, or a "guess the number of eyeballs" game jar. You can also include small interactive props like spooky sound buttons or motion-activated decorations that surprise and entertain guests.
Q. What are some creative ways to use pumpkins in my Halloween tablescape?
Pumpkins are versatile and can be used in various creative ways. Try carving them into unique designs or painting them with intricate patterns. You can also hollow out mini pumpkins to use as candle holders or place card holders for a charming touch. Additionally, stacking different-sized pumpkins or arranging them in clusters adds dimension to your tablescape.
Now comes the important question… Which of these halloween tablescapes did you like the most? Please let me know in the comments.
Few more Halloween decor!!!
Want to save this for later? Post these Halloween Tablescapes to the "Halloween Decor" OR "Table Decor" Board!