Elevate your Halloween decor with captivating Halloween centerpieces. Embrace the season's spirit and create a bewitching ambiance for your gatherings. Find inspiration and unleash your creativity with enchanting pumpkins, haunting candle arrangements, and ghostly floral displays. Don't miss out on the chance to make this Halloween one to remember with a truly mesmerizing centerpiece.
Get ready to conjure up some eerie enchantment with spooky, cheap, and DIY cute Halloween centerpieces that will bewitch your guests and add a personal touch to your hauntingly delightful celebrations.
Embrace the spirit of the season and let your creativity shine as you craft delightful centerpieces that will become the focal point of your Halloween decor.
From eerie candle holders and ghostly pumpkin arrangements to charming witch centerpieces, these DIY decorations will cast a spell on your table.
Add your personal touch by incorporating creative elements, fall colors, and festive embellishments, making each centerpiece a unique expression of your style.
With simple and easy-to-follow instructions, even beginner crafters can achieve centerpieces that impress.
So gather your DIY supplies, ignite your spooky spirit, and let's create Halloween centerpieces with a personal touch that will mesmerize and delight all who gather around your table.
Cute DIY Halloween Centerpieces
" Affiliate links are provided for your convenience, please read my disclosure for more information."
50. Blood Candles Centerpiece – The Navage Patch
49. Dollar Tree Halloween Sunflower / Skull Centrepiece – Craft Bits
48. Dollar Tree Halloween Skull Centerpiece – Manda Panda Projects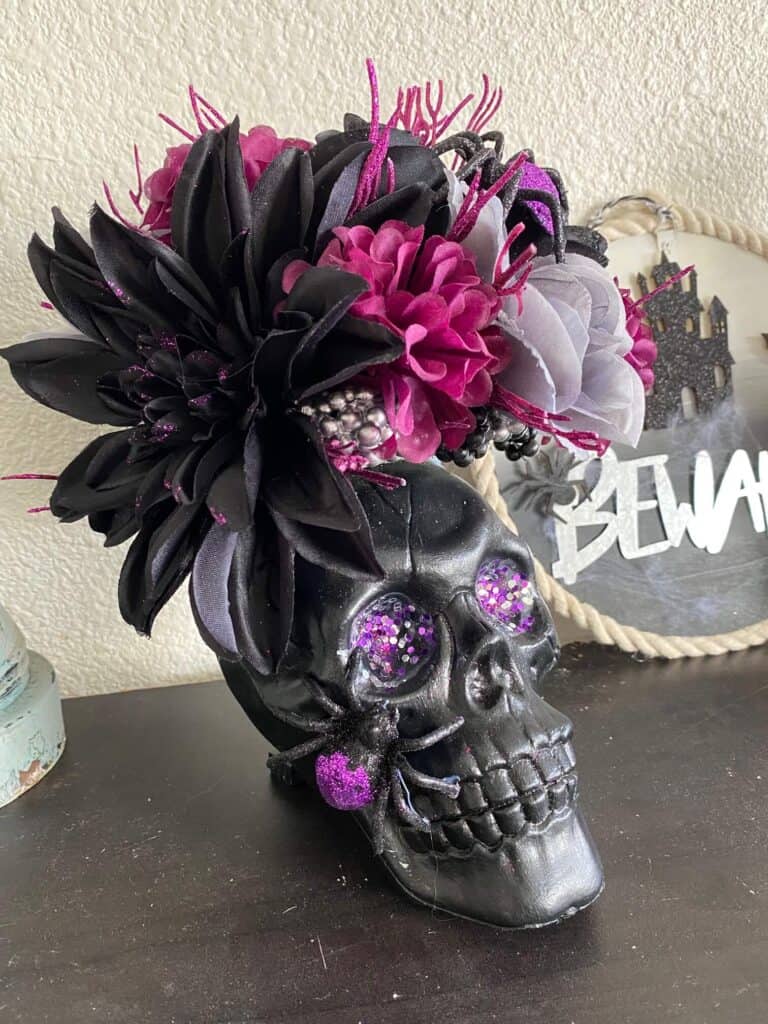 47. Cute Ghosts Group Centerpiece – dugansgirls
46. Black & Orange Skull Arrangement – sweetariadecor
45. Bubblegum Lady Centerpiece – downaflagstonepath
44. Metallic Skull Floral Centerpiece – mistress_preunstaat
43. Spooky Skull Centerpiece – rea_stylenc
42. Spooky Face Candlesticks – wigglebugs
41. Pastel Pumpkin Centerpiece – tilda_loves_teddy
40. Skulls & Flowers Centerpiece – designsbylolette
39. Spooksical White Pumpkin Centerpiece – frenchbluecharm
38. Halloween Painted Centerpiece – leah_jane___
37. Hocus Pocus Pampas Arrangement – sophiemorganjones
36. Black Painted Skull Centerpiece – kellcaruso
35. Cute Ghosts Centerpiece – melodyjmm
34. Witches Brew Pitcher Centerpiece – ondaisyhilldrive
33. Black Cauldron Centerpiece – aprettyhappyhome
32. Pumpkins & Ravens Centerpiece – jacquelyn.nicole.design
31. Metallic Skull Centerpiece – sharystudio
30. Halloween Blooms Centerpiece – n.t._designs
29. "Witch's Brew" Centerpiece – workofheartfloraldesigns
28. Glittery Ribbon Centerpiece – catspjs6352
27. Hocus Pocus Halloween Trees – hudsonrivercraftings
26. Pool Noodle Candle – therealjessica_g
25. Ghoulish Pumpkin & Skeletons Display – lovetree_floral
24. Colorful Pumpkin Display – leah_jane___
23. Gothic Floral Candle Holder – sandypopielarz
22. Pumpkin Floral Centerpiece – magnet_flower
21. Skeleton Shenanigans – houseonlouisemeadow
20. Happy Halloween Floral Arrangement – davidjeffreyflorist
19. Whimsical Halloween Centerpiece – kccompany78834
18. Paper Mache Skulls – the.vintage.sailor
17. Mini Balloon Bouquets – regalaglobosymas
16. Big Head Skull Centerpiece – southernpassionwreaths
15. BOO Black Wooden Centerpiece – mademoiselle.grondin
14. Halloween Skull Centerpiece – jennscraftingaround
13. Skull & Spider Candle Holders – lesliesnest
12. Pumpkin Candy Corn Centerpiece – nicoles.creative.designs
11. Haunted Dozen Roses – workofheartfloraldesigns
10. Halloween Skull Display – design_by_fiona
9. Deer Skull & Turkey Feather Centerpiece – redesignedframeofmind
8. Halloween Floral Arrangement – workofheartfloraldesigns
7. Carved Beet Centerpiece – canoblane
6. Halloween Symbolic Figurines – creationsbymoonwolf
5. Skull Candle Holder – waafaacii_
4. Succulent Pumpkin Centerpiece – containercrazyct
3. Skeleton Couple Centerpiece – reba.aikat
2. Golden Cauldron Centerpiece – nikkitwardy
1. Boo Black Table Centerpiece – darilee_m
Now comes the important question… Which of these Halloween centerpieces did you like the most? Please let me know in the comments.
Few more Halloween ideas!!!
Want to save this for later? Post these Halloween Centerpieces to the "Halloween Decor" OR "Centerpiece Ideas" Board!