Discover enchanting Halloween door decorations to delight your guests and trick-or-treaters! Elevate your doorstep with spooky wreaths, haunting banners, and eerie lights. Embrace the spirit of the season with ghostly silhouettes and creepy cobwebs that add a touch of frightful fun. Unleash your imagination and make this Halloween one to remember with captivating door decorations!
Prepare to be bewitched as we unlock the secrets to creating spooky and fun Halloween door decorations that are sure to leave your guests enchanted.
With a touch of personal creativity, we'll transform your front door into a hauntingly delightful welcome for trick-or-treaters.
From grinning pumpkin wreaths and ghostly garlands to wicked witchy door hangers and eerie spiderweb motifs, these decorations will set the perfect atmosphere for a thrilling Halloween night.
Add your personal touch by incorporating your favorite colors, accents, and spooky elements, making each decoration a unique reflection of your style.
With simple and easy-to-follow instructions, anyone can master the art of Halloween door decor.
So, let your imagination run wild, unleash your crafty spirit, and get ready to spookify your home with personal touches that will enchant everyone who dares to approach your door!
24 Creative Halloween Door Decorations To Try
While most people focus on decorating their interiors, one area that often gets overlooked is the front door.
Your front door is the gateway to your haunted domain, and it's the first thing your guests and trick-or-treaters will see.
So, why not make a lasting impression with some truly creative Halloween door decor ideas?
In this article, we will explore a variety of engaging and unique ideas to elevate your Halloween decorations to a whole new level of spookiness.
1. Decorating with Sinister Wreaths
Wreaths aren't just for Christmas! Halloween wreaths can be a fantastic way to set the spooky tone right from your front door.
Consider using materials like black feathers, faux spider webs, miniature skulls, and eerie-looking branches to create a sinister and chilling Halloween wreath.
Add a touch of elegance with some black satin ribbons or gothic-inspired trinkets.
2. Ghastly Gravestones and Cemetery Scene
Transform your front yard into a creepy cemetery scene with tombstones and skeletal figures.
Create DIY gravestones using Styrofoam and gray paint, and write eerie epitaphs on them.
Add some faux cobwebs and plastic bones scattered around for an extra haunting effect.
Place a fog machine near the entrance to create an eerie ambiance as guests approach your door.
3. Spooky Silhouettes
Create an eerie atmosphere with spooky silhouettes on your door or windows.
Cut out black cardboard or use vinyl stickers to create shapes like bats, witches, ghosts, or haunted trees.
Illuminate the silhouettes with backlights for a haunting effect, especially in the evening.
4. Haunted House Entrance
Transform your front door into a haunted house entrance that will send shivers down your visitors' spines.
Add wooden planks to create a worn-out look and paint them with faux blood splatters.
Hang a worn-out "Beware" sign on the door and place creepy props like a fake rat or spider near the doorknob.
5. Jack-o'-Lantern Spectacle
Carve a collection of Jack-o'-lanterns with different expressions and sizes to create a mesmerizing display on your doorstep.
Use battery-operated candles inside the pumpkins to keep them safely lit throughout the evening.
Stack them up creatively or arrange them in a spooky pattern for maximum impact.
6. Ghostly Draperies
Drape your front door with ghostly white fabric to give it an ethereal, haunted appearance.
You can also add some motion-activated sound effects to startle visitors as they approach the door.
The fluttering fabric combined with ghostly sounds will create a spine-chilling experience.
7. Freaky Foliage and Twisted Vines
Wrap your front porch columns and railings with twisted vines and fake cobwebs to create an overgrown and eerie look.
Add some faux black roses and other creepy plants to complete the scene.
You can also place some battery-operated candles among the foliage for an eerie glow.
8. Wicked Witch's Lair
Set up a wicked witch's lair on your porch with a cauldron, broomsticks, and potions.
Add some witch hats and tattered shawls on chairs or broomsticks.
Hang a "Witch Parking Only" sign for a touch of humor and spookiness.
9. Eerie Eyes Peeping Out
Cut out large, menacing eyes from cardboard or glow-in-the-dark paper and stick them on your front door or windows.
This simple yet effective idea will give your home a mysterious and haunted feel, making your guests wonder if they are being watched.
10. Enchanted Fairy-Tale Doorway
Give your front door an enchanting twist by transforming it into a magical fairy-tale entryway.
Paint the door in pastel colors, add some shimmering glitter, and attach fairy wings to the sides.
Scatter some faux flowers and butterflies on the ground for a whimsical touch.
11. Wickedly Wonderful Witches' Hats
Hang a collection of witches' hats on your front door, varying in size and style.
Add some feathers, ribbons, or even mini broomsticks to enhance their appearance.
This creative idea is sure to captivate everyone passing by.
12. Sinister Scarecrow
Place a menacing scarecrow next to your front door to welcome your guests.
Dress it up in tattered clothes and top it off with a creepy mask.
Position it so that it appears to be guarding the entrance, sending shivers down the spines of those who dare to approach.
13. Haunted Chandelier
Hang a spooky chandelier on your porch or above your front door. Use faux candles or string lights to create an eerie glow.
Add some plastic spiders and cobwebs for an extra haunting effect.
14. Ghostly Glowing Pathway
Line the pathway to your front door with glowing lanterns or LED candles to create an ethereal and inviting atmosphere.
You can use old glass jars and paint them with glow-in-the-dark paint or opt for ready-made lanterns.
15. Mystical Potion Station
Set up a mystical potion station on a table near your front door.
Fill glass bottles with colored liquids (be sure to label them as "bat wings," "dragon's blood," etc.) and add some dry ice for a smoky effect.
This interactive display will intrigue your guests.
16. Creepy Crawling Insects
Place creepy-crawly insects like spiders, centipedes, and beetles on your front door and porch.
You can find realistic-looking ones at party stores. These little details will surely make your decorations stand out.
17. Petrifying Picture Frames
Hang old, weathered picture frames on your front door or windows and use them to display eerie photos or spooky images.
Consider adding images of ghostly figures or haunting landscapes to give a chilling effect.
18. Pumpkin Totem Pole
Stack various-sized pumpkins on top of each other to create a pumpkin totem pole.
Carve or paint them with spooky faces or designs and place them by your front door for a fun and eye-catching display.
19. Elegant Gothic Entrance
Embrace a more elegant and gothic look by using black lace, velvet, or satin fabrics to drape around your front door and porch.
Add some ornate candelabras with black candles for a dramatic effect.
20. Ghoulish Greetings
Craft a spooky "Welcome" sign or banner for your front door. Use creepy fonts and add some bats, spiders, or skulls for a ghoulish touch.
This will set the tone for the haunted adventure that awaits your guests.
21. Wandering Spirits
Create ghostly apparitions that appear to be floating around your front porch.
Use sheer white fabric or tulle to craft these wandering spirits. Illuminate them with soft lighting to make them even more otherworldly.
22. Haunted Doorway Curtains
Hang tattered, translucent curtains over your front door and windows to give your entrance a haunted look.
Opt for dark colors like black or deep purple to enhance the eerie atmosphere.
23. Eerie Door Knocker
Replace your regular door knocker with a spooky one.
Consider a design like a skeletal hand, a witch's hand, or a vampire's mouth. This small detail will surprise and delight your visitors.
24. Nightmarish Welcome Mat
Place a creepy welcome mat at your doorstep, featuring designs like a snarling werewolf, a giant spider, or a hungry zombie.
This will create an element of surprise as guests step onto your porch.
Spooky Halloween Door Decorations
" Affiliate links are provided for your convenience, please read my disclosure for more information."
30. Black Spider Door Decor – janki.home
29. Skeletons & Pumpkins Door Decor – kendellewray
28. Black Autumn Door Decor – alizkain
27. Autumn Halloween Door – monicajoyhome
26. Simple Halloween Door Decor – heaton_mess
25. Pink Halloween Door – luckyplot13
24. Halloween Monster Door – liz.morrow
23. spooky Balloons Arch – totallytikaa
22. Autumn Foliage Door Decor – deirdre_loves_photography
21. Bats & Spiders On Door – this_littlehouse_ofours
20. Simple Boo Door Decor – bobbins.at.home
19. Honey Bee Yellow Front Door – hardcastletowers
18. Black & White Door Decor – erin_sunnysideup
17. Chasing Ghosts – house_of_goose
16. Halloween Gourd-geous Witches & Ghouls – littlehouseinlondon
15. Colorful Pumpkin On Front Door – melanielissackinteriors
14. Socially Distanced Pumpkins – melanielissackinteriors
13. Farnkestien Door – Hoosier Homemade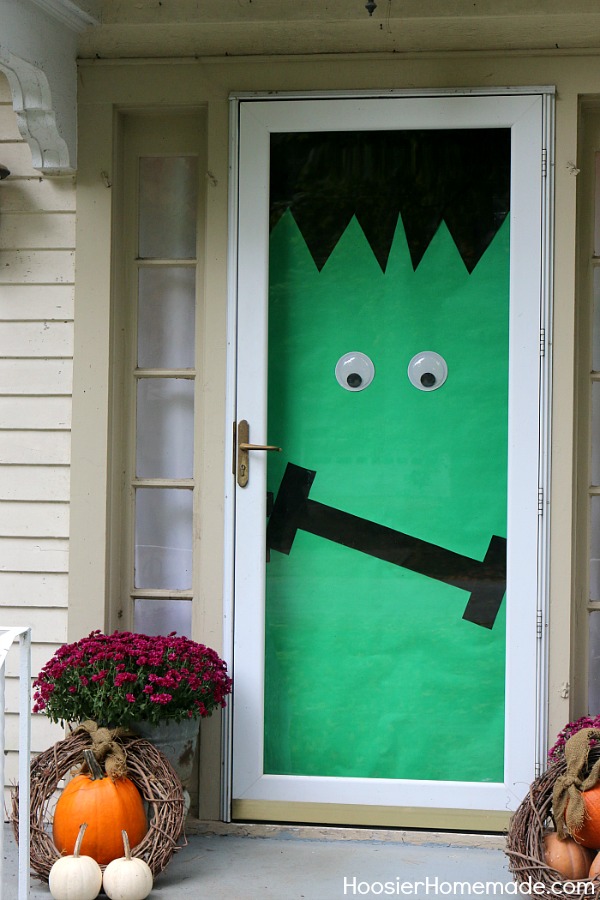 12. Halloween Monster Door – Modern Day Moms
11. Hungry Monster Door – Home Jelly
10. Witch Crash – Dave Love
9. DIY Witch's Hat Door Hanging – The Spohrs Are Multiplying
8. DIY Mummy Door – East Coast Creative Blog
7. DIY Zombie Door – Dave Love
6. DIY Spiderweb Doormat – Delia Creates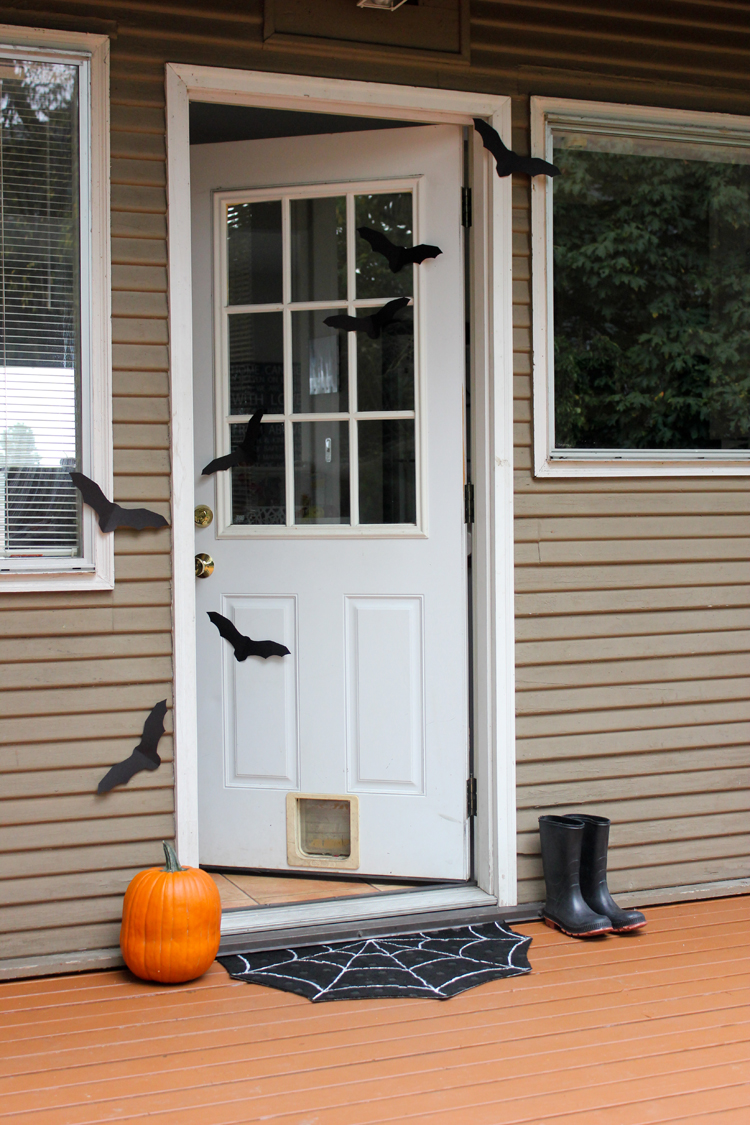 5. Mummy Door Decoration – Always The Holidays
4. Googly Eyes Door – Bitz N Giggles
3. Halloween Paper Bag Door Monster – Home Jelly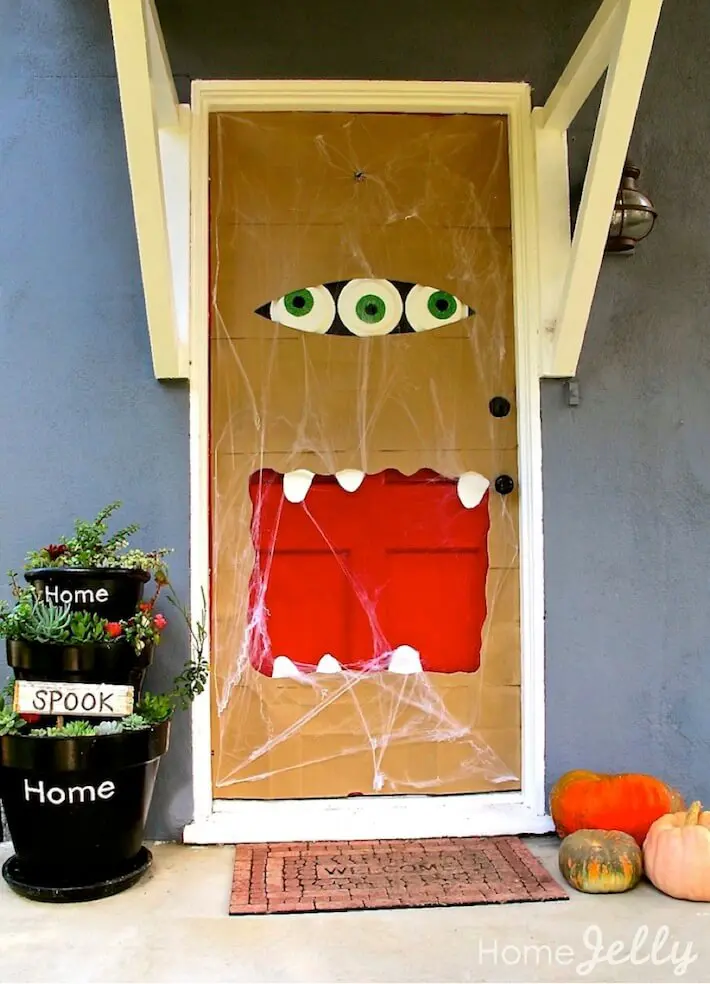 2. DIY Vinyl Halloween Door Decorations – Practically Functional
1. Halloween Googly Eye Door – Craftaholics Anonymous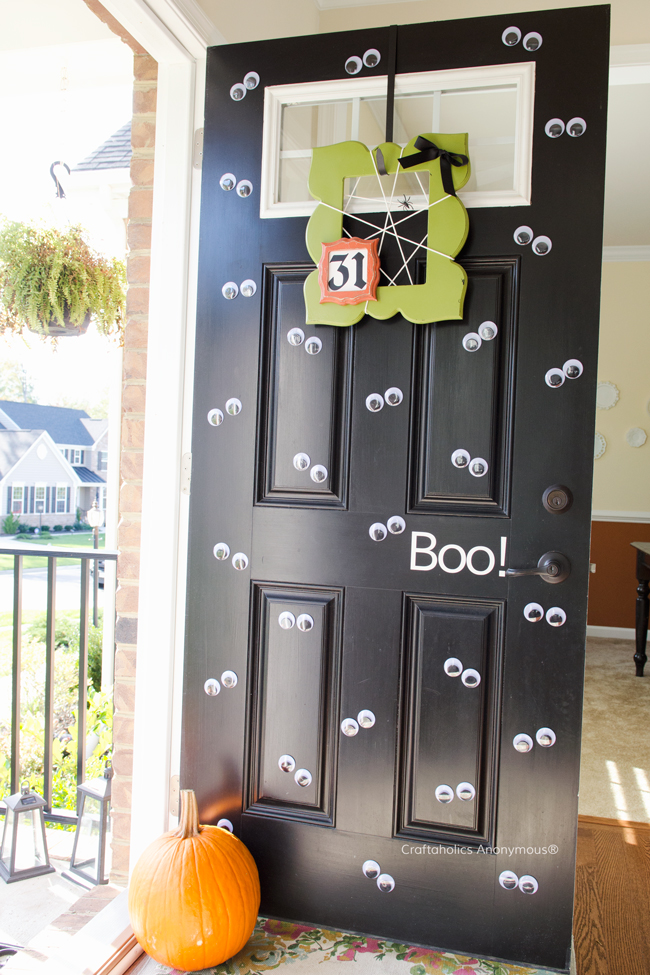 FAQs
Q. How can I make my Halloween door decor more interactive?
To make your Halloween door decor more interactive, consider adding elements that surprise or engage your guests. For example, set up a motion-activated sound system that triggers spooky noises as visitors approach your front door. You can also create a mystical potion station where guests can "mix" their own magical concoctions using labeled glass bottles with colored liquids.
Q. How can I ensure my Halloween door decor is safe for trick-or-treaters?
Safety is important when decorating for Halloween. Avoid using open flames or real candles in your decorations, as they can pose a fire hazard. Instead, opt for battery-operated candles or LED lights for a safer glow. Ensure that your decorations do not obstruct pathways or create tripping hazards for trick-or-treaters. Also, keep any electrical cords secured and out of the way to prevent accidents.
Q. Can I use the same Halloween door decor ideas for an indoor Halloween party?
Absolutely! Many of the Halloween door decor ideas mentioned in this article can be adapted for indoor use during a Halloween party. For instance, you can create a haunted house entrance or set up a mystical potion station as a fun activity for your guests. The spooky silhouettes and eerie eyes can also be used on windows or walls to add to the ambiance.
Q. How far in advance should I start decorating my front door for Halloween?
It's best to start decorating your front door for Halloween at least a week or two before the big day. This will give you enough time to plan, gather materials, and create your spooky decor. Starting early also allows you to make any adjustments or additions if needed, ensuring that your Halloween decorations are perfect for the night.
Q. Can I mix and match different Halloween door decor ideas?
Absolutely! Halloween is all about creativity and imagination, so feel free to mix and match different ideas to create a unique and personalized display. Combining elements like spooky silhouettes, ghostly draperies, and a haunted chandelier can result in a truly captivating and unforgettable Halloween door decor.
Now comes the important question… Which of these Halloween door decorations did you like the most? Please let me know in the comments.
Few more Halloween decor!!!
Want to save this for later? Post these Halloween Door Decorations to the "Halloween Decor" OR "Door Decor" Board!