This Creamy Loaded Baked Potato Soup with Bacon and Cheese is a velvety, rich potato soup loaded with crispy bacon, cheddar cheese, and a dollop of sour cream. It's the kind of meal that wraps you in a warm, cozy hug on a chilly evening.
Why I Love This Recipe
I love this recipe because it takes one of my all-time favorite comfort foods, the baked potato, and transforms it into a creamy, hearty soup.
The slow cooker does most of the work, allowing the flavors to meld together beautifully.
And let's not forget the crispy bacon and gooey cheese – they take this soup to a whole new level of deliciousness.
Why You'll Love This Recipe
▪️ Easy Peasy: You don't need to be a chef to make this. Throw the ingredients into your trusty crockpot, and it does the magic for you.
▪️ Family Favorite: Kids and adults alike will slurp up every spoonful. It's the ultimate crowd-pleaser.
▪️ Budget-Friendly: Simple, everyday ingredients make it easy on your wallet.
▪️ Customizable: Feel free to add your favorite toppings or tweak the recipe to suit your taste.
Helpful Kitchen Tools
Ingredients
▪️ 6 large russet potatoes (peeled and diced) for creaminess.
▪️ 1 chopped onion for sweetness and depth.
▪️ 3 minced garlic cloves for aromatic magic.
▪️ 8 cups chicken broth for savory goodness.
▪️ 1 cup heavy cream for luxurious creaminess.
▪️ 2 cups shredded cheddar cheese for richness.
▪️ 1/2 cup sour cream for tangy balance.
▪️ Salt and pepper for perfect seasoning.
▪️ 1/2 cup chopped chives for freshness.
▪️ 1 cup crispy bacon bits for a smoky crunch.
▪️ Butter and olive oil for a rich, aromatic base when sautéing.
Making Of Crockpot Loaded Baked Potato Soup
STEP 1: Now, let's start by adding a touch of magic to our soup. Heat up some butter and olive oil in a pan, and as they sizzle, toss in those chopped onions and minced garlic. Sauté them until they turn soft and oh-so-fragrant.
STEP 2: Transfer those beautifully softened onions and garlic to your trusty crockpot. Now, add in those diced potatoes. Pour in that chicken broth. And don't forget the salt and pepper for seasoning.
STEP 3: Cover it up and let the crockpot do its thing. Low and slow, or high and fast – it's your call. Our goal is to make those potatoes tender and full of flavor. You know it's working when the aroma fills the air, promising a delightful meal ahead.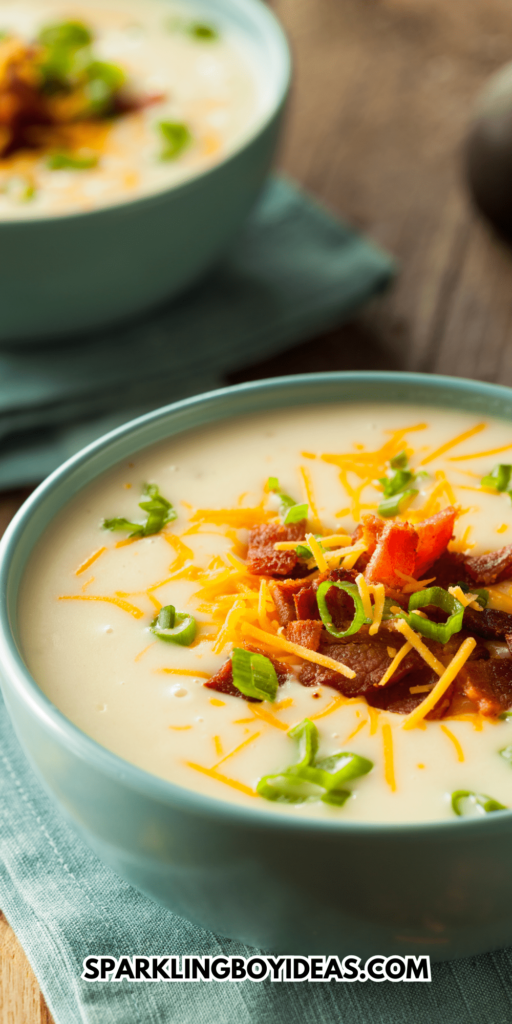 STEP 4: Now, it's time to make our soup creamy and dreamy. Use a potato masher or an immersion blender – whichever you prefer – and give the soup a little whirl. We want it creamy but with a hint of those lovely potato chunks for texture.
STEP 5: Stir in the heavy cream, shredded cheddar cheese, sour cream, and half of those crispy bacon bits. It's like a symphony of flavors coming together. Let it simmer for another 30 minutes on low, and watch as that cheese becomes silky smooth. The soup should be creamy enough to make your heart sing.
STEP 6: Ladle that creamy goodness into bowls, like filling up a warm, cozy hug. Top it with those freshly chopped chives, the remaining crispy bacon bits, and more cheese if your heart desires.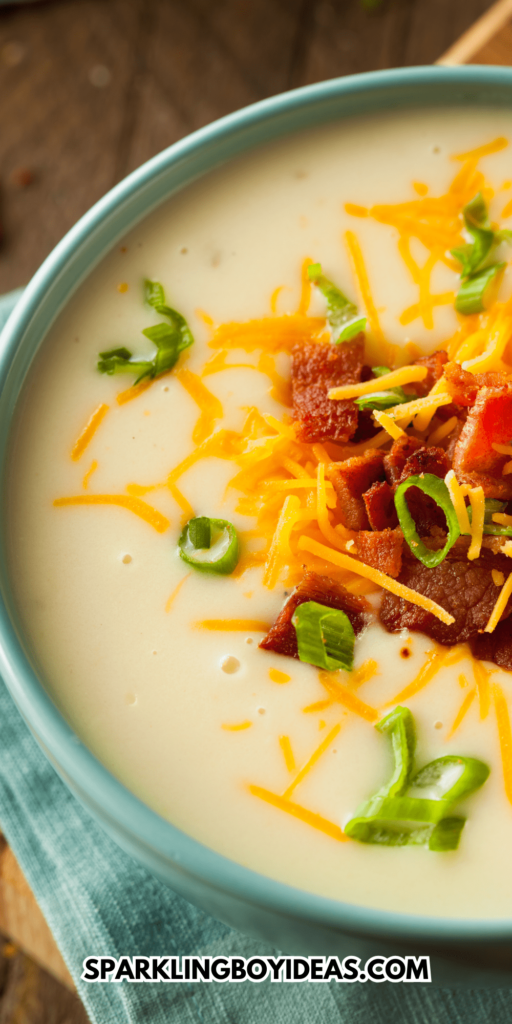 Tips and Techniques
▪️ Make sure to dice your potatoes into similar-sized pieces for even cooking; this helps ensure they're tender and creamy.
▪️ Letting the soup simmer in the crockpot on low heat for a longer time allows all those flavors to meld together beautifully.
▪️ When using an immersion blender, be gentle; you want some potato chunks for that rustic feel.
▪️ Freshly shredded cheese melts more smoothly and adds that extra creaminess to your soup.
▪️ Don't hesitate to experiment with toppings and cheeses to match your family's taste; it's your soup, after all!
Serving Size
This heartwarming Creamy Crockpot Loaded Baked Potato Soup generously serves 6-8, making it ideal for family gatherings or delightful leftovers.
Serving Suggestions
▪️ Pair with warm, crusty bread for perfect dipping companionship.
▪️ A side salad with a tangy vinaigrette adds a fresh contrast.
▪️ Don't forget a dollop of sour cream for an extra creamy finish.
▪️ Garnish with extra chives, bacon bits, or even a sprinkle of cheese for that extra wow factor.
▪️ For the ultimate cozy experience, serve in a bread bowl, and scoop up the soup as you go.
Variations
▪️ Add a pinch of cayenne pepper or red pepper flakes for a spicy twist.
▪️ Load it up with your favorite veggies like broccoli or corn for added freshness and nutrition.
▪️ Stir in some taco seasoning and top with crushed tortilla chips, avocado, and a squeeze of lime for a Mexican-inspired twist.
▪️ Set up a toppings bar with options like shredded cheese, sour cream, green onions, and crispy bacon bits, so everyone can customize their bowl.
▪️ Replace dairy with coconut milk and use vegan cheese for a creamy, dairy-free version.
Storage Tips
To keep your Creamy Crockpot Loaded Baked Potato Soup fresh, store it in airtight containers in the refrigerator for up to 3-4 days, or freeze it for 2-3 months. When thawing, do so gradually in the fridge overnight. Reheat gently on the stovetop or in the microwave, stirring occasionally, and always check for freshness before serving. These easy storage tips ensure your delicious soup remains delightful even after it's been cooked.
FAQs
Q. Can I use red potatoes instead of russet potatoes?
While russet potatoes work best for that classic baked potato flavor, you can use red potatoes if that's what you have on hand. Just be prepared for a slightly different texture and taste.
Q. Can I make this soup on the stovetop instead of a crockpot?
Absolutely! Follow the same steps, but simmer on the stovetop until the potatoes are tender (usually about 30-40 minutes). Stir occasionally to prevent sticking.
Q. Can I omit the bacon for a vegetarian version?
Of course! Skip the bacon, and you'll still have a deliciously creamy potato soup. You can add some smoked paprika for that smoky flavor.
Print Recipe
Creamy Crockpot Loaded Baked Potato Soup
This Creamy Crockpot Loaded Baked Potato Soup is like a hug in a bowl, perfect for those cozy family nights. Plus, it's super easy to make!
Ingredients
6

large russet potatoes

peeled and diced

1

onion

chopped

3

cloves

garlic

minced

8

cups

chicken broth

1

cup

heavy cream

2

cups

cheddar cheese

shredded

½

cup

sour cream

Salt and pepper to taste

½

cup

chopped chives

1

cup

crispy bacon bits

Butter and olive oil

for sautéing
Instructions
Sauté the chopped onion and minced garlic in a mix of butter and olive oil until soft and fragrant.

Transfer the sautéed onions and garlic to the slow cooker, and add diced potatoes and chicken broth. Season with salt and pepper.

Cook on low for 7-8 hours or high for 4-5 hours until the potatoes are tender.

Partially blend the soup using a potato masher or immersion blender, leaving some chunks for texture.

Stir in heavy cream, shredded cheddar cheese, sour cream, and half of the crispy bacon bits. Cook for an additional 30 minutes on low until creamy.

Serve in bowls, topping with chopped chives, remaining bacon bits, and extra cheese if desired.
Notes
Avoid over-mashing potatoes for a textured soup.
Use freshly shredded cheese for creaminess.
Customize with your favorite cheese or toppings.
Experiment with variations like adding diced ham or chicken for protein or hot sauce for a spicy kick.