This Crockpot Tortellini Soup is a hug in a bowl filled with the goodness of tortellini, fresh tomatoes, aromatic basil, and vibrant spinach, perfect for those chilly evenings or when you need a little extra coziness. Plus, it's all made effortlessly in a crockpot, infusing your kitchen with delightful aromas as it simmers away.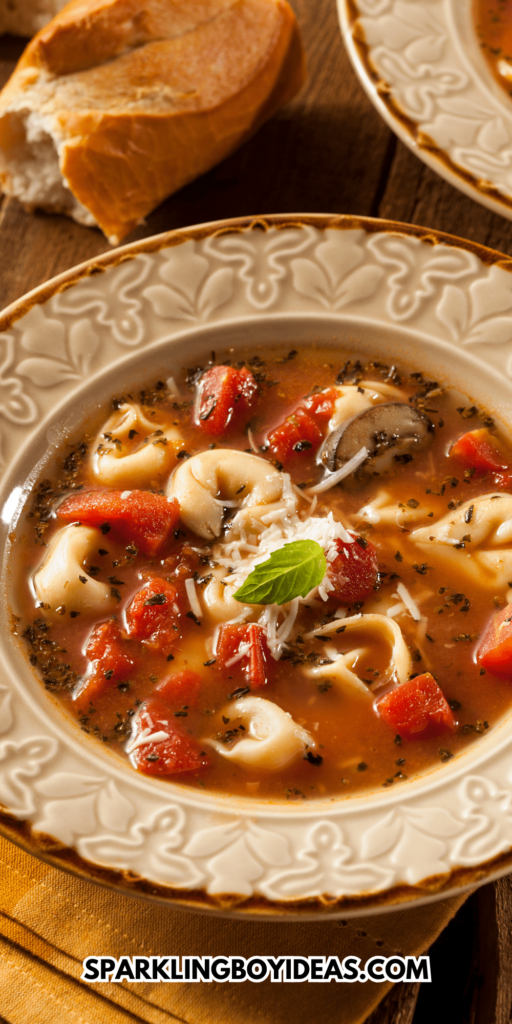 Why I Love This Recipe
Thinking about this recipe warms my heart, as it's like a time machine to my childhood.
Back then, my whole family would huddle around our dining table, and these kinds of cozy meals were our way of sharing love.
It's like I'm reliving those cherished moments, and that's why this recipe means the world to me.
The nostalgia and happiness it brings are truly priceless.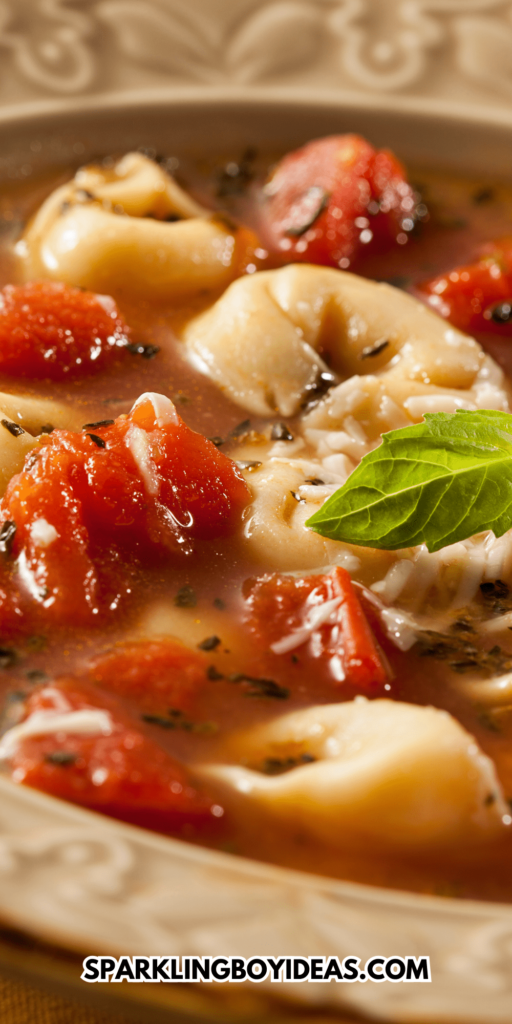 Why You'll Love This Recipe
▪️ Taste Explosion: Imagine tiny, tasty pockets of tortellini swimming in a cozy hug of tomato-basil goodness.
▪️ Lazy Chef Approved: Toss stuff in a crockpot, let it do its thing, and voilà – you've got a gourmet-level soup without breaking a sweat.
▪️ Nostalgia Alert: Remember those heartwarming family meals that felt like a warm hug? This soup brings back those feelings, like a cozy culinary time machine.
▪️ Make It Yours: Fancy cheese-filled tortellini? Go for it. Do you want to spice things up? Add a sprinkle of red pepper magic. This recipe's your canvas – paint it tasty!
▪️ Easy-Peasy Cleanup: One pot to rule them all. The crockpot's got your back, and you won't be stuck with a mountain of dishes when you're done.
Helpful Kitchen Tools
Ingredients
▪️ 1 cup of tortellini: These are those lovely little pasta pockets, like tiny dumplings, filled with all sorts of yummy things. They're like mini surprises in your soup!
▪️ 4 cups of vegetable or chicken broth: Think of this as the liquid magic that forms the base of your soup. It's what gives your soup its comforting and flavorful foundation.
▪️ 3 large tomatoes, diced: These juicy red guys are like the stars of your soup show. They add sweetness and a nice chunky texture.
▪️ 1/2 cup of fresh basil leaves, torn: Basil is like a fragrant herb superhero. It adds this amazing aroma and a touch of herby deliciousness.
▪️ 1 onion, chopped: This guy adds a bit of savory goodness to your soup. It's like the behind-the-scenes flavor enhancer.
▪️ 3 cloves of garlic, minced: Garlic is like the best friend of onions. It's got this awesome punchy taste that makes everything better.
▪️ 1 teaspoon of dried oregano: Oregano is like a tiny flavor party. It's like a sprinkle of warmth and herby charm.
▪️ 1 teaspoon of dried thyme: Thyme is like that cozy, earthy friend. It brings a hint of warmth and makes your soup feel like a hug.
▪️ Salt and pepper to taste: These are like the mood-makers. A little sprinkle of salt and pepper wakes up all the other flavors.
▪️ Grated parmesan cheese for garnish: This is like the fancy crown on your soup. It's a sprinkle of nutty, cheesy joy.
Making Of Crockpot Tortellini Soup
STEP 1: Grab a pan and let's start by giving our onion and garlic a little sauté. You'll want them to become soft and oh-so-fragrant.
STEP 2: Now, let's take that sautéed goodness and transfer it into the crockpot. Add in our diced tomatoes, torn basil leaves, dried oregano, dried thyme, and a sprinkle of salt and pepper. Give it all a gentle stir.
STEP 3: Pour in your choice of vegetable or chicken broth, and here comes the star of the show – the tortellini! Pop them in and set the crockpot to low heat. This is where the magic unfolds over the next 4-5 hours.
STEP 4: About 30 minutes before you're ready to enjoy your soup, it's time to add the final touch – the grated parmesan cheese. Gently stir it in, like a sprinkle of cheesy joy.
STEP 5: Now, grab your favorite bowls. Ladle the warm, flavorful soup into them. You're almost there! And don't forget that crusty bread on the side.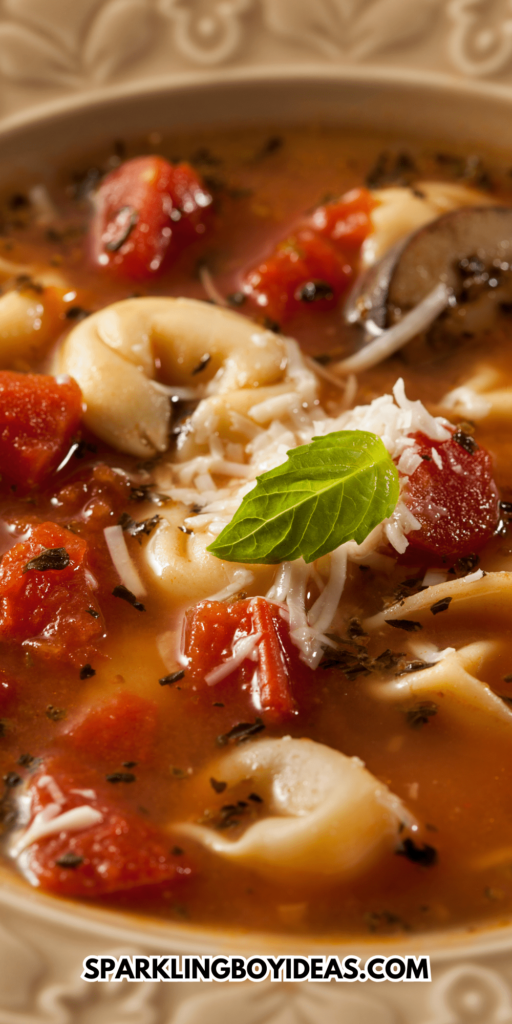 Tips and Techniques
▪️ Opt for tortellini with your favorite filling, be it cheese, spinach, or meat. It's a great opportunity to play with flavors!
▪️ If you're short on time, you can sauté the onions and garlic the night before and store them in the fridge until you're ready to assemble the soup.
▪️ Adjust the seasoning according to your taste. You can also add a pinch of red pepper flakes if you like a hint of spice.
Serving Size
This recipe makes enough for about 4 good-sized bowls of soup. So, if you're sharing with friends or family, you've got plenty to go around. It's like having a warm hug from the pot, enough to keep everyone cozy and satisfied!
Serving Suggestions
▪️ Fill your bowl with this cozy soup and top it with a sprinkle of yummy grated cheese.
▪️ Grab some crusty bread to dip into the soup and soak up all that goodness.
▪️ Make it a full meal by adding a fresh green salad on the side.
Variations
▪️ If you're craving some hearty goodness, toss in cooked and crumbled Italian sausage or shredded chicken for a protein-packed twist.
▪️ Mix things up with extra veggies like sliced zucchini or colorful bell peppers for a rainbow of flavors and a touch of crunch.
▪️ Transform your soup into a creamy delight by stirring in a handful of grated mozzarella or creamy goat cheese before serving.
▪️ Combine tortellini with different fillings—cheese, spinach, and meat—to create a flavor fiesta that surprises your taste buds.
Storage Tips
Got extra soup? Pop it into a sealed container and store it in the fridge for about 3 days. Warm it up easily on the stove or in the microwave when you're ready to enjoy it again.
FAQs
Q. Can I make this soup on the stovetop?
Yes, you can! Simply follow the same steps using a large pot on the stovetop. Simmer on low heat, stirring occasionally.
Q. Can I freeze this soup?
While it's best enjoyed fresh, you can freeze the soup without the tortellini for up to 2 months. Add freshly cooked tortellini when you're ready to enjoy it.
Q. Can I use a different type of pasta if I don't have tortellini?
Of course! Feel free to swap in your favorite pasta shape. Keep in mind that cooking times might vary, so adjust accordingly.
Print Recipe
Crockpot Tortellini Soup
Warm your soul with Crockpot Tortellini Soup comforting tortellini, fresh tomatoes, fragrant basil, and lively spinach. Effortless crockpot cooking fills your kitchen with inviting aromas.
Ingredients
1

cup

homemade or store-bought tortellini

any filling

4

cups

vegetable broth

3

large tomatoes

diced

½

cup

fresh basil leaves

torn

1

onion

chopped

3

cloves

garlic

minced

1

teaspoon

dried oregano

1

teaspoon

dried thyme

Salt and pepper to taste

Grated parmesan cheese for garnish
Instructions
Sauté chopped onion and minced garlic until aromatic. Transfer to crockpot.

Add diced tomatoes, torn basil leaves, oregano, thyme, salt, and pepper. Stir gently.

Pour in broth and add tortellini. Set crockpot to low heat for 4-5 hours.

Enjoy the rich flavors of the soup with the wholesome combination of homemade or store-bought tortellini, tomatoes, basil, and aromatic herbs.
Notes
Choose your favorite tortellini filling.
Pre-sauté onions and garlic to save time.
Adjust seasoning and add a pinch of red pepper flakes for spice.