Indulge in the warmth of nostalgia with this Creamy Tomato Basil Soup. Ripe tomatoes and fragrant basil blend into a comforting symphony of flavors.
Why I Love This Recipe
This Creamy Tomato Basil Soup isn't just a dish; it's a flashback to my childhood.
The rich aroma of tomatoes simmering, the earthy notes of fresh basil – they transport me to the cozy family dinners of yesteryears.
It's a recipe that reminds me of the laughter shared and stories told around the table. I can't help but smile every time I take a spoonful.
Why You'll Love This Recipe
▪️ Cozy Creaminess: Think of this Creamy Tomato Basil Soup as a warm, comforting hug in a bowl on a cold day.
▪️ Tangy Sweetness: Fresh tomatoes team up with fragrant basil for a flavor combo that's like a tasty duet.
▪️ Simple and Tasty: You can whip up this fancy-sounding soup with everyday ingredients and easy steps that'll make your taste buds dance.
▪️ Heartfelt Homemade: It's not just soup; it's a taste of family dinners and special moments, a warm embrace from the kitchen.
▪️ Soulful Satisfaction: Whether you need comfort or a little treat, this soup is your go-to for a happy, heartwarming experience.
Helpful Kitchen Tools
Ingredients
▪️ 6 large ripe tomatoes: These juicy gems bring the tomato flavor to our soup.
▪️ 1 chopped onion: This onion adds a savory touch to balance the tomato's natural sweetness.
▪️ 3 minced garlic cloves: These little flavor bombs give our soup a special aroma and taste.
▪️ 1 cup fresh basil leaves: Fragrant and herby, these basil leaves kick up our soup's freshness.
▪️ 2 cups vegetable broth: It's the liquid foundation holding our soup together.
▪️ 1 cup heavy cream: This makes our soup creamy and luxurious.
▪️ 2 tablespoons olive oil: Trusty olive oil sautés and deepens flavors, creating a rich base.
▪️ Salt and pepper to taste: A pinch of these makes all the flavors sing harmoniously.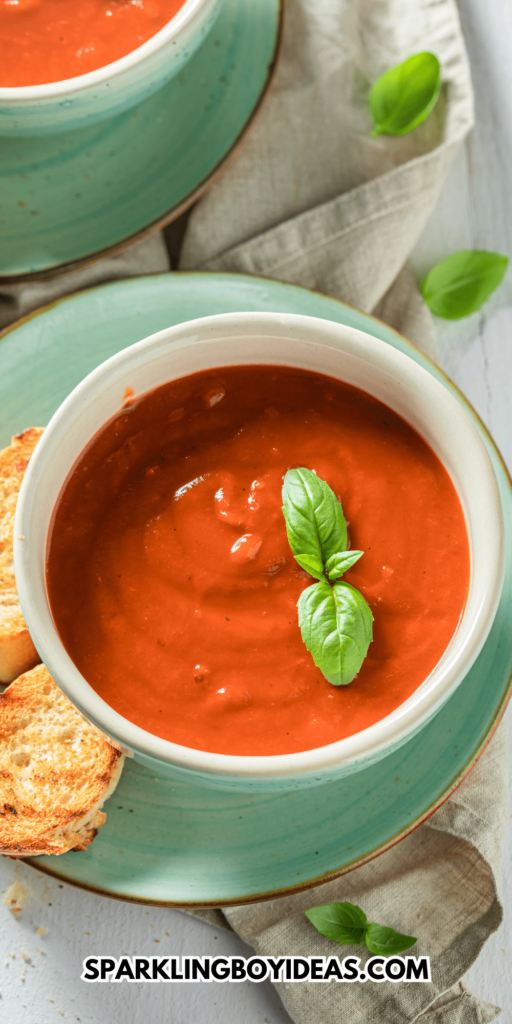 Making Of Creamy Tomato Basil Soup
STEP 1: Start by preheating your oven to 400°F (200°C). Take those beautiful, ripe tomatoes and give them a good wash. Then, cut them in half and place them on a baking sheet, cut side up. Drizzle a bit of olive oil over them, and don't be shy with a sprinkle of salt and pepper. Roast them for about 30 minutes until they become sweet and concentrated in flavor.
STEP 2: While the tomatoes are getting cozy in the oven, let's work on the soup base. Heat a tablespoon of olive oil in a pot over medium heat. Add in chopped onions and cook them until they're soft and just starting to turn golden. Then, toss in 3 cloves of minced garlic – that amazing aroma? It's like pure kitchen poetry.
STEP 3: Now, it's time to introduce the basil! Chop up a cup of fresh basil leaves and add them to the pot. Let them cook for about a minute. They'll wilt a bit, releasing their aromatic charm into the mix.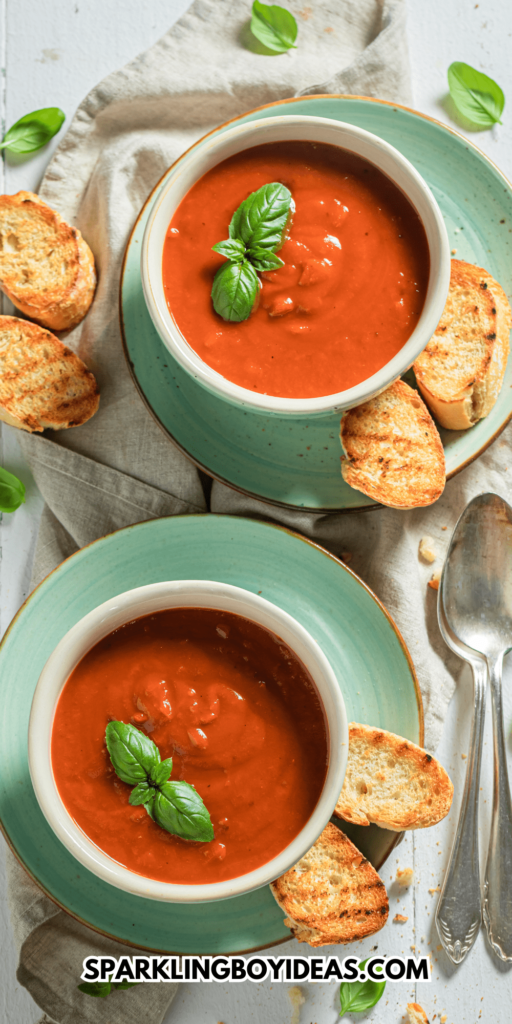 STEP 4: By this point, those roasted tomatoes are probably looking and smelling amazing. Take them out of the oven and let them cool for a moment. Then, toss them into the pot with the onions and basil. Stir everything together and let them mingle for about 10 minutes.
STEP 5: Pour in 2 cups of vegetable broth, and let the whole gang simmer together for another 10 minutes.
STEP 6: Time to blend this mixture into creamy perfection. You can use an immersion blender right in the pot, or if you prefer, carefully transfer the soup into a countertop blender. Blend until it's all silky smooth, like a cozy soup blanket.
STEP 7: Pour in a cup of heavy cream – oh, the indulgence! Stir it gently as it weaves its creamy magic into the soup. Season with salt and pepper to your taste.
STEP 8: Let the soup have one last gentle simmer, just to let all those flavors make their final pact.
STEP 9: Grab your favorite soup bowls and ladle in the velvety goodness that you've created with your own hands.
STEP 10: Before you dive in, feel free to garnish with a few extra basil leaves or a swirl of cream. A sprinkle of grated Parmesan adds that perfect finishing touch. Enjoy your homemade creamy tomato basil soup!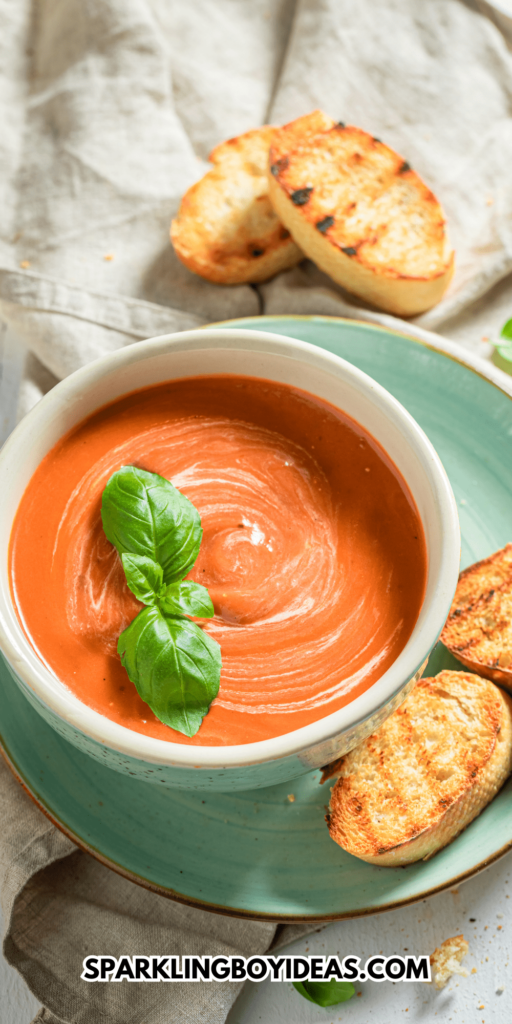 Tips and Techniques
▪️ Roasting your tomatoes before making the soup makes them taste richer and more flavorful.
▪️ When cooking onions and garlic, let them hang out in the pot until they become soft and smell amazing.
▪️ When blending, start slow, then speed up gradually for a smooth, splatter-free, creamy texture.
▪️ If the soup's too thick, use vegetable broth or milk to thin it to your preferred consistency.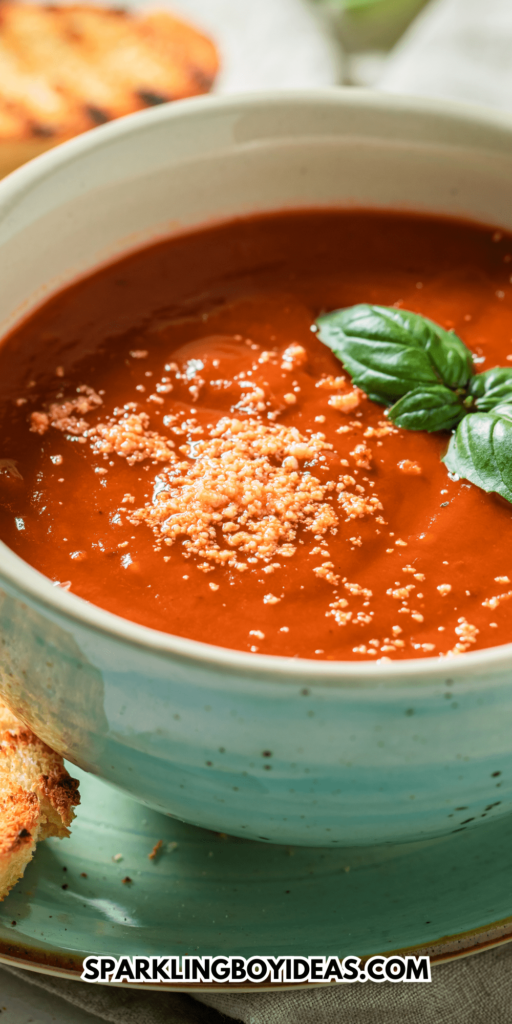 Serving Size
This Roasted Creamy Tomato Basil Soup is enough to fill around 4 bowls, perfect for enjoying with your loved ones or savoring over a few days.
Serving Suggestions
▪️ Dunk some garlic bread into your soup for a satisfying crunch.
▪️ Boost your soup with Parmesan cheese for a nutty kick.
▪️ Add fresh basil leaves for an herby aroma.
▪️ Pair your soup with a classic grilled cheese sandwich.
▪️ Make homemade croutons by toasting bread cubes with olive oil and salt for a delightful crunch.
Variations
▪️ Enhance flavor with grated Parmesan or Pecorino cheese just before serving.
▪️ Try oregano, thyme, or rosemary for exciting herb variations.
▪️ Roast garlic with tomatoes for extra depth or carrots for natural sweetness.
▪️ Add a smoky touch with a bit of smoked paprika.
▪️ Go tropical by swapping heavy cream with coconut cream in your recipe.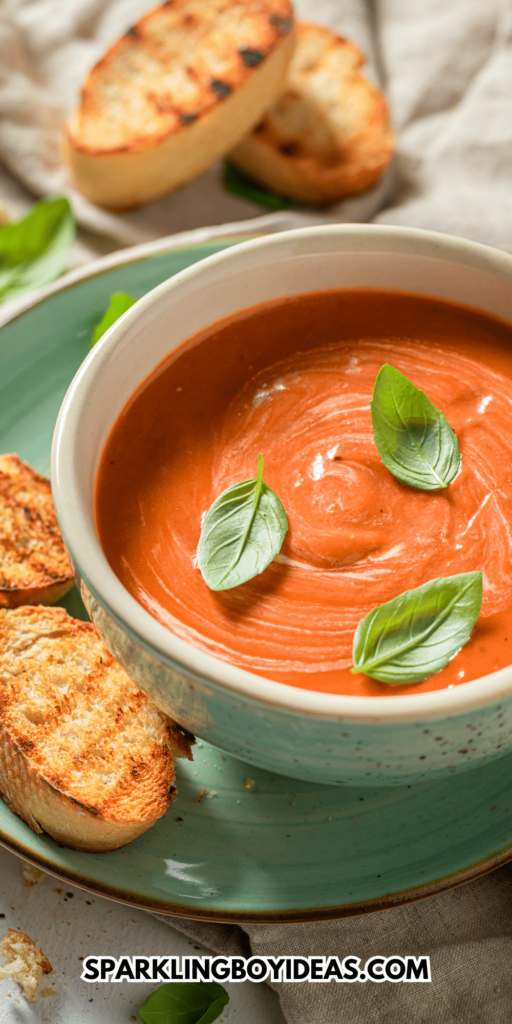 Storage Tips
After letting your soup cool, store it in a sealed container in the fridge for up to 3 days. To keep it longer, freeze in small portions. Thaw frozen soup in the fridge before gently reheating it on the stove. Treat your soup with care, and it'll be ready to warm your heart whenever you're craving its deliciousness.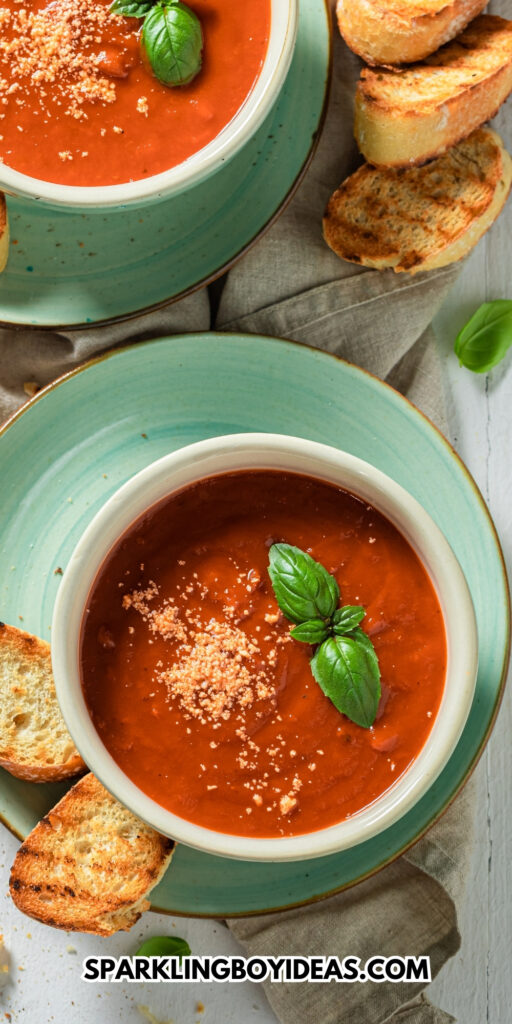 FAQs
Q. Can I use canned tomatoes?
Absolutely! Opt for whole canned tomatoes and make sure they're of good quality for the best results.
Q. Can I freeze the soup?
Indeed! Let the soup cool completely, then freeze in portion-sized containers. Thaw in the refrigerator before reheating.
Q. Can I use dried basil?
While fresh basil is recommended for that vibrant flavor, you can use dried basil in a pinch. Start with a smaller quantity as dried basil is more potent.
Q. Can I make it vegan?
Certainly! Swap heavy cream for coconut cream and use vegetable broth. You'll still get that creamy goodness.
Q. Can I add other vegetables?
Of course! Carrots, red peppers, or even a touch of spinach can bring extra layers of flavor and nutrition.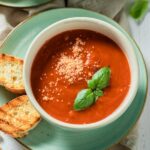 Print Recipe
Creamy Tomato Basil Soup
Indulge in the warmth of nostalgia with this Creamy Tomato Basil Soup. Ripe tomatoes and fragrant basil blend into a comforting symphony of flavors.
Ingredients
6

large

ripe tomatoes

1

onion

chopped

3

cloves

of garlic

minced

1

cup

fresh basil leaves

2

cups

vegetable broth

1

cup

heavy cream

2

tablespoons

olive oil

Salt and pepper

to taste
Instructions
Preheat your oven to 400°F (200°C).

Wash and halve the ripe tomatoes, placing them on a baking sheet, cut side up.

Drizzle the tomato halves with olive oil, and season with a pinch of salt and pepper.

Roast the tomatoes for 25-30 minutes until soft and slightly caramelized.

Sauté chopped onions and minced garlic in a soup pot until translucent and fragrant.

Add the roasted tomatoes to the pot.

Tear fresh basil leaves and add them to the pot, cooking briefly.

Blend the mixture until smooth using an immersion or countertop blender.

Return the mixture to the pot over low-medium heat.

Pour in heavy cream and stir to combine.

Season with salt and pepper, then simmer for 10-15 minutes.

Ladle the soup into bowls and garnish with fresh basil leaves if desired.