This Italian Vegetable Soup with Smoked Sausages is a hearty, comforting bowl of goodness that's perfect for those chilly evenings when you want something warm and satisfying. This soup is loaded with wholesome ingredients like tomatoes, carrots, potatoes, and beans, but guess what? No pasta in this one! So, it's not just delicious but also budget-friendly.
Why I Love This Recipe
I love this recipe because it is simple yet heartwarming.
It takes me back to cherished moments around the family dinner table, with the rich aroma of this Italian Vegetable Soup filling the air.
The sausages lend a smoky charm that warms the soul, while the wholesome veggies bring a comforting touch.
It's a breeze to whip up, and I adore its versatility – you can customize it with your favorite ingredients.
This recipe isn't just about food; it's about creating memories that linger, one delicious spoonful at a time.
Why You'll Love This Recipe
▪️ Family-Friendly: It's a crowd-pleaser, especially with kids. The smoky sausages add that extra depth of flavor that everyone loves.
▪️ One-Pot Wonder: Minimal dishes to wash! You cook everything in a single pot, making cleanup a breeze.
▪️ Budget-Friendly: You don't need fancy ingredients. It's all about everyday veggies and affordable smoked sausages.
Helpful Kitchen Tools
Ingredients
▪️ 4 smoked sausages (like kielbasa), sliced – These sausages add a smoky richness to the soup, making it flavorful and satisfying.
▪️ 1 onion, chopped – The onions provide a savory base that enhances the overall taste of the soup.
▪️ 3 cloves garlic, minced – Garlic infuses the soup with a delightful aroma and a burst of flavor.
▪️ 2 carrots, diced – Diced carrots bring sweetness and a pop of color to the dish.
▪️ 2 potatoes, peeled and diced – These potatoes add heartiness to the soup, making it more filling.
▪️ 1 can (14 oz) diced tomatoes – Canned diced tomatoes contribute that classic Italian flavor, making the soup deliciously authentic.
▪️ 4 cups chicken or vegetable broth – The broth is the soul of the soup, providing a comforting and flavorful liquid base.
▪️ 1 can (15 oz) cannellini beans, drained and rinsed – Cannellini beans introduce creaminess and protein, making the soup hearty and nutritious.
▪️ 1 teaspoon dried Italian seasoning – The Italian seasoning blend imparts an authentic Italian taste to the dish.
▪️ Salt and pepper to taste – Salt and pepper allow you to season the soup to your personal preference.
Making Of Italian Vegetable Soup
STEP 1: Start by heating up a big pot on your stove. Once it's warm, throw in those sliced sausages. Let them cook until they get a little brown and start smelling amazing. Trust me; this sets the stage for a flavorful soup!
STEP 2: In the same pot, add some chopped onions and minced garlic. You'll know it's time when your kitchen fills up with this incredible smell. Keep stirring until the onions turn soft and the garlic gets fragrant.
STEP 3: Now, toss in the diced carrots and potatoes. Let them hang out in the pot for a few minutes. We want them to get friendly with the flavors.
STEP 4: Add those diced tomatoes, chicken or vegetable broth, cannellini beans, and our Italian seasoning. Mix everything together, and let it gently bubble away on low heat. Cover it up; we want those veggies to get tender and cozy.
STEP 5: Remember those sausages we set aside? Well, they're back! Pop them back into the pot and let them join the veggie party. Give it another 5 minutes to make sure everyone is warm and friendly in there.
STEP 6: Taste your soup and add some salt and pepper to make it sing to your taste buds. Adjust it till it's just right.
STEP 7: Ladle this warm, cozy soup into bowls and serve it up while it's nice and hot. Your family will love you for this.
Tips and Techniques
▪️ Don't overcook the sausages initially; just let them brown slightly. They'll continue to cook in the soup.
▪️ You can use any type of smoked sausage you prefer for a different flavor twist.
▪️ If you like it spicy, add a pinch of red pepper flakes for some heat.
▪️ Customize your veggies! This soup is great for using up whatever you have in the fridge.
Serving Size
This recipe generously serves about 6 hungry folks or provides enough for leftovers to enjoy throughout the week. So, gather your family around the table and ladle out these comforting bowls of Italian Vegetable Soup with Smoked Sausages. Everyone's in for a treat!
Serving Suggestions
▪️ Pair this hearty soup with a crusty baguette or garlic bread for the ultimate dunking experience.
▪️ Sprinkle a bit of grated Parmesan cheese on top to enhance the flavors and add a cheesy twist.
▪️ A side salad with a simple balsamic vinaigrette complements the soup beautifully and adds a refreshing touch to your meal.
Variations
▪️ Add a pinch of red pepper flakes or diced jalapeños for a fiery twist.
▪️ Swap the sausages for shrimp, mussels, and clams for a seafood extravaganza.
▪️ Skip the sausages and use vegetable broth for a wholesome vegan version.
▪️ Experiment with fresh herbs like basil, parsley, or cilantro for a burst of freshness.
▪️ Stir in a splash of heavy cream or coconut milk for a creamy, luxurious texture.
Storage Tips
To keep your Italian Vegetable Soup with Smoked Sausages fresh, refrigerate leftovers in an airtight container for 3-4 days. For longer storage, freeze in portions for up to 3 months. Thaw in the fridge before reheating. Enjoy whenever you like!
FAQs
Q. Can I freeze this soup?
Absolutely! Allow it to cool completely, then transfer it to airtight containers or freezer bags. It will stay good in the freezer for up to 3 months.
Q. What other seasonings can I use if I don't have Italian seasoning?
You can substitute with a blend of dried basil, oregano, thyme, and a pinch of rosemary for that classic Italian flavor.
Q. Can I make this in a slow cooker?
Yes, you can. Just brown the sausages and sauté the onions and garlic in a pan before transferring everything to the slow cooker. Cook on low for 6-8 hours or on high for 3-4 hours.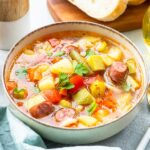 Print Recipe
Italian Vegetable Soup With Smoked Sausages
The Italian Vegetable Soup with Smoked Sausages is a hearty, satisfying dish, ideal for chilly evenings. Packed with wholesome ingredients like tomatoes, carrots, potatoes, and beans with the bonus of no pasta.
Ingredients
4

smoked sausages like kielbasa

sliced

1

onion

chopped

3

cloves

garlic

minced

2

carrots

diced

2

potatoes

peeled and diced

1

can (14 oz)

tomatoes

diced

4

cups

chicken or vegetable broth

1

can (15 oz)

cannellini beans,

drained and rinsed

1

teaspoon

dried Italian seasoning

Salt and pepper to taste
Instructions
Brown sausages in a pot, then set aside.

Sauté onions and garlic until fragrant.

Add carrots and potatoes; cook to soften.

Mix in tomatoes, broth, beans, and seasoning.

Simmer covered for 20-25 minutes.

Return sausages; simmer for 5 more minutes.

Season with salt and pepper.
Notes
Don't overcook sausages initially.
Try different sausage types for variety.
Add red pepper flakes for spiciness.
Customize veggies to your liking.
Leftovers can be refrigerated for 3-4 days or frozen for 3 months.