Warm up with Chicken and Wild Rice Soup – a comforting blend of tender chicken, nutty wild rice, and cozy flavors, perfect for chilly nights.
Why I Love This Recipe
Get ready for a journey down memory lane as your kitchen fills with the enchanting aroma of Chicken and Wild Rice Soup.
This recipe isn't just food; it's a warm embrace from the past, reminiscent of cozy kitchens and love-filled bowls of soup.
It captures the essence of wild rice, succulent chicken, and aromatic veggies in a single bowl.
This soup is a heartfelt reminder of those cherished moments. Let's create heartwarming memories together!
Why You'll Love This Recipe
▪️ Creamy Dreaminess: Indulge in the luxurious creaminess of this soup, a true comfort in every spoonful.
▪️ Textures That Dance: Experience a delightful medley of tender chicken, chewy wild rice, and veggies, creating a party of textures in your mouth.
▪️ Flavor Fusion: Delight in the nutty wild rice harmonizing with savory chicken and veggies, a truly exciting and satisfying flavor fusion.
▪️ Homemade Magic: Craft homemade magic with simple, wholesome ingredients in this recipe.
▪️ Leftovers Are a Gift: Enjoy the gift of tasty leftovers – perfect for those busy days when you need a quick and delicious meal.
Helpful Kitchen Tools
Ingredients
▪️ Tender Boneless, Skinless Chicken Breasts (1 lb / 450g) for that satisfying protein boost.
▪️ Nutty Wild Rice Blend (1 cup) adds a unique chewy texture.
▪️ Flavorful Onion (1, finely chopped) forms the soup's foundation.
▪️ Sweet Carrots (3, peeled and diced) bring color and natural sweetness.
▪️ Crunchy Celery Stalks (3, diced) provide bursts of freshness.
▪️ Aromatic Garlic Cloves (3, minced) make your kitchen smell amazing.
▪️ Warm Chicken Broth (6 cups) is the flavorful base, a hug for your taste buds.
▪️ A touch of Water (2 cups) balances soup consistency.
▪️ Luscious Heavy Cream (1 cup) adds velvety richness.
▪️ Golden Olive Oil (2 tablespoons) enhances all flavors.
▪️ Aromatic Dried Thyme (1 teaspoon) blankets the soup in herbal essence.
▪️ Season with Salt and Pepper to taste for flavor perfection.
Making Of Chicken And Wild Rice Soup
STEP 1: Place your trusty pot on the stove and add a drizzle of olive oil, and in go those finely chopped onions, diced carrots, and celery. Keep stirring until the onions become soft and the veggies cozy up together. And here's the secret agent – sprinkle in the minced garlic to make your home smell irresistible!
STEP 2: Now, it's time to let the stars of our show shine. Those diced chicken pieces eagerly join the veggie party. Watch them transform from timid pink to confident white as they cook. Next, introduce the wild rice blend to this friendly gathering. Give everything a gentle swirl, and let the rice and chicken become best buddies.
STEP 3: Pour in the chicken broth and water, and you might hear a little bubbling – that's just the excitement brewing in the pot. Cover it up, lower the heat, and let it simmer for about 45-50 minutes. During this time, the wild rice absorbs all the flavors and becomes as tender as a warm hug.
STEP 4: Time to give our soup that silky surprise! Pour in the heavy cream, and sprinkle in the dried thyme. Gently stir everything together – it's like a graceful dance to ensure all the flavors mingle beautifully.
STEP 5: Grab those salt and pepper shakers and add a pinch of salt and a dash of pepper. Taste your soup and when it's just right, bring out your favorite bowls. Ladle that dreamy soup into them, and if you have fresh parsley, sprinkle a little on top – it's like giving your soup a fancy party hat. Enjoy!
Crockpot Version
For those busy days when you want a warm, hearty meal waiting for you, here's the crockpot version of this recipe:
Step 1: Sauté your onion, carrot, celery, and garlic in a skillet until they're like old pals catching up – softened and ready for the pot.
Step 2: Into the crockpot goes the sautéed party, along with diced chicken, wild rice, chicken broth, and water. Let them chat away on low for 6-8 hours or high for 3-4 hours.
Step 3: An hour before the finish line, bring in the heavy cream and dried thyme. They're fashionably late, but they sure know how to make an entrance.
Step 4: Play that seasoning tune – salt, pepper, and a pinch of you. Ladle it into bowls, and there you have it – a crockpot masterpiece ready to be savored.
Tips and Techniques
▪️ Choose a wild rice blend with various textures to elevate your soup.
▪️ Save time by using pre-cooked rotisserie chicken as a delicious shortcut.
▪️ Opt for half-and-half instead of heavy cream if you're looking to reduce the creaminess.
▪️ Experiment with herbs like rosemary or sage for delightful herbal flavors in your soup.
Serving Size
This fantastic Chicken and Wild Rice Soup recipe makes enough to fill about 6 bowls. That's perfect for sharing with your family or enjoying over a couple of days. So, get ready to savor each spoonful of this heartwarming goodness!
Serving Suggestions
▪️ Pair your soup with crusty bread slices for a delightful combination.
▪️ Add freshness to your meal with a herb-kissed salad featuring greens and cucumbers.
▪️ Elevate your soup with Parmesan or cheddar cheese toppings.
▪️ Give your soup a zesty kick by squeezing lemon over it.
▪️ Add some heat with hot sauce or red pepper flakes for a bold twist.
Variations
▪️ Add sautéed mushrooms to your dish for a delightful earthy flavor.
▪️ Make it a veggie lover's dream by using veggie broth and adding extra colorful vegetables for a hearty and wholesome meal.
Storage Tips
For fridge freshness, store your cooled soup in airtight containers; it'll be great for 3-4 days. To extend its life, freeze it in freezer-safe bags or containers, leaving room for expansion. When you're ready for more, thaw it in the fridge, then gently heat it on the stovetop or microwave – simple as that!
FAQ's
Q. Can I use brown rice instead of wild rice?
While brown rice takes longer to cook, you can certainly use it as a substitute. Adjust the cooking time accordingly.
Q. Can I use leftover cooked chicken?
Yes, adding cooked chicken towards the end of the cooking time helps preserve its tenderness.
Q. Can I make this soup vegetarian?
Of course! Substitute chicken broth with vegetable broth and omit the chicken. Add extra veggies for a hearty vegetarian version.
Q. How long will the leftovers keep?
Properly stored in the refrigerator, the soup will stay fresh for 3-4 days. Reheat gently on the stovetop.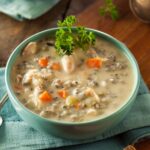 Print Recipe
Chicken And Wild Rice Soup
Chicken and Wild Rice Soup is a warm and filling dish that's bursting with delicious flavors and different feels in your mouth. Perfect fpr chilly winter nights or when you want a comfy evening.
Ingredients
1

lb (450g )

chicken breasts

diced boneless skinless

1

cup

wild rice blend

1

onion

finely chopped

3

carrots

peeled and diced

3

celery stalks

diced

3

cloves

garlic

minced

6

cups

chicken broth

2

cups

water

1

cup

heavy cream

2

tablespoons

olive oil

1

teaspoon

dried thyme

Salt and pepper to taste
Instructions
Heat olive oil in a pot.

Sauté onions, carrots, and celery until softened.

Add garlic and sauté for 30 seconds.

Put in diced chicken and cook until white and slightly browned.

Add wild rice blend, stir to toast rice.

Pour chicken broth and water, bring to boil.

Reduce heat, cover, simmer for 45-50 minutes until rice is tender.

Pour in heavy cream, add dried thyme, stir gently.

Add salt and pepper to taste.

Ladle into bowls, garnish with parsley.
Crockpot Version:
Sauté veggies in a skillet.

Put sautéed veggies, chicken, rice, broth, water in crockpot.

Cook on low for 6-8 hours or high for 3-4 hours.

Add cream and thyme in the last hour.

Season, ladle into bowls, and enjoy!
Notes
Use a wild rice blend for varied textures.
Pre-cooked rotisserie chicken works great.
Sub half-and-half for lighter creaminess.
Experiment with herbs like rosemary.
Leftovers reheat well, perfect for meal prep.