This Crockpot Lentil Soup is like a cozy hug on a cold day and I make it all the time. It's like a party of tastes with hearty lentils, colorful carrots, sweet onions, and tangy tomatoes. Trust me, it's like a warm hug for your tummy!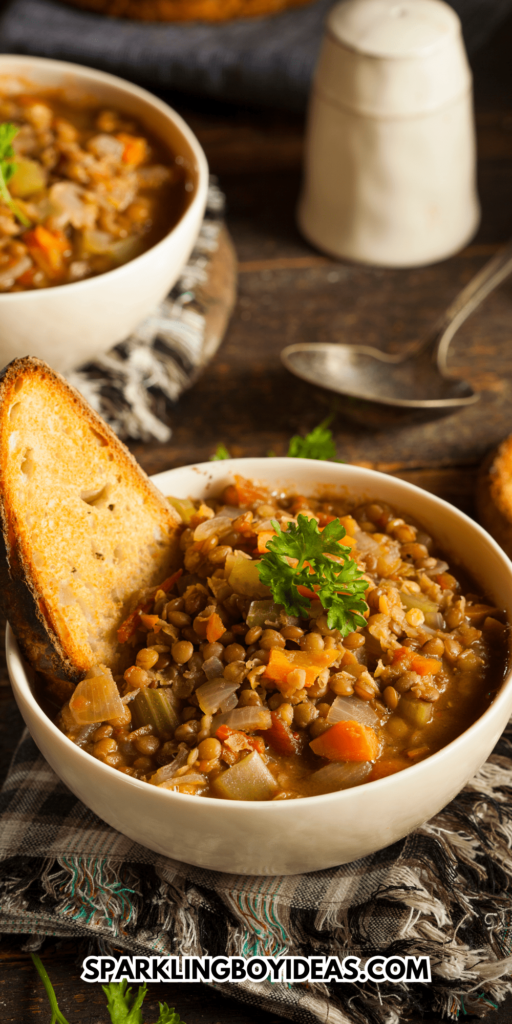 Why I Love This Recipe
This recipe for Crockpot Brown Lentil Soup shows how much I like making food that cooks slowly and tastes really good.
When the soup cooks in the crockpot, it makes the house smell amazing.
And you know what's cool?
You can eat this soup on regular nights when you want to be cozy, or when you have fancy parties.
It feels awesome to make a healthy meal from scratch without too much work. It makes me happy!
Why You'll Love This Recipe
▪️ Super Tasty: This soup tastes really, really good. It's like a party of flavors in your mouth!
▪️ Warm and Cozy: Imagine having a warm and cozy soup on a chilly day. It's like a cozy blanket for your tummy.
▪️ Lots of Colors: There are colorful carrots, onions, and tomatoes in this soup. It's like a rainbow in your bowl!
▪️ Easy to Make: Making this soup is as easy as putting things in a big pot and waiting. You can do it, no problem!
▪️ Feels Good: When you eat this soup, you'll feel all happy and comfy inside. It's like a big hug for your taste buds.
Helpful Kitchen Tools
Ingredients
▪️ 1 cup brown lentils: These tiny, healthy beans make the soup hearty and filling.
▪️ 4 carrots: These orange veggies are good for your eyes and add sweetness and color to the soup.
▪️ 1 big onion: Onions are flavor heroes that make the soup taste super yummy.
▪️ 3 ripe tomatoes: These juicy guys give the soup a tangy kick and make it awesome.
▪️ 4 cloves of garlic: Garlic is a tiny magic bulb that makes everything taste better.
▪️ 6 cups vegetable or chicken broth: Broth is the liquid base that brings all the flavors together and makes it soupy.
▪️ 1 teaspoon cumin: Cumin adds a warm and cozy taste to the soup.
▪️ 1 teaspoon smoked paprika: Smoked paprika is a secret ingredient that gives the soup a cool smoky flavor.
▪️ Salt and black pepper: These flavor buddies make the soup just right in yummy.
▪️ 2 bay leaves: Bay leaves are special leaves that add a nice smell as the soup cooks.
▪️ Chopped fresh parsley: Parsley is a fancy green sprinkle that makes the soup look pretty and fresh.
Making Of Crockpot Lentil Soup
STEP 1: Grab a pan, pour in a bit of oil, and heat it up on the stove at medium heat. Once it's warm but not crazy hot, toss in the chopped onions. Let them cook until they turn kind of see-through and cozy. After that, add the minced garlic and let it hang out for about 30 seconds. Your kitchen will start smelling amazing!
STEP 2: Now, let's move to the crockpot. Take those nicely cooked onions and garlic and put them in the crockpot. Next, add the lentils, diced carrots, diced tomatoes, and some exciting stuff like cumin and smoked paprika. Oh, don't forget the bay leaves – they work like magic. Also, add a pinch of salt and pepper because our soup loves those flavors. Finally, pour in the broth – it's like the liquid that makes everything cozy.
STEP 3: Put the lid on the crockpot, and set it to low heat. It's like the soup is taking a nice, slow bath to get all the flavors together. Let it hang out there for around 6 to 8 hours.
STEP 4: When the lentils become soft, and the flavors are best buddies, it's time to take out the bay leaves. They've done their job! Give the soup a taste – if you want a bit more flavor, you can add a pinch more salt or pepper.
STEP 5: Ladle the delicious soup into bowls. If you want to make it look fancy, sprinkle some fresh parsley on top. And don't forget to grab some yummy bread on the side – it's like the perfect buddy for your soup. Enjoy!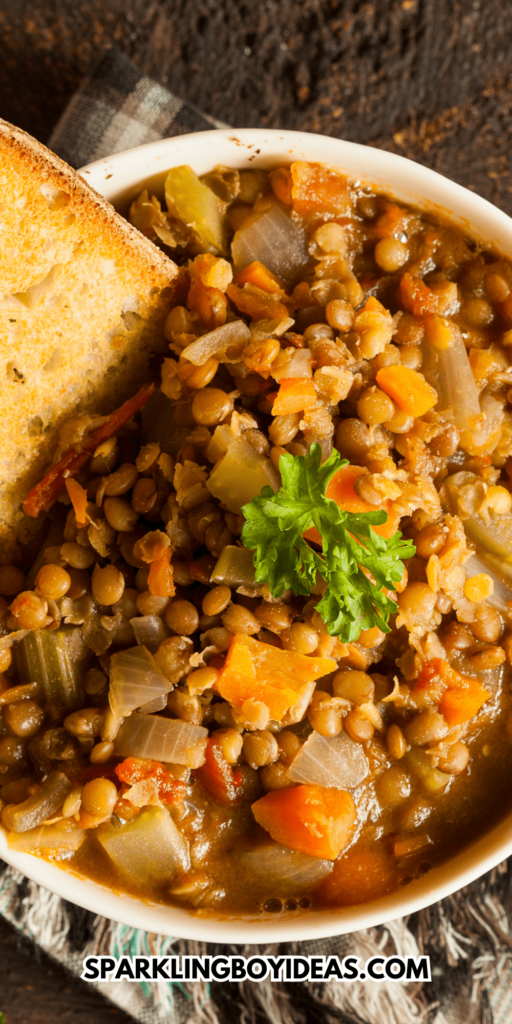 Tips and Techniques
▪️ Make your carrots delicious by sautéing them with onions.
▪️ For creamy soup lovers, blend it to perfection with an immersion blender.
▪️ Let your soup simmer; the longer, the tastier.
▪️ Have fun in the kitchen; experiment with spices or fresh herbs!
▪️ This soup improves with time; leftovers are a delightful treat after a day or two in the fridge.
Serving Size
This recipe makes enough soup for about 6 big bowls. So, you can share it with your family or have leftovers for another day. It's like having a cozy meal that's just right for everyone!
Serving Suggestions
▪️ Enjoy your soup with crusty bread for a hearty, satisfying bite.
▪️ Add a refreshing crunch to your meal with a quick salad of lettuce, cucumber, and cheese.
▪️ Elevate your soup by adding a dollop of creamy yogurt, creating a delightful contrast of warm and cool.
Variations
▪️ If you're a fan of spicy stuff, sprinkle a little bit of red pepper flakes or a dash of hot sauce.
▪️ Try adding fresh herbs like thyme or rosemary.
Storage Tips
To keep your leftover soup fresh, pop it into an airtight container and store it in the fridge, where it'll stay tasty for up to 4 days. And if you're planning ahead, this soup is a champ in the freezer too. Just divide it into freezer-safe containers, and it'll happily wait for you for up to 2 months. Simple as that!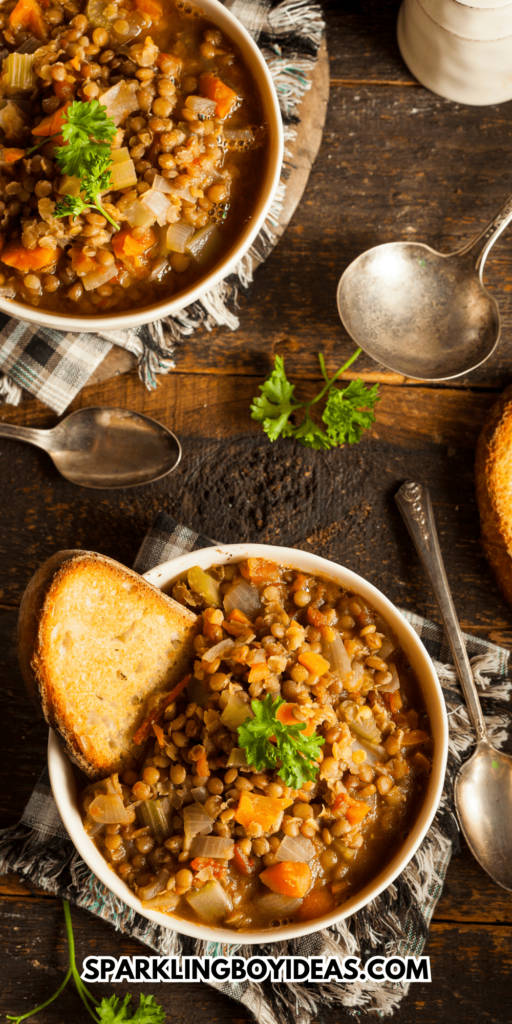 FAQs
Q. Can I use green or red lentils instead of brown?
Absolutely! However, keep in mind that green and red lentils have slightly different cooking times and textures. Adjust the cooking time accordingly.
Q. Can I make this on the stovetop instead of a crockpot?
Certainly! Simply follow the same steps, but simmer the soup over low heat on the stovetop for about 1.5 to 2 hours, until the lentils are tender.
Q. Can I add other vegetables to the soup?
Of course! Feel free to experiment with vegetables like celery, spinach, or bell peppers for added variety.
Q. Is this soup suitable for a vegan diet?
Yes, this Crockpot Brown Lentil Soup is naturally vegan-friendly.
Q. Can I use canned lentils to save time?
While canned lentils can be used, the slow cooking process allows the flavors to meld better. If using canned lentils, reduce the cooking time accordingly.
Print Recipe
Crockpot Lentil Soup
This Crockpot Lentil Soup is like a cozy hug on a cold day and I make it all the time. It's like a party of tastes with hearty lentils, colorful carrots, sweet onions, and tangy tomatoes.
Ingredients
1

cup

brown lentils

rinsed and drained

4

carrots

peeled and diced

1

large onion

finely chopped

3

ripe tomatoes

diced

4

cloves

of garlic

minced

6

cups

vegetable/chicken broth

1

teaspoon

cumin

1

teaspoon

smoked paprika

Salt and black pepper to taste

2

bay leaves

fresh parsley for garnish

Chopped
Instructions
Heat a little oil in a pan and cook onions until soft (3-4 mins).

Add minced garlic and cook 30 seconds.

Put onions and garlic in the crockpot.

Add lentils, carrots, tomatoes, cumin, smoked paprika, bay leaves, salt, and pepper to the crockpot.

Pour in the broth until everything is covered.

Cover the crockpot and set it to low heat.

Let it cook for 6-8 hours.

Remove bay leaves and taste for more seasoning.

Put the soup in bowls.

Sprinkle fresh parsley on top.

Eat with bread or salad.
Notes
Tips & Techniques
You can cook carrots and onions in a pan for more flavor.
To make it smooth, use a special blender stick.
Storage Tips
Let the soup cool before putting it in the fridge or freezer.
Use containers that close tightly.
It's good in the fridge for about 4 days.
It's fine in the freezer for about 3 months. Remember to thaw it in the fridge before heating.