This Crockpot Minestrone Soup is packed with wholesome ingredients like carrots, cheese, paprika, potatoes, and tomatoes. It's a bowl of comfort that's easy on your budget and even easier to make.
Why I Love This Recipe
I love this recipe for Crockpot Minestrone Soup because it's like a warm hug from my kitchen.
It brings back memories of family gatherings and simple joys. Plus, it's a lifesaver on busy days.
The best part? It's made with everyday ingredients that won't strain your wallet, and it's as easy as setting your crockpot and letting it work its magic.
This soup is a taste of tradition and a reminder that delicious doesn't have to be complicated.
It's perfect for bringing smiles to your family's faces, and that's why it's one of my all-time favorites.
Why You'll Love This Recipe
▪️ Family-Friendly: The mild flavors and colorful veggies make it a hit with kids and adults alike.
▪️ Affordable: You can find these ingredients in any pantry, and they won't cost you an arm and a leg.
▪️ Nutrient-Packed: Carrots, potatoes, and tomatoes offer a healthy dose of vitamins and minerals.
▪️ Fuss-Free: With your trusty crockpot doing most of the work, you can set it and forget it!
Helpful Kitchen Tools
Ingredients
▪️ 2 carrots, diced: Adds sweetness and color, packed with vitamins and fiber.
▪️ 1 cup of cheese: Offers creaminess, texture, and a subtle tangy flavor.
▪️ 1 tsp paprika: Adds a mild smoky and slightly spicy kick.
▪️ 2 potatoes, peeled and cubed: Provides hearty, satisfying texture.
▪️ 1 can of diced tomatoes: Forms a robust, tomatoey base with acidity and depth.
▪️ 6 cups of vegetable broth: The savory foundation of the soup.
▪️ 1 cup of pasta: Delivers comforting, filling Italian essence.
▪️ 1 onion, chopped: Adds depth and aroma to the soup.
▪️ 2 cloves of garlic, minced: Infuses aromatic punch.
▪️ Salt and pepper: Maestros for perfect seasoning to suit your taste.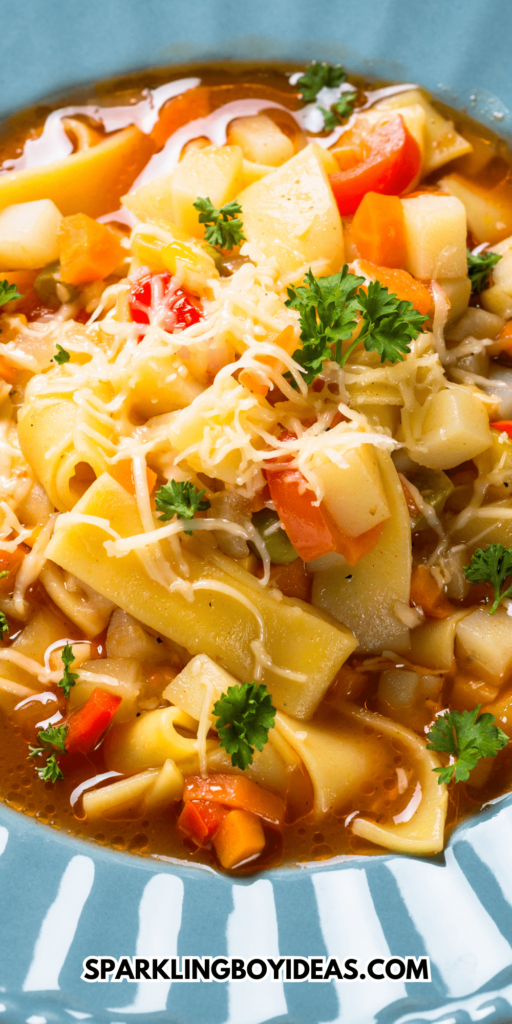 Making Of Crockpot Minestrone Soup
STEP 1: First, let's chop up those carrots, onions, and potatoes. No need to be fancy; just get 'em into bite-sized pieces. Mince the garlic and grate that cheese. Easy-peasy, right?
STEP 2: Now, grab your trusty crockpot. It's your best friend for this recipe. Toss in all those veggies you just prepped—carrots, onions, potatoes, and minced garlic. Add the diced tomatoes, vegetable broth, paprika, and don't forget a pinch of salt and pepper. Give it a gentle stir with a wooden spoon.
STEP 3: Pop the lid on your crockpot and set it to low heat. Now, here's the beauty of it—let it cook for 6-8 hours. Yep, you heard me right, let those flavors mingle and work their magic while you go about your day.
STEP 4: About an hour before you're ready to serve, it's pasta time! Throw in that cup of pasta into the crockpot. It'll cook to perfection in that savory soup.
STEP 5: Just before you're about to dive into a bowl of goodness, sprinkle that grated cheese over the top. It'll melt and blend in beautifully.
STEP 6: Ladle out this aromatic soup into bowls, and serve it up to your hungry family. See those smiles? That's the magic of homemade minestrone!
Tips and Techniques
▪️ Remember, the key to a flavorful minestrone is patience. Let it simmer in the crockpot on low heat for the best results.
▪️ Don't hesitate to switch up the veggies based on what's in your fridge. Minestrone is forgiving, so use what you've got!
▪️ If you can, give it a gentle stir now and then. This helps all those fantastic flavors mix and mingle.
▪️ Wait until just before serving to sprinkle that cheese on top. It'll melt perfectly and make every bite heavenly.
▪️ Give it a taste test before serving. If needed, add a pinch more salt or pepper to suit your family's palate.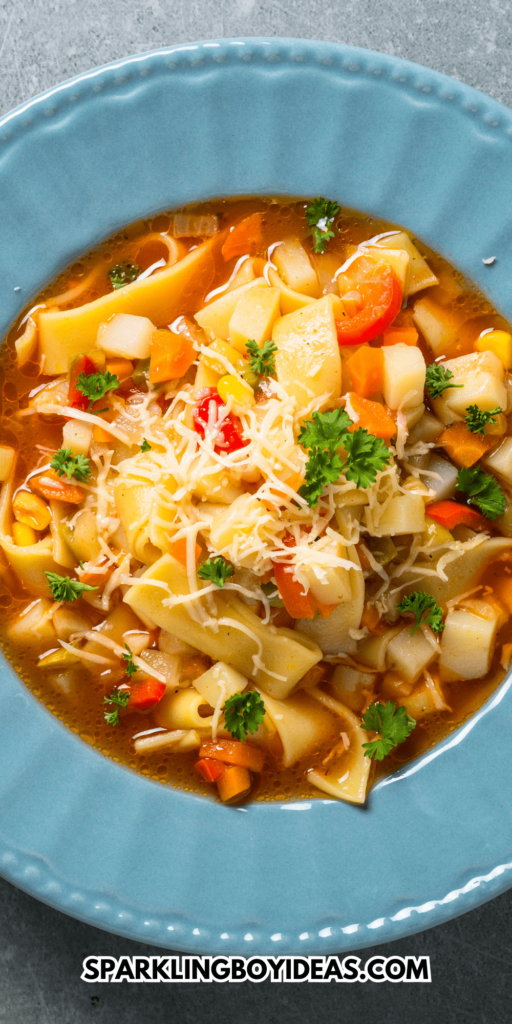 Serving Size
This heartwarming Crockpot Minestrone Soup recipe generously serves about 6 hungry folks. So, whether it's a family dinner or you're planning some cozy leftovers, this pot of goodness has you covered!
Serving Suggestions
▪️ Enjoy with a side of warm garlic bread for a hearty meal.
▪️ A sprinkle of fresh parsley adds a touch of color and freshness.
▪️ Top with grated Parmesan cheese for that authentic Italian flair.
▪️ Pair with a crisp green salad for a well-rounded dinner.
▪️ Serve alongside your favorite crackers for some extra crunch.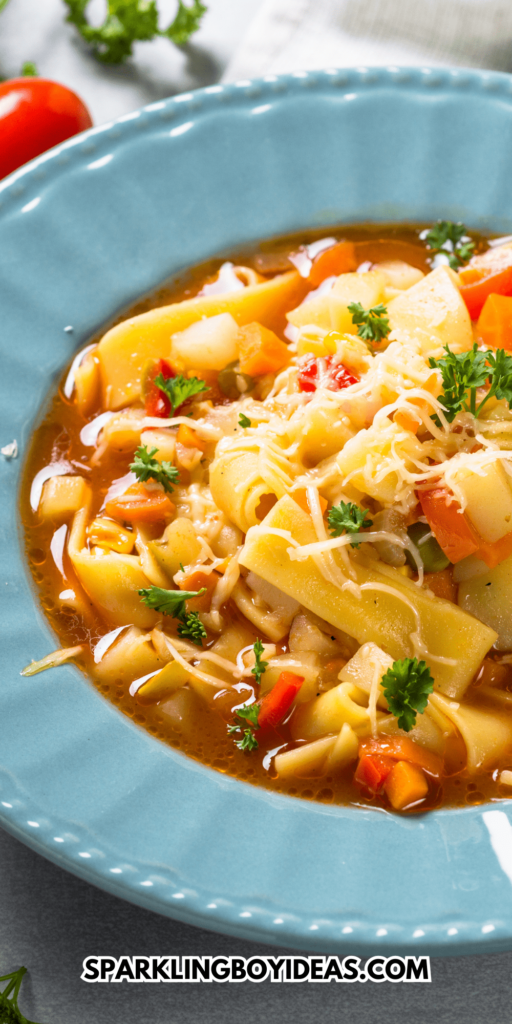 Variations
▪️ Swap regular pasta for gluten-free pasta to cater to those with dietary restrictions.
▪️ Boost the nutrition by stirring in a handful of fresh spinach or kale just before serving.
▪️ Experiment with different cheeses like Parmesan, mozzarella, or cheddar for varied cheesy goodness.
▪️ If you like a bit of heat, add a pinch of red pepper flakes for a subtle kick.
Storage Tips
To keep your Crockpot Minestrone Soup fresh, store any leftovers in an airtight container in the refrigerator for up to 3 days. When you're ready for a tasty encore, gently reheat it on the stovetop or pop it in the microwave. This way, you can enjoy the flavors of this hearty soup whenever you're craving a comforting bowl.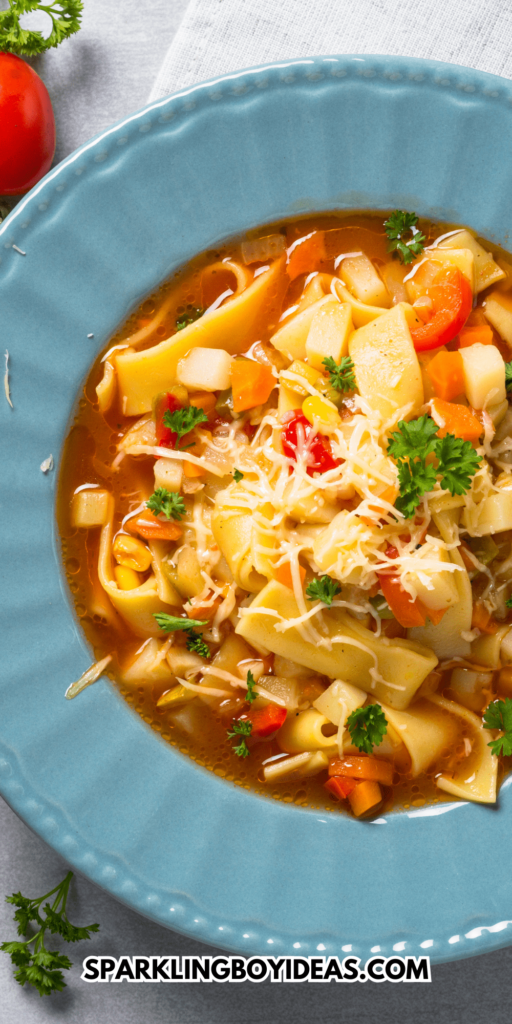 FAQs
Q. Can I use chicken broth instead of vegetable broth?
Absolutely! Feel free to use chicken broth for a slightly different flavor profile.
Q. Can I make this on the stovetop?
Sure, you can! Simmer on low heat, but keep an eye on it and stir occasionally.
Q. Can I freeze this soup?
While it's best fresh, you can freeze it in airtight containers for up to 3 months. Thaw and reheat on the stovetop.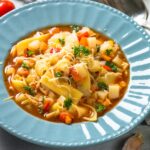 Print Recipe
Crockpot Minestrone Soup
This Crockpot Minestrone Soup is packed with wholesome ingredients like carrots, cheese, paprika, potatoes, and tomatoes. It's a bowl of comfort that's easy on your budget and even easier to make.
Ingredients
2

carrots

diced

1

cup

cheese

1

tsp

paprika

2

potatoes

peeled and cubed

1

can

diced tomatoes

6

cups

vegetable broth

1

cup

pasta

1

onion

chopped

2

cloves

garlic

minced

Salt and pepper to taste
Instructions
Chop the carrots, onion, and potatoes. Mince the garlic, and grate the cheese.

Place all your prepped ingredients into the crockpot. Add the diced tomatoes, vegetable broth, paprika, salt, and pepper. Stir it all up with a wooden spoon.

Cover your crockpot and set it on low heat. Let the flavors mingle and dance together for 6-8 hours.

An hour before serving, add the pasta. This gives it just the right amount of time to cook to perfection.

Just before serving, sprinkle that grated cheese over each bowl. It'll melt beautifully into the soup.

Ladle out this steaming bowl of comfort and serve it up to your hungry loved ones.
Notes
Stir occasionally if you can for an even blend of flavors.
Feel free to swap out vegetables with your favorites; this recipe is forgiving!
Don't rush the cooking process; slow and steady wins the soup race.