This Homemade Baked Cranberry Brie with Honey and Walnuts is a delightful combination of sweet and savory flavors that will elevate your cheese game to a whole new level. It's perfect for gatherings, date nights, or simply treating yourself to something special.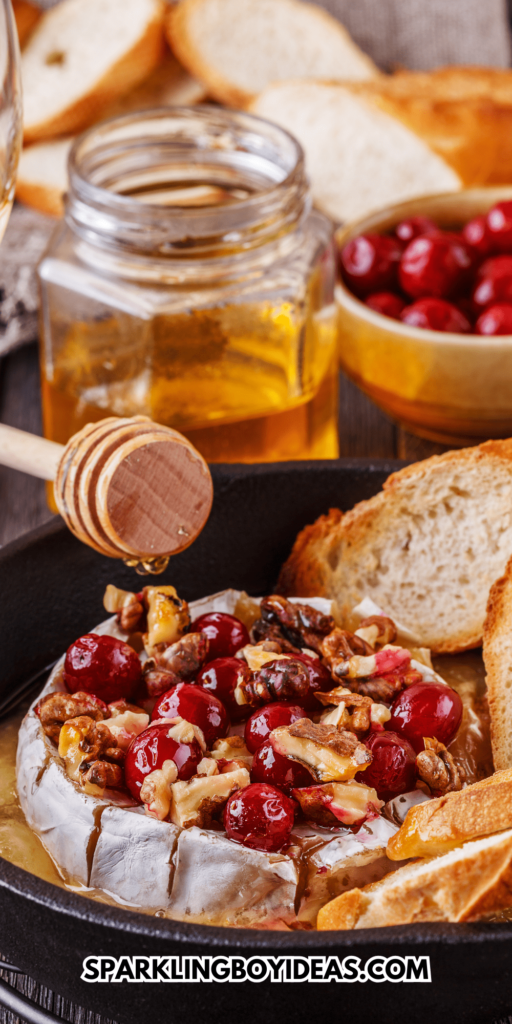 Why I Love This Recipe
I love this recipe because it embodies simplicity and fantastic flavors.
It's a quick and easy option, perfect for busy days and unexpected guests.
The creamy brie cheese combined with tart cranberries and drizzled honey creates a sweet, savory, and nutty sensation that's simply irresistible.
What's more, it looks like a gourmet masterpiece but is effortlessly made.
This dish effortlessly impresses without the hassle, making it ideal for both experienced and novice home cooks.
It's a delightful blend of flavors and simplicity that brings joy to cooking and sharing with loved ones.
Why You'll Love This Recipe
▪️ Impressively Easy: You don't need to be a gourmet chef to master this dish. It's beginner-friendly and foolproof.
▪️ Balanced Flavors: The sweet-tart cranberries, creamy brie, and honey with a hint of crunch from the walnuts create a harmonious flavor symphony.
▪️ Beautiful Presentation: It looks like it took hours to prepare, but in reality, it's ready in no time.
Helpful Kitchen Tools
Ingredients
▪️ 1 wheel of brie cheese (about 8-10 ounces): Brie cheese is the star of this dish, providing a creamy and indulgent base.
▪️ 1/2 cup cranberry sauce (homemade or store-bought): Cranberry sauce adds a delightful tartness and vibrant color to balance the richness of the brie.
▪️ 2 tablespoons honey (for drizzling): Honey brings a touch of natural sweetness and a beautiful glaze to the dish.
▪️ 1/4 cup chopped walnuts: Chopped walnuts provide a satisfying crunch and a nutty flavor that complements the creamy brie.
▪️ Fresh rosemary sprigs for garnish: Fresh rosemary sprigs not only add a pop of color but also infuse a subtle herbal aroma to enhance the overall experience.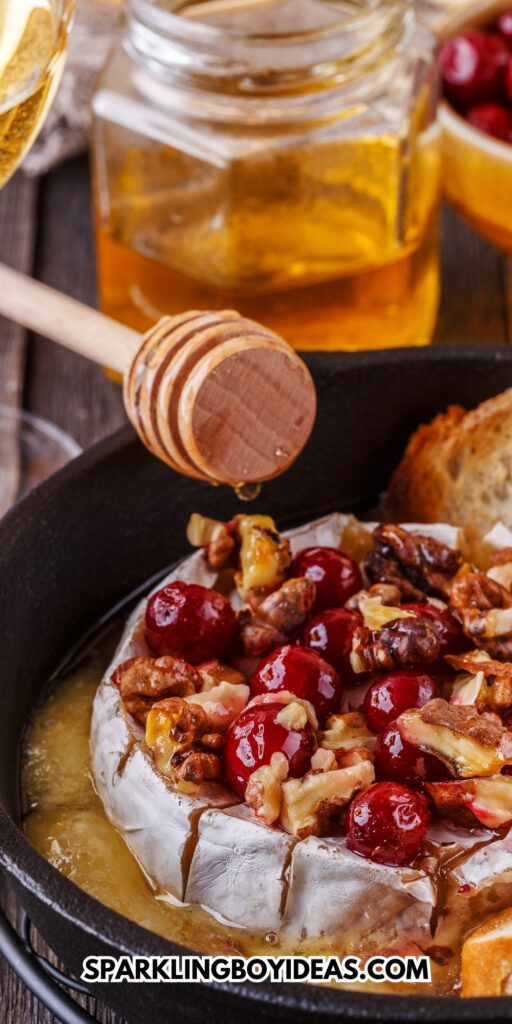 Making Of Homemade Baked Cranberry Brie
STEP 1: First things first, preheat your oven to a toasty 350°F (175°C). While it's getting all cozy, pop your cast iron skillet right in there to heat up as well.
STEP 2: Once the oven signals it's ready, carefully take out the skillet. Now, it's time for our leading actor – the brie cheese. Gently place it right in the center of that hot skillet. It's about to get all gooey and irresistible.
STEP 3: Grab your cranberry sauce, and spoon it over our brie. Let some of that cranberry goodness drizzle down the sides. It's all about that dramatic presentation.
STEP 4: Time to give our masterpiece a touch of sweetness. Drizzle that golden honey generously over the cranberry-covered brie.
STEP 5: Now, let's add a little texture and crunch to the scene. Sprinkle those chopped walnuts over the top of our brie. They're like the supporting actors, adding depth and character.
STEP 6: Place our skillet back in the oven and let the magic unfold. In about 12-15 minutes, our brie will become soft, melty, and ready to steal the show. Keep an eagle eye on it to avoid over-melting – we want it to be just perfect.
STEP 7: As our masterpiece emerges from the oven, give it the final touch. Garnish it with those fresh rosemary sprigs. It's like a bow on a beautifully wrapped gift. Now, serve it up while it's hot and bubbling.
STEP 8: Encourage everyone to dive in with a spreader or knife. Pair it with your favorite crackers, baguette slices, or apple slices. It's time for a culinary standing ovation!
Tips and Techniques
▪️ Choose a good-quality brie cheese for the best flavor and texture.
▪️ Adjust the sweetness by drizzling more or less honey according to your taste preferences.
▪️ Feel free to mix things up by trying different nuts or garnishes for a personalized touch.
▪️ This dish is at its gooey, melty best when served fresh out of the oven, so dig in promptly.
Serving Size
This delightful Homemade Baked Cranberry Brie with Honey and Walnuts in an iron skillet serves approximately 4-6 people as an appetizer. It's perfect for sharing with your loved ones or enjoying a cozy snack. So, gather around and savor the creamy, sweet, and savory goodness together!
Serving Suggestions
▪️ Pair with crusty baguette slices for a satisfying crunch.
▪️ Accompany with an assortment of your favorite crackers.
▪️ Balance the richness with crisp apple slices.
▪️ Elevate your spread with juicy, fresh grapes.
Variations
▪️ Try substituting cranberry sauce with fig jam or apricot preserves for a different flavor twist.
▪️ Experiment with different nuts like pecans or almonds.
▪️ Add a touch of heat with a drizzle of chili-infused honey.
Storage Tips
To preserve the deliciousness of your Homemade Baked Cranberry Brie, store any leftovers in an airtight container in the refrigerator for up to 2-3 days. When you're ready for a cheesy delight encore, gently reheat it in the oven or microwave for that gooey goodness all over again.
FAQs
Q. Can I use other types of cheese for this recipe?
While brie works wonderfully, you can experiment with camembert or other soft, creamy cheeses.
Q. Can I make this ahead of time?
It's best served fresh out of the oven for that gooey texture, but you can prepare the components in advance and assemble them just before baking.
Q. How can I prevent the brie from leaking out of the skillet?
Ensure your skillet is well-seasoned, and be cautious not to overheat it in the oven. A well-placed layer of cranberry sauce can also act as a barrier.
Print Recipe
Homemade Baked Cranberry Brie
This Homemade Baked Cranberry Brie with Honey and Walnuts is a delightful blend of sweet and savory, ideal for enhancing your cheese experience at gatherings, date nights, or as a special treat.
Ingredients
1

wheel of brie cheese

about 8-10 ounces

½

cup

cranberry sauce

homemade or store-bought

2

tablespoons

honey

for drizzling

¼

cup

chopped walnuts

Fresh rosemary sprigs for garnish
Instructions
Preheat oven to 350°F (175°C) with the cast iron skillet inside.

Place brie wheel in the skillet.

Spoon cranberry sauce over brie, allowing some to drizzle down.

Generously drizzle honey over cranberry-covered brie.

Sprinkle chopped walnuts for crunch.

Bake 12-15 mins until soft and gooey, avoiding over-melting.

Garnish with rosemary, serve hot.

Enjoy with crackers, baguette, or apple slices.
Notes
Use high-quality brie cheese for the best results.
Adjust sweetness by adding more or less honey to taste.
Customize with your preferred nuts or garnishes.
Serve promptly for the best gooey texture.