Discover a fresh burst of flavors with our spring appetizers. From vibrant spring salads to spring finger foods, explore delightful spring recipes that celebrate the season's bounty.
As nature awakens from its winter slumber, spring brings with it a sense of renewal and freshness.
What better way to celebrate this vibrant season than by indulging in a delectable array of spring appetizers?
From garden-fresh ingredients to light and airy flavors, spring appetizers embody the essence of this blooming time of year.
In this blog, we will explore a variety of mouthwatering recipes that showcase the best of spring produce, innovative flavor combinations, and stunning presentations.
Whether you're hosting a garden party, attending a spring soirée, or simply looking to elevate your everyday meals, join us on this culinary adventure as we unlock the secrets to creating appetizers that capture the spirit of spring.
Understanding Spring Appetizers
Before we dive into the tips, let's take a moment to understand what spring appetizers entail.
Spring appetizers are bite-sized dishes typically served before the main course during gatherings and events.
They are designed to awaken the palate, stimulate the appetite, and set the tone for the meal ahead.
Spring appetizers often feature vibrant colors, fresh ingredients, and light flavors that reflect the season's characteristics.
Tips For Making & Serving Spring Appetizers
As the weather warms up and nature comes to life, spring is a wonderful opportunity to showcase the season's finest ingredients and flavors in your appetizers.
From utilizing fresh produce to incorporating refreshing and light elements, there are countless ways to create enticing starters that capture the essence of spring.
Let's explore some tips and techniques to help you make and serve delightful spring appetizers.
Tip 1: Embrace Fresh and Seasonal Produce
One of the hallmarks of spring appetizers is the use of fresh and seasonal produce.
Seek out locally sourced ingredients from farmers' markets or your own garden.
This ensures the highest quality and supports local producers.
Incorporating seasonal fruits and vegetables not only add a burst of flavor but also connects your appetizers to the bountiful offerings of spring.
Tip 2: Incorporate Light and Refreshing Flavors
Spring is synonymous with rejuvenation, and your appetizers should reflect that.
Incorporate light and refreshing flavors by using citrus fruits such as lemon, lime, and orange.
These citrusy notes provide a zesty and tangy contrast that awakens the taste buds.
Additionally, herbs like mint, basil, and dill add a fresh and aromatic dimension to your appetizers.
Tip 3: Experiment with a Colorful Presentation
Visual appeal plays a significant role in creating an appetizing experience.
Take advantage of spring's vibrant colors by experimenting with colorful presentations.
Arrange your appetizers on a platter that showcases a variety of hues.
Consider garnishing with edible flowers, microgreens, or herbs to add an extra pop of color and a touch of elegance.
Tip 4: Consider Bite-sized Portions
When it comes to spring appetizers, bite-sized portions are key.
They allow your guests to sample a variety of flavors without feeling overwhelmed.
Opt for small and easy-to-eat appetizers that can be enjoyed in one or two bites.
This encourages exploration and creates a sense of excitement as your guests move through different flavor profiles.
Tip 5: Explore Spring-themed Ingredients
To truly capture the essence of spring, explore and incorporate seasonal ingredients into your appetizers.
Think tender asparagus, sweet peas, radishes, artichokes, and strawberries.
These ingredients not only add a touch of seasonal flair but also bring unique flavors and textures to your appetizers.
Tip 6: Include Light and Crispy Textures
Texture plays a crucial role in the enjoyment of food.
For spring appetizers, consider incorporating light and crispy elements.
Fresh vegetables like cucumber, bell peppers, and carrots provide a satisfying crunch.
Additionally, consider using phyllo dough or puff pastry to create delicate and flaky layers in your appetizers.
Tip 7: Balance Hot and Cold Appetizers
Spring weather can be unpredictable, with fluctuating temperatures.
To cater to different preferences, offer a balance of hot and cold appetizers.
Warm options, such as baked brie bites or stuffed mushrooms, provide comfort and heartiness.
On the other hand, chilled appetizers, like bruschetta or cucumber bites, offer a refreshing contrast.
Tip 8: Incorporate Healthy Options
As health-conscious eating continues to gain popularity, it's important to offer options that cater to various dietary needs.
Consider incorporating vegetarian and gluten-free choices in your spring appetizers.
This ensures that all your guests can indulge in the delicious offerings while accommodating their dietary restrictions.
Tip 9: Infuse Spring-inspired Drinks
Pairing your spring appetizers with refreshing beverages is a surefire way to enhance the overall experience.
Offer a selection of spring-inspired drinks such as fruity mocktails, herb-infused water, or sparkling spritzers.
These drinks not only complement the flavors of your appetizers but also keep your guests hydrated and refreshed.
Tip 10: Add a Global Twist
To add excitement and intrigue to your spring appetizers, consider incorporating a global twist.
Experiment with international flavors and spices to create fusion-style dishes.
Infuse your appetizers with Mediterranean influences, Asian-inspired seasonings, or Latin American flair.
This allows your guests to embark on a culinary journey while enjoying the freshness of spring.
Tip 11: Engage with Seasonal Themes
Spring is a season filled with festive occasions such as Easter or Mother's Day.
Incorporate seasonal themes into your appetizers to create a cohesive and celebratory atmosphere.
You can shape your appetizers into Easter egg-inspired bites or incorporate floral motifs into the presentation.
Engaging with seasonal themes adds a touch of fun and whimsy to your creations.
Tip 12: Prepare Ahead of Time
To ensure stress-free entertaining, it's essential to plan and prepare your spring appetizers in advance.
Choose recipes that can be partially or fully prepared ahead of time.
This allows you to spend more time with your guests and enjoy the gathering.
Focus on appetizers that can be easily assembled or reheated just before serving.
Tip 13: Experiment and Have Fun
Above all, don't be afraid to experiment and have fun with your spring appetizers.
Spring is a time of renewal and creativity, and your appetizers should reflect that.
Embrace your culinary instincts, try new flavor combinations, and let your creativity shine through.
Enjoy the process of making and serving these delightful bite-sized creations.
Must Try Spring Appetizers
" Affiliate links are provided for your convenience, please read my disclosure for more information."
25. Cheesy Bruschetta Bites – from The Sinny Dish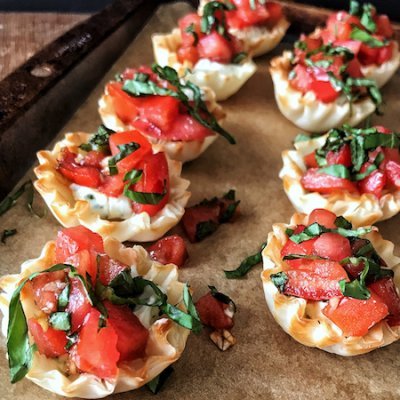 24. Spring Canapés – from She Keeps A Lovely Home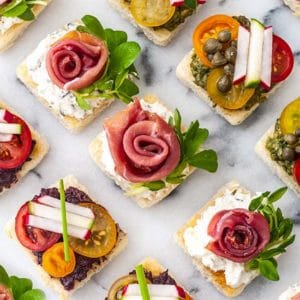 23. Baked Brie Recipe + Roasted Strawberries – from Striped Spatula
22. Zesty Cream Cheese Stuffed Mini Peppers – from The Live In Kitchen
21. Creamy Spinach Artichoke Dip – from Dessert Now Dinner Later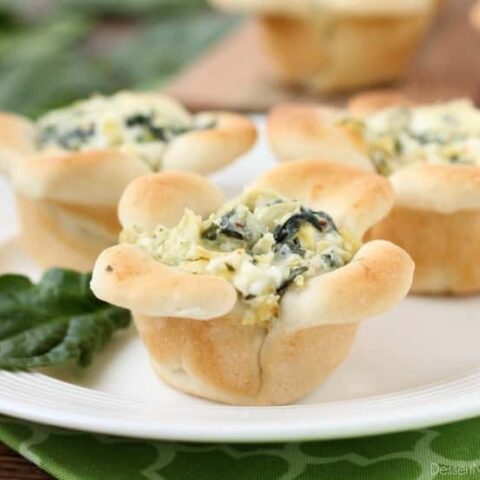 20. Lemon Parmesan Stuffed Artichoke Bottoms – from From A Chefs Kitchen
19. Antipasto Skewers – from Wonky Wonderful
18. Bruschetta + Goat Cheese, Roasted Asparagus, & Pistachio Pesto – from Discover California Wines
17. Vegan Spring Rolls – from Yummy Mummy Kitchen
16. Cuban Sandwich On A Stick Appetizer – A Forks Tale
15. Strawberry Goat Cheese Appetizer – Two Purple Figs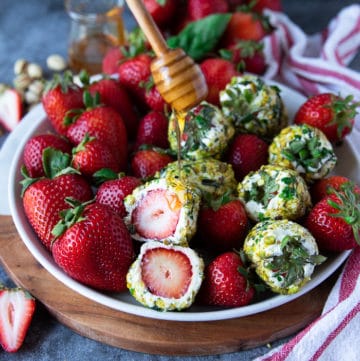 14. Edible Flower Spring Rolls – from Live Eat Learn
13. Melon, Proscuitto & Mozzarella Skewers – from The Comfort Cooking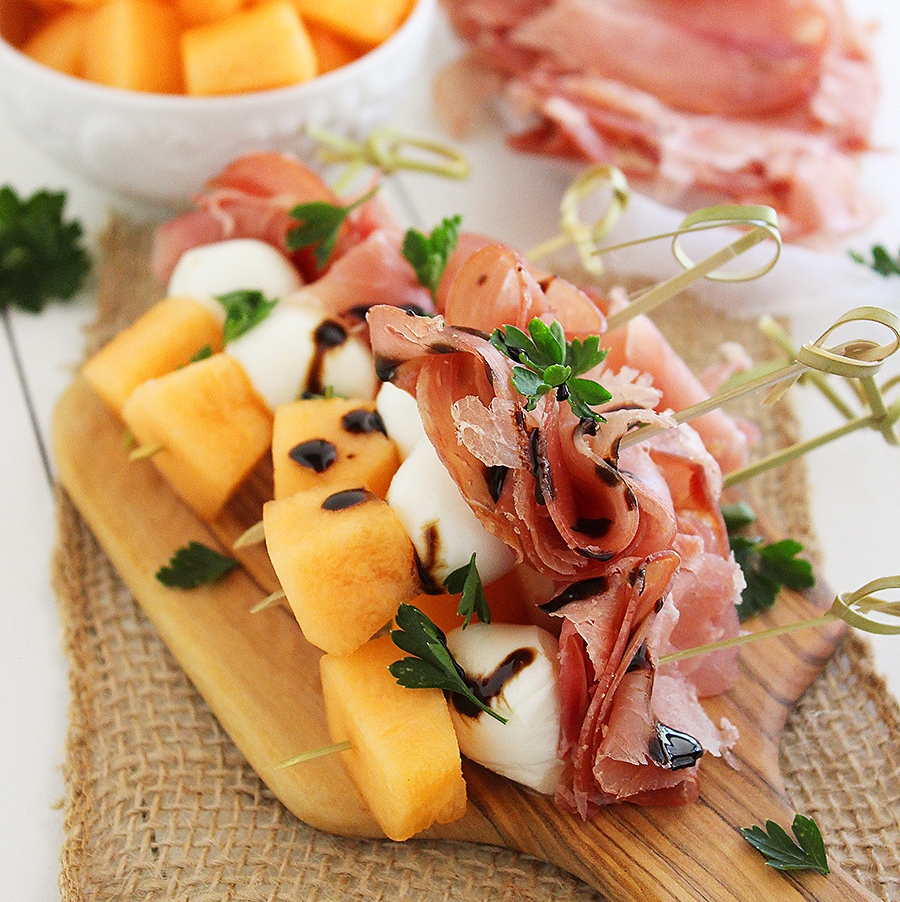 12. Spring Puff Pastry Tart – from The Pioneer Woman
11. Easter Bunny Veggie Tray – from Emily Enchanted
10. Smoked Salmon + Cucumber & Lemon Dill Cream Cheese – from The Endless Meal
9. Cucumber Salmon Appetizers – from Ciao Florentina
8. Garlic Lime Roasted Shrimp Salad – from A Spicy Perspective
7. Asparagus Puffs – from The Food Blog
6. Vegetable Spring Rolls – from Healthy Nibble And Bits
5. Cucumber & Hummus Bites – from The Sits Girls
4. Ladybug Caprese -from Salty Side Dish
3. Mini Croque Monsieur – from Butter And Baggage
2. Spring Veggie Board – from My Moonstone Kitchen
1. Spring Herb Tartlets + Honey & Goat Cheese – from Simply Stacie
FAQs
Q: What are some good dips to serve with crudites?
Hummus, tzatziki, and avocado dip are all great options. Hummus is made from chickpeas, tahini, olive oil, lemon juice, and garlic, while tzatziki is made from Greek yogurt, cucumbers, dill, garlic, and lemon juice. Avocado dip is made from mashed avocado, lime juice, and spices. All three dips are healthy, flavorful, and perfect for dipping raw veggies.
Q: Can I make the mini quiches ahead of time?
Yes, you can make the quiches ahead of time and reheat them in the oven before serving. Just be sure to store them in an airtight container in the refrigerator until you're ready to reheat them. Preheat the oven to 350°F (175°C), place the quiches on a baking sheet, and bake for 10-12 minutes or until heated through.
Q: Can I substitute the goat cheese in the spinach and artichoke dip?
Yes, you can use cream cheese or another type of cheese if you prefer. Goat cheese has a tangy flavor that pairs well with the spinach and artichokes, but you can use any type of cheese that you like. Cream cheese is a good substitute because it's creamy and mild in flavor.
Q: How long should I marinate the shrimp for the grilled shrimp skewers?
Marinate the shrimp for at least 30 minutes, but no more than 2 hours. Shrimp only need a short amount of time to absorb the flavors of the marinade, so don't marinate them for too long or they may become mushy. If you're using wooden skewers, be sure to soak them in water for at least 30 minutes before threading the shrimp onto them.
Q: Can I use a different type of bread for the bruschetta?
Yes, you can use any type of bread that you prefer, such as sourdough, ciabatta, or baguette. Bruschetta is typically made with sliced Italian bread that's toasted and rubbed with garlic, but you can use any type of bread that has a sturdy texture and can hold up to the toppings. You can also experiment with different types of toppings, such as tomatoes, basil, mozzarella cheese, and balsamic vinegar.
Now comes the important question… Which spring appetizers do you like the most? Please let me know in the comments.
Few more Spring recipes!!!
Want to save this for later? Post these Spring Appetizers to the "Spring Recipes" OR "Spring Food Ideas" Board!