Whether you're grilling outside or enjoying a cozy dinner at home, spring side dishes can elevate your meal and take it to the next level. In this blog post, we'll explore healthy spring sides that are both nourishing and delicious, grilled options that are perfect for outdoor gatherings, and fresh spring sides that make the most of seasonal produce.
Spring is a great time to experiment with fresh and vibrant side dishes that make the most of seasonal ingredients.
One of the best things about spring side dishes is the abundance of fresh produce that's in season.
Vegetables like asparagus, artichokes, peas, and radishes are perfect for incorporating into side dishes.
A simple roasted asparagus or sautéed sugar snap peas can add the perfect amount of freshness and color to any meal.
If you're looking for a healthy spring side dish, there are plenty of options to choose from.
Salads are always a great choice, and there are plenty of variations to keep things interesting.
From a classic Caesar salad to a more exotic mango and avocado salad, there's a recipe for everyone.
Grilling is also a great way to enjoy spring side dishes.
Grilled vegetables like zucchini, eggplant, and bell peppers are perfect for adding a smoky flavor to your meal.
Grilled asparagus with a touch of lemon and Parmesan cheese is also a classic spring side dish that's easy to prepare and always a hit.
Finally, pasta salads are perfect for spring potlucks and picnics.
A simple pesto pasta salad or a Mediterranean-inspired pasta salad with olives, tomatoes, and feta cheese is sure to impress your guests.
In conclusion, spring side dishes are a great way to add freshness, color, and nutrition to your meals.
Whether you're looking for healthy salads or grilled vegetables, there's a spring side dish recipe for everyone.
So, get creative and make the most of the seasonal ingredients that spring has to offer!
Fresh Spring Side Dishes
" Affiliate links provided for your convenience, please read my disclosure for more information."
23. Pasta with Lemon, Asparagus, Artichokes & Prosciutto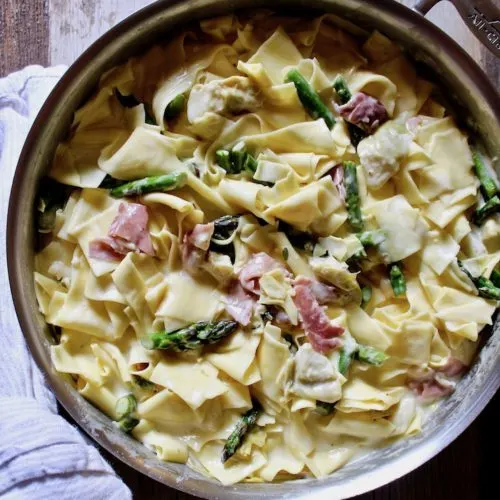 22. Creamy Tortellini + Peas Asparagus & Bacon
21. Lemon Arugula Pasta + Burrata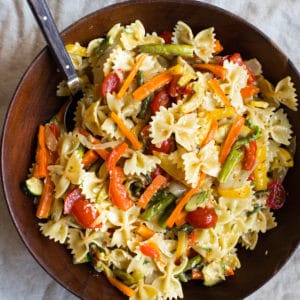 17. Pasta & Peas
16. Pasta Primavera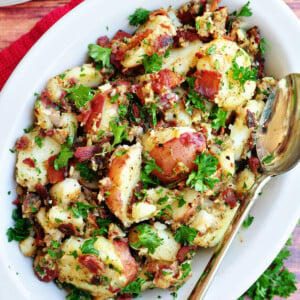 14. Corn Salad
13. Asparagus Orzo
9. Asparagus Casserole + Ritz Crackers
8. Oven-Roasted Asparagus + Asiago, Bacon, & Garlic
6. Roasted Carrots + Pistachios
5. Oven Baked Asparagus + Garlic & Parmesan
2. Zesty Quinoa Salad + Lemon Tarragon Dressing
1. Vegan Lemon Rice & Asparagus
Now comes the important question… Which spring side dishes do you like the most? Please let me know in the comments.
Few more Spring recipes!!!
Want to save this for later? Post these Spring Side Dishes to the "Spring Recipes" OR "Spring Food Ideas" Board!