Check out our amazing collection of patriotic decorations that will help you create a festive atmosphere for Memorial Day, Independence Day, and beyond! From patriotic wreaths, flags, banners, and more. Get inspired and add a touch of red, white, and blue to your home. Whether you're hosting a backyard BBQ or a big parade, our 4th of July decorations are sure to impress your guests. Celebrate America with our 4th of July crafts today!
To stir up feelings of love and pride for your country, there's nothing quite like decorating your home in patriotic colors.
From Independence Day to Veterans Day and Memorial Day, adding a touch of red, white, and blue to your home can create an electrifying and festive atmosphere for all to enjoy.
Flying the American flag is perhaps the simplest and most classic way to infuse your space with patriotic flair.
Hang it proudly on a flagpole outside your home or display it as a wall hanging inside.
For an extra dramatic effect, shine a spotlight on the flag at night.
You can also incorporate stars and stripes into your decor, a time-honored tradition.
Hang some American flag-inspired bunting along your porch or deck railings or create a backdrop of red, white, and blue streamers to set the party mood.
Balloons in patriotic colors are also a fun and inexpensive way to add some pizzazz to your celebration.
For a more subtle approach, dress up your table settings in patriotic colors.
Mix and match red, white, and blue placemats, napkins, and dishes to create a cohesive look.
Use a blue tablecloth with white stars as the base for your table setting, and add a few pops of red and white accents like candles or flower arrangements to create a beautifully patriotic tableau.
You can also display patriotic art to show off your love for the USA.
Look for pieces featuring American flags, eagles, or other patriotic symbols, or try your hand at creating your own patriotic artwork using stencils and paint to design a flag-inspired masterpiece on a canvas or wooden board.
Don't forget about your outdoor spaces! Hang some patriotic bunting along your fence or add a festive wreath to your front door.
You can even go all out and create a patriotic garden by planting red, white, and blue flowers like petunias, geraniums, and delphiniums.
Last but not least, what's a patriotic celebration without some heart-stirring music?
Play some classic patriotic tunes like "The Star-Spangled Banner," "America the Beautiful," or "God Bless America" in the background to give your event that special touch.
In conclusion, showcasing your love for your country and creating a festive atmosphere for national holidays is easy with patriotic decorations.
Display that American flag, deck out your home in stars and stripes, and celebrate your love for America in style!
Fun DIY Patriotic Decorations
" Affiliate links are provided for your convenience, please read my disclosure for more information."
17. Patriotic Burlap Table Runner – from Domestically Speaking
16. Patriotic Tin Cans – from Stockpiling Moms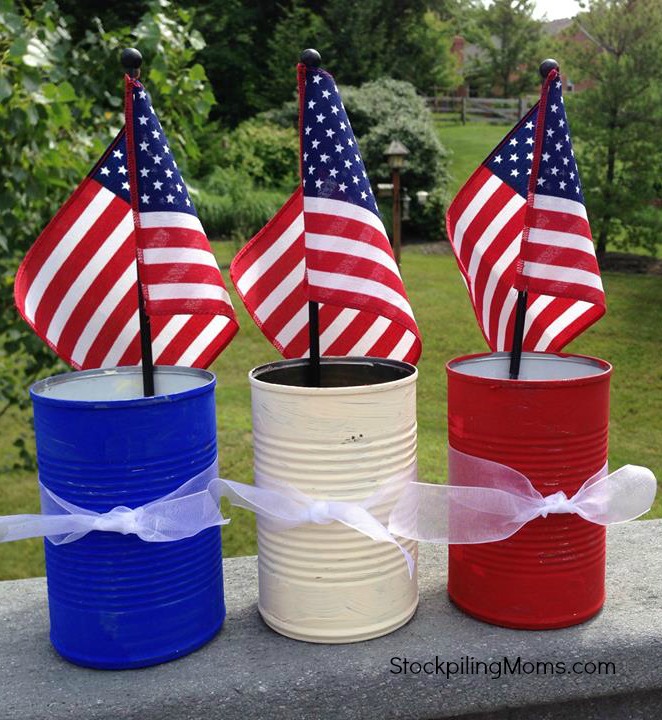 15. Paper Straw Patriotic Wreath – from The Project Corner
14. Patriotic Bug-Away Candleholders – from Pop Sugar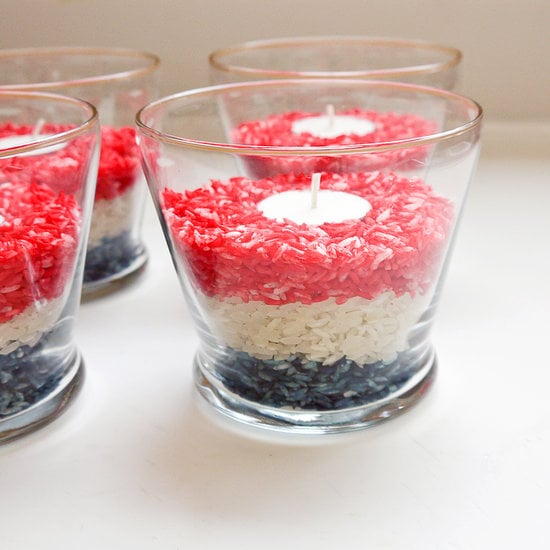 13. Patriotic Yard Wrapped Mason Jars – from Albion Gould
12. DIY Floral Patriotic Wreath – from Blooming Homestead
11. American Flag Mason Jar Sand Art – from Atta Girl Says
10. Stars + Stripes Patriotic Flower Pot – from Lolly Jane
9. Patriotic Paper Flowers – from Live Laugh Rove
8. Patriotic Wreath – from Blissfully Domestic
7. American Flag DIY Lanterns – from Mod Podge Rocks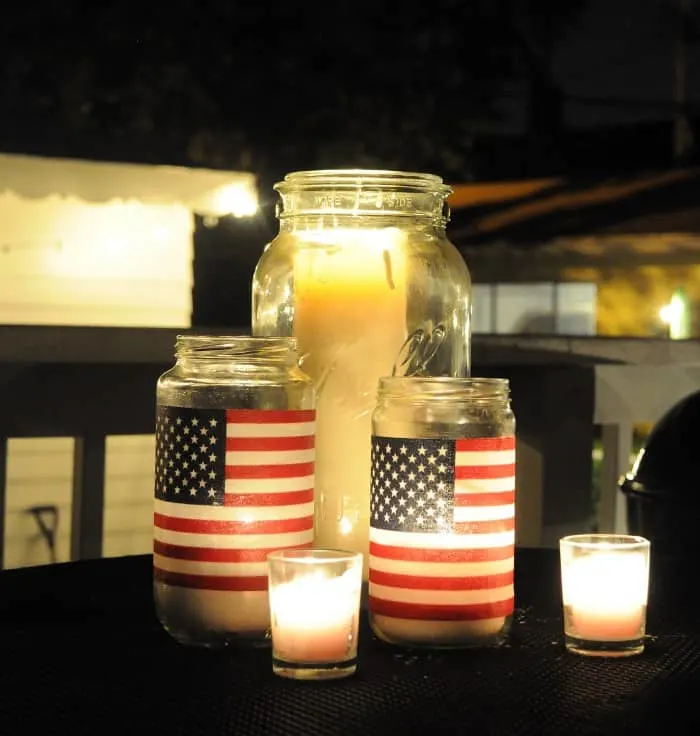 6. Patriotic Mason Jar Lanterns – from Addicted 2 DIY
5. DIY Patriotic String Lights – from Ehow
4. PATRIOTIC Tassel Garland – from The Scrap Shoppe
3. Patriotic Tissue Paper Tassel Garland – from Landee See Landee Doo
2. DIY Giant Pool Noodle Firecrackers – from My Pinterventures
1. DIY 4th of July Windsock – from Hey Let's Make Stuff
Now comes the important question… Which memorial day decorations do you like the most? Please let me know in the comments.
Few more memorial day ideas!!!
Want to save this for later? Post these Patriotic Decorations to the "Memorial Day Decor" OR "Patriotic Decor Ideas" Board!