Indulge in patriotic sweetness with our easy 4th of July desserts! These patriotic desserts will add a delicious sparkle to your holiday festivities. From berry-filled pies to star-spangled cupcakes. Discover a delightful array of red, white, and blue desserts.
The 4th of July is a time for celebration, patriotism, and indulging in delicious treats that ignite the taste buds.
In this blog, we'll explore a collection of mouthwatering desserts that are perfect for adding a festive touch to your Independence Day festivities.
From red, white, and blue-themed cakes and cupcakes to fruity pies and refreshing treats, I've got a variety of easy-to-make desserts that capture the spirit of the holiday.
So, fire up the grill, gather your loved ones, and let's dive into a world of 4th of July desserts that will leave your guests in awe and make your celebrations even sweeter.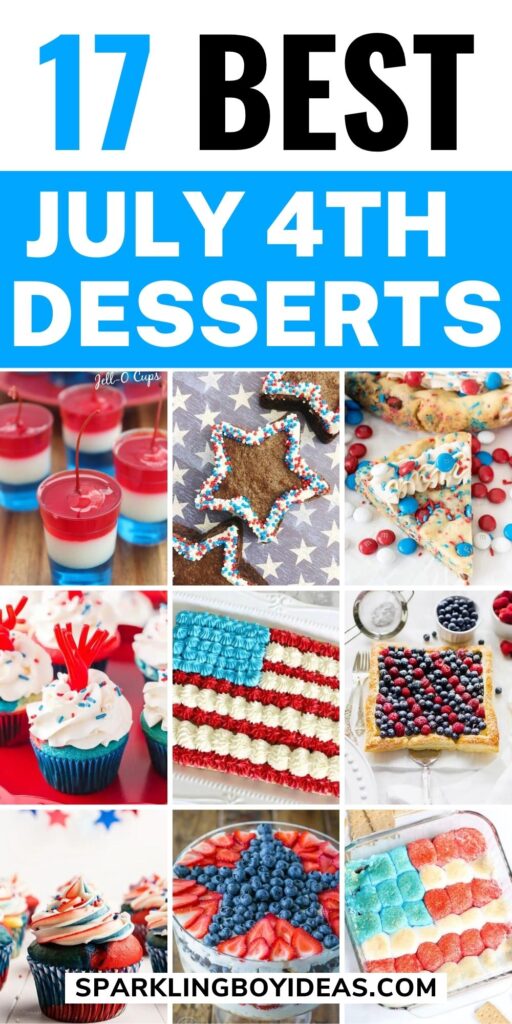 11 Tips To Add Patriotic Flair To 4th of July Desserts
The 4th of July, also known as Independence Day, is a time for celebration, fireworks, and of course, delicious food.
If you're planning a festive gathering, adding patriotic flair to your desserts can take your culinary creations to the next level.
From red, white, and blue ingredients to creative designs, here are 11 tips to make your 4th of July desserts truly shine.
Tip 1: Use Red, White, and Blue Ingredients
One of the simplest ways to infuse patriotism into your desserts is by using ingredients that showcase the colors of the American flag.
Incorporate vibrant red berries like strawberries or raspberries, sweet and creamy white ingredients like whipped cream or vanilla frosting, and blue fruits such as blueberries or blackberries.
By using these ingredients in your recipes, you can create visually appealing desserts that capture the essence of the holiday.
Tip 2: Incorporate Patriotic Colors in Frosting and Toppings
Another effective way to add a patriotic touch to your desserts is through the use of colorful frostings and toppings.
Consider dyeing your frosting with red and blue food coloring to create a vibrant palette.
You can then use the frosting to pipe stars, stripes, or other patriotic designs onto cakes, cupcakes, or cookies.
Sprinkling red, white, and blue toppings such as colored sugar, edible glitter, or patriotic-themed sprinkles can further enhance the festive look.
Tip 3: Create Flag-Inspired Designs
For a visually stunning dessert, create flag-inspired designs that resemble the American flag.
One popular option is to bake a rectangular sheet cake and decorate it to resemble the flag.
Use white frosting as the base and carefully arrange red and blue berries to mimic the flag's stars and stripes.
This show-stopping dessert will not only impress your guests but also showcase your patriotic spirit.
Tip 4: Experiment with Star-Shaped Treats
Stars are a quintessential symbol of the 4th of July, so incorporating star-shaped treats into your dessert menu can add a delightful touch.
You can use star-shaped cookie cutters to make star cookies, or mold ice cream or gelatin into star shapes.
These starry treats are not only visually appealing but also capture the essence of the holiday.
Tip 5: Add Firework-Inspired Decorations
Fireworks are an integral part of the 4th of July celebrations, so incorporating firework-inspired decorations into your desserts can be a fantastic way to capture the festive spirit.
Use edible sparklers or candy decorations shaped like fireworks to adorn your cakes, cupcakes, or cookies.
These eye-catching decorations will add a touch of excitement to your dessert table.
Tip 6: Serve Individual Desserts in Mason Jars or Cups
Individual desserts presented in mason jars or cups can be a charming and convenient way to serve your 4th of July treats.
Layer red, white, and blue ingredients such as cake, berries, and whipped cream to create a visually appealing dessert in a portable and easy-to-enjoy format.
This also allows your guests to customize their desserts according to their preferences.
Tip 7: Make Use of Patriotic Cookie Cutters
Patriotic-themed cookie cutters, such as those shaped like stars, flags, or eagles, can add a touch of Americana to your desserts.
Use these cookie cutters to create unique shapes out of cookie dough, cake, or even watermelon slices.
Decorate the shapes with colored icing or toppings to further enhance their patriotic appeal.
Tip 8: Try Layered Desserts for a Festive Look
Layered desserts can create a stunning visual effect and provide a delightful taste experience.
Try assembling a trifle or a layered cake with alternating red, white, and blue layers.
Use ingredients such as cake, pudding, fruit, or whipped cream to build each layer.
The result will be a show-stopping dessert that captures the patriotic theme while impressing your guests.
Tip 9: Use Edible Decorations and Sprinkles
Edible decorations and sprinkles offer a simple yet effective way to elevate your 4th of July desserts.
Look for edible stars, flags, or other patriotic shapes that you can place on top of cakes, cupcakes, or cookies.
Sprinkle them with red, white, and blue sprinkles to add a touch of sparkle and make your desserts truly festive.
Tip 10: Introduce a Surprise Element
Surprise your guests with an unexpected element in your desserts.
For example, you can create a red, white, and blue layered cake with a hidden flag design inside.
When sliced, the hidden flag will be revealed, leaving your guests amazed.
Adding these surprising elements to your desserts will make your 4th of July celebration even more memorable.
Tip 11: Don't Forget the Classic Favorites
While it's fun to experiment with patriotic designs and flavors, don't forget to include classic favorites that everyone loves.
Traditional desserts like apple pie, cherry pie, or strawberry shortcake can still embrace the patriotic spirit with simple touches such as star-shaped pastry cutouts or whipped cream garnishes in red, white, and blue.
Balancing traditional flavors with creative elements ensures that all your guests can enjoy the nostalgic charm of beloved desserts.
Delicious 4th Of July Desserts
" Affiliate links are provided for your convenience, please read my disclosure for more information."
17. No-Bake Strawberry Blueberry Trifle
15. Red White & Blue Mixed Berry Yum Yum
14. Red, White & Blue Cheesecake Salad
13. Very Berry Dessert Lasagna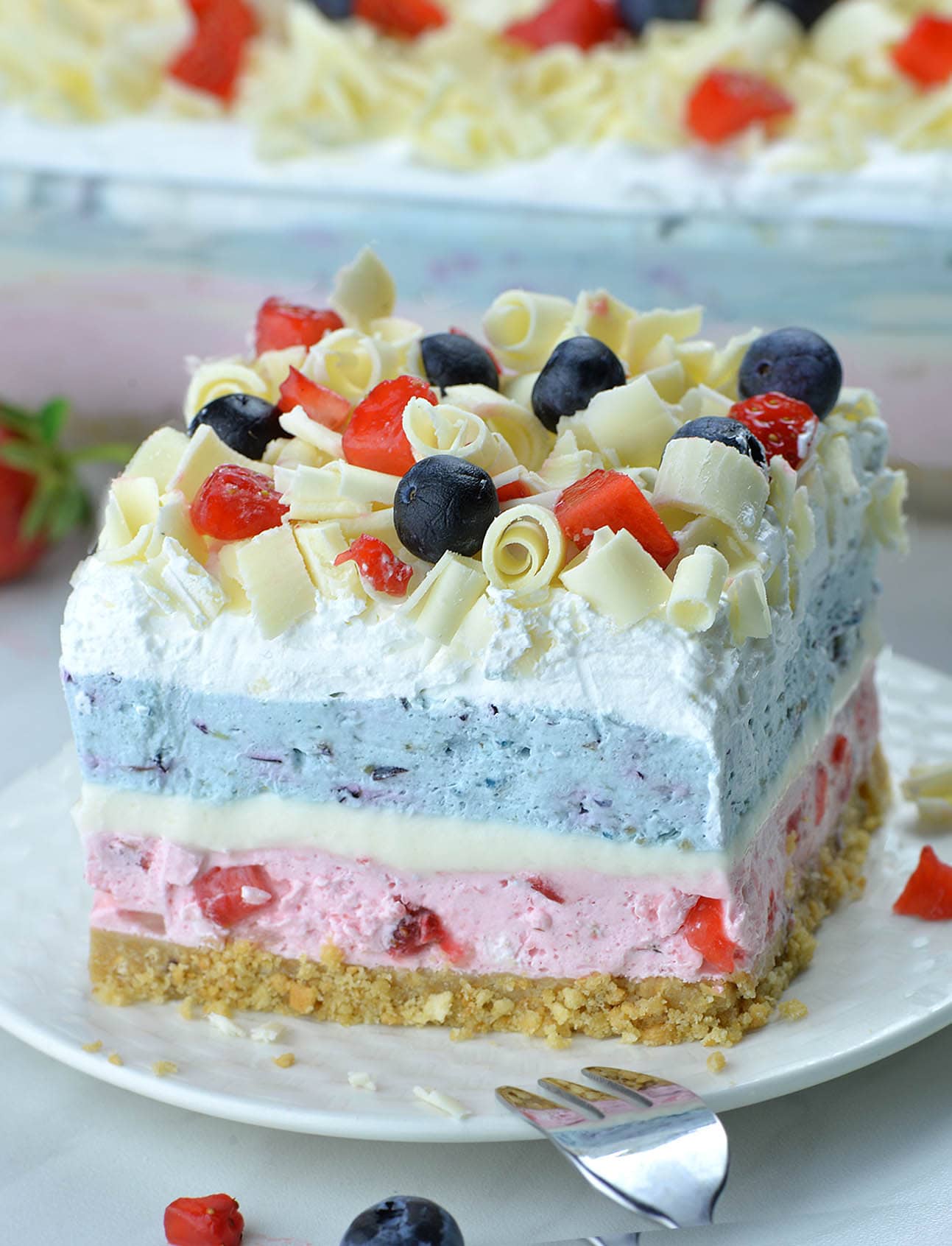 12. 4th of July Vanilla Oreo Truffles
11. Red, White & Blue Berry Tart
10. Red, White, and Blue Cupcakes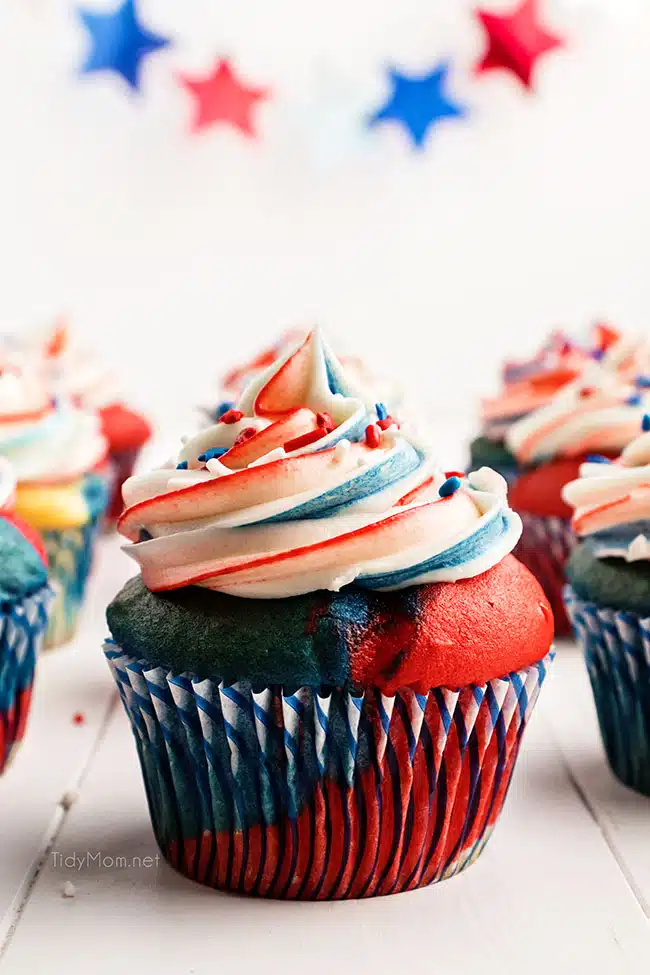 7. Red, White & Blue Dump Cake
4. Red, White & Blue Patriotic Poke Cake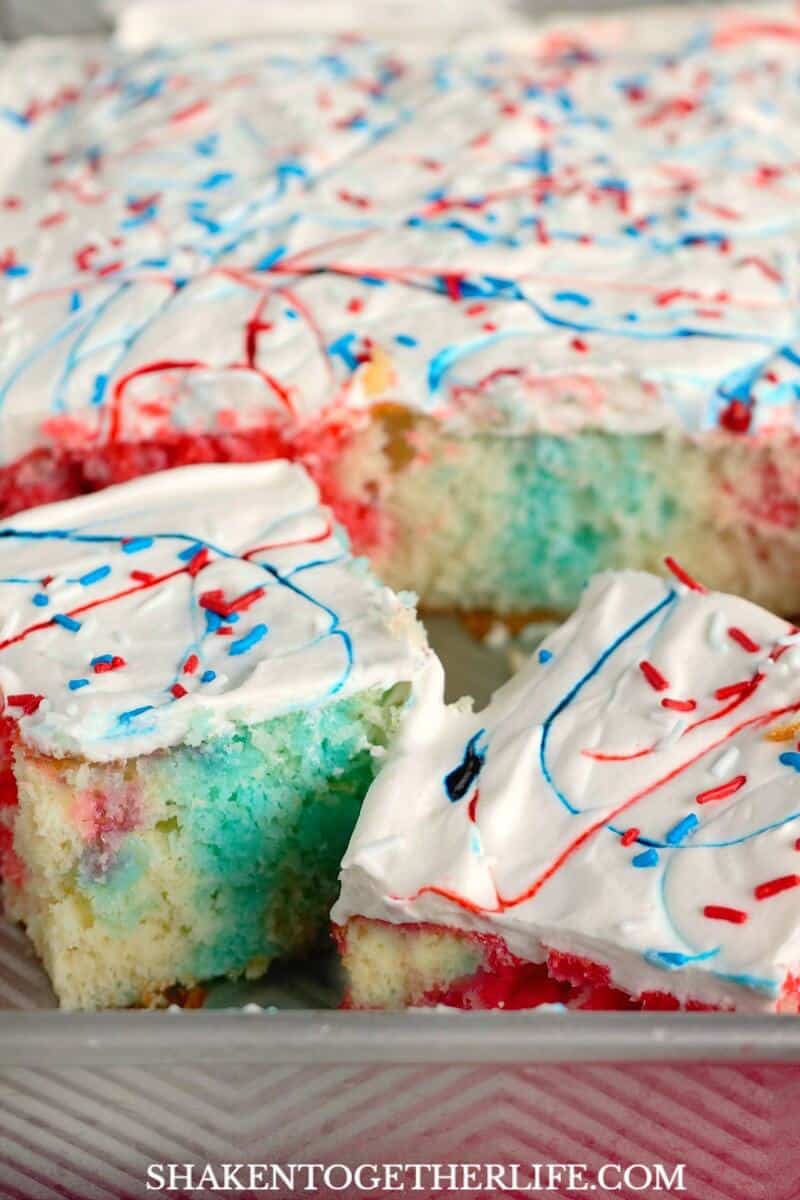 2. Fireworks Sugar Cookie Cake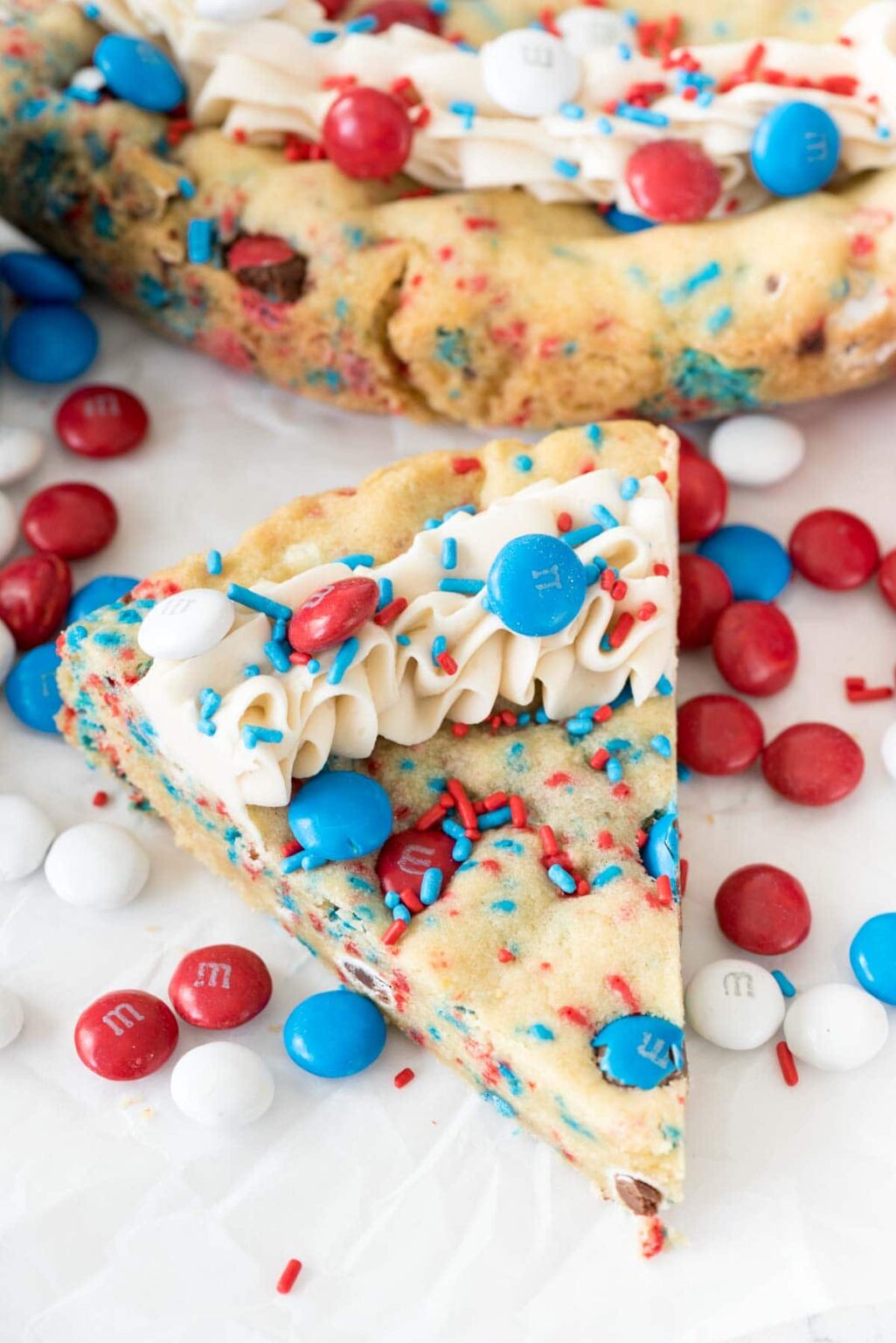 1. Red White & Blue Jell-O Cups
FAQs
Q. Can I use frozen fruits instead of fresh ones in my 4th of July desserts?
Yes, you can use frozen fruits in your desserts. However, keep in mind that they might release more liquid when thawed, which can affect the texture of your desserts. Adjust the recipe accordingly or consider draining excess liquid before using them.
Q. Can I substitute regular food coloring with natural alternatives?
Yes, if you prefer to use natural food coloring, you can explore options such as beet juice for red, spirulina for blue, and turmeric for yellow. Experiment with the quantities to achieve the desired colors.
Q. Can I make these desserts ahead of time?
Many of these desserts can be made in advance. However, some delicate components like whipped cream or fresh fruits are best added just before serving to maintain their texture and freshness. Plan your preparation accordingly to ensure the best results.
Q. How can I store leftover desserts?
To store leftover desserts, cover them tightly with plastic wrap or transfer them to airtight containers. Refrigerate them to maintain freshness. Consume them within a few days for the best taste and quality.
Q. Can I modify these tips for other patriotic holidays or events?
Absolutely! These tips can be adapted for various patriotic holidays or events, such as Memorial Day, Veterans Day, or even international sporting events. Customize the colors and designs to match the theme and showcase your patriotic spirit.
Now comes the important question… Which 4th of July desserts do you like the most? Please let me know in the comments.
Few more 4th July ideas!!!
Want to save this for later? Post these 4th of July Desserts to the "4th of July Desserts" OR "Patriotic Day Desserts" Board!