Indulge in the deliciousness of patriotic treats perfect for Independence Day and other summer celebrations! These red, white, and blue desserts will add a festive touch to your gatherings. From star-spangled cupcakes to flag-shaped cookies, there's something for everyone to enjoy. These patriotic snacks are not only visually stunning but also bursting with flavor. Whether you're hosting a Memorial Day BBQ or a 4th of July picnic, these patriotic desserts will be the highlight of the event.
Are you looking to add a dash of patriotism to your next celebration?
Themed patriotic treats can be a fantastic way to showcase your love for your country while delighting your guests.
Whether it's for a Fourth of July party, Memorial Day gathering, or any other patriotic event, these treats can add a festive and flavorful touch.
In this article, we will explore some tips and ideas to help you create themed patriotic treats that will leave everyone wanting more.
Tips To Make Themed Patriotic Treats
Themed patriotic treats have gained immense popularity, as they bring people together and evoke a sense of national pride.
These treats are not only delicious but also visually appealing, making them perfect for celebrations.
From colorful desserts to savory appetizers, the possibilities are endless when it comes to creating patriotic-themed culinary delights.
1. Choose a Patriotic Theme
When planning themed patriotic treats, it's essential to select a cohesive theme that resonates with the occasion.
Whether you decide to focus on the American flag, stars, stripes, or a particular color scheme, having a theme will provide you with a foundation for your treats.
2. Select Relevant Colors and Decorations
Colors play a significant role in themed treats, as they represent the patriotic spirit.
Opt for red, white, and blue hues to align with the national colors.
You can incorporate these colors through food dyes, natural ingredients, or decorative elements such as sprinkles, edible glitter, or themed cupcake toppers.
3. Use Seasonal Ingredients
To elevate your themed patriotic treats, consider using seasonal ingredients.
Strawberries, blueberries, and raspberries are perfect options for adding a burst of color and flavor.
Incorporating seasonal fruits not only enhances the taste but also adds a touch of freshness to your treats.
4. Consider Dietary Restrictions
It's important to accommodate different dietary preferences and restrictions when creating themed patriotic treats.
Offer gluten-free, vegan, or nut-free options to ensure everyone can indulge in the festivities.
Look for alternative ingredients and recipes that cater to various dietary needs without compromising on taste or presentation.
5. Create Eye-Catching Presentations
The way you present your themed treats can make all the difference.
Experiment with different serving ideas, such as layered desserts in clear cups, flag-shaped fruit skewers, or even a patriotic-themed charcuterie board.
These creative presentations will capture the attention of your guests and make your treats even more enticing.
6. Incorporate Iconic Symbols and Shapes
When it comes to themed patriotic treats, incorporating iconic symbols and shapes can add a fun and recognizable element.
Consider using star-shaped cookie cutters, flag-shaped molds, or even creating desserts that resemble famous national landmarks.
These creative touches will make your treats stand out and leave a lasting impression.
7. Experiment with Flavors and Textures
While it's important to incorporate patriotic colors and symbols, don't forget to focus on the taste and textures of your treats.
Experiment with different flavors and textures to add variety and excitement.
For example, you can create red, white, and blue fruit parfait with layers of creamy yogurt, juicy berries, and crunchy granola.
Or try making patriotic-themed cupcakes with a surprise filling or frosting that complements the flavors of the occasion.
8. Include Kid-Friendly Options
Themed patriotic treats are not just for adults. Make sure to include kid-friendly options that will delight the little ones at your gathering.
Consider making flag-shaped popsicles, mini fruit skewers with marshmallow clouds, or easy-to-grab finger foods decorated with patriotic colors.
Getting children involved in the creation of these treats can also make it a fun and memorable experience for them.
9. Add a Personal Touch
Put your own spin on themed patriotic treats by adding a personal touch.
Incorporate family recipes, favorite flavors, or meaningful decorations that hold significance to you and your loved ones.
This personalization will make your treats even more special and meaningful, adding an extra layer of enjoyment to the occasion.
10. Make it a Group Activity
Creating themed patriotic treats can be a fantastic group activity during parties or family gatherings.
Set up a DIY dessert station where guests can decorate their own cupcakes, cookies, or other treats.
Provide an array of toppings, frostings, and decorations, allowing everyone to unleash their creativity and make unique creations.
This interactive experience will foster a sense of camaraderie and make the event even more memorable.
11. Share Your Creations
Don't forget to share your themed patriotic treats with others!
Snap some photos and share them on social media, or invite friends and neighbors to sample your culinary creations.
Sharing your treats not only spreads joy but also serves as inspiration for others who may be looking for ideas for their own patriotic-themed events.
12. Plan Ahead for Themed Parties or Events
If you're hosting a themed party or event centered around patriotic treats, it's crucial to plan ahead.
Consider the number of guests, the type of treats you want to make, and the logistics involved in preparing and serving them.
Make a shopping list of ingredients and decorations in advance, and schedule your preparation and baking time accordingly.
Planning ahead ensures a smooth and stress-free experience, allowing you to enjoy the festivities alongside your guests.
Must Try Patriotic Treats
" Affiliate links provided for your convenience, please read my disclosure for more information."
17. Red White & Blue Cupcakes
16. Red, White, & Blue Bark
15. Red, White, & Blue Brownie Cookies
14. Patriotic Mini Cheesecakes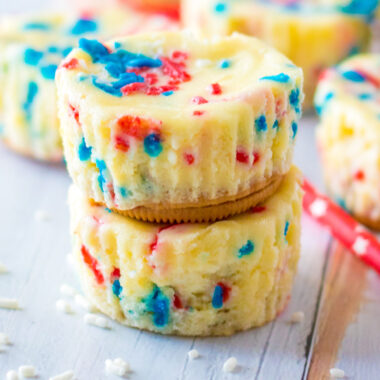 13. Patriotic Chocolate Covered Oreos
12. 4th of July Edible Firecracker Rice Krispies
11. Patriotic Decorated Oreos
10. Red, White, & Blue Snack Mix
9. Patriotic Charcuterie Board
8. Patriotic Rice Krispy Treats
7. 4th of July Flag Rice Krispies Treats
6. Firecracker Chocolate Marshmallows
5. Patriotic Marshmallow Pops
4. Watermelon Blueberry Feta Stars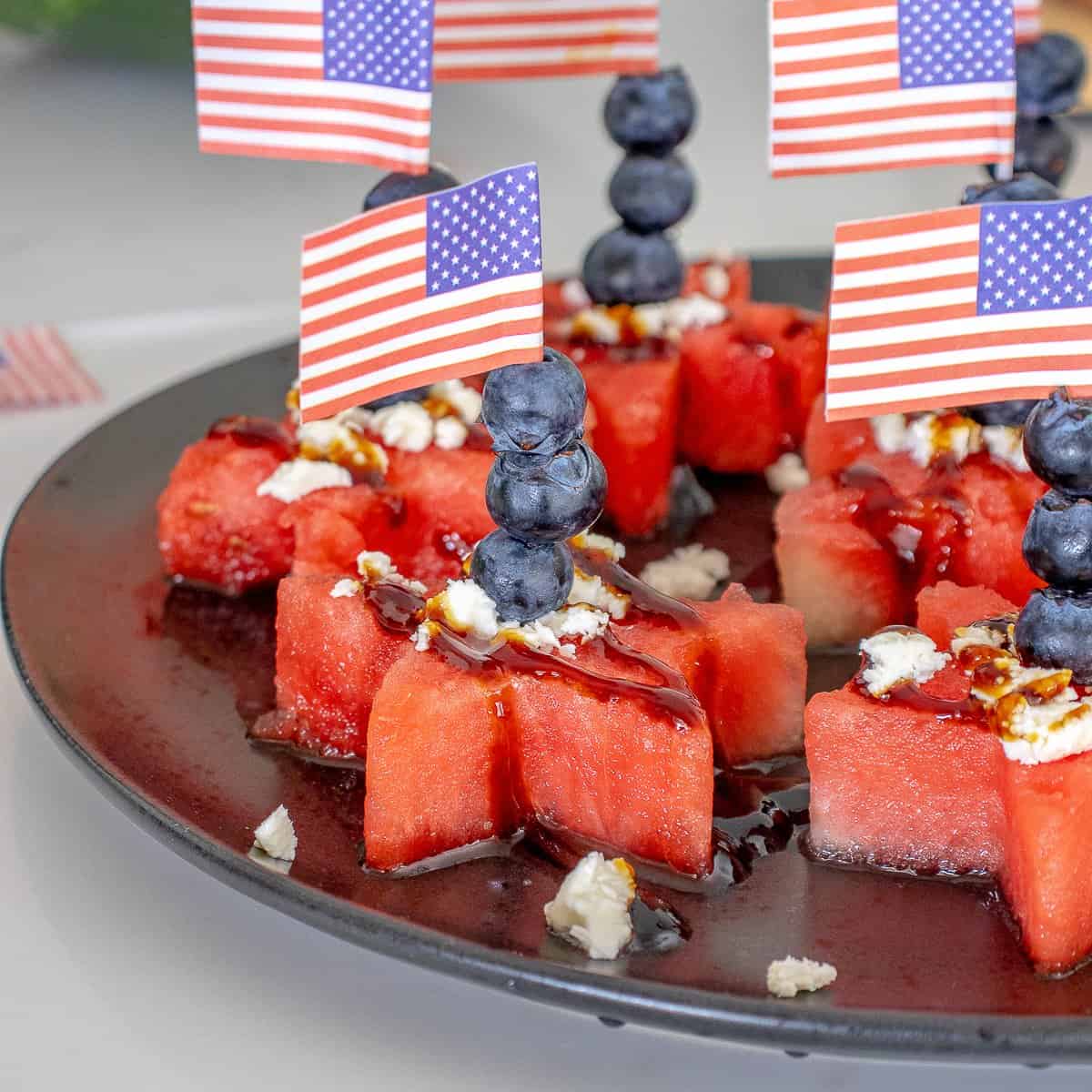 3. Red, White & Blue Rice Krispie Treat Pinwheels
2. Red White & Blue Pretzel Bites
1. Patriotic Party Mix
FAQs
Q. Can I make themed patriotic treats ahead of time?
Yes, many themed patriotic treats can be made in advance. Plan your recipes accordingly and store them properly to maintain freshness and quality.
Q. How can I make themed treats allergy-friendly?
To accommodate allergies and dietary restrictions, consider using alternative ingredients or finding specialized recipes that cater to specific needs. Label your treats clearly to indicate any allergens they may contain.
Q. Where can I find themed decorations and supplies for my treats?
You can find themed decorations and supplies at party supply stores, baking supply shops, or online retailers. Look for patriotic-themed cupcake toppers, food coloring, sprinkles, and other decorative elements.
Q. How can I involve children in making themed patriotic treats?
Children can have a great time participating in the creation of themed patriotic treats. Assign them age-appropriate tasks like mixing, decorating, or assembling treats. Encourage their creativity and make it a fun and educational experience.
Q. Can I freeze themed patriotic treats for later use?
Some treats can be frozen for later use, while others may lose their texture or taste when frozen. Consider the specific treat and its ingredients to determine if freezing is suitable. Always label and store frozen treats properly to maintain their quality.
Now comes the important question… Which patriotic treats do you like the most? Please let me know in the comments.
Few more patriotic ideas!!!
Want to save this for later? Post these Patriotic Treats to the "Patriotic Food Ideas" OR "Patriotic Desserts" Board!