Discover creative and patriotic 4th of July crafts for adults to celebrate Independence Day. From DIY 4th of July decorations to patriotic crafts, find inspiring ideas for your holiday festivities.
The 4th of July is a time for adults to embrace their creative spirit and show their patriotic pride.
In this blog, we'll explore a variety of engaging and enjoyable 4th of July crafts specifically designed for adults.
From DIY patriotic wreaths and festive table centerpieces to personalized t-shirts and handmade home decor, I've compiled a collection of crafts that will add a touch of flair to your Independence Day celebrations.
Let your imagination soar as we delve into a world of crafty creations that will inspire and captivate, making this 4th of July an unforgettable experience for adults with a passion for crafting.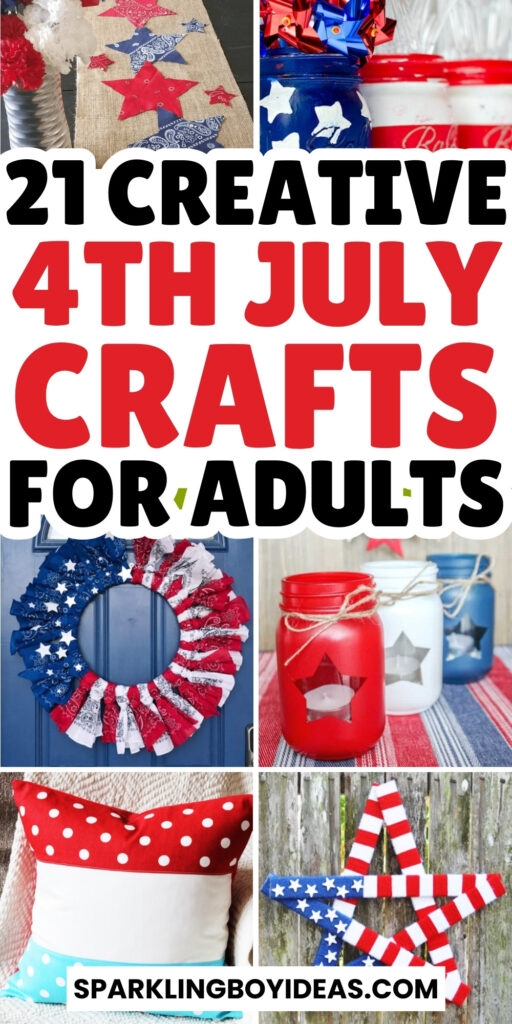 13 Tips To Create Year-Round DIY 4th Of July Decor
The 4th of July is a time for celebration, and what better way to showcase your patriotic spirit than by incorporating year-round DIY decor into your home?
These tips will help you infuse your living space with a festive and patriotic ambiance that lasts beyond just one day.
From selecting a theme to upcycling old decorations, we'll cover everything you need to know to create a patriotic atmosphere in your home.
So let's dive in!
Tip 1: Selecting a Theme
When creating year-round DIY 4th of July decor, it's important to select a theme that resonates with your personal style and preferences.
Some popular themes include rustic Americana, nautical, vintage, and modern.
Consider the overall aesthetic you want to achieve and choose decorations that fit within that theme.
This will help create a cohesive and visually appealing look throughout your home.
Tip 2: Red, White, and Blue Color Palette
To create a patriotic atmosphere, it's essential to incorporate the classic red, white, and blue color palette into your decorations.
These colors symbolize the American flag and are synonymous with the Fourth of July.
Use them in your DIY projects, such as table linens, wall art, and throw pillows.
A cohesive color scheme will tie all your decorations together and enhance the festive spirit.
Tip 3: Patriotic Centerpieces
Create eye-catching centerpieces that celebrate the Fourth of July.
Consider using flowers, flags, or even mason jars filled with colored water and floating candles.
For a rustic touch, incorporate elements like burlap or twine.
These centerpieces will serve as focal points and add a patriotic touch to your dining table or living room.
Tip 4: DIY Flag Decorations
Flags are iconic symbols of patriotism, and incorporating them into your DIY decorations can instantly create a festive atmosphere.
Consider making a flag-inspired banner using fabric, paper, or even recycled materials.
Hang it on a wall or across your porch to showcase your patriotic spirit.
You can also create smaller flag-themed crafts like wreaths, garlands, or framed artwork to display throughout your home.
Tip 5: Outdoor Lighting Ideas
Add a touch of magic to your outdoor space by incorporating creative lighting ideas.
String lights in red, white, and blue can instantly transform your backyard into a festive wonderland.
You can also create DIY lanterns using mason jars, colored tissue paper, and LED candles.
Hang them from trees or place them on tables for a charming glow during your Fourth of July celebrations.
Tip 6: Creating a Festive Atmosphere
To create a truly festive atmosphere, it's important to pay attention to the small details.
Consider adding patriotic accents throughout your home, such as throw pillows with flag motifs, table runners in red, white, and blue, or even patriotic-themed wall art.
These little touches will contribute to the overall ambiance and make your home feel truly patriotic.
Tip 7: Incorporating Stars and Stripes
Stars and stripes are quintessential symbols of American patriotism.
Incorporate them into your DIY decorations to enhance the Fourth of July theme.
Consider making star-shaped garlands, using star-patterned fabrics for tablecloths, or creating flag-inspired artwork using stencils.
These elements will add visual interest and reinforce the patriotic spirit.
Tip 8: DIY Fourth of July Wreaths
Welcome your guests with a stunning DIY Fourth of July wreath.
Use materials like ribbon, burlap, faux flowers, and miniature flags to create a wreath that represents the holiday.
Hang it on your front door or use it as a centerpiece for your indoor decorations.
A wreath adds an instant festive touch and sets the tone for your celebrations.
Tip 9: Firework-Inspired Crafts
Fireworks are synonymous with Fourth of July celebrations.
Incorporate firework-inspired crafts into your DIY decor to capture the spirit of the holiday.
Consider creating paper lanterns, using glitter to mimic the sparkles, or painting firework designs on canvas.
These crafts can be a fun activity for both kids and adults, and the end results will add a dazzling touch to your decorations.
Tip 10: Festive Table Settings
Set the stage for your Fourth of July feast with festive table settings.
Use red, white, and blue table linens, napkins, and placemats to create a cohesive look.
Incorporate patriotic elements like mini American flags as place card holders or themed centerpieces.
A beautifully decorated table will elevate your dining experience and make your guests feel extra special.
Tip 11: Patriotic Yard Decorations
Extend the patriotic theme to your outdoor spaces by incorporating DIY yard decorations.
Consider using items like painted wooden pallets to create flag-inspired signs or repurpose old barrels into patriotic planters.
You can also line your walkway with mini flags or place oversized patriotic ornaments in your garden.
These decorations will add charm and patriotism to your outdoor gatherings.
Tip 12: Upcycling Old Decorations
Instead of purchasing new decorations every year, consider upcycling and repurposing your old ones.
For example, you can transform an old wooden crate into a patriotic display by painting it in flag colors and filling it with flowers or miniature flags.
Repaint old mason jars in red, white, and blue and use them as candle holders or vases.
Upcycling not only saves money but also adds a unique touch to your decorations.
Tip 13: Storing Decorations for Future Use
After the Fourth of July celebrations are over, it's important to store your decorations properly to ensure their longevity.
Consider investing in storage containers specifically designed for seasonal decorations.
Label each container with the contents, making it easier to locate them next year.
Store the containers in a cool and dry place to prevent damage.
Proper storage will extend the life of your decorations and make it easier to decorate for future Fourth of July celebrations.
Creative 4th Of July Crafts For Adults
" Affiliate links are provided for your convenience, please read my disclosure for more information."
19. Patriotic Bandana Wreath
18. Tin Can Flag/Fireworks Centerpiece
17. 4th Of July Solar Lanterns
16. Patriotic Hoop Art With Ribbon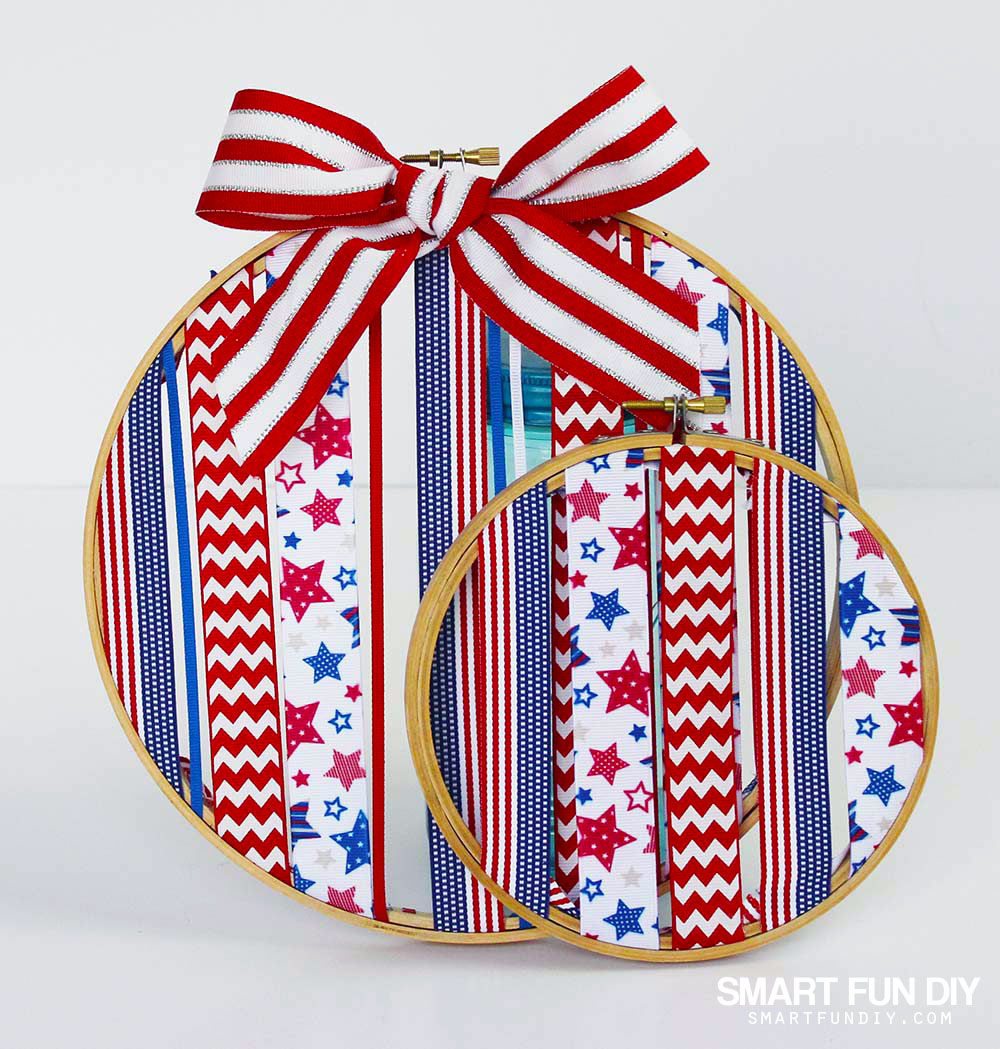 15. DIY Patriotic Burlap Table Runner
14. 4th of July Yarn & Wood Star
13. Dollar Tree Patriotic Centerpiece
12. 5-Minute Fourth of July Decor
11. Patriotic Pedestal Candy Dish
10. Red, White & Blue Mason Jars
9. Patriotic Mason Jar Lanterns
8. 4th of July Star Sun Catchers
7. DIY Red White & Blue Star Banner
6. Popsicle Stick Vases
5. DIY July 4th Patriotic Scrap Fabric Banner
4. Stars & Stripes Mason Jars
3. Burlap Flag Pillow
2. Stars and Stripes Painted Bottles
1. Patriotic Color Block Pillow
FAQs
Q. How can I make my Fourth of July decorations stand out?
To make your Fourth of July decorations stand out, incorporate unique elements such as DIY crafts, personalized touches, and creative lighting ideas. Use materials and colors that reflect your personal style and preferences.
Q. Can I use non-traditional colors in my Fourth of July decor?
While the traditional colors for the Fourth of July are red, white, and blue, you can certainly incorporate non-traditional colors to add a unique twist. For example, you can use metallic accents, pastel shades, or even incorporate elements of other flags.
Q. How can I involve my children in creating Fourth of July decorations?
Fourth of July crafts can be a great activity to involve children. Choose age-appropriate crafts such as paper lanterns, flag-themed paintings, or making firework-inspired art using glitter and paint. It's a fun way to bond and create lasting memories.
Q. What are some budget-friendly ways to decorate for the Fourth of July?
There are many budget-friendly ways to decorate for the Fourth of July. Utilize items you already have, such as mason jars, old crates, or fabric scraps. Look for sales or discounts on patriotic-themed decor items. DIY crafts using recycled materials can also be a cost-effective option.
Q. How can I ensure the safety of my outdoor decorations?
When using outdoor decorations, ensure they are weather-resistant and securely placed to withstand wind or other outdoor elements. Use flameless candles or LED lights for lighting to avoid fire hazards. Regularly inspect and maintain outdoor decorations to ensure they are in good condition.
Q. How can I incorporate a patriotic theme into my year-round decor?
You can incorporate a patriotic theme into your year-round decor by using subtle patriotic accents. For example, use throw pillows with flag motifs, display patriotic artwork, or incorporate red, white, and blue elements in your home accessories. It will provide a subtle nod to your patriotic spirit.
Q. What are some creative ways to display American flags in my decor?
Instead of simply hanging American flags on poles, you can get creative with your flag displays. Consider using flag-inspired fabrics as table runners, creating a flag-inspired gallery wall, or using miniature flags as part of your centerpiece. These unique displays will add visual interest to your decor.
Now comes the important question… Which 4th of July crafts for adults do you like the most? Please let me know in the comments.
Few more ideas!!!
Want to save this for later? Post these 4th of July Crafts Of Adults to the "4th of July Crafts" OR "Patriotic Day Crafts" Board!