Get ready to celebrate Memorial Day with these stunning Memorial Day decorations! From patriotic banners and flags to DIY centerpieces and tablescapes, we've got you covered. Create a festive atmosphere with these simple yet eye-catching ideas. Check out our collection of inspiring ideas and get ready to show your American pride!
Welcome to our guide on creating a cohesive look with Memorial Day decorations throughout your home.
Memorial Day is a special occasion to honor and remember the brave men and women who have sacrificed their lives in service to the nation.
By incorporating patriotic elements into your home decor, you can create a festive atmosphere that pays tribute to these heroes.
In this article, we will provide you with ten tips and ideas to help you achieve a cohesive and patriotic look for your Memorial Day decorations.
Create a Cohesive Look with Memorial Day Decorations
Tip 1: Choose a Theme
To create a co
hesive look, it's essential to choose a theme that reflects the spirit of Memorial Day. Consider themes like "Stars and Stripes," "Americana," or "Military Tribute."
A theme will serve as a guiding principle for your overall decor choices, ensuring consistency and harmony throughout your home.
Tip 2: Use Patriotic Colors
Patriotic colors like red, white, and blue play a vital role in Memorial Day decorations.
Incorporate these colors into your interior by using them for wall paint, furniture upholstery, throw pillows, curtains, and rugs.
Experiment with different shades and combinations of red, white, and blue to find the perfect balance.
For example, you can paint an accent wall in navy blue and complement it with red and white striped curtains.
Integrate patriotic colors strategically throughout your space to create a cohesive and visually appealing look.
Tip 3: Embrace Symbols and Icons
Symbols and icons associated with Memorial Day can add a meaningful touch to your decorations.
Consider incorporating items like American flags, stars, eagles, and military insignias into your decor.
Hang a flag prominently on a wall or display small flags in vases or as table centerpieces.
Look for decorative items that feature these symbols, such as pillows with star patterns or wall art depicting patriotic scenes.
Tip 4: Decorate the Front Porch
The front porch is the first impression of your home, so it's important to decorate it with patriotic flair.
Hang a festive wreath on the door adorned with red, white, and blue ribbons.
Consider displaying a banner with a patriotic message or flags along the porch railing.
Add potted plants with red and white flowers or planters filled with miniature American flags.
These decorations will set the tone for your Memorial Day celebration and create a warm welcome for guests.
Tip 5: Set the Table with Patriotic Flair
When it comes to Memorial Day gatherings, the dining table becomes the focal point.
Set a patriotic table by using a tablecloth in red and white stripes or a solid blue with red and white placemats.
Complete the look with white dinnerware, red or blue glassware, and silverware tied with red or blue ribbons.
Enhance the centerpiece with a vase filled with fresh red and white flowers, accented with miniature flags.
This patriotic table setting will create a memorable dining experience for your guests.
Tip 6: Add Memorial Day Touches to Living Spaces
Extend the patriotic theme to your living spaces by incorporating Memorial Day touches.
Hang patriotic-themed artwork or photographs of military heroes on the walls. Place decorative pillows in red, white, and blue on sofas and chairs.
Create a focal point on the mantel with a display of framed photos, candles, and small patriotic figurines.
These additions will infuse your living spaces with a sense of pride and remembrance.
Tip 7: Highlight Outdoor Spaces
If you have an outdoor area, take advantage of it by highlighting it with patriotic decorations.
Invest in outdoor furniture in colors that align with the theme, such as red or blue chairs or cushions.
Hang string lights in patriotic colors or use lanterns with American flag designs.
Place outdoor rugs or mats with patriotic patterns near seating areas.
Consider adding a patriotic-themed doormat to enhance the entrance.
These touches will create an inviting and cohesive outdoor space for your Memorial Day celebrations.
Tip 8: Incorporate Memorial Day Crafts
Engage in Memorial Day crafts to involve your family and friends in the decoration process.
Create DIY patriotic bunting using red, white, and blue fabric or paper.
Make paper stars and string them together to create garlands.
Involve children in crafting activities by making handprint flags or creating artwork with paint and stencils.
These crafts will add a personal touch to your decorations and foster a sense of togetherness during the holiday.
Tip 9: Include Memorial Day Tributes
Remember the true purpose of Memorial Day by including meaningful tributes in your decor.
Create a memorial display with photographs and mementos of loved ones who served in the military.
Dedicate a space for displaying letters, poems, or stories honoring fallen heroes.
Consider lighting a candle or arranging a bouquet of red, white, and blue flowers in memory of those who made the ultimate sacrifice.
This tribute area can serve as a focal point for reflection and gratitude, reminding everyone of the significance of Memorial Day.
Tip 10: Don't Forget the Details
To achieve a cohesive look with your Memorial Day decorations, pay attention to the small details.
Use patriotic-themed candles with scents like apple pie or a fresh summer breeze.
Hang garlands made of red, white, and blue ribbons or paper stars.
Place signs or banners with patriotic quotes or phrases throughout your home.
These little touches will tie the overall look together and create a cohesive atmosphere of patriotism.
Creative Memorial Day Decorations
" Affiliate links are provided for your convenience, please read my disclosure for more information."
15. Memorial Day Table Setting – from Adorn The Table
14. DIY 4th Of July Fireworks Wreath – from Design Improvised
13. Tissue Paper Fireworks – from Hey Lets Make Stuff
12. Patriotic Red White & Blue Banner – from Home Talk
11. American Flag Paint Stick – from Glue Dots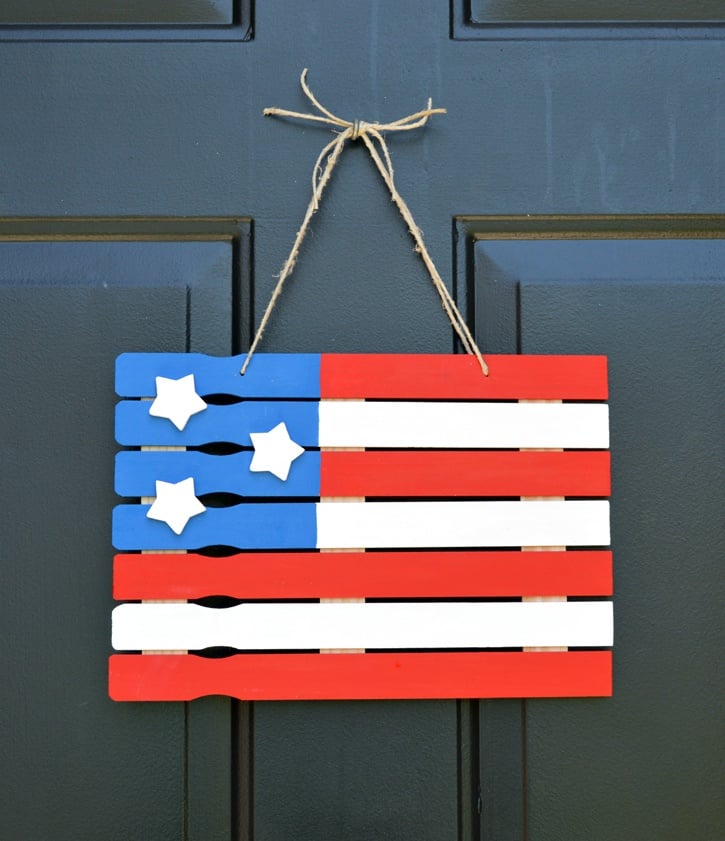 10. DIY Patriotic Burlap Table Runner – from Cassie Smallwood
9. Patriotic Paper Fan Pinwheels – from A Hundred Affections
8. 4th of July Rag Ribbon Garland – from The Ribbon Retreat
7. Patriotic Wood Bead Garland With Stars – from My Wee Abode
6. Patriotic Tin Cans – from Stockpiling Moms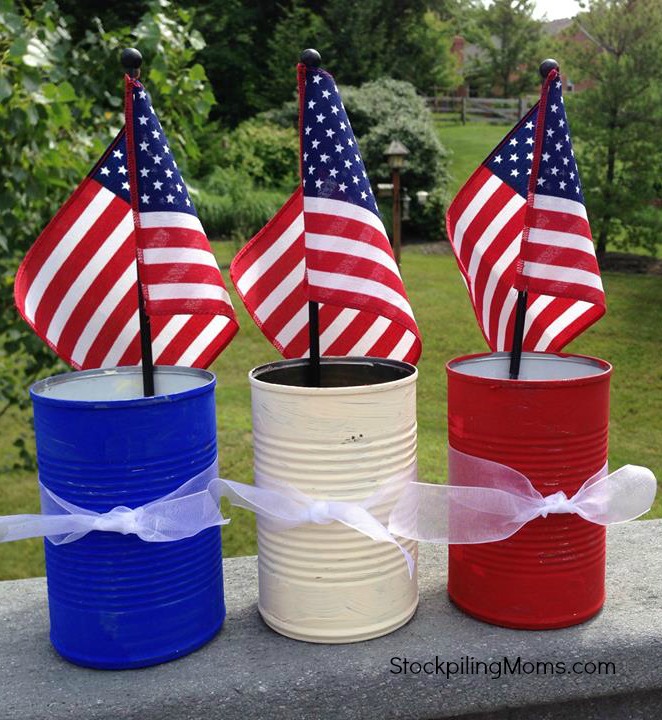 5. 4th of July Table Decor – from I Korn Crafts
4. Vintage Style Patriotic Centerpiece – from Dabbling And Decorating
3. 4th of July Tin Can Windsocks – from The Wilson World
2. DIY Patriotic Paper Garland – from Laura's Crafty Life
1. Stars + Stripes Patriotic Flower Pot – from Lolly Jane
FAQs
Q. How far in advance should I start planning my Memorial Day decorations?
It's a good idea to start planning your Memorial Day decorations at least a few weeks in advance. This will give you enough time to gather supplies, create DIY crafts, and make any necessary purchases.
Q. Can I mix different themes for Memorial Day decorations?
While it's generally best to stick with one cohesive theme, you can mix different elements from various themes as long as they complement each other. Be mindful of maintaining a harmonious overall look.
Q. Where can I find patriotic-themed decor items?
You can find patriotic-themed decor items at party supply stores, home decor stores, or online retailers specializing in seasonal decorations. Additionally, consider checking out local craft stores or flea markets for unique handmade items.
Q. Are there any eco-friendly options for Memorial Day decorations?
Absolutely! You can opt for eco-friendly decorations by using recyclable materials for crafts, choosing energy-efficient LED lights, and incorporating natural elements like plants and flowers into your decor.
Q. How can I involve children in creating Memorial Day crafts?
Engaging children in Memorial Day crafts is a great way to teach them about the significance of the holiday. Simple activities like painting flags, making paper stars, or creating handprint art can be fun and educational for kids of all ages.
Now comes the important question… Which memorial day decorations do you like the most? Please let me know in the comments.
Few more memorial day ideas!!!
Want to save this for later? Post these Memorial Day Decorations to the "Memorial Day Decor" OR "Patriotic Decor Ideas" Board!