Baked Sweet Potato Fries is a healthier twist on classic fries with their natural sweetness and crispy exterior, these fries are a delightful twist on traditional potato fries.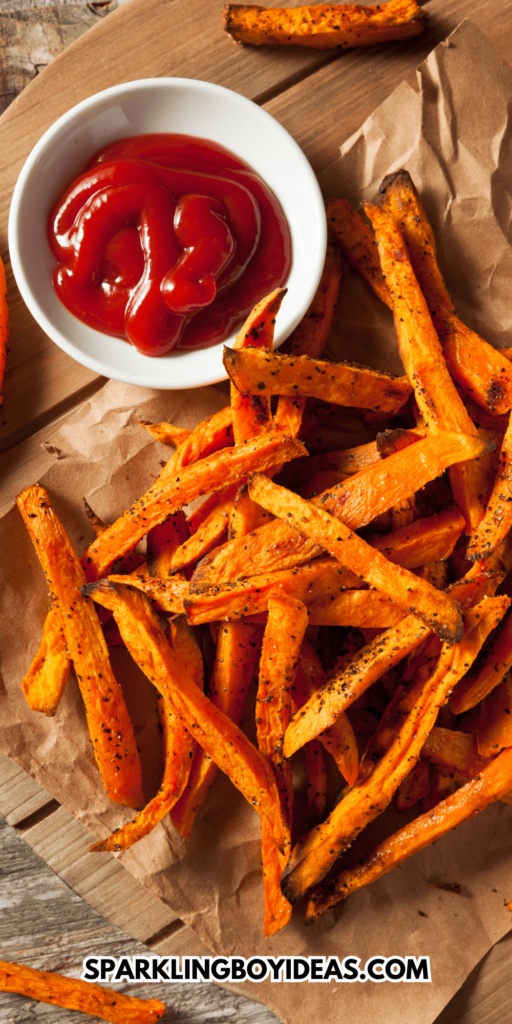 Why I Loved This Recipe
One chilly winter afternoon, I found myself craving a plate of warm, crispy fries.
However, I wanted something a bit more wholesome and nutritious.
That's when I stumbled upon the idea of making sweet potato fries.
The combination of the sweet, caramelized notes of the sweet potatoes with the smoky paprika and garlic seasoning was an absolute revelation.
It satisfied my craving while also making me feel like I was indulging in something that was good for my body.
Since then, Baked Sweet Potato Fries have become a regular feature in my kitchen.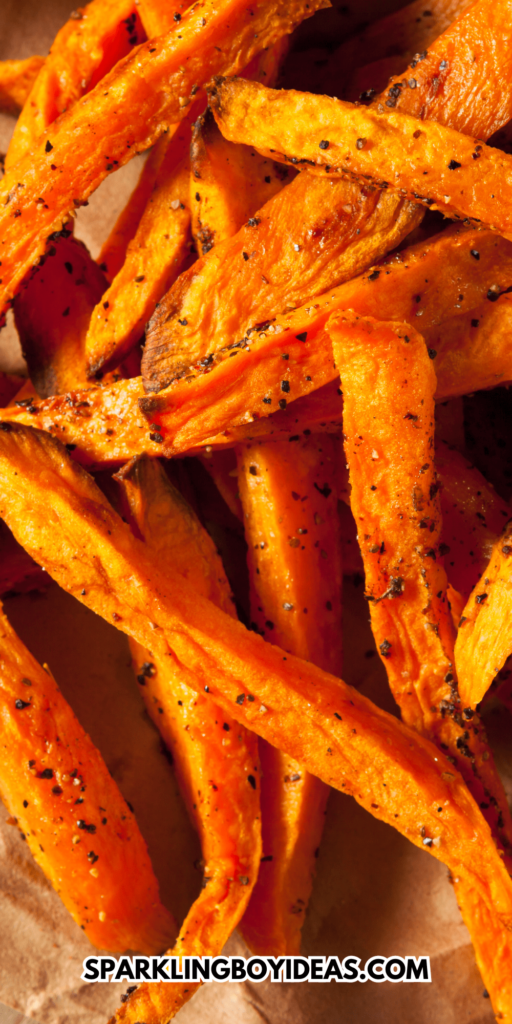 Why You'll Love This Recipe
▪️ Enjoy guilt-free snacking with Baked Sweet Potato Fries, a healthier alternative to regular fries, loaded with nutrients and fiber.
▪️ Get that satisfying crunch without the extra oil – these fries bake up golden and delicious.
▪️ Elevate the natural sweetness of sweet potatoes with smoky paprika and garlic powder for a unique and delightful flavor.
▪️ Save time with quick and easy prep, and just a handful of ingredients – perfect for your busy life.
▪️ These versatile fries make a great snack or side, and they pair wonderfully with different dips and dishes, adding a tasty twist to your cooking options.
Helpful Kitchen Tools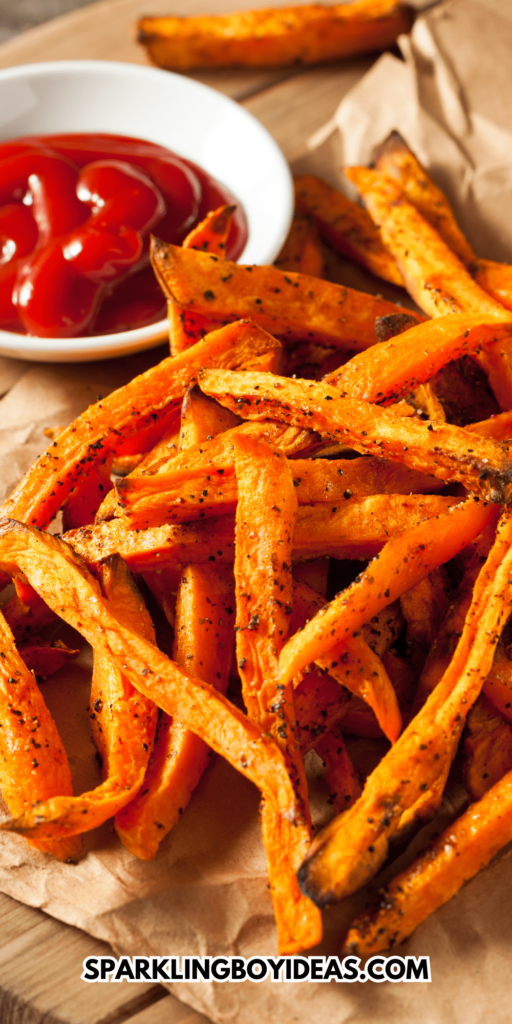 Ingredients
▪️ 2-3 medium sweet potatoes: they're your star ingredient – peel and cut them into thin fries for that crispy texture.
▪️ 2 tablespoons olive oil: this will help them crisp up nicely in the oven.
▪️ 1 teaspoon paprika: for a smoky, slightly spicy flavor.
▪️ 1 teaspoon garlic powder: to add that savory, garlicky kick.
▪️ ½ teaspoon salt: to enhance all the flavor.
▪️ ¼ teaspoon black pepper: a touch of pepper for a hint of heat.
Making Of Baked Sweet Potato Fries
STEP 1: First, preheat your oven to 425°F (218°C). We want it nice and hot for those crispy fries!
STEP 2: Grab your sweet potatoes, peel them, and then slice them into fries about a quarter-inch thick. No need to be too exact; we're going for deliciousness, not perfection.
STEP 3: In a small bowl, mix together some olive oil, paprika, garlic powder, a pinch of salt, and a sprinkle of black pepper. This is our secret seasoning blend!
STEP 4: Lay out your sweet potato fries on the parchment-lined baking sheet. Drizzle that flavorful seasoning mixture all over them, and then gently toss them around to make sure they're all dressed up in those tasty flavors.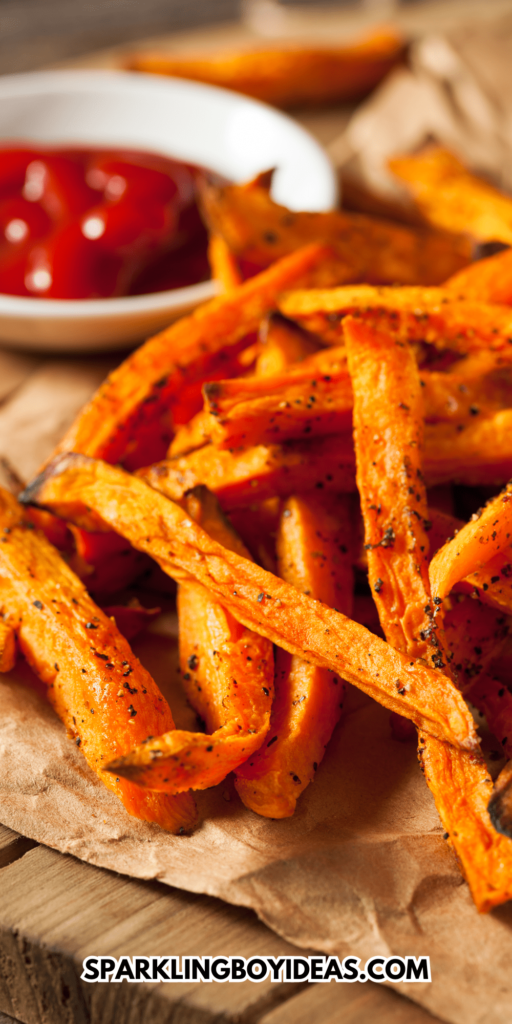 STEP 5: Now, make sure those fries are spread out in a single layer on the baking sheet. We want them to get nice and crispy, and crowding them won't help.
STEP 6: Pop that baking sheet into the preheated oven and let the fries bake for about 20-25 minutes. You'll want to flip them over halfway through to make sure they get that perfect crisp on all sides.
STEP 7: Once they're beautifully golden and crispy, take them out of the oven. Let them cool for a few minutes – just enough time to avoid burning your taste buds – and then get ready to enjoy the fantastic, homemade sweet potato fries!
Tips and Techniques
▪️ Choose medium-sized sweet potatoes with smooth skin for even cooking and crispy fries.
▪️ Slice your fries about 1/4 inch thick to cook them evenly, giving that perfect crunch and tenderness combo.
▪️ Adjust the seasonings to your liking. Add more paprika for smokiness or a touch of cayenne for some heat.
▪️ At the halfway mark, gently flip and fluff your fries with a spatula. Even browning and the perfect texture are the goals.
Serving Size
My Baked Sweet Potato Fries recipe serves 2-3, perfect for sharing or as a tasty side dish. It's great for cozy nights or small gatherings. Adjust amounts to fit your needs.
Serving Suggestions
▪️ Dip these fries in garlic aioli, yogurt dip, or spicy ketchup for a flavor explosion.
▪️ Pair these fries with your burgers for an awesome combo.
▪️ Add them to your sandwiches for a sweet crunch that goes great with your fillings.
▪️ Serve these fries with grilled chicken or veggies to balance savory dishes with a hint of sweetness.
Variations
▪️ Make 'em sweet by tossing your baked fries in a mix of cinnamon and sugar.
▪️ Go savory with grated Parmesan cheese and fresh herbs sprinkled over your fries before baking.
▪️ Give your fries a spicy punch – just drizzle Sriracha sauce over them before they hit the oven!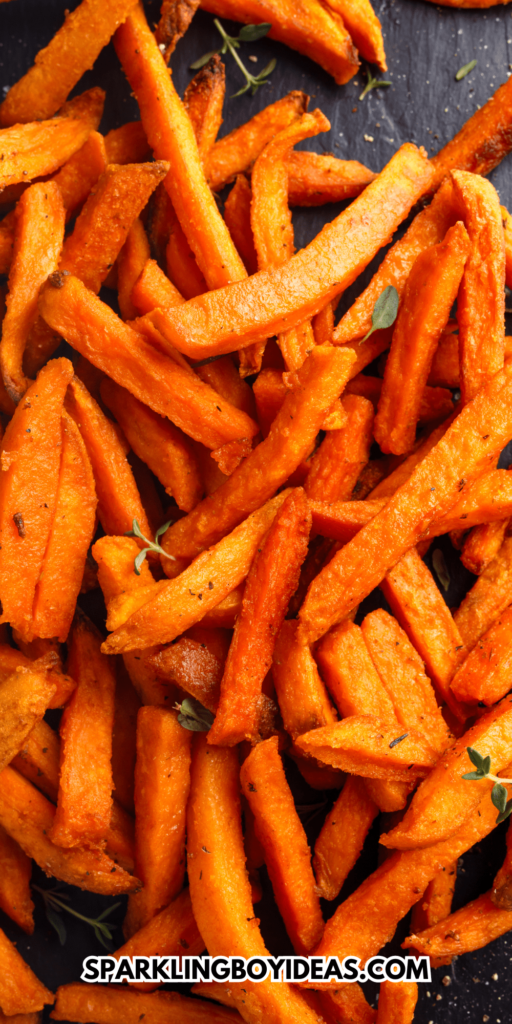 Storage Tips
To keep your leftover fries fresh and crispy, pop them in an airtight container. Let them cool completely first to avoid sogginess. When you're ready for round two, warm them in the oven at 350°F for 5-7 minutes. For longer storage, freeze them on a baking sheet and reheat them directly from frozen in the oven. If they need extra crisp, broil them for a minute or two. Happy munching!
FAQs
Q. Can I use regular potatoes instead of sweet potatoes?
Absolutely! While this recipe highlights the unique sweetness of sweet potatoes, you can swap them for regular potatoes to create a more traditional version of baked fries.
Q. Can I leave the skin on the sweet potatoes?
Of course! While peeling the sweet potatoes provides a consistent texture, keeping the skin on adds extra nutrients and a rustic touch to your fries.
Q. Can I make these fries in an air fryer?
Yes. Preheat your air fryer to 375°F (190°C), arrange the seasoned fries in a single layer, and cook in batches for about 12-15 minutes. Give the basket a shake halfway through for even cooking.
Q. My fries turned out a bit soft. What went wrong?
Achieving the perfect balance of crispy outside and tender inside can be a challenge. Make sure the fries are spread out on the baking sheet without overcrowding. Also, flipping them during baking helps ensure uniform crispiness.
Q. Can I freeze uncooked sweet potato fries for later?
While it's best to bake the fries before freezing, you can certainly prepare and cut the sweet potatoes, then freeze them in an airtight container. When ready to bake, simply toss them with seasonings and bake from frozen, adding a few extra minutes to the baking time.
Print Recipe
Baked Sweet Potato Fries
Baked Sweet Potato Fries is a healthier twist on classic fries with their natural sweetness and crispy exterior, these fries are a delightful twist on traditional potato fries.
Ingredients
2-3

medium sweet potatoes

peeled and cut into thin fries

2

tablespoons

olive oil

1

teaspoon

paprika

1

teaspoon

garlic powder

½

teaspoon

salt

¼

teaspoon

black pepper
Instructions
Preheat your oven to 425°F (218°C).

Peel the sweet potatoes and cut them into 1/4 inch thick fries.

In a small bowl, whisk together olive oil, paprika, garlic powder, salt, and black pepper.

Spread the sweet potato fries on a baking sheet lined with parchment paper.

Drizzle the seasoning mixture over the fries and toss gently to coat.

Arrange the fries in a single layer on the baking sheet.

Bake for 20-25 minutes, flipping the fries halfway through.

Remove from the oven and let cool for a few minutes before serving.
Notes
Spread fries evenly for maximum crispiness.
Experiment with seasoning ratios for a customized flavor.
Flip and fluff fries during baking for even cooking.